WhatsApp's updated privacy policy is set to come into effect from May 15 but users who are yet to accept it will soon lose access to their chat list
WhatsApp's updated privacy policy is set to come into effect from May 15 but users who are yet to accept it will soon lose access to their chat list. Earlier this year, WhatsApp released an update to its terms and privacy policy for users and business but faced critical backlash from users and the Indian government. This led WhatsApp to postpone this update by three months and on May 15, the new policy will be enforced. WhatsApp's new privacy policy details how it processes users data for businesses and how it is working with Facebook for deeper integration across other Facebook-owned products.
As per the newly released guidelines by WhatsApp, the popular instant messaging app clarifies that it will not delete any account on May 15 after the new privacy policy update comes into effect. For the past few months, WhatsApp has been reminding users to accept the new terms and privacy policy but users have the option to dismiss that pop-up.
After May 15, the reminder to accept the new terms will get more persistent and its frequency will increase. Until now it's limited to once or twice every day but from May 15 onwards this pop-up notification will become regular until the user accepts it.
What happens if you don't accept WhatsApp's privacy policy?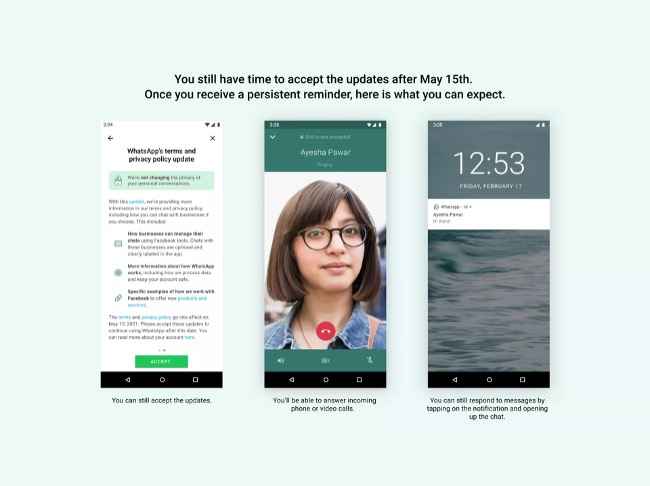 Even after persistent reminders, if a user does not accept WhatsApp's new terms, the company will start to limit the features for users. While the company has revealed that it won't be limiting features from May 15, however, if a user does not accept the privacy policy, they will eventually lose access to WhatsApp.
After weeks of persistent reminders, WhatsApp will limit access to the chat list which means that users will not be able to check their messages or reply to them by opening the app. WhatsApp will still allow incoming voice and video calls and users will be able to respond to messages from the notifications but users will not be able to create new messages.
After a few weeks of limited functionally, WhatsApp will not allow any incoming calls or messages and notifications and will curb all features that it normally allows. This means that users who will not accept WhatsApp's new terms and privacy policy will lose all access to WhatsApp. The Facebook-owned company has not detailed a timeline for curbing the functionality for users who do not accept its new policies.
WhatsApp users will lose access to their accounts but the company will not delete these accounts immediately. However, such accounts will be deleted after 120 days of inactivity.
Tags:
WhatsApp
WhatsApp India
WhatsApp privacy policy
WhatsApp terms of service
WhatsApp privacy policy update
WhatsApp new policy
WhatsApp business
Facebook
WhatsApp deactivate