OnePlus TV 32Y1 - Smarter TV
Android TV with superior craftsmanship and elegant design.
Click here to know more
Advertisements
WhatsApp's users were greeted by a notification earlier today about the company updating its terms and privacy policy for users and businesses. The pop-up alert included three key updates about the change in terms and privacy policies. WhatsApp's users can choose to agree to the terms and continue using the service but the changes in the terms and privacy policy will be in effect February 8 onwards.
The notification alert states that the update to terms and privacy policy includes more information about the messaging service and how it processes a user's data. Besides, businesses can now have a look at how to use Facebook hosted services to store and manage their WhatsApp chats. The new update to terms also elaborates on how WhatsApp partners with Facebook for integration across Facebook Company Products.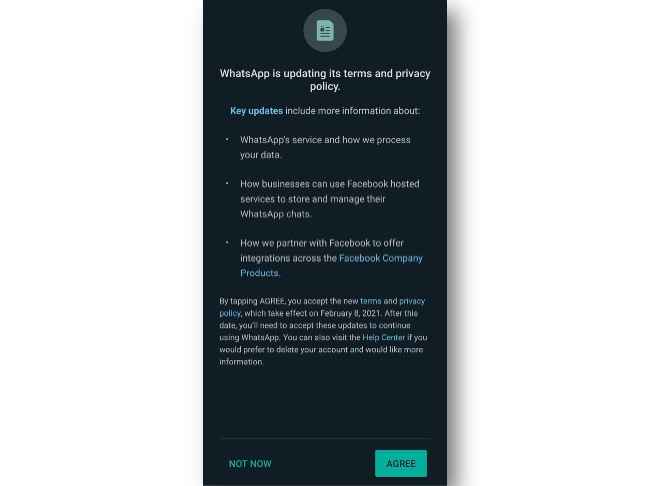 WhatsApp has also updated its privacy policy page on January 4 and added more details on how it collects and uses information and how it works with other Facebook products like Messenger, Instagram and more. Similarly, for Businesses on WhatsApp, the company states, "When you message with a business on WhatsApp, keep in mind that the content you share may be visible to several people in that business. In addition, some businesses might be working with third-party service providers (which may include Facebook) to help manage their communications with their customers."
The company has also detailed how it works with other Facebook-owned products for helping understand and improve each other's services and provide integrations across these products. "We may use the information we receive from them, and they may use the information we share with them, to help operate, provide, improve, understand, customize, support, and market our Services and their offerings, including the Facebook Company Products," the company says in its policy update.
The new changes will take effect from February 8 and users will have to accept the new terms and updates to the privacy policy to continue using the app. In all likelihood, users who do not agree to the update will lose access to the service once it is in effect. Previously, the terms and policy allowed users to choose not to share WhatsApp information with Facebook to improve the kind of ads it offers to users. However, the new update seems to make it mandatory for users to accept the new terms.