[Update: Remove China Apps taken down for violating Google Play Store's Deceptive Behaviour Policy]
Remove China Apps has been doing the rounds on the Internet with a single purpose, it helps you remove Chinese apps from your Android smartphone. The app was released on Play Store on May 17 and has gathered over a million downloads ever since. It claims that it can automatically detect apps that originate from China and offer the user an option to uninstall those apps from their phones.
The latest app comes at a time when Indians are riding high on anti-China sentiments due to a political dispute between two nations and also the push by Prime Minister of India to do away with Chinese products by going vocal for local. As a result, the Indian populace has been finding ways to boycott Chinese products with many celebrities and individuals leading the forefront.
At the time of writing this article, Remove China Apps has 4.8 ratings on Google Play Store with more than one million downloads and is ranked numero uno in the list of top free apps on Play Store. Interestingly, the app overthrew the Aarogya Setu contact tracing app to become the top free app on the Android app store.
How does Remove China Apps work?
Remove China Apps has been developed by Jaipur-based OneTouch AppLabs that cites it as an "educational category application". The app identifies the country of origin of apps installed on your smartphone and offers users a way to uninstall these apps if they choose to do so.
Having said that, the developers have warned that they are not responsible for any of the information provided by the app whether correct or incorrect and "users should act only at their own will." This is because the app detects the country of origin of an application based on "market research". Moreover, the developers have clarified their stance on the increasingly popular app by stating that the app does not force people to uninstall any applications.
This brings us to the question of why we need a dedicated app to remove apps from our phones.
Why does Remove China Apps exist?
Given the current situation, the political dispute between India and China and the push to adopt Made in India goods, citizens are actively protesting by using apps like Remove China Apps in order to get rid of any and all Chinese influences in their lives. There has been much furore online over boycotting Chinese products including mobile phones and apps.
As per a recent survey conducted by Manoj Kewalramani of the Takshashila Institution, more than 67 per cent of Indians believe China to be responsible for the Coronavirus outbreak across the world. While the sample size recorded responses of 1299 individuals, a large majority of online chatter now revolves around boycotting Chinese goods and services from India.
This is after Prime Minister of India actively asked citizens to go "Vocal for Local" products and Made in India goods and services. This resulted in a severe backlash of Chinese products, companies and services.
Should you download Remove China Apps to uninstall other apps?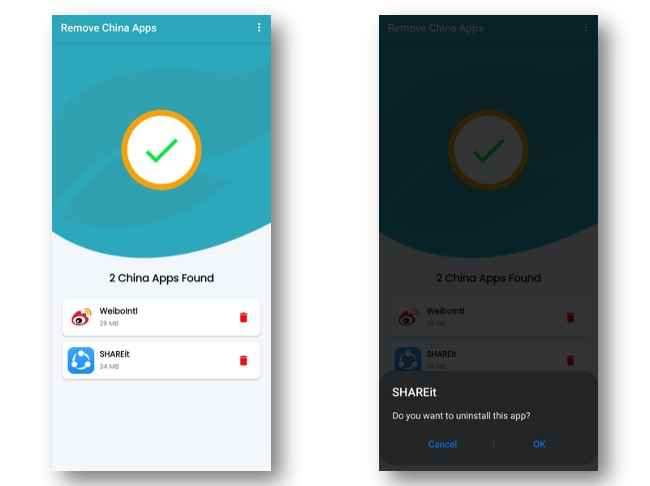 Remove China Apps scans your phone for pre-installed apps and notifies you of the apps that have a Chinese origin. Having said that, every Android smartphone comes built-in with an uninstaller which helps you remove the app without having to download another third-party app.
Remove China Apps doesn't seek any permission to start and run a scan. Though we recommend our readers to only download the apps that they use often and are trustworthy. The Remove China Apps application recommends users to uninstall apps such as ShareIt and TikTok, both of which have over one billion downloads on Play Store. Interestingly, the app doesn't identify PUBG Mobile as a possible Chinese app even when the developers Tencent Games are based out of China.
So, in the end, it's a user's call if they want to uninstall apps that originate from China, though we will still recommend you to go through the regular uninstallation process rather than relying on a third-party app remover as it's a much more secure and hassle-free way.
For more technology news, product reviews, sci-tech features and updates, keep reading Digit.in or head to our Google News page.