In the second week of the 21-day lockdown imposed to curb the coronavirus outbreak, the official COVID-19 tracking app from the Indian government is finally here. The app is called Aarogya Setu which translates to 'A bridge of health' from Sanskrit and is available for download from the Google Play Store and Apple App Store. The app has been developed by the National Informatics Center which falls under the Ministry of Electronics and Information Technology (MeitY). The tracking app relies on Bluetooth and your smartphone's location services to determine if you have come in contact with a COVID-19 positive patient recently.
The app description states that "the App is aimed at augmenting the initiatives of the Government of India, particularly the Department of Health, in proactively reaching out to and informing the users of the app regarding risks, best practices and relevant advisories pertaining to the containment of COVID-19."
How does Aarogya Setu work?
The app asks for some personal information like name, age, sex, profession, countries visited in the past 30 days and whether or not you are a smoker. You also have allow the app to collect location and Bluetooth data at all times.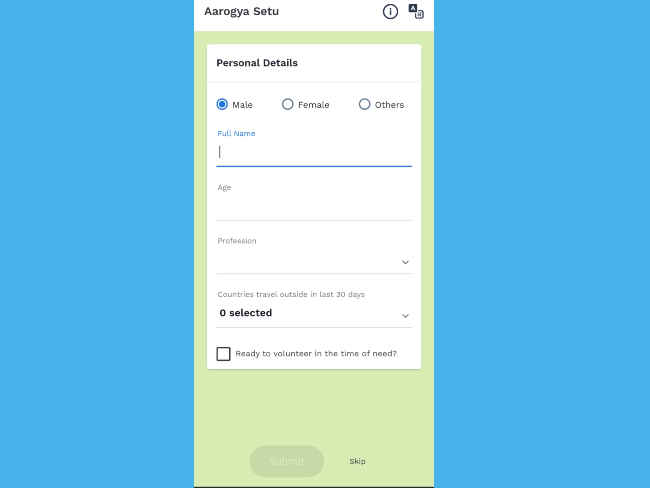 The privacy policy of the app states that the location and Bluetooth data is recorded every time a smartphone installed with the app comes in close range of another smartphone, along with the time of contact. By doing so, it creates a social graph of the people you have come in contact with. If you have come in close proximity of an infected person, you will be alerted via SMS, push notifications and other means.
What languages are supported?
The Aarogya Setu COVID-19 tracker supports 11 languages including English, Hindi, Gujrati, Bengali and more. You can select the preferred language at the beginning or at any time while using the app.
What permissions does it ask for?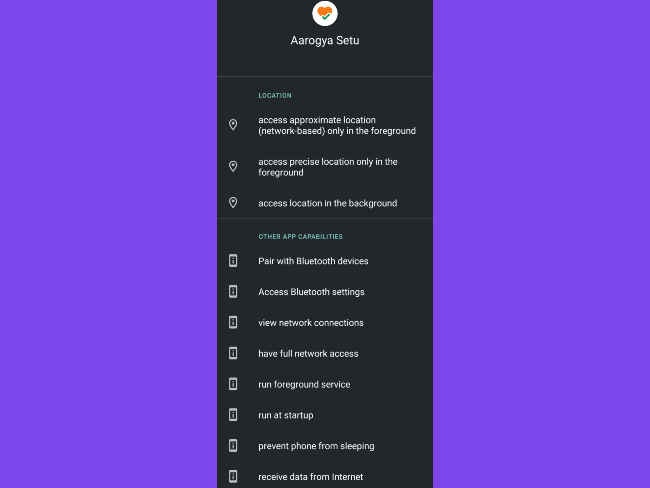 The Aarogya Setu app requires location permission to be granted at all times. It asks for your precise and approximate location, even in the background. It can also pair with other Bluetooth devices, access Bluetooth settings, prevent the phone from sleeping and receive data from the internet.
What happens when you are near an infected person?
While at most times, the app will say you are at low risk, coming in contact with an infected person will change the status to "You are at high risk". The app will ask you to first self-isolate yourself, log your temperatures and get yourself tested urgently. There will be helpline numbers shown to schedule a test.
What other functions does it have?
Under normal circumstances, the app status will be green, with directives to stay at home. There's also a self-assessment test you can take through a chatbot if you are showing any of the symptoms to see if you are at risk.
There are links to helpful guides, Do's and Don'ts, and safety measures you can take. Tweets from the Ministry of Health and Welfare are also embedded.
Will your data remain private and secure?
The privacy policy states that the information generated is stored locally in the app on the device and is only uploaded in anonymised, aggregated datasets "for the purpose of generating reports, heat maps, and other statistical visualisations". If you test positive sometime down the line, the data will be used to inform you or those who have come in contact with you. The policy also states that the location information collected from the app will be purged every 30 days from the app if you have not tested positive during that period. All data, the app policy maintains, is protected by encryption during transit as well as at rest.