Through the Amazon Great Freedom Festival Funzone Quiz you can win prizes worth up to Rs 25,000, OnePlus 9 Pro, and much more exciting prices. Here are the answers for the games on August 6, 2021.
Amazon Great Freedom Festival Quiz is on during the Amazon Great Freedom Festival sale 2021 which brings exciting prizes and rewards for participants. The Amazon Great Freedom Festival spin and win quiz brings you exciting gifts like a OnePlus 9 Pro, OnePlus buds, cash rewards up to Rs 25,000, and more.
How to play the Amazon Great Freedom Festival spin and win
The Amazon Daily Spin and Win Quiz is available in the Funzone section of the Amazon app. The quiz is now available on Funzone and you can play the game on the Amazon app.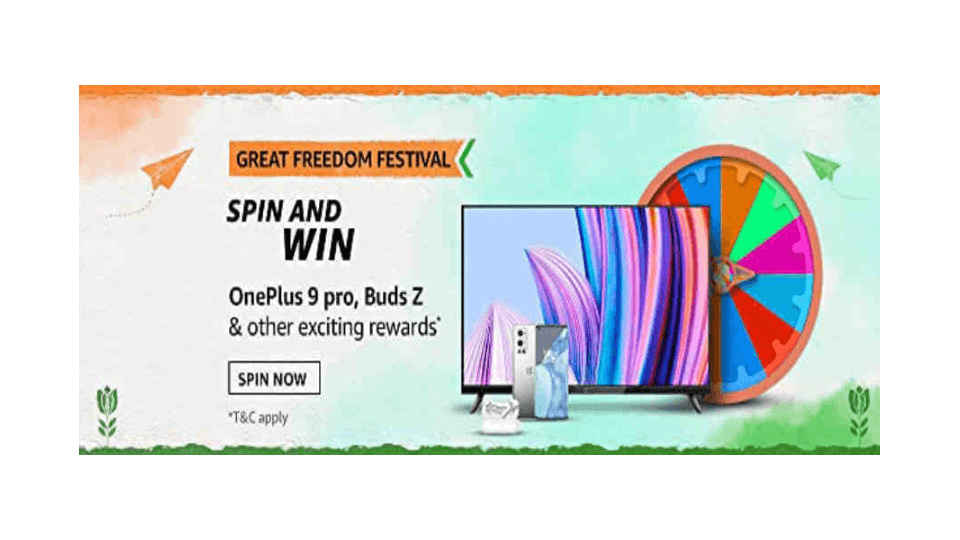 1. To play the Amazon App Quiz you will have to download the Amazon mobile app from App Store or Google Play Store.
2. Next Open the app and sign in
3. Then search for Funzone and click on the first result displayed on the Amazon app.
4. Then Scroll to the image showing Daily Spin and Win Quiz.
5. To enter the contest, click on the banner image, and tap on the spin wheel.
6. Just answer the qualifying single question correctly to enter the lucky draw and win the OnePlus 9 Pro, cash rewards up to Rs 25,000 and more.
Amazon Daily Spin and Win Quiz
Q- How many sides does a square have?
Answer: 4
Amazon Daily Quiz today: August 6th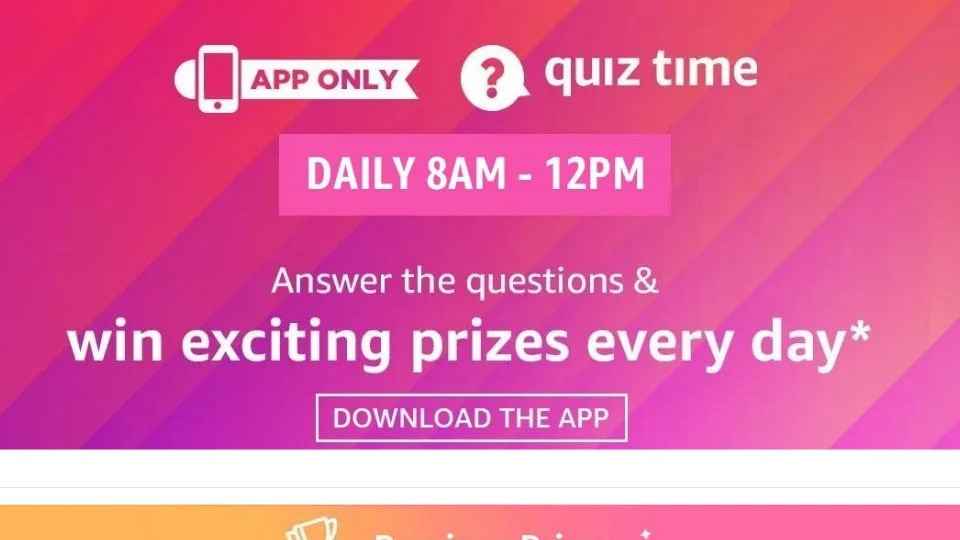 Amazon Daily Quiz is back where users can participate and answer simple questions to win big prizes. The Funzone Jackpot for August 6, 2021, is live now, and the winner will be eligible to win prizes up to Rs 25000 as Amazon pay balance. Amazon Funzone games focus on easy trivia, quizzes, etc. which provide the chance for customers to win exciting prizes.
The prizes for these quizzes range from free products like mobile phones, gadgets, and goodies to Amazon Pay balance.
Here are the questions for Aug 6, 2021, for the Amazon Quiz
Q1: During a felicitation ceremony, the president of which country bestowed the title of the 'Flying Sikh' upon Milkha Singh?
Answer: Pakistan
Q2: Oscar-winning actor Emma Stone portrays which iconic Disney villain in a 2021 film?
Answer: Cruella de Vil
Q3: Pine Island Glacier, one of the fastest melting glaciers, is located in which place?
Answer: Antarctica
Q4: Which empire does this type of furniture share its name with?
Answer: Ottoman Empire
Q5: What type of animal is this, that surveys its environment by standing on its hind legs?
Answer: Mongoose
Apart from this various smartphone brands have launched exciting quizzes where you can win smartphones as well as Amazon Pay balance.
Oppo A74 Spin and Win quiz- Win up to Rs 1,00,000 Amazon Pay balance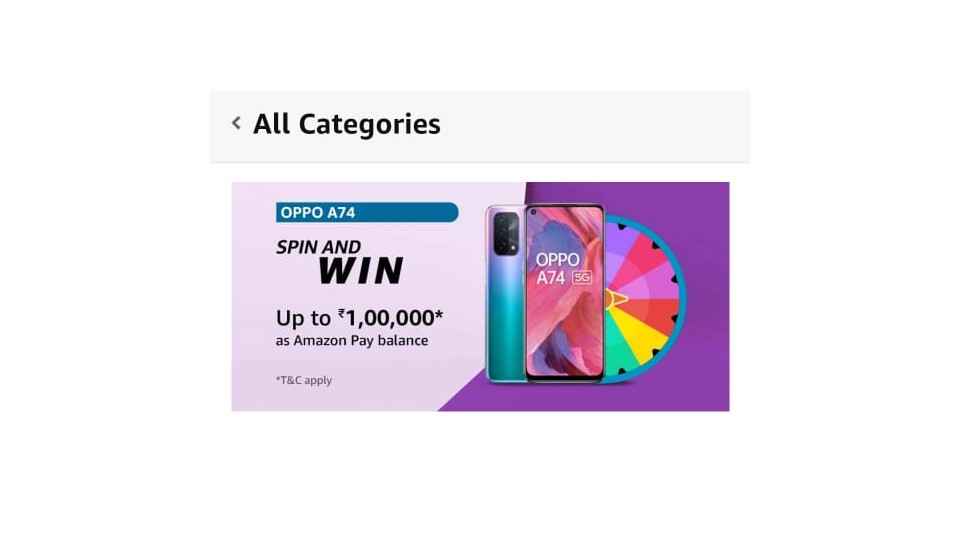 Question: OPPO A74 display is equipped with?
Answer: All of the above
How to play OPPO A74 5G Spin and Win Quiz?
The Oppo A74 5G Spin and Win quiz, is in the "Play and Win exciting prizes from smartphone brands' section. You will be able to see a dedicated banner for OPPO A74 5G Spin and Win Quiz. Simply click on the banner to start the spin and win the quiz.
Oppo F19 Series Quiz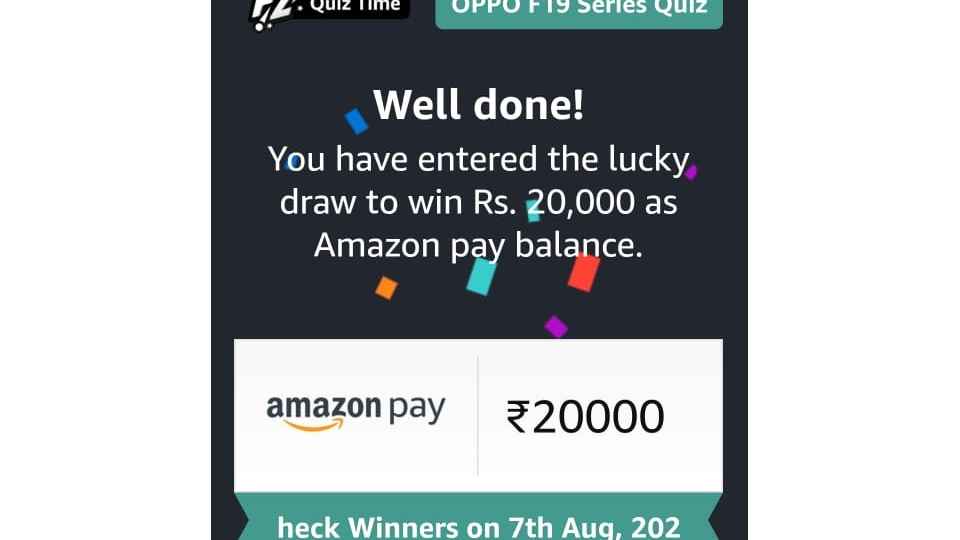 The OPPO F19 Series Quiz on Amazon quiz will get you rewards up to Rs 20000 Amazon Pay balance by a random draw of lots. To play the quiz just answer the 5 questions given regarding the Oppo F19 series and win big.
Amazon OPPO F19 Series Quiz questions and answers
Q1: Which is the latest OPPO F series smartphones launched in India?
Answer: F19 Series
Q2: Which camera features of OPPO F19 Pro+ 5G lets you create amazing videos?
Answer: All of the above
Q3: Which feature of OPPO F19 enables you to get 5.5-hour talk-time with just 5 minutes of charge?
Answer: 33W Fast Charge
Q4: What is the screen resolution of OPPO F19 series smartphones?
Answer: FHD+
Q5: Which OPPO F19 Series smartphone is equipped with Smart 5G that enables seamless 4G/5G network switching?
Answer: OPPO F19 Pro+ 5G
Amazon OnePlus 9 series Quiz
Amazon India had announced a quiz dedicated to OnePlus with the launch of its new series which includes the OnePlus 9, OnePlus 9 Pro and OnePlus 9R. You can win an Amazon Pay balance of up to Rs 40,000 by participating in the quiz.
OnePlus 9 Series 5G Amazon Quiz Answers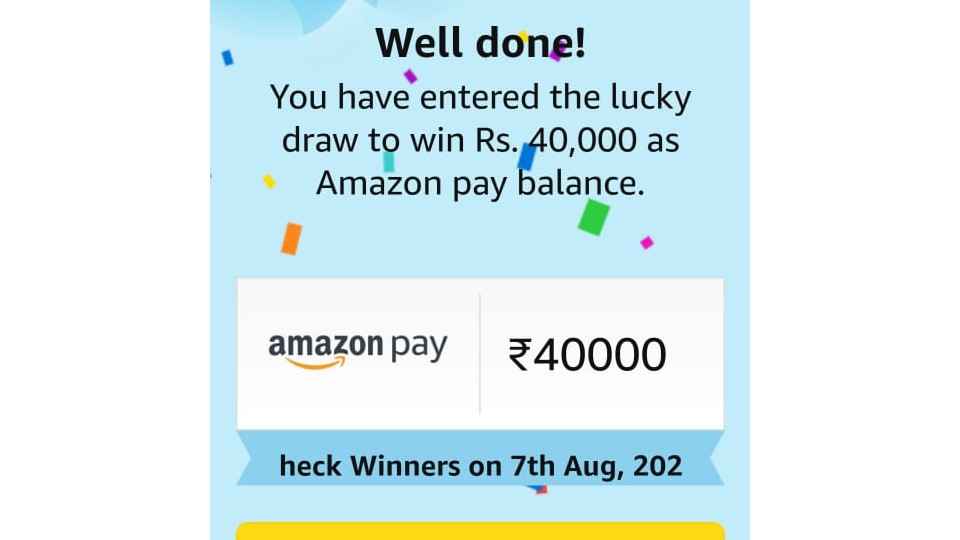 Q1: Which new Camera modes were introduced on the OnePlus 9 and OnePlus 9 Pro 5G for the first time?
Answer: Both a and b
Q2: What are the benefits of the Natural Colour Calibration with the Hasselblad feature on the OnePlus 9 and OnePlus 9 Pro's Camera?
Answer: Authentic Colours and Natural Skin Tone
Q3: The OnePlus 9 and 9 Pro's 50MP Ultra-Wide Camera has a built-in _____ that removes edge distortion
Answer: Freeform Lens
Q4: The OnePlus 9 and 9 Pro is powered by _____, the World's most powerful Snapdragon CPU?
Answer: Qualcomm Snapdragon 888
Q5: The OnePlus 9R 5G gets a full day's power with just _____ minutes of Warp charge
Answer: 15
Amazon Quiz: Terms and conditions
To participate in the Amazon Funzone Quizzes, all winners will be required to have their mobile numbers verified with Amazon.in to claim the prize. Participants names, likeness, image, voice, and/or appearance, photos, video recordings, etc. can be used for promotions by Amazon with your consent. The e-commerce giant reserves the right to change the terms and conditions or cancel the contest at any given time.