PUBG Mobile India Series 2020 has come to a close and at the end of the second day, team TSM-Entity have been crowned champions of the tournament. The team amassed a total of three Chicken Dinners and 77 kills for a total score of 177 points. Ahead of second-placed team Fnatic, who scored 150 points with two Chicken Dinners and 64 kills. Meanwhile, Team Mayhem placed third with a total of 144 points. This included two Chicken Dinners and 54 kills. Team UMumba and VST-VXT eSports took the fourth and fifth sports respectively to round off the top-five finishes.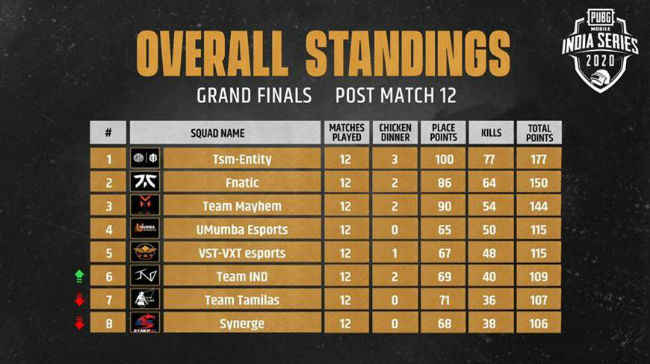 The PUBG Mobile India Series or PMIS saw 16 teams battle it out for victory. Team TSM-Entity showcased a dominant performance and had a massive head start with over 70 points on Day 2. Meanwhile, the battle for second place was much tighter with only a point separating team Fnatic and Team Mayhem. However, the comeback story of the tournament has to be UMumba Esports as the team were nowhere in the top 5 with only 41 points to their name on the first day. However, the team showed resilience on day two and managed to reach the 4th position.
PMIS 2020 had a total prize pool of Rs 50,00,000 with TSM-Entity taking home Rs 20,00,000 as winners. Team Fnatic also took home Rs 20,00,00 for coming second, while Team Mayhem took home Rs 3,00,000 for coming third. All of the teams on the grand final were allotted cash prizes.
2019's inaugural PMIS tournament saw Team S0ul emerge victoriously and take home Rs 30,00,000. Meanwhile, team God's Reign finished second. You can read our interview with Team S0ul here and check out our interview with team God's Reign in the video below.