The finals of the PUBG Mobile India Series took place at GMC Balayogi Indoor Stadium, Hyderabad, yesterday and when the dust finally settled, it was team S0UL which emerged victorious. The winning team took home Rs 30 Lakh as well as the winners trophy. Second place was taken by team God's Reign, while third, fourth and fifth spots were taken by Funky Monkey, NSD and Team Firefrost respectively.
Aneesh Aravind, General Manager, Tencent Games India stated, "Our congratulations to team S0UL for winning the India Series 2019 with a mix of intelligent squad play, clever zone movement and ability to pick up a high number of kills. With India Series 2019, we delivered a world class tournament partnering with Indian esports companies, which we are sure, will cultivate the industry with many more to come. The India Series garnered 35 million views on YouTube, Facebook and Sony Liv at a peak concurrent of 260,000, establishing itself into prime-time entertainment category. Also, we extend our heartfelt thanks to OPPO, our title sponsor for taking the initiative to grow esports in India"
Besides a prize for the winning teams, the PUBG Mobile India Series tournament also rewarded individual players and teams separately for actions during the game. God's Reigns' team member, Kaushal Kumar A.K.A ItsKK won the MVP as well as the Lone Ranger awards. Team Maximus Alpha won 'The Healers' award for the maximum revives.
In its press statement, the organisers note that the PUBG Mobile India Series 2019 tournament saw over 4,00,000 games played across in-game qualifiers and 3 online rounds with over 5,75,000 registrations from across the country.
Here's a look at the final standings.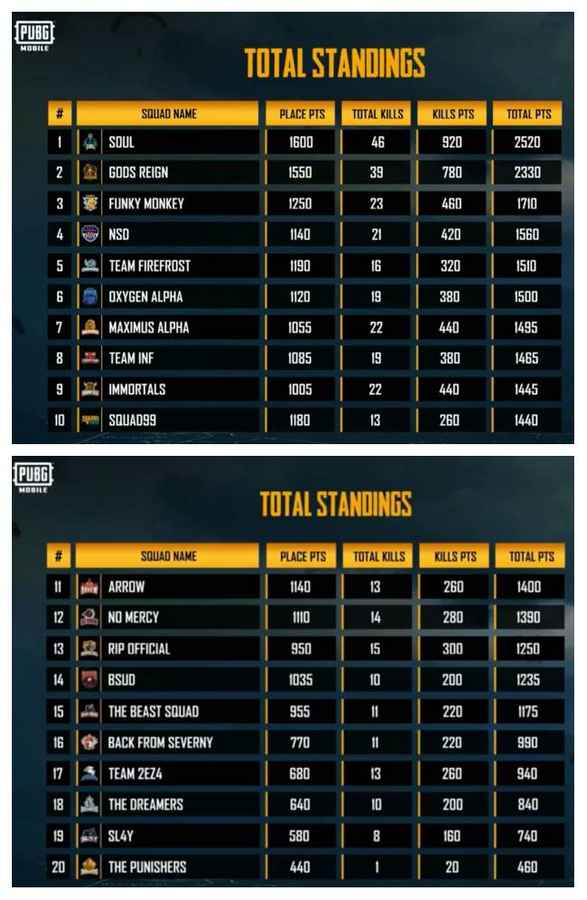 Related Reads:
Here's how Indian PUBG gamers are streaming their way to the bank