Indian users will have to bid a tearful farewell to PUBG Mobile from October 30 onwards. In a post on its official Indian Facebook account, it was announced that Tencent Games will terminate all services and access for users in India to PUBG Mobile and PUBG Mobile Lite. On top of this, the rights to publish the game in India will be returned to "the owner of the PUBG intellectual property," namely, PUBG Corp.
The post also emphasizes that protecting user data has always been a "top priority" for the game. It also notes that the developers always complied with applicable data protection laws and regulations in India. It further noted that all users' gameplay information was processed transparently and the same was disclosed in its privacy policy. It ends the post by saying that it deeply regrets the outcome, but thanks the love and support it got for the game in India.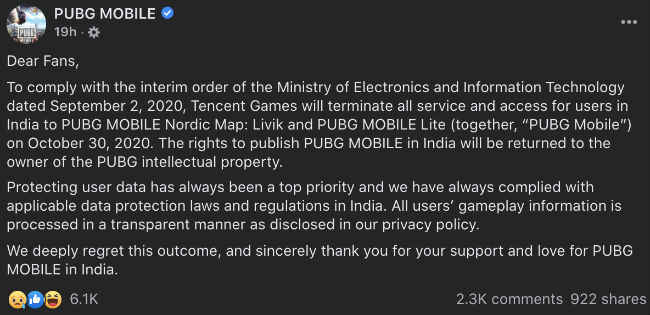 The point about returning the rights to publish PUBG Mobile in India to PUBG Corp is in line with an earlier statement. Soon after the game was banned in India, PUBG Corp. released a statement saying it fully intends to comply with the ban in India and understands why these steps had to be taken. It also said that it had decided to cut ties with Chinese firm Tencent and cancel the licence that allows Tencent to run PUBG Mobile in India.
To recall, PUBG Mobile and PUBG Mobile Lite were among the 118 apps that were banned by the Indian government on September 2. However, crafty players were able to find a way around the ban and continue playing. However, with the termination of all services, it seems like that won't be possible after October 30.
Thankfully, while PUBG Mobile was a great game, there are some other games that you may wish to try. You can check those out here