It has been 50 days and one of India's favourite mobile game is still MIA. We're talking about PUBG Mobile, the battle royale game that even a month back, commanded one of the largest active user bases in India. But one fine morning, it all came crashing down. On the sidelines of the Indo-China border dispute, the Indian government banned the game along with many other Chinese apps, citing "emergent nature of threats" as a reason.
Then again, when you say ban, the first word that comes to mind is the inability to play the game. Turned out, that wasn't the case a week after the ban when we were successfully able to open the official website, download the new update and play in the Asia server along with other Indians. Have things changed since then? With more than a month gone by, we decided to look into the state of PUBG Mobile in India, once again.
Are people still playing PUBG Mobile in India?
Here's the interesting part. PUBG Mobile is still being played in the country, despite the ban in place. Even with Twitter and other social media apps filled with queries as to when the game is coming back, playing a match will tell you just how many Indians are still vying for the Chicken Dinner. Twitter is also rife with reports about with accounts getting banned after logging in from India, which means PUBG Mobile may be taking action on users trying to circumvent the ban.
The PUBG Mobile official website also cannot be accessed on a Jio network (4G or Wi-Fi), but Airtel users can still open it, download the game and play. Some VPNs are letting you bypass the ban as well. But doing so will be a violation of the ban imposed by the Indian Government, and Digit.in does not condone bypassing the ban to play the game.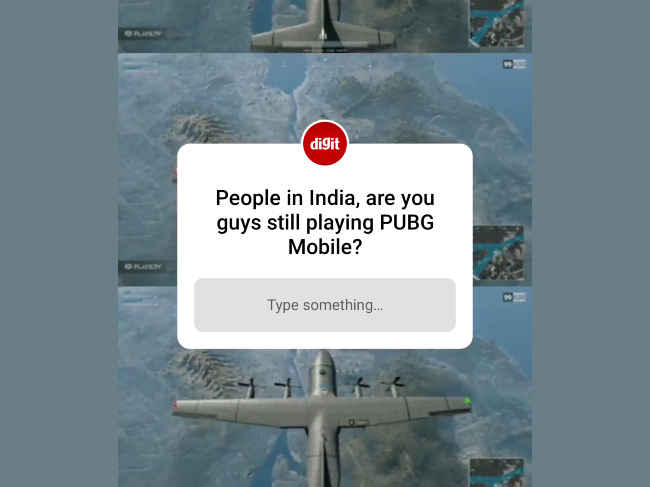 We ran a poll on our Instagram handle asking our young audience whether they are still playing the game. Out of over a hundred responses to our question, a majority said they don't play the game any more. Some are waiting for the ban to lift, while most others have veered away to other popular titles like Call of Duty: Mobile and Among Us. Some even have taken up PC gaming, playing games like Valorant and Apex: Legends as well as PUBG PC. Yet, there was also a significant number of people who said they still play the game, strengthening our theory that the ban imposed on the game isn't quite binding, unlike the one on TikTok which completely blocked access to the contents inside the app.
Are YouTubers still streaming PUBG Mobile?
Even on YouTube, popular Indian game streamers like MortaL, DynamoGaming, Cosmic YT and more have switched to streaming titles like Among US, GTA V, Brawl Stars, and PUBG PC. Viewership too, seems to have crashed for these popular streamers who made their name playing PUBG Mobile. While earlier, view counts on MortaL's stream would breach the million mark, these days his views range between a couple of hundred thousand. And this is the case with almost all popular game streamers in India.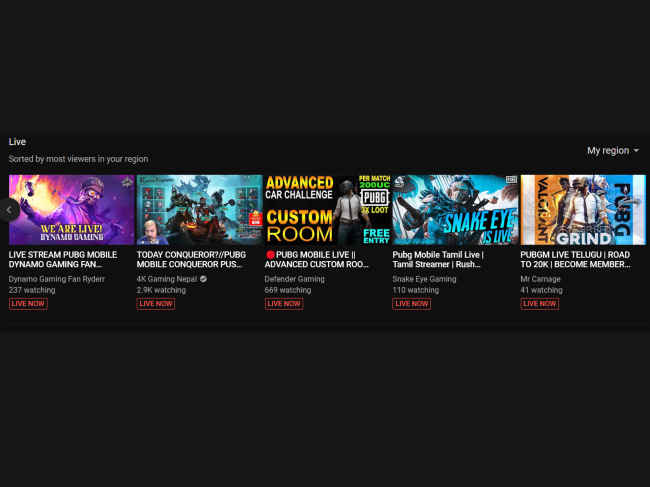 That doesn't mean PUBG Mobile is totally absent from the streaming section on YouTube Gaming in India. Going to the section will still show PUBG Mobile as a popular game on streams, and there will be a handful of live sessions from India, going on at all times on the website.
What does all this tell us? For one, it's extremely difficult to enforce a ban on a game that's a global phenomenon. To the Indian Government's credit, PUBG Mobile has indeed lost all the momentum it had gathered within a year of operation. The game has disappeared from app stores in India and ISPs are now beginning to block the official website as well. The vast majority of players have also begun to accept the fact that the game is not coming back any time soon and have already switched to other alternatives. Games like Among Us and COD: Mobile have risen up the ranks, while a League of Legends game is looming around the corner to take the country by storm.