It has been over a month since the day the Government of India announced a ban on PUBG Mobile as well a bunch of other Chinese apps. While many gamers moved on to other games like Call of Duty: Mobile and Garena Free Fire, some still hoped that the game would return to Indian shores. Now though, it looks like the guys over at PUBG Mobile India haven't given up as they have posted a job listing on LinkedIn for a Corporate Development Division Manager in the country. This seems to suggest that while PUBG Mobile India may be down, it isn't out for the count.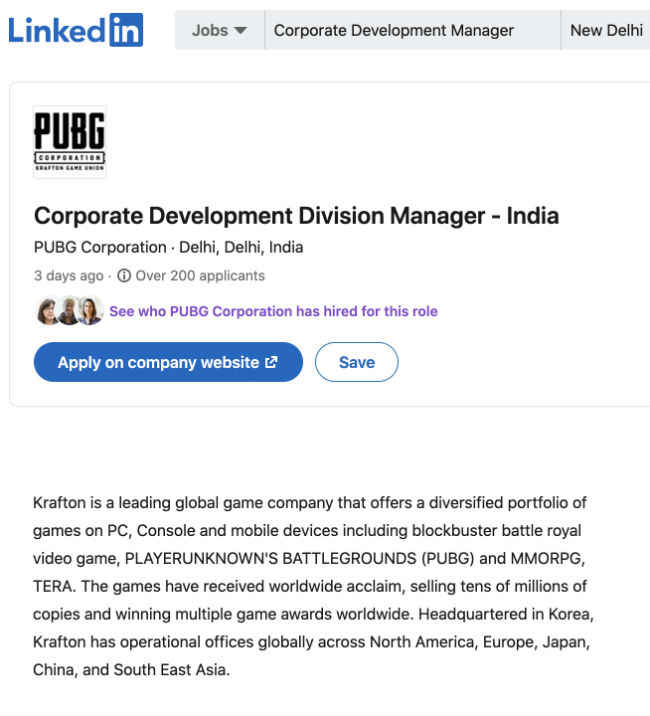 Soon after the ban was announced, PUG Mobile Corp. announced it would comply with the orders of the ban. It also announced that it was severing its ties with Tencent India and would ensure that data is stored locally and operations would be run from India. The job posting for a Corporate Development Division Manager seems like a step in the direction of fulfilling that promise.
According to the job listing, the responsibilities of the person would include, among other things, supporting the setup process of PUBG India with guidance from Krafton Inc., developing and monitoring the pipeline of potential M&A, investments and strategic partnership opportunities in gaming and related sectors in India, and more.
There were reports that PUBG Mobile may partner with Jio or Airtel to make a return to India. However, nothing like that has been confirmed and, at least for now, it seems like PUBG Mobile will not be making a proper return to India. Regardless, some individuals have figured out ways they can still play the game. However, for its part, the game has been banning players who have logged in from India.
However. It doesn't seem like that has stopped the game from going ahead with its plans. The beta version of the game was recently updated to include a new Metro Royale Mode. This mode is a part of a collaboration between the game and Metro Exodus and adds a dash of survival gameplay to the game. The new mode comes with new objectives, gameplay elements and even a map.