Garena Free Fire's newest pet, Beaston, is now available to players in India. To recall, the pet was visible to all players in the pet selection screen, but was not available for purchase. Now though, the new pet is finally available in India. Beaston is available for 699 Diamonds, which is the same as all the other pets in the game except for Mechanical Pup and Kitty.
Beaston was unveiled earlier this month and resembles a cybernetic baboon. However, the moments seem more akin to a gorilla.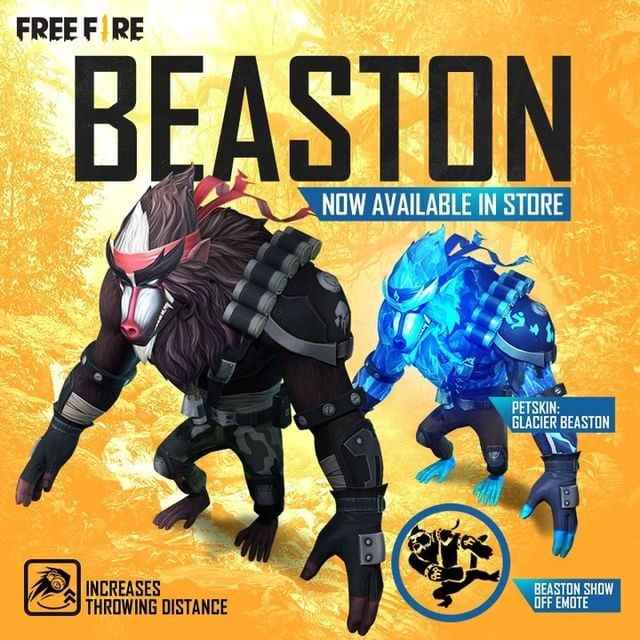 Skills and actions
As with many other pets, Beaston comes with a special skill that he grants to the player. Beaston's skill is called 'Helping Hand'. This increases the throwing distance of Grenades, Gloo Walls, Flashbangs, and Smoke Grenades. The percentage increase that players can expect will change depending on the level that Beaston is at.
Beaston also has three available actions that can be performed. These are triggers automatically, or activated via the command wheel. This includes 'Celebration' that occurs when the player kills an enemy or takes a medkit. The second is a 'Play' action that can be manually triggered via the command wheel. The third is called 'Show' which is also triggered via the command wheel. These are unlocked when Beaston reaches level two, three and four, respectively.
Strategy
As one might expect, Beaston's Helping Hand skill would be completely wasted on players who do not use grenades. As such the pet is best used by grenadiers. Further, Beaston would make a good pairing with the Alvaro character. That's because Alvaro's passive ability, Art of Demolition, offers increased explosive damage and damage range. This, combined with Beaston's boost to grenade throwing range, would allow players to rain explosive damage at range. Thereby troubling even those hiding behind Gloo Walls. You can learn more about the pets available in the game, here.