Garena Free Fire has announced that it has temporarily removed the new FAMAS-X assault rifle from the Battle Royale mode. The developers have not specified the exact reason for the removal, only that the weapon is bugged. What we do know is that the developers will re-introduce the weapon once the bug has been fixed.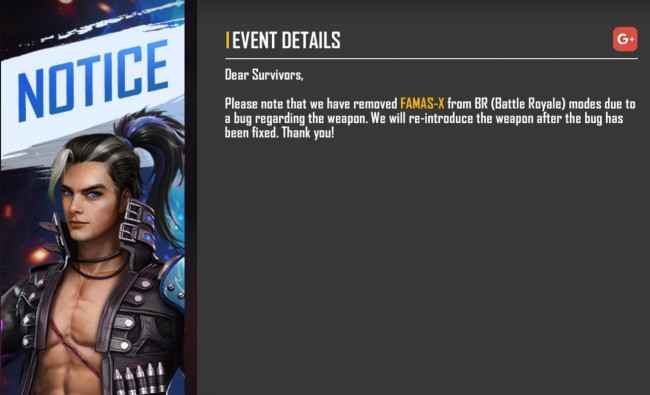 What is the FAMAS in Garena Free Fire
The developers did not mention what the bug with the weapon is. Speculation suggests that We can speculate that might just be too overpowered for the game. To recall, the FAMAS-X is an upgraded variant of the original FAMAS rifle that has been a part of the game for quite a while. The FAMAS rifle stands out from the rest of the assault rifles in Free Fire as it is the only one to offer 'burst fire'. The weapon fires three rounds at the push of the fire button. In order to make the weapon fire continuously, the player will have to press the fire button multiple times.
While it may not be the easiest weapon to use in the game. In the right hands, it can be deadly. The weapons can not only offer a very high rate of fire when used correctly, but it can also be very accurate at long range.
The FAMAS-X is pretty much the same as the traditional FAMAS in the game. However, the big differentiator was the use of 'FAMAS Trident Bullets'. This allowed every third bullet fired from the weapon to deal additional damage. It is possible that the FAMAS-X was too overpowered for the game. The weapon was added to the game's Classic mode in the recent OB26 'Project Cobra' update.
Have other developers done something like this?
This won't be the first time that a game developer decided to 'un-release' a game feature due to balancing issues. Activision was supposed to release a new Perk for Call of Duty: Mobile called Overkill. The perk allowed players to carry two primary weapons at the same time. However, the developers slyly removed the Perk sometime in October, and it hasn't been heard from since.
Speaking of Call of Duty: Mobile. The new Season 1 'New Order' update to the game also included a version of the FAMAS assault rifle. Called the FR. 556, the weapon was designed for medium to long-distance combat. Unlike the version of FAMAS in Free Fire, FR. 556 is fully automatic and does not offer a burst fire mode. You can learn more about the FR. 556 here.