Call of Duty: Mobile's 1st anniversary update is rolling out and will be live from tomorrow onward. But it seems like the Overkill perk will not be a part of the celebrations. The 'yet to be released' perk was added to the game a few months ago and was locked till now. But with the new Anniversary update, the perk has been entirely removed. So it's safe to assume that the Overkill perk will not be a part of the game, at least not right now.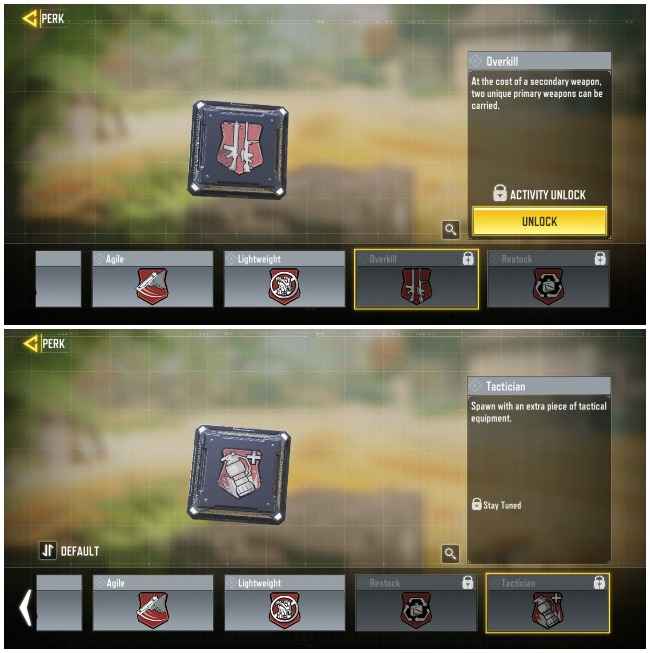 Above: Before the update; Below: After the update
The developers have not revealed why the perk was removed. But it is possible that the reason had to do with balancing. To recall, the Overkill perk allowed players to ditch their secondary weapon in favour of a secondary primary weapon. As such some players found the perk to have certain balancing issues as players may use a combination of a sniper rifle with an SMG/assault rifle and cover all possible ranges.
Instead of Overkill, players will be able to unlock Restock and Tactician perk in the first slot. Restock recharges equipment over 25 seconds, while Tactician adds another piece of tactical equipment. The final perk slot also gets a new perk in the form of Launcher Plus that adds single reserve ammunition to all launchers. Details on how to unlock the perks will be revealed later.
Call of Duty: Mobile developers confirmed the features players can expect, in a post on Reddit. This includes new soldiers, weapon blueprints such as QQ9- Neon Grunge, new SMG and scorestreak. Furthermore, the devs have prepared special anniversary and Halloween events and also added the new NA-45 gun and a Tactician perk. There's a new Cranked mode that brings an adrenaline-rush gameplay mode to the Multiplayer matches. In this mode, players will have to get kills to get points that increase the timer count of their own destruction. If a player's timer hits zero, the player will automatically get killed. The Cranked mode will be available on Crash, Standoff, Crossfire, Cage, Rust and Shipment maps. You can learn more here.