Call of Duty: Warzone might soon be headed to mobile devices. According to a job listing on Activision's website, the company is looking for a Features Executive Produce for an upcoming title called WZM, which is presumably Warzone Mobile. The new hiring will be a part of the Mobile department and will be reporting to Activision's VP, Mobile, which is currently Chris Plummer.
Since posting, the job listing has apparently been filled. However, Reddit user u/RickAtwood managed to post a screenshot of the listing. The job description reads, "As Executive Producer, Features you will own product framing and player experiences of a new AAA mobile FPS in the Call of Duty franchise. Developing in collaboration with multiple Activision studio locations around the world, this leader is a skilled communicator and development leader who can define and harvest important elements."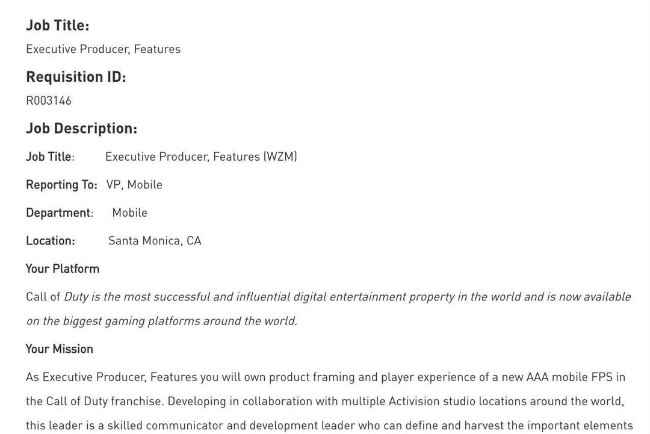 The description seems to confirm Activision is working on a new Call of Duty game for mobile. Judging by the popularity of Call of Duty: Warzone, it won't be too much of a surprise to see the publisher release a version for mobile devices. A tweet by user @codmINTEL, a new Call of Duty game scheduled for a 2021 launch is being developed by Sledgehammer Games. However, do note that Call of Duty is a yearly franchise that is released by a different Activision studio each year. So the tweet should be taken with a pinch of salt.
Of course, if Activision does release a new Call of Duty: Warzone game for mobile, one should wonder what impact it will have on Call of Duty: Mobile. Warzone is a battle royale game and Call of Duty: Mobile itself has a BR mode baked in. Looks like we'll just have to wait and see what Activision has in store for us.