Call of Duty: Mobile's Season 1 'New Order' update has been out for almost a week now. As one might expect, the new update adds a bunch of new features including two new weapons. This includes the FR. 556 assault rifle and the SKS marksman's rifle. It should be noted that while the FR. 556 assault rifle is already available to players, the SKS marksman's rifle will be released later this month.
FR. 556 Assault Rifle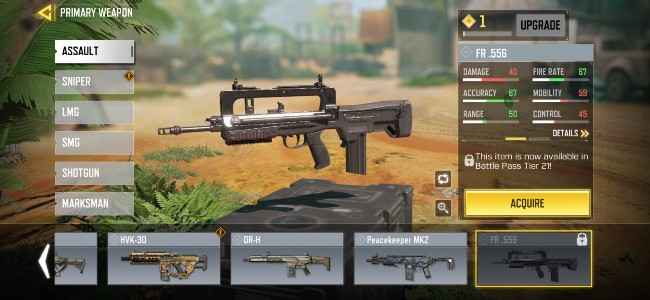 In-game weapon description: Fully automatic assault rifle with high fire rate. Effective at medium range
The FR. 556 assault rifle is based on the real-world FAMAS assault rifle. The weapon is available for free in the Season 1 New Order Battle Pass upon reaching Tier 21. The weapon is described in Call of Duty: Mobile as offering fully automatic fire in mid-to-long ranges. The devs also note that the weapon has been designed to handle longer range firefights better than other weapons in the Assault Rifle category. This is due to high stability offered by the weapon. It also packs a pretty good punch and should take down enemies in a few shots.
The drawback of the weapon is that it won't work as well in close quarters situations. As such, the weapon won't be quite as effective in clearing out rooms or other small areas. However, in maps like Crossfire and Highrise, the weapons could be deadly in the right hands.
SKS Marksman's Rifle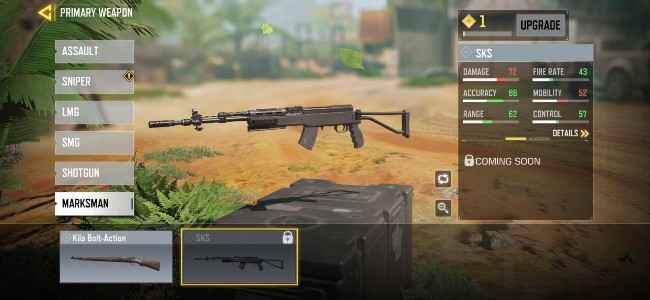 In-game weapon description: "Lightweight, semi-automatic marksman rifle with fast fire rate."
The SKS is only the second weapon in Call of Duty: Mobile's Marksman's Rifle category. Before this, the only other option was the Kilo Bolt Action Rifle. As a member of that category, the SKS should offer excellent lethality at range with a faster rate of fire as compared to sniper rifles. In comparison with the Kilo Bolt Action, the SKS offers a faster fire rate than its competitor, but at the cost of damage dealt. So be sure to make each shot count.
The weapon isn't yet available in the game, but will be released sometime later in February. The weapon will be free to all players as it will be available via a Seasonal challenge. Details of the challenge are not yet known but should include the same basic structure as older challenges. This means that players will be tasked with killing a set number of enemies with a specific weapon, using a specific attachment or more.
Call of Duty: Mobile's Season 1 New Order update also included a new multiplayer map called Reclaim. You can read out strategy guide for that particular map here. It also added a new Blitz Mode to the Battle Royale mode. You can read more about that here.