Welcome to the "Build Your Own PC" series, powered by AMD Ryzen and Radeon, where we'll show you how to go about building your own PC from the ground up. This is the first article in the series that is meant for beginners who've been wanting to build their own PC, but didn't know where to start. Even if you're not an absolute beginner, this series will still be useful to you, as you will get invaluable info around best practices to follow while building your own PC such as proper cable management, a definitive answer to how much thermal paste is actually needed, and even troubleshooting. In either case, if you follow along with every article in the series, you'll have your own PC up and running in no time, built by your own hands. But before we do that, let's talk about what building a PC means.
What will you use it for?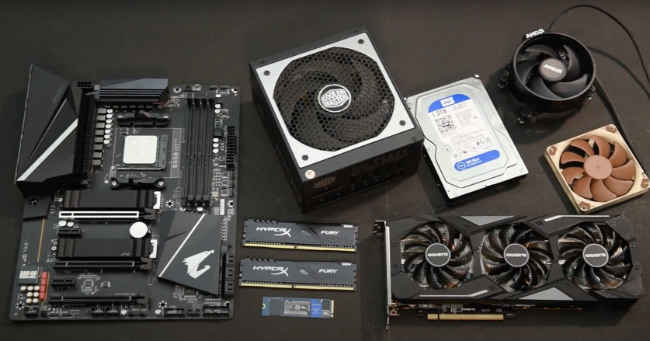 At its very core, building your own PC simply means gathering the right components for your needs and putting them all together. This used to be a slightly more complicated process earlier, but thankfully the days when this was the sole domain of hardcore tech experts, are long gone. Today, everyone from a school-going neighbour to a nine-to-fiver office employee is most likely thinking about building their own rigs. Heck, even silver screen superhero Henry Cavill, our very own Superman and Geralt of Rivia, recently posted a video covering his own gaming PC build in great detail. If he can find the time and do it, so can you.
Apart from bringing great joy and making you an official member of the PC MASTER RACE, building your own PC gives you the flexibility of owning a machine tailor-made to your purposes. Whether you're looking to build something simple to make your daily office work easier or your desire is to build yourself the best gaming machine that money can buy, or you're aspiring YouTuber or streamer who needs a video editing rig, now's the right time to figure out your goals for this PC building series. To kick things off, here are some of the common use cases that you might want to consider.
First up is the Daily driver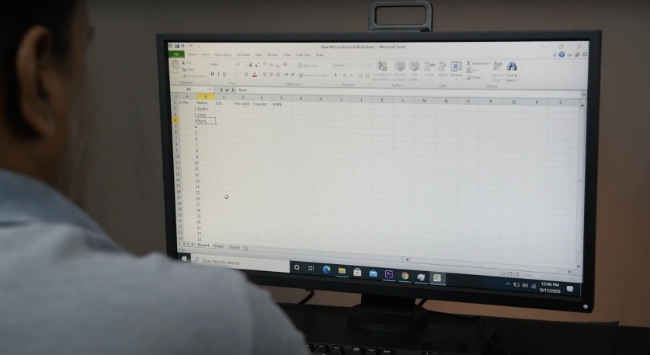 Broadly speaking, a daily driver PC will get your basic everyday computing tasks done - and that's about it. This is an ideal build for someone who's main tasks on the PC involve firing up a web browser or basic word processing or spreadsheet work. For this, you'll be looking at building a basic system that checks most boxes without too many frills. Of course, that doesn't mean you can just pick the cheapest components to build it because even the most basic productivity software suite today does come with its own set of requirements. However, as long as you get decent entry-level components, you should be fine. For instance, the latest version of the Microsoft Office productivity suite requires your machine to have a 1.6 GHz 2-core processor and at least 4GB of RAM, among other things.
In certain cases, your daily work might require you to run some demanding software and applications, like a virtual machine or some powerful simulations. In that case, if you have such software identified, check for the minimum requirements needed to run that smoothly and consider that as the starting point for your system. Specialised software that needs specific components or parts, usually have a page on their website listing out compatible components.
Editing Rig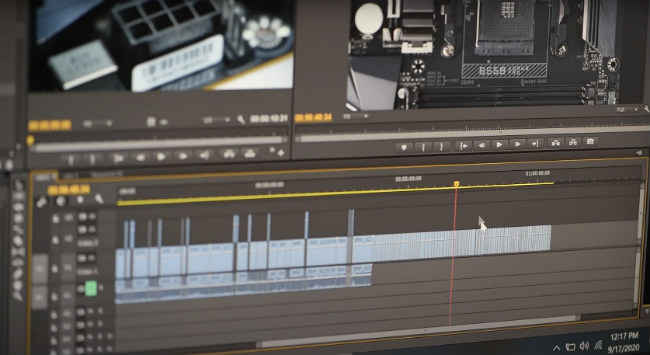 Next up is the editing rig. Before we get into what kind of components an editing rig entails, we must understand that audio-visual editing is a vast field that can cover tasks which range from simple edits to studio-grade in terms of difficulty. However, even at its most basic levels, editing is a demanding requirement that can put most regular machines to the test. This is exactly why you'll need to up the ante when it comes to building a rig capable of satisfying the editor inside you. You need a rig that doesn't stutter every time you hit ripple delete on a simple snap cut and one that doesn't frustratingly crash every single time you hit that 'export' button.
If you're a video creator today you're probably a game streamer or YouTuber who shoots in 1080p for the most part. However with 4K video capability now starting to become commonplace even on phones, it would be worthwhile to future-proof your build and make it capable enough of handling these high resolutions. Besides, working with 4K footage has certain advantages for the times when you downscale or crop your footage.
So what kind of components will you need? For a basic 4K video editing rig, you're going to prioritise three things - a dedicated graphics card for GPU accelerated encoding, a CPU with multi-threading to handle several editing tasks simultaneously and fast RAM. For the CPU Ryzen 5 3600 is an all rounder that has enough grunt and can handle multiple encoding formats. As for RAM about 16 gigs of 3200 DDR4 should be enough.
Of course, there's more to it than that, but we'll get to that later in more detail in the second video in this series which deals with choosing the right components. Now it's time to move on to perhaps the most popular type of PC builds - the Gaming PC.
Gaming PC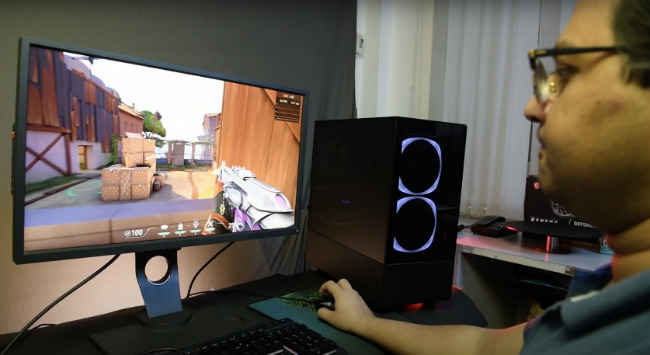 The PC master race is almost synonymous with the gaming PC. And that's with good reason - this is because gaming is the most resource-intensive thing you can put your system through - for glorious results of course. There can be many different kinds of PC builds - and we're not referring to different RGB configs, mind you.
You might be taking your first steps into the world of PC gaming, in which case you'd want to try your hand at building an entry-level gaming PC, just to test the waters. Or you're a seasoned gamer with a decent build, looking to upgrade your experience to the next level of smoothness and graphics in which case you might be looking to breach the 60 FPS ceiling and go all the way to 4K 120FPS. All of it can be done, as long as you've got the patience and the budgets to do so. Whichever you pick, we're going to take you through them one by one.
Entry-Level Gaming PC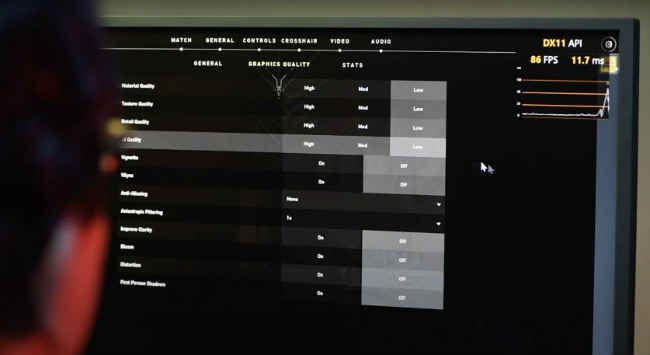 Let's start with the entry-level gaming PC. This build is for someone who wants to be able to at least try most games at "playable" frame rates. While playable means different things for different people, generally this would mean at least 30 fps at low settings on 1080p for newer games and maybe even 60 fps for older titles. So esports optimised games such as CS:GO, League of Legends and Dota will be easily playable, while the older triple A titles will just about run at stripped down settings.
With that in mind, we're going to keep the budgets tight here, which means you might have to compromise on some other specs like opting for a low end SSD to divert funds to a more capable GPU or even a better CPU with robust integrated graphics like the AMD Athlon 3000G. We'll explain all those compromises and component choices in greater detail in a later video. But generally your basic entry-level build will look like the two options shown on screen here. You can pause the video to check them out.
Mid-tier gaming PC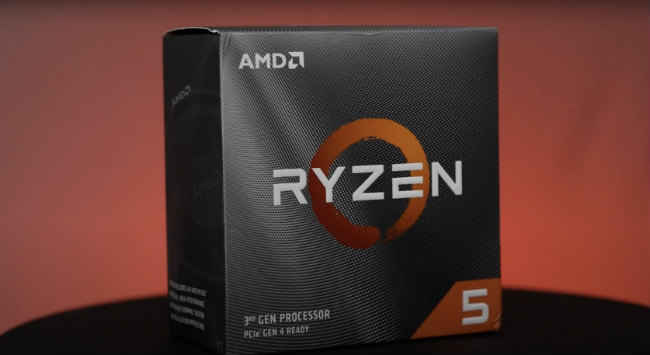 While going for the entry-level gaming PC is all about cutting corners, the mid-tier gaming PC build will be a slightly more rounded experience. The mid-tier build will give you good performance in most recent AAA titles. By good performance, we mean you should get around 60fps at 1080p now, and maybe for another year.
So, you're looking at a beefier CPU, as well as more RAM to complement it. Where your entry-level rig could get by with about 8 gigs, you're looking at 16 gigs with the mid-tier system. Beyond that point with RAM at this tier, you'd want to prioritise higher frequency over more capacity. An unlocked processor like the Ryzen 5 3600 could be a good choice as you could even consider some minor overclocking if that's something you plan on trying out later. As for the GPU, a Radeon RX 570 or higher is the way to go.
High-end gaming PC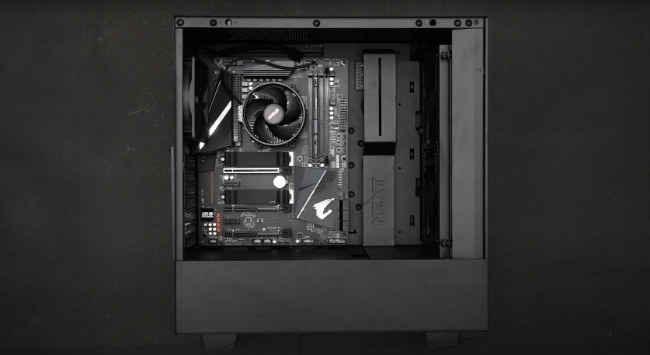 The next build we'll look at is the high-end gaming PC. This is where future-proofing comes into play. We're now talking about the big leagues where your system will not only breeze through current AAA titles at 1080p 60fps, but also continue to do so for the foreseeable future. Some less demanding titles will even let you play at 1440p on a 144 Hz Freesync monitor stutter-free without any tearing. This is the build to go with if you're looking to invest in a gaming PC properly here and now and don't want to dabble with upgrades any time soon. While not the very best that money can buy, you're going to be looking for hardware that comes at the higher end of the price and consequently, performance spectrum.
Ultra high-end gaming PC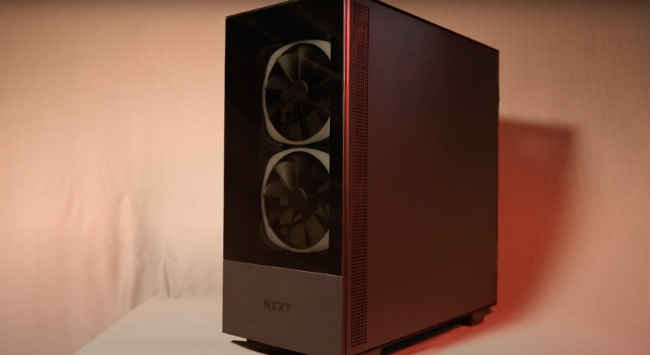 Next we have the Ultra high-end gaming PC and with it we're entering the ridiculous zone. This category of PC IS the very best that money can buy and has everything and the kitchen sink thrown in, because why not, right? When this is your goal, you're probably not looking for guidance as much as recommendations, which is also something we plan to help you with.
We're talking more cores than most games can use like the AMD Ryzen 9 3900X which has 12 cores, 24 threads, unlocked multipliers and a turbo frequency of 4.6 GHz. This rig will have hardware that supports liquid cooling, RAM in the zone of 32GB and 1TB SSDs in raid - you name it. When you go ultra, you're not just building a PC that is future proof, you're straight-up staring at the future of gaming and yelling, 'come at me, bro!'
So, which one's yours?
After that rapid rundown of the popular types of PC builds, we hope you've identified your own goal to some extent. With the next video, we're going to get into the specifics of the hardware that you should be picking, an overview of compatibility and how each individual choice you make will affect the next one in the chain. Welcome to the glorious world of PC building. Check out the links below to view the rest of the articles in our 'Built Your Own PC' series.
1. Build Your Own PC: The PC built for your needs (You are here)
2. Build Your Own PC: Which CPU, GPU, Motherboard, etc should you buy
3. Build Your Own PC: How to get the best deals on computer parts
4. Build Your Own PC: How to assemble a PC
5. Build Your Own PC: How to install Windows 10 and setup your PC
6. Build Your Own PC: Testing for cooling and performance
7. Build Your Own PC: Common mistakes while building a PC
[Sponsored Post]