Not just in America, WWE's huge in India, too. In fact, it's been going strong ever since the mid-'90s when the first satellite TV coverage of Mr McMahon's brainchild began broadcasting on the Indian subcontinent, capturing the imagination of several impressionable kids at the time. Just like video games, WWE's popularity in India only seems to have soared with each passing year, and for the tech-savvy wrestling fanatic who wants to detach themselves from the tele and still follow the events from the WWE universe without missing a beat, check out WWE Network.
WWE Network is a digital video streaming service which lets you watch WWE content anytime, anywhere and on any device. It not only has a full roster of WWE's PPV or pay-per-view videos and an ability to watch customized WWE content as per your desire, but in our opinion WWE Network's biggest treasure trove lies in its access to vintage, WWE archive videos. That is hands down WWE Network's pièce de résistance, without which the service doesn't have anything unique to offer.
We tried the WWE Network service on a laptop and desktop computer, on Windows and Mac, through Google Chrome and Apple Safari, and we also tried the service on Android phones and iPhone through compatible apps; you can also watch the streaming content on Apple TV, Amazon Fire TV, Sony PlayStation 3, Sony PlayStation 4, Xbox One, Xbox 360, Roku and Smart TVs.. For the purpose of our review, we received a week long, all-access pass to experience the service which costs a monthly subscription fee of US $9.99 or just over Rs 650 per month.
User Interface
The WWE Network website and app are quite intuitive and fairly easy to navigate. The mobile apps, especially, are a good way to keep revisiting the WWE Network service to check for latest updates, videos and upcoming events. As soon as you launch the app, you're greeted with a two tab home screen layout which divides content into two streams -- Latest Updates and WWE Network.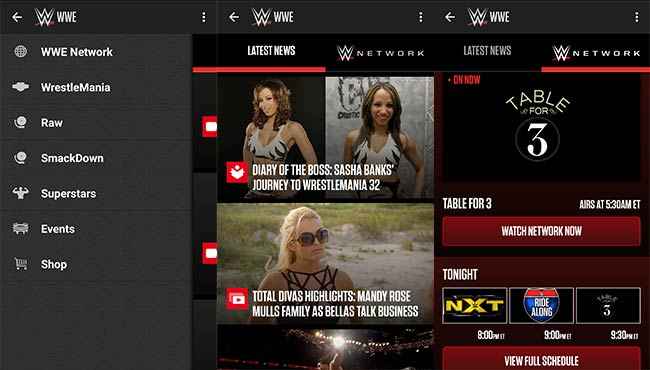 If you swipe left on this screen, you're faced with a rollover tab giving you quick one-touch access to specific brands (and the content related to them) under the WWE universe. You can choose to browse through WWE Network, Wrestlemania, RAW, Smackdown, Superstars, Events and Shop menu items. Each of these specific actionable buttons do a good job of quickly transforming your screen to show content pieces related to the menu item you picked.
The WWE Network app also supports features that allows you to save videos for viewing later, event and upcoming show reminders for your favourite action. There's a limit on in-app advertising, too, as it's restricted strictly to in between two different videos or scheduled shows. The app also offers parental control, allowing you to lock it with a four number security PIN to restrict unauthorized access.
The search bar in the app is a great starting point for searching content related to an event or WWE superstar, and it always offers quick suggestions.
VOD
Click on any video tile or image in the app's scrolling feed triggers the video to be played or saved in a playlist for later viewing, whatever's convenient to your consumption patterns. And apart from watching shows that are contemporary and happening right now in the WWE universe, a big reason to go for this paid VOD service is to access all the legacy WWE matches and exclusive PPV programming that you'd otherwise have no way to watch. It's a great way to celebrate the history of WWE, which we're sure must be important for every WWE fan out there.
WWE Network offers access to 24/7 scheduled programing and the most comprehensive video-on-demand library of WWE footage in the world, with more than 5,000 hours of content including Raw and SmackDown re-airs, and every WWE, WCW and ECW pay-per-view. You can look up anything within the WWE universe, search by superstars (which is what we did the most) and the app throws a multitude of results without a flinch. There's also insightful behind-the-scenes footage of WWE superstars and divas available for consumption through WWE Network's Breaking Ground and Swerved packages.
Performance
The streaming video quality isn't as great as what we see on VOD streaming services like Netflix or ErosNOW, but WWE Network definitely ensures videos load and start streaming as quickly as possible with minimum of waiting time.
Whenever we searched for archived footage (like Rock vs Stone Cold Steve Austin at Wrestlemania, for example), we found exactly what we were looking for in the search results page in the very first scroll. And this happened nine out of ten times for all our ridiculous WWE video search queries. Both on the desktop browser and mobile app, through cellular 3G and Wi-Fi internet connection, WWE Network always returned video results within 1 or 2 second of pressing the search button, which speaks volumes of its video indexing prowess.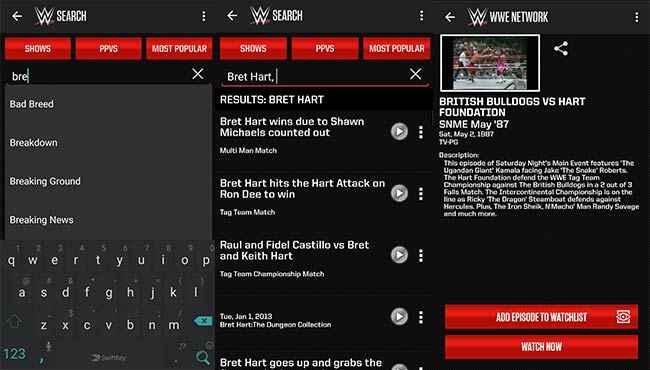 Also more general or standard queries like "Bret Hart Hitman" returned results of every video in WWE Network's database that had even a fleeting glimpse of Hitman in it. Yes! This is the other great aspect of watching legacy, archived content from WWE's golden era. Not only every video representing the queried superstar is presented in front of you in the app's interface, but when you click on the video, the clip starts just a few seconds before that superstar's first appearance in that respective video. This is another positive of WWE Network's browsing and performance prowess.
WWE Network streams in 720p HD video quality for all contemporary shows. But if a match or program was shot on SD quality, as was the case in the '90s and much of 2000s, those videos do not get upscaled to HD, which is a bit of a bummer if you're watching the video on larger screen displays or HDTVs. We only faced a few buffering issues while watching latest PPV programming and also the video quality wasn't always the prettiest on offer. Otherwise, for all archived content of old, which isn't really in HD quality, buffering and streaming was never an issue.
Conclusion
WWE Network offers WWE fans an irresistible access to decades of legacy programming with an easy-to-navigate interface, and this is by no means an overstatement. The prospect of binge-watching Ultimate Warrior, Andre the Giant, Macho Man and many other WWE legends like Stone Cold Steve Austin, The Rock and Yokozuna once again is absolutely amazing. The price for the service is too high, no doubt, and the lack of HD programming for legacy content is a big disappointment, but if you're a fan you have to give WWE Network a try.