Last night, as the clock struck midnight, Netflix, the world's leading on-demand video and online streaming service started rolling out its offerings in India. Now, for those of you who are new to Netflix and its prowess in digital content, here are some things you must know.
Netflix is a subscription based online streaming service which you can use on multiple devices such as your smartphone (Android, iOS & Windows), smart TV, Apple TV, PC, tablet, PlayStation and Xbox

Netflix has more than 70 million members in over 190 countries, which now includes India

Netflix is also known for its expansive list of original television and film productions such as House of Cards, Orange is the new black, Daredevil, Jessica Jones, The Square and more.

As a Netflix subscriber, users get exclusive and early access to content curated by Netflix.

In India, Netflix is giving users a free 1 month trial, post which, following are the pricing plans that Netflix is offering.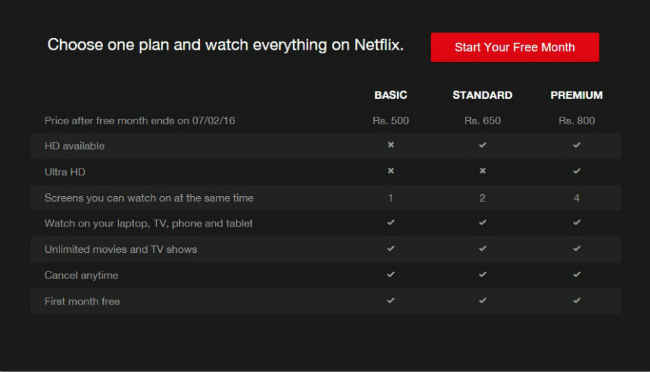 Netflix India pricing plan
At Digit, we decided to get our hands on the Netflix app and here is a complete walkthrough of the much talked about service on the day of its launch in India.

Setting up a Netflix account
For all those who have been using VPNs to access Netflix's services, you can now sit up, rejoice and watch your favourite Netflix content legally. Setting up your Netflix account is easy and the same can be done from any platform- smartphones, PC, Chromecast, tablets, TVs and consoles. Although we must mention, the Netflix service has not yet started on Xbox consoles in India, but in their defence, it's still early days for the service in the country. I downloaded the app on my Huawei Nexus 6p and got to work. Firstly, the app prompts you to choose your subscription plan, which is based on the quality of streaming you would prefer. In Rs. 500 you can get yourself a basic plan which will NOT give you HD or Ultra HD streaming options and will limit your consumption to a single screen at any given point in time. The Standard service will cost you Rs. 650 along with HD streaming and an allowance for streaming on 2 screens simultaneously. For Rs. 800, you can watch your content in 4K, with 4 devices running the service simultaneously. Now, I chose the HD option for Rs. 650 because of a few reasons. Firstly, it does not make sense to subscribe for Ultra HD or 4K streaming unless you have a great 4K television and secondly, a killer internet connection. People in the US watch Netflix 4K over a 100 mbps fibre connection to a 15.6Mbps 4K Netflix stream. Such internet speeds are ways away in India right now. Netflix itself recommends speed higher than 15Mb to stream 4K seamlessly and even in that, the company says there might be a service slowdown in period of high contention.

Hence, with the HD service selected, I continued with the setup process, which then guided me to create my user profile. Here's where things get interesting, profiles on Netflix allows you to list different members of your household to have their own personalised Netflix experience, built around the content they enjoy. You can have up to five individual profiles within a single Netflix account and switch between profile at any time. The app prompts you to select the kind of shows and films you prefer watching, post which the home screen will greet you with a list of your selected shows along with recommendations on similar content. Personally, I feel Netflix was spot-on with its recommendations as I watch a lot of American television and Hollywood films. Now, searching for particular popular titles, is another thing altogether and I will talk about it in more detail below. Netflix also has a dedicated viewing section for kids which showcases popular children's titles such as Megamind, Shrek 2, Speed Racer, The Prince of Egypt, etc. Users can setup a separate profile for their kids by simply clicking on the 'For Kids' option in the profile section.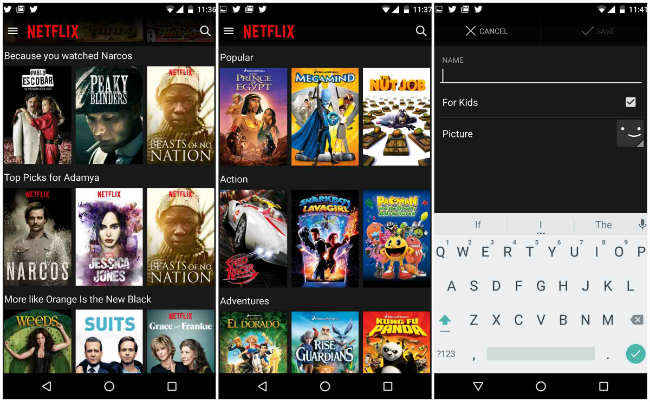 Customised recommendations, Kids section, Kids profile creation

Lights, Camera, Action: using Netflix in India
As I mentioned before, I was using a Nexus 6p for this exercise, so, this is my experience of watching Netflix on a 5.7 inch AMOLED display. Firstly, I love the Nexus 6p display. It's vibrant, the colours pop out really well and the overall experience is generally very satisfying. Since, I (like most Netflix series watchers in India) have already seen some of the biggest Netflix productions, I opted for watching Narcos- a gritty drama surrounding the activities of notorious Colombian drug lord Pablo Escobar and a DEA agent on the brink of unearthing the biggest Cocaine smuggling nexus in the United states (I have only seen 4 episodes, so please refrain from spoilers in the comments section). Streaming on my Airtel 3G connection, I was getting seamless HD quality for most part of my viewing experience. Netflix has an option of auto scaling the quality while streaming, and towards the end of Episode 1, the streaming quality lowered on its own. Playback settings on Netflix can be altered manually as well.

For altering playback settings, you need to access the settings menu on your app>>>click on Account setting>>>this will redirect you to the account settings page in a browser window>>>You can then select Playback settings>>>and then choose your preferred streaming quality.

Accessing the playback settings

On my 8mbps Airtel broadband connection, the streaming story was quite different. I'd be lying if I said I wasn't impressed by the seamlessness of streaming on the Netflix app. Yes, it is pretty good and for anyone who wants to compare it to Star's HotStar, just in terms of seamlessness of streaming, I would anyday give Netflix more marks on maintaining a smooth, continuous and AD FREE HD stream. I am a happy customer and yes, many can argue that they would rather download torrents instead, but the recent government crackdown on torrent providers may pose a bigger problem in the future of pirated downloads. Also, why wait? If I am anyways spending bandwidth downloading a movie or a whole TV series, I may aswell stream what I can seamlessly and in HD. Did I forget to mention that Netflix releases all episodes of an original Netflix produced TV series in one go? Then again, most of you already knew that. So, no more waiting for Mr RARBG to upload your favourite Netflix series.

The Netflix app has a series of features to customise a user's viewing experience. Some of them include -
My lists: An option of adding your favourite shows and films to a custom playlist.

Saved last viewed content on Home screen of every user's profile enabling users to pick up from where they left off.

Top picks and custom recommendations based on what users are currently viewing.

Ability to cancel subscriptions in Account setting at any given time.

Ability to change appearance of subtitles (colour,size,background)

Ability to view recent viewing activities and recent account access from the Account settings page.

Ability to set up Parental Control PIN. A great way to protect kids from watching content above certain select levels (again, from the account settings page).

An option of signing out from all devices with a single click

Content and Pricing

Now that you know mostly everything about using the Netflix app, you should also know what's on offer. Rs. 500-Rs. 800/month is not exactly cheap, but it's also not super expensive for the kind of content Netflix is offering. Although it is still early days (literally, the first day of Netflix in India), Indian content on the platform is extremely limited as of now. Barring a few popular movies titles like Piku, Lootera, Andaz Apna Apna, etc, there is not much to see here. Although I love the inclusion of some evergreen movie titles such as Maine Pyar Kiya, Hum Aapke Hain Kaun and the likes, the choice of Hindi (let alone other languages) content is not at par with some of the existing free streaming services in the country. But, knowing the kind of financial strength that backs Netflix, we might see local content diversification in the future. As far as Hollywood, non-Hollywood and Television content is concerned, you will find most of the popular titles here. Most, but not all. a search for The Dark Knight or Spider-man revealed nothing but content that is based on similar lines. The most shocking revelation though was that the famous Netflix political drama- House of Cards, does not feature on the Indian service! Why Netflix Why? Is it because (as some people say) you have sold the rights to Zee and Zee Cafe is currently airing House of Cards? For you dear reader- we are working on getting you more answers from Netflix on their content omission and selection.

Yes, content is a very real problem for Netflix in India and if it keeps up with the policy of not listing its own productions on its own platforms, the service is sure to see a lot of unhappy customers. Another thing about India is the glaring piracy issue. India is the poster child for piracy and If Netflix is not fast with its content updation, they will definitely lose ground in a country which likes its shows and films as soon as they release. Netflix is sure to see a surge in demand right now because membership is free for the first month, but will it see returning customers after that 1 month, is a question on everyone's mind.

In conclusion, Netflix is a good service if you are looking for American television content, If you are looking for an Ad free experience, and if you have a solid broadband or mobile internet connection. If you are looking for native Indian content, you are better off with the likes of Hot Star, Eros Now, Hooq or even YouTube. Meanwhile, we will wait and watch if Netflix's content strategy expands in the future and if Indians ever decide to choose paid content over pirated content.


Posted by

Digit

on Tuesday, January 5, 2016

​