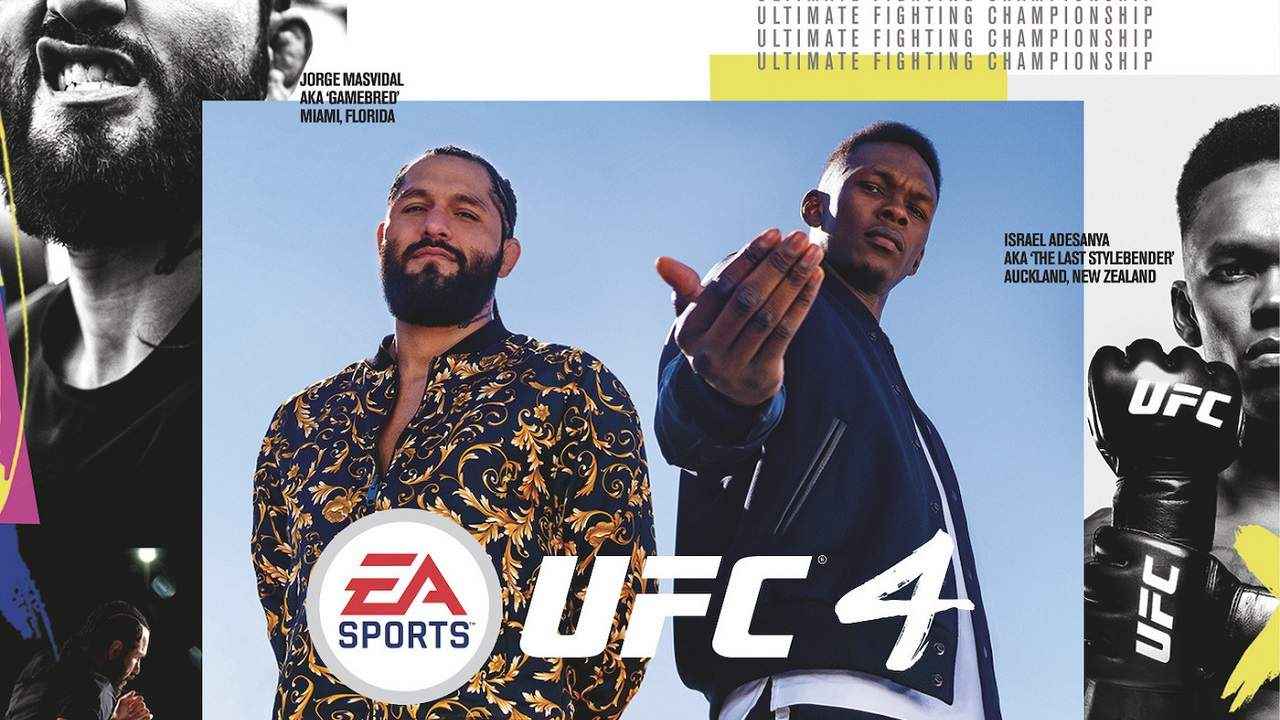 HIGHLIGHTS
EA UFC 4 is the latest fighting game from the world's biggest MMA promotion

The game is available only on the PlayStation 4 and Xbox One

Here's our review of EA UFC 4 on the PlayStation 4
The intersection of Mixed Martial Arts and video games is what I live for. From my first forays into the sport of professional fighting in 2003 and my life-long love for gaming, I've personally wanted to see the sport I love translated into a competent and fulfilling video game. Let's get a few things out of the way first, UFC is the most prominent MMA organisation on the planet and as such generally have the most significant number of games in their library. From the early days of the PS2, the UFC has been trying to capture the video game market. As far as fighting games go, UFC is the perfect setting for a realistic fighting simulator. You've got it all, punching, kicking, groundwork and much more to draw from. In the early days of UFC games, the competition was stiff as various other organisations also had competitive fighting games to their name. Organisations such as PRIDE Fighting Championships, K1 Heroes and more had games that released on the PS2. It took the UFC multiple tries but the company finally succeeded in releasing a functional and immersive fighting game in the UFC Undisputed series of games, developed by THQ for the seventh generation of consoles, namely, the PS3 and Xbox 360.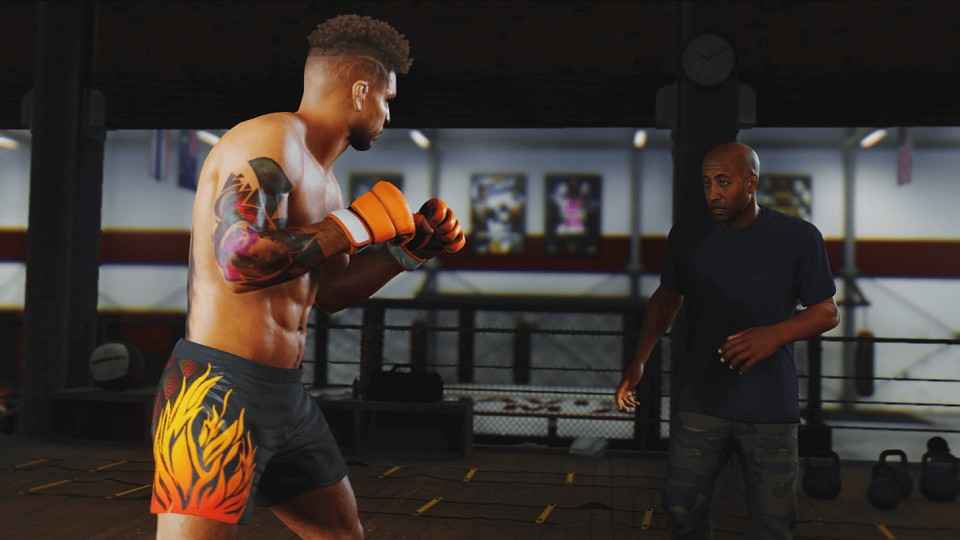 Fast-forward to 2014 and THQ have now relinquished the rights of the UFC game to Electronic Arts. The first EA UFC was released in 2014 to a lukewarm reception as many of the moves and controls were revamped along with the omission of the much-loved Pride Mode, where fighters could fight under different, more violent rules. In its place, we got a functional and spruced up MMA simulator that does reach the highs of the THQ era of UFC games but carves out its niche in the world of sports video games. EA is no stranger to MMA games as the company developed EA Sports MMA in 2010. The game did not feature UFC fighters. Instead, it took a more global approach to the fighting roster, but when the company was called up to develop the new UFC game, they were ready. Three games later, we now have the fourth game in the series, EA UFC 4. So let's take a deep dive into the game and see if it truly is the fighting simulator that fight fans have been clamouring for.
Full disclaimer: I have clocked in about 200 odd hours in EA UFC 3, so I am very familiar with the controls and fighting system. If you read my writer profile below, you'll see that one of my passions is professional fighting, so I am in a unique position to give you guys the lowdown on what UFC 4 is all about. Let's begin!
Graphics
The game does look great, there is no doubt about that, but it does feel like an incremental upgrade rather than a complete overhaul. It still looks excellent as the animations of each fighter have been painstakingly recreated in detail, but the graphics do not look as good as we expected. The one thing that did take me out of the immersion is how fighters react when hit. The collision detection is a little wonky sometimes but it's nothing that is game-breaking. The menus and UI have also been overhauled and here is where we start running into a few issues.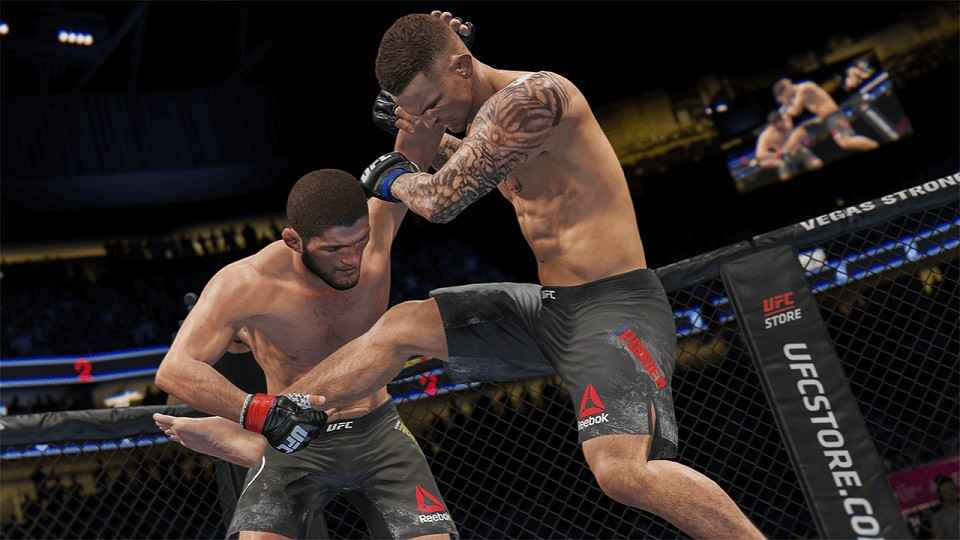 UI (User Interface)
In career mode, EA UFC 3 had a clean, easy-to-understand UI that made navigation and management much easier. This time around, EA has decided to change up the management system, and instead of offering a more detailed stat progression system, they've split it up into five main sections; Boxing, Muay Thai, Wrestling, Brazilian Jiu-Jitsu and working the heavy bag. Each section gives you evolution points which you can then spend levelling up your fighter. It's a cumbersome and complicated system that makes you spend way too much time looking at numbers than actually playing the game. The sparring sessions are also not really sparring but more tasks that you have to complete, which unlike the previous game does not lend itself to an authentic fighting experience.
Gameplay
There are a few pivotal changes, in terms of actual gameplay systems, in EA UFC 4 such as the clinch system which is now incorporated into the striking controls. In the older UFC games, you could initiate a clinch by merely holding down the Left Trigger and flicking the Right Stick up or down. Here, in EA UFC 4, you now get into the clinch by using R1 and holding down the triangle button. In an effort to make the clinch game more intuitive, the developers have muddled up the controls because the striking controls are mapped to the four face buttons, sometimes, you're in the middle of a devastating combo and will accidentally enter the clinch because of the input method. In the older games, the clinch mechanic was a separate thing and it was a mistake to try and integrate the clinch into the striking system.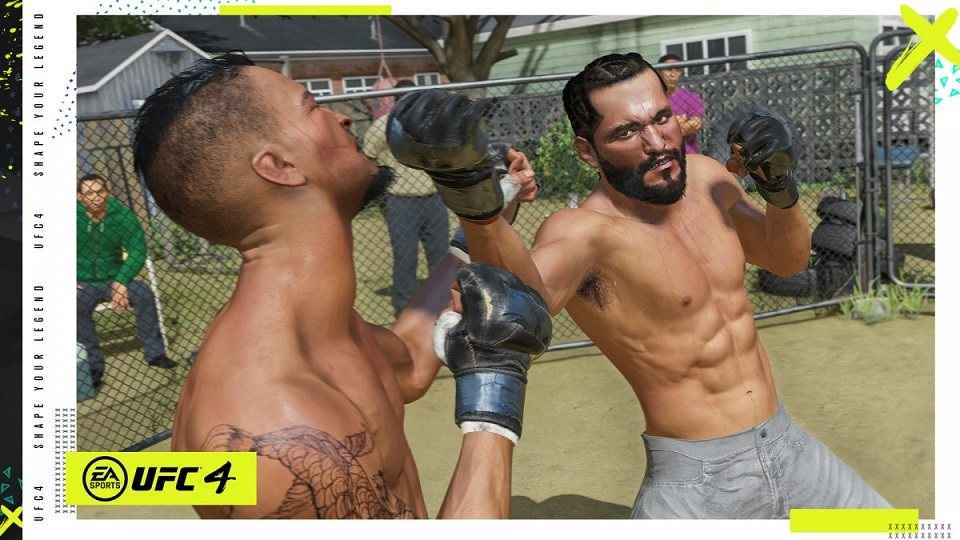 Takedowns have also been revamped, and this control scheme makes a lot more sense as MMA dictates that you know how to change levels and combine striking and takedowns into one fluid fighting style. The striking has lost a bit of its 'oomph' though. Personally, I feel like the weight of the punches and kicks are not as accurately represented here. Which is truly surprising as EA have an amazing collision detection system in the older Fight Night games.
The Ground game is where major changes have taken place. Instead of the older 'Legacy' controls in EA UFC 3, where you were given very precise control over where you wanted your fighter to move to. These new controls are meant for newer fans who have no idea what goes on when the fight hits the mat. You have three options, namely, get up, Submit and Sweep. This makes it easier for newer players to understand what exactly is going on and gives them an easier control scheme to get used to the nuances of ground fighting. If you're like me and have trained extensively in Brazilian Jiu-Jitsu and Ground Fighting, you'll want to switch back to the more detailed control scheme as it gives you so much more control over the fight. Submissions have also been revamped with chokes and joint locks getting their separate mini-games. Honestly, the best submission system is still the one THQ developed in UFC Undisputed back in 2010 and it has not been topped since then. This new system isn't bad but it does not reflect the technical wizardry that is grappling.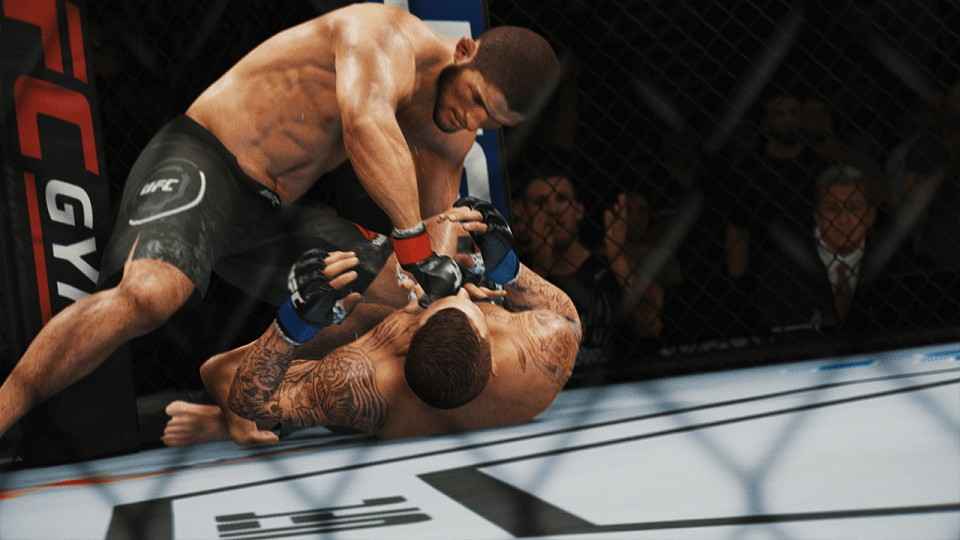 Apart from the stated changes, EA UFC 4 follows the mould set by its predecessor with similar controls and gameplay that even though adds a few more nuanced systems, is still very much a product of the previous game.
Sound/Music
There isn't much to really talk about in terms of music in the game as most tracks featured are licensed songs that unless you're a fan of modern music will seem grating to the ears. But, if you're into hip-hop, you'll enjoy the tracks as you move from loading screen to loading screen.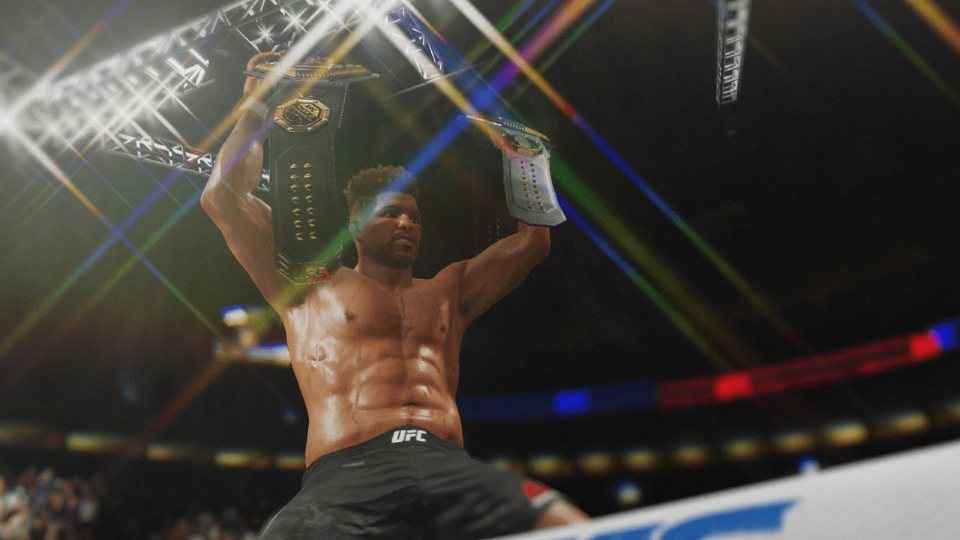 The audio is where the game really shines. The punches, kicks, knees and elbows all land with a sickening thud, just like they do in real life. Fighters groan when hit to the body and you can even hear fighters gurgling when being choked. It's all very real and life-like. The commentary is also phenomenal with former light-heavyweight and heavyweight champion, Daniel Cormier taking over commentary duties from Joe Rogan. The banter between colour commentator Jon Anik and Daniel Cormier are some real highlights of the game. You can see that Cormier loved working on the game just by his excellent performance.
Verdict
Look, I won't sit here and tell you that EA UFC 4 is a 'must-buy' game. It isn't. It's an incremental upgrade over EA UFC 3 and not as much of a sequel as a large expansion. In my opinion, just like other fighting games like Street Fighter and Tekken, MMA games also need to have an overhauled system in every numbered sequel. But again, that's just my opinion. EA UFC 4 feels more like EA UFC 3.5 rather than a real sequel. Options like Kumite Mode are great but if there is one thing the UFC should include in the next game is Pride Mode as fans have been clamouring for that since UFC Undisputed 3 on the PlayStation 3 and Xbox 360.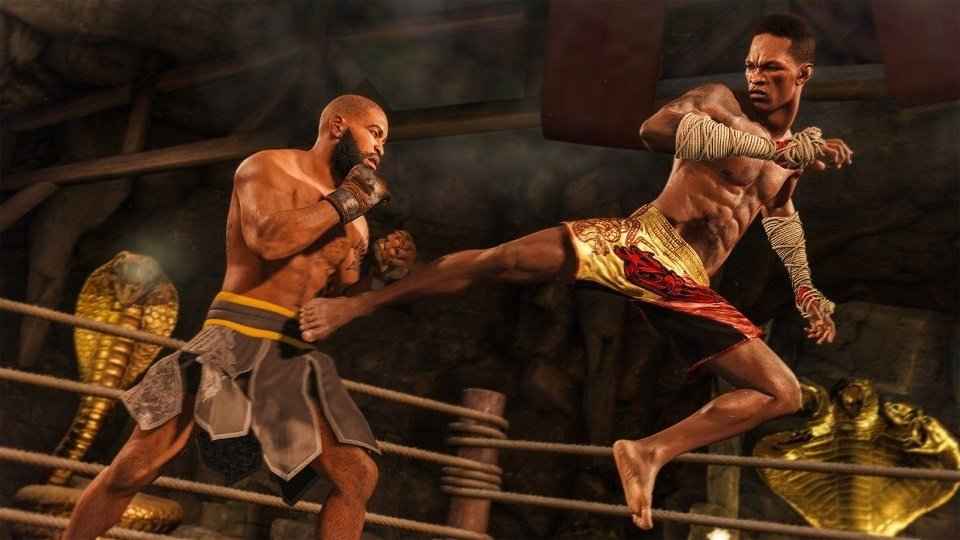 I tried my hand at playing online and lasted a total of 3 minutes before I was beaten to a pulp, so I cannot recommend jumping into ranked online play before you truly understand the complexity of the game. The single-player experience is more than enough to keep any MMA fan occupied with its roster of fighters and new fight modes such as Kumite Mode but as I previously stated, the game feels more like an expansion and if you're looking at buying the game, I'd suggest you wait for the next-gen upgrade on the PS5 and Xbox Series X. But, if like me, you're a sucker for MMA games, then EA UFC 4 is a worthy addition to the collection of Mixed Martial Arts simulators.
Skoar: 6
Moar:
Tested on: PlayStation 4 (Base Version)
Developer: EA Vancouver
Publisher: Electronic Arts
Platforms: PlayStation 4 and Xbox One
Price: Rs. 3,999
We played a review copy of EA UFC 4 on a PlayStation 4