Battlegrounds Mobile India, aka BGMI, is all set to get its first major update. The new update will bring in a host of changes, most notable of those will be the way the Royal pass, Season and more work. However, in this piece, we will be looking at some of the key changes players can expect. The new update should roll out on July 13, 2021.
Battlegrounds Mobile India: Weapon changes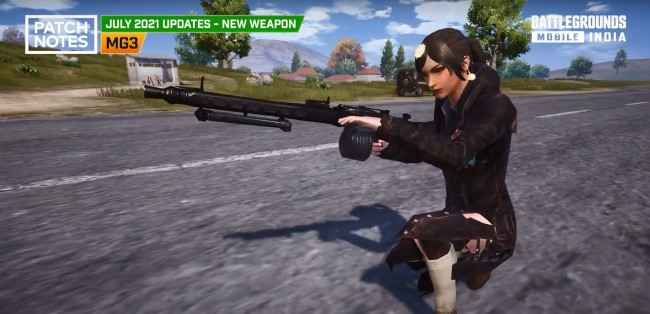 The first major change players may note is that the M249 machine gun will no longer be available in airdrops. Instead, players will find the weapon out in the field. It should be noted that this will be the case on all the maps except Karakin. In its place, airdrops will receive a new weapon, the MG3.
The MG3 is another machine gun, like the M249, but there are some key changes. For starters, the gun accepts 7.62mm ammo and has a 72 round magazine. Further, it can accept up to a 6x scope, but scopes are the only attachment that the gun accepts. Further, the MG3 only offers full-automatic fire options with no burst-fire or semi-automatic option. Instead players can switch the fire rate between 660rpm or 990rpm. As if that wasn't enough, there is a built-in bipod that will deploy when the player is prone. This will offer better stability and recoil control. The MG3 will only be available via airdrops.
Battlegrounds Mobile India: Ranking and XP changes
The ranking system has gone through some major changes. You can read about the most important changes here. You should also note that there is a new tier added between Ace and Conqueror. Further, the developers have added new Challenge points. These points are earned by not neglecting teammates, leaving the game or attacking teammates. Upon reaching a certain number of challenge points, players will be able to reduce the lost rank points in the event of being eliminated early. As such, it gives players more impetus to act as a team.
Battlegrounds Mobile India: Mission Ignition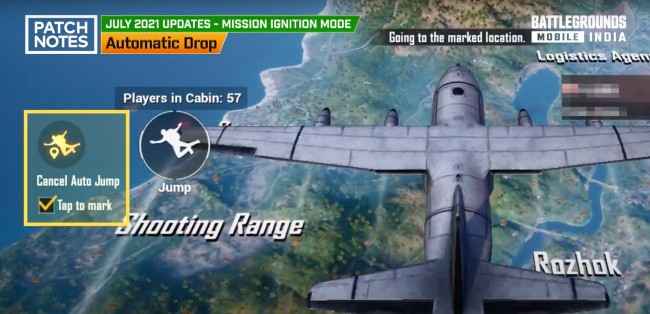 Mission Ignition is a new game mode that will be available for a limited period of time. IN this mode, the first thing players will notice is that the names of the cities will be in 3D, similar to what Call of Duty: Mobile does with its battle royale mode. Further, players will also be able to automatically drop to a pinned area,
This futuristic mode will include six "high-tech" regions of Erangel. This includes the Transit Center, Georgopol, Tech Center, Sosnovka Security Center, Logistics Center and Energy Center. The map will also include the 'Hyperline', vehicles that are similar to usses/trams that run on pre-set routes. Stations of these vehicles are marked on the map, so players traverse areas via the vehicle. Players will also come across semi-trucks running autonomously. Destroying these trucks will give the player supply boxes.
Besides the Hyperline, Mission Ignition will also introduce two new modes of travel. This includes the new G-38 Gravity Free motorcycle. This is a hoverbike and as such, it can travel on both land and water. It should be noted that the vehicle has a maximum capacity of two people. There is also the air conveyor that can catapult up to two people into the air. These players can then glide back down to a more suitable location.
Mission Ignition also gets an exclusive weapon called the ASM Abakan. This is an assault rifle that fires 5.56mm rounds and has a 30 round magazine. It offers fully automatic, semi-automatic and burst fire options. It also accepts scope, canter sight, muzzle and magazine attachments.
Players will also notice a new puppy dog icon on the map. This is a robotic patrol dog that players can activate. Once activated, the dog will mark rare and high-level items on the map. Speaking of marking items, players can also pick up the Tactical Marking Device that will show the direction of team mates fire, location of the enemy and street information. This is displayed on the map itself. It will also alert the player if it detects any grenade nearby.
Players will also be able to pick up a Riot Shield in Mission Ignition. This shield can be set up anywhere and offers a bulletproof cover in case of emergencies to defend a location. Players should also note that once the Riot Shield is set up, it cannot be removed. So they need to be sure of where they set it up.
Battlegrounds Mobile India: Settings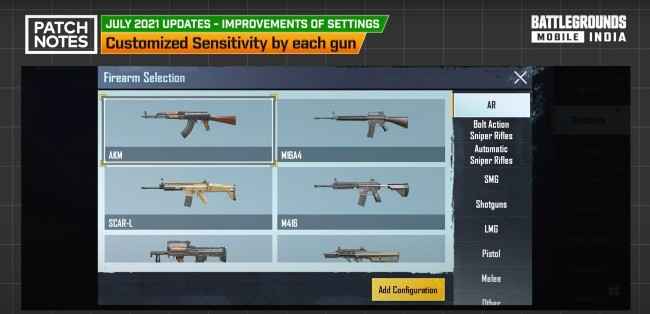 The new update to BGMI will also see players get more options when it comes to player settings. For starters, players will get to set the sensitivity for each gun individually. They will also get the option to copy sensitivity settings from other weapons. Further, these settings are stored in the cloud, so players can access them even when they switch to a new phone.
Besides this, players using phones with very low specifications will be glad to know that there is a new graphics option that is lower than smooth. On the other end of the scale, some users will see a new 90fps option that is available to them.
Gyroscope sensitivity is also now adjustable for players to tweak to their liking. There is also a new Reverse Gyroscope option for players who would want it. Other changes include an advanced pickup option that will let players set their favourite attachments for weapons, these attachments will automatically get attached to the players weapon without the need to manually do so.
You can check out the full list of changes in the video below.