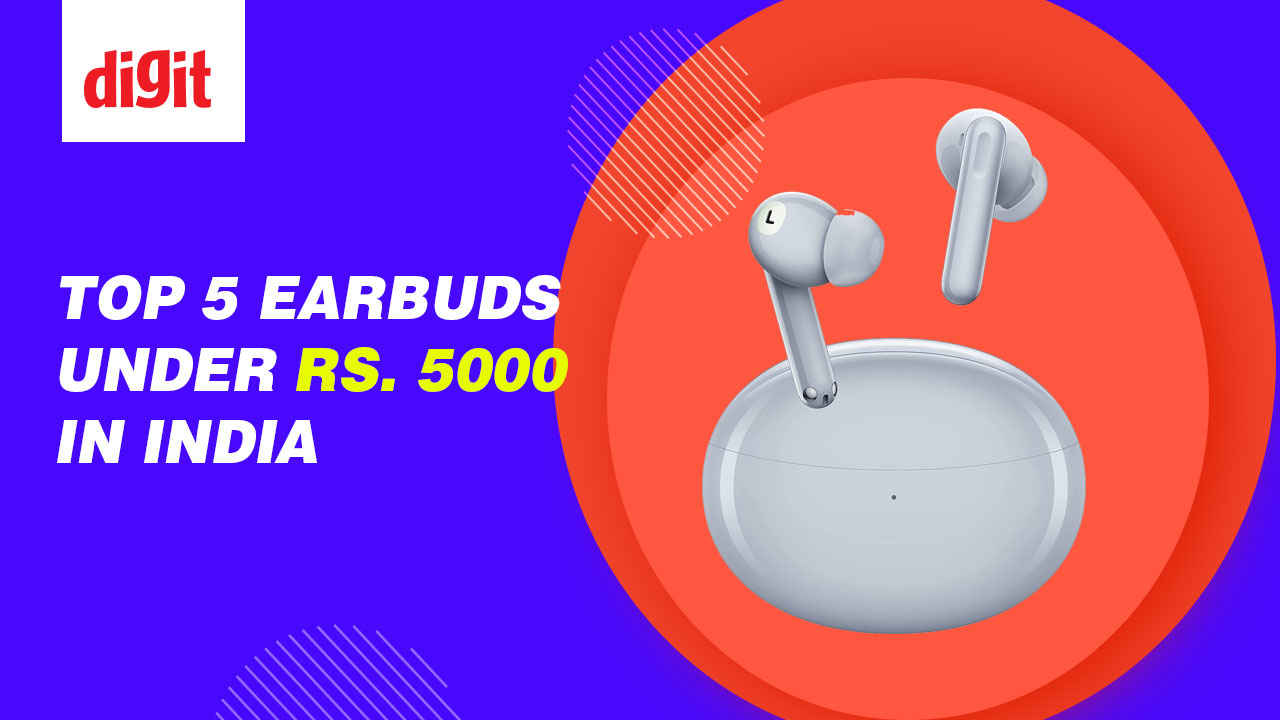 The under-₹5,000 price bracket in the world of TWS earbuds has been highly competitive for a couple of years. With the pandemic bringing in a surge of demand brands have pounced upon every chance they could get to make the most of this rise in consumers. On one hand, we have products from established brands in the audio business like Sennheiser CX True Wireless TWS, Jabra Elite 3, JBL Tune 130 NC, and the Sony WF-C500. On the other hand, there are brands like Samsung, OnePlus, Oppo, and realme, trying to get a foothold in the territory ruled by these established players. Offerings from these brands include realme Buds Air 3 and the Buds Air Pro, OnePlus Nord Buds and the Buds Z2, and the Samsung Galaxy Buds Live. All of these pose a problem of plenty for consumers when they are out in the market. But, to make sure that you do not face such an issue, here's a list of the Top 10 TWS earbuds under ₹5,000. But first, here are some FAQs that will help you make sure that you make the right choice
Coming from the house of Sennheiser are the CX True Wireless earbuds. They retail for around ₹5,000 on e-commerce websites and often drop down to about ₹4,500. These earbuds are the most well-rounded of the lot, followed closely by the Jabra Elite 5. The CX True Wireless earbuds lack ANC but make up for its absence with their sound signature, battery life, and build quality. Like most other earbuds in this price range, they have a slight boost in the lows (bass) and mids (vocals), but the overall response is well-rounded. With sweat resistance also baked in, these earbuds also make for a great purchase for all you fitness enthusiasts reading this.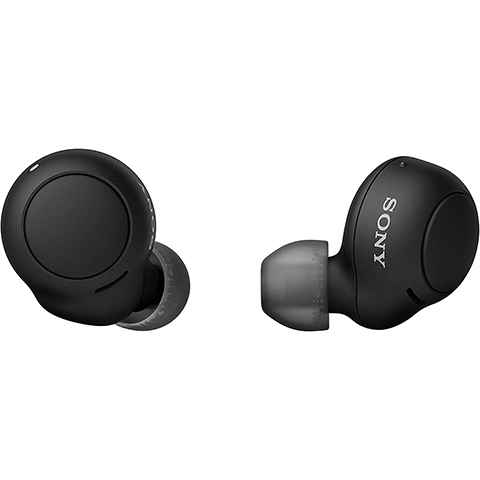 PROS:
Detailed sound quality, Excellent fit and very comfortable, Customisable equaliser, IPX4 sweat and splash resistant
CONS:
No customisable controls, Hard-to-press buttons, No Transparency Mode
Sony's WF-C500 TWS earbuds secured the third spot in this list. These earbuds lack ANC but have a great fit, build quality, and sound, which despite being slightly on the warmer side (bass boosted), sounds better than others lower in the list. Not to forget their battery life, which at about 9 hours and 50 minutes, puts most other earbuds on this list to shame. Just like the Jabra Earbuds, they have physical buttons on the earbuds, which you can use to trigger actions and control the music playback. In relatively silent environments, their microphone performance is also decent. If you are a stickler for aesthetics, then there's the translucent lid of their case, which helps them stand out.
Rs. 4,490
Rs. 8,990
in stock
8 new from Rs. 4,490
as of 26 Sep 2023 10:33 10:33
The lowest-end earbuds in Jabra's arsenal, the Jabra Elite 3 came very close to the Sennheiser's offering. Their fit, microphone performance, and sound signature is slightly better than the CX TWS, with the bass, mids, and treble being balanced out pretty well. However, with their 7 hour battery life, they lost significant ground. The build quality of the case is also something that also held them back from claiming the top spot in this list. These earbuds have physical buttons instead of the commonly found capacitive/touch-sensitive buttons, which means that the chances of misclicks happening is very less, and you get nice tactile feedback when you are trying to trigger an action.
Rs. 4,499
Rs. 6,999
in stock
2 new from Rs. 4,499
as of 27 Sep 2023 02:00 02:00
While the design helps the Samsung Galaxy Buds Live stand out, it is also what pulls them down. I'd highly recommend that you try them out before buying. If that is sorted, then you'll get pair that has punchy bass, tamed-down mids, and slightly boosted highs. Overall, their sound signature is not the best, but definitely serviceable for the price. In terms of battery life, these earbuds, with ANC on, you can expect around 5 hours and 30 minutes of run time, with the case providing about two and a half rounds of charging. Talking about the case, it matches the colour of the earbuds, has a nice shine to it, and has great build quality and ease of opening and closing.
JBL's Tune 130NC are the black sheep in JBL's TWS lineup. Why? Despite having the label of having "Pure Bass Sound", the sound signature of these earbuds is surprisingly neutral, which is a great thing to have. These earbuds have a lightweight design and around eight of battery life on the earbuds. However, that is where our praise would stop. Their ANC is nothing special and the lacklustre sound stage means that you lose out on the overall listening experience. With a little more love and attention, these earbuds have the potential to move higher up the list. But until then, they stay at number 5.
Rs. 4,299
Rs. 6,999
in stock
as of 25 Sep 2023 21:46 21:46
PROS:
Effective Active Noise Cancellation, Excellent app support, Multipoint connectivity
CONS:
Slightly shrill highs, No aptX support, No volume controls
One of the few earbuds in this list with ANC, the realme Buds Air 3 are a great pair of earbuds in their own right. At ₹3,999, these earbuds bring along stunning design for the price, a great app, multipoint connectivity, and a sound signature that might be slightly unbalanced for some, but holds its ground for the most part. These earbuds have a plethora of features packed in, some that we'd not find in earbuds that are priced higher than these. realme Buds Air 3 have IPX5 water resistance making sure that you can go out in the rain without much worry. While you are out, the 30 hour total playback time on these earbuds ensures that you don't need to recharge them frequently.
Rs. 3,998
Rs. 5,999
in stock
as of 26 Sep 2023 10:33 10:33
The OnePlus Buds Z2 are the first of the two OnePlus earbuds featured in this list. They have the rarely found ANC in this price, which is nothing write home about, but is serviceable in day-to-day use. In terms of the sound quality, we can easily label them as a bass lover's dream. These earbuds have a subtle boost in bass, which does not eat into the mids and the highs, making sure that all the frequencies in tracks across most genres are well represented. All this is packed in a sturdy case, and is powered by a battery on the earbuds that will last you about 4 hours and 30 minutes, with the total battery life, including the case, coming up to 40 hours.
Rs. 4,999
Rs. 5,999
in stock
3 new from Rs. 4,990
as of 26 Sep 2023 22:00 22:00
Oppo's only entry in this list, the Enco Air2 Pro, features 12.4 mm titanium drivers, which are a rare find at this price. Due to this, the sound signature does not have an abnormal boost in either the bass, mids, or highs, although, compared to the others, the bass is on the higher end. These earbuds also have ANC which is decent for starters. The claimed battery life on these earbuds is 28 hours, which when pitted against some others in this list, seems low. And, lastly, the IP54 rating on these earbuds means that they can be lightly splashed with water. Do not take them out for a swim, else you will return with a dysfunctional pair of earbuds.
Rs. 3,499
Rs. 4,999
in stock
as of 26 Sep 2023 10:33 10:33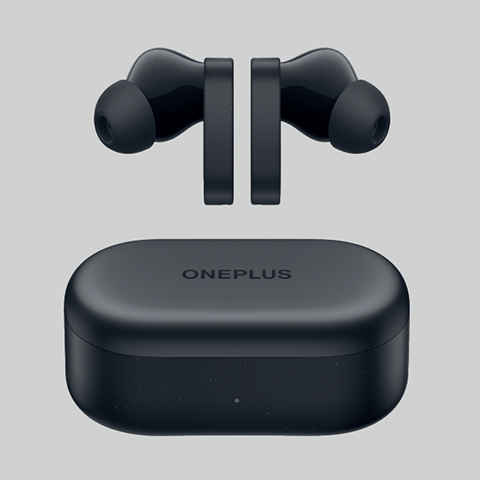 PROS:
Excellent wireless connectivity, Good battery life, Fantastic fit, Decent Active Noise Cancellation, Feature-rich HeyMelody app
CONS:
Boomy bass response, No on-ear detection, Lack of clarity in highs, No volume controls
The OnePlus Nord Buds 2 are another pair with a sound signature that has a lot of bass. This boost in bass, eats into the response of the highs, meaning that when you are listening to songs that feature high pitched instruments or very sharp notes in vocals, you will be left looking for those sound amidst all the boom. The ANC on these earbuds is decent which coupled with the fit, which was awesome when we tested these earbuds, makes sure that you are not troubled by noise around you. They have great connectivity, and a battery that lasts around four and a half hours on a single charge.
Disclaimer: Digit, like all other media houses, gives you links to online stores which contain embedded affiliate information, which allows us to get a tiny percentage of your purchase back from the online store. We urge all our readers to use our Buy button links to make their purchases as a way of supporting our work. If you are a user who already does this, thank you for supporting and keeping unbiased technology journalism alive in India.