The world is banking on wireless technology, and audio-makers are focussing increasingly on wireless headphones. Bluetooth headphones are increasing in popularity, and have begun delivering excellent audio quality without the need for analogue connections. Here, we list the best Bluetooth headphones that you can buy in India. These Bluetooth headphones not only offer great audio quality but also come with great battery life so that you do not worry about having your music paused unexpectedly. So, here are the best Bluetooth headphones for kids, teenagers and adults alike in the Indian market.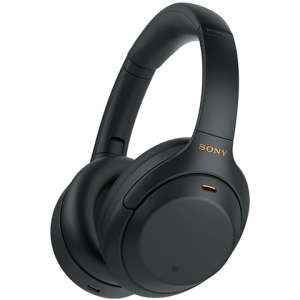 The successors to the acclaimed Sony WH-1000XM3, the Sony Mark 4s come with improved noise cancellation and sound quality, making them one of the most remarkable pair of noise cancelling headphones on the market. Even though the newer model features the very same 40mm drivers and the QN1 processor that were present in the WH-1000XM3, with some tweaks to the algorithm the sonic signature has been changed from the consumer-friendly bass bias in the Mark 3 to a sound signature that is much closer to neutral in the new Mark 4.The ANC performance of the Sony WH-1000XM4 has also improved considerably in comparison to its already-stellar predecessor, and is able to envelop you in an immersive auditory bubble.
Pros
Best-in-class ANC performance

Dynamic, detailed sound

Multipoint connection support

Convenient Quick Attention and Wearing Detection features

Good battery life
Cons
Headband padding is slightly inadequate

Controls are a bit of a hit or miss

No IP rating
SPECIFICATION
Playback Time
:
NA
Frequency Range
:
NA
Channels
:
NA
Dimensions
:
NA
| | | | |
| --- | --- | --- | --- |
| | Available | ₹ 24990 | |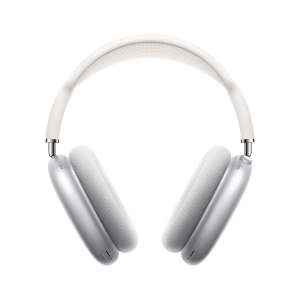 Although the Apple AirPods Max are exorbitantly priced at Rs 59,900, the headphones in most ways do justify the lofty price tag. You do, however, need to own an iPhone or iPad to get the most out of these headphones. The headphones have exquisite sound quality and commendable noise cancelling performance. The cans do a great job of blocking out ambient sounds, especially at the lower end of the frequency spectrum. The build is sturdy, premium and looks very aesthetically pleasing as well.
SPECIFICATION
Playback Time
:
NA
Frequency Range
:
NA
Channels
:
NA
Dimensions
:
24 x 24.3 x 8
Price
:
₹59900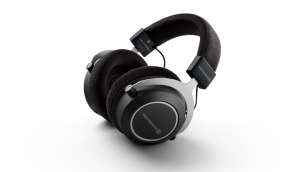 These exorbitant headphones from the German audio company, Beyerdynamic feature high-quality materials and are extremely robust. The Beyerdynamic Amiron Wireless are open-back headphones that produce spacious, detailed and energetic sound. However, these are not for bassheads since the bass response is a bit muted owing to these having a somewhat neutral sound signature. They also support high-end codecs such as aptX HD and AAC, offering HD audio with minimal loss in fidelity. They also sport a company-rated battery life of 30 hours, making them ideal for long-distance travel.
Pros
Excellent sound

Comfortable

Sounds good wired as well

Includes cable with in-line remote
Cons
SPECIFICATION
Playback Time
:
NA
Frequency Range
:
NA
Channels
:
NA
Dimensions
:
NA
Price
:
₹59990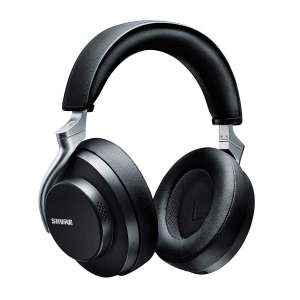 Dimensions

27.31 x 27.31 x 8.1
The Shure AONIC 50 is capable of solid low-end noise cancellation and does enough to compete with the top two in this category. These cans also support a wide array of codecs including SBC, AAC, LDAC, aptX, aptX HD and aptX Low Latency, in comparison to the Sonys that only support the first three. Nevertheless, the sound quality on both headphones is excellent, with the Shure AONIC 50 sporting a sound profile that is slightly closer to neutral in comparison to the Sony WH-1000XM4. While this sound profile is excellent for critical listening, it may come off as a bit too restrained and controlled if you're a casual music listener.
SPECIFICATION
Playback Time
:
NA
Frequency Range
:
NA
Channels
:
NA
Dimensions
:
27.31 x 27.31 x 8.1
| | | | |
| --- | --- | --- | --- |
| | Available | ₹ 23999 | |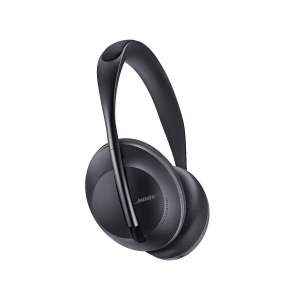 Dimensions

5.1 x 16.5 x 20.3
Although the Bose NC 700 comes up a bit short when it comes to ANC performance and sound quality in comparison to the Sony WH-1000XM4, they're still a solid pair of noise-cancelling headphones with microphone. Featuring a whopping eight microphones, six of which deliver Bose's signature noise cancelling, the NC 700 also allows granular control over the noise cancellation levels by letting users toggle between 11 adjustable ANC levels. Albeit the ANC does alter the sound quality significantly in the lows, it still doesn't sound unpleasant. Additionally, the Bose NC 700 also comes with a sleek and modern design, making other over-ears look rather dated.
SPECIFICATION
Playback Time
:
20 Hours
Frequency Range
:
NA
Channels
:
NA
Dimensions
:
5.1 x 16.5 x 20.3
Price
:
₹34500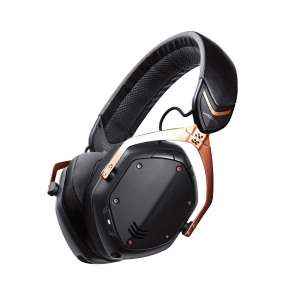 Dimensions

8.4 x 14.7 x 19.6
The V-Moda Crossfade 2 Wireless Codex is one of the most robust headphones available in the market since they are put through rigorous MIL-STD-810G military-level testing. They're also versatile when it comes to sound since they support AAC and aptX and also allow for hi-res wired listening. However, their battery life is a tad lacklustre compared to most other headphones on this list, coming in at only 14 hours. If you're an audiophile, you'll be glad to know that these headphones also come packing an integrated amp/DAC and 50mm dual-diaphragm drivers. The resulting sound profile is energetic, punchy and detailed, and will complement most genres of music well.
SPECIFICATION
Playback Time
:
NA
Frequency Range
:
NA
Channels
:
NA
Dimensions
:
8.4 x 14.7 x 19.6
| | | | |
| --- | --- | --- | --- |
| | Available | ₹ 26990 | |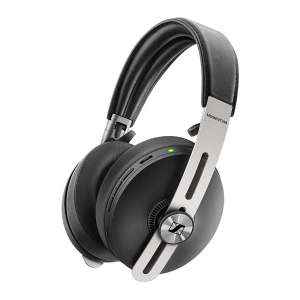 Featuring striking metallic headphone arms, the Sennheiser Momentum 3 Wireless aren't headphones that you'd miss in a crowd. Additionally, they're also a feature-laden pair of headphones including ones such as ANC, adjustable EQ, HD codecs support, Bluetooth v5.0, 17-hour-long battery life and more. The sound profile is definitely bass-forward but most frequencies are well represented. Coming to the ANC performance, the Sennheiser Momentum 3 Wireless does well at drowning out constant sounds, such as chatter and AC hums. It also comes with an 'Anti-Pressure' mode which diminishes the overwhelming pressure some users feel when wearing a pair of noise-cancelling headphones.
SPECIFICATION
Playback Time
:
NA
Frequency Range
:
NA
Channels
:
NA
Dimensions
:
17 x 20 x 5
| | | | |
| --- | --- | --- | --- |
| | Available | ₹ 32999 | |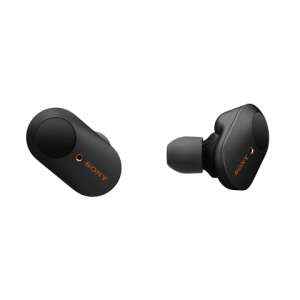 There's not much to criticise with the Sony WF-1000XM3 since you get solid sound quality, exceptional ANC for in-ears, long battery life and a host of premium features. In fact, these earphones have the best ANC performance in the wireless in-ear headphones category. The only features we sorely missed were wireless charging for the case, an IP rating and aptX support. The earphones are also comfortable for most ears and can be worn for long periods without overbearing fatigue. Additionally, Sony has priced these pretty competitively in the premium true wireless segment, undercutting the AirPods Pro and Sennheiser True Momentum Wireless 2 that offer similar features.
Pros
Surpasses expectations for noise cancellation on earbuds

Premium design

Comfortable fit for most ears

Great sound quality

Companion app provides tons of customisation options
Cons
Bulky charging case

No IP rating

No aptX or LDAC support
SPECIFICATION
Playback Time
:
NA
Frequency Range
:
NA
Channels
:
NA
Dimensions
:
NA
| | | | |
| --- | --- | --- | --- |
| | Available | ₹ 19980 | |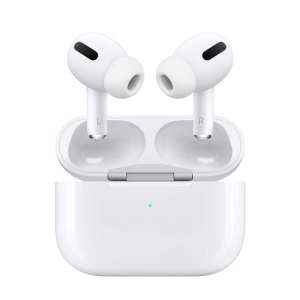 Apple's AirPods Pro in-ear true wireless headphones have a lot going for them. They come equipped with ANC, Transparency Mode, silicone ear tips, an IP rating, a customisable EQ, and a whopping 24 hours of total battery life. It's quite the feature set for a compact pair of in-ears. The touch controls, situated on the short stem of these earphones, can be used to easily activate ANC by simply long-pressing them. They do quite well suppressing external sounds and provide a decent battery life of 4.5 hours on the buds themselves with ANC turned on. They also offer sweat and water resistance.
SPECIFICATION
Playback Time
:
24 hours
Frequency Range
:
NA
Channels
:
NA
Dimensions
:
10 x 10 x 4.5
| | | | |
| --- | --- | --- | --- |
| | Available | ₹ 20699 | |
| | Available | ₹ 20964 | |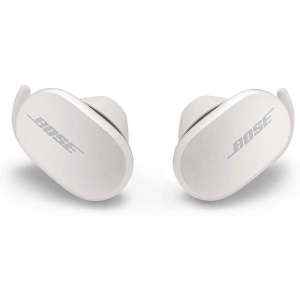 Dimensions

5.05 x 8.69 x 3.4
The Bose QuietComfort Earbuds extends the company's solid noise cancelling legacy from their on-ear and over-headphones to in-ear headphones. The earbuds have impressive ANC and detailed sound quality, as one would expect from this company. The bass is a bit on the higher side, still the mids and the highs have plenty of detail and there's very little masking in the other frequencies due to the bass. The build quality is solid as well and users get a total of 18 hours of battery life from both the buds and the charging case.
SPECIFICATION
Playback Time
:
NA
Frequency Range
:
NA
Channels
:
NA
Dimensions
:
5.05 x 8.69 x 3.4
| | | | |
| --- | --- | --- | --- |
| | Available | ₹ 26900 | |
List Of Best Bluetooth Headphones In India
| Product Name | Seller | Price |
| --- | --- | --- |
| Sony WH-1000XM4 | amazon | ₹24990 |
| Apple AirPods Max | N/A | ₹59900 |
| Beyerdynamic Amiron Wireless | N/A | ₹59990 |
| Shure AONIC 50 | amazon | ₹23999 |
| Bose NC 700 | N/A | ₹34500 |
| V-Moda Crossfade 2 Wireless Codex | amazon | ₹26990 |
| Sennheiser Momentum 3 Wireless | amazon | ₹32999 |
| Sony WF-1000XM3 | amazon | ₹19980 |
| Apple AirPods Pro | Tatacliq | ₹20699 |
| Bose QuietComfort Earbuds | amazon | ₹26900 |
Audio-Technica QuietPoint Active Noise-Cancelling ATH-ANC40BT in-Ear Earphones Neck Band (Black)
₹ 7636

|
Sony WH-1000XM3 Industry Leading Wireless Noise Cancelling Headphones, Bluetooth Headset with Mic for Phone Calls, 30 Hours Battery Life, Quick Charge, Touch Control & Alexa Voice Control – (Black)
₹ 21699

|
realme Buds Wireless in-Ear Bluetooth with mic (Yellow)
₹ 1790

|
OPPO ENCO Free True Wireless Headphone (White)
₹ 5990

|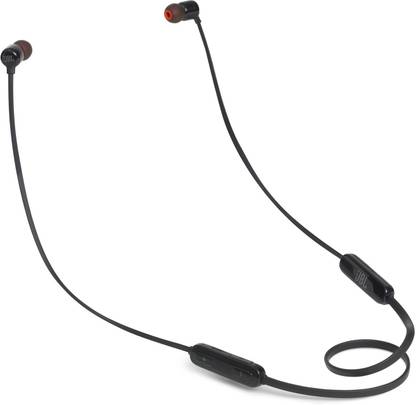 JBL JBLT110btBlk Bluetooth Headset
₹ 1599

|