With the rapid removal of the 3.5mm audio jack from most modern-day smartphones, wireless Bluetooth earphones are slowly but surely becoming the way to go when it comes to audio solutions for most users. Audio product manufacturers have also understood the widespread appeal of untethered earphones and are bringing users hordes of options of best bluetooth wireless earphones to choose from. To make the choice slightly easier, we have compiled a list of the ten best wireless bluetooth earphones in India in 2021. The best wireless earphones come with an array of lucrative features such as Active Noise Cancellation, app support, customisable controls and equaliser, and more. Manufacturers are also putting in extra effort to make these wireless audio solutions compact and easily portable. Here is the list of best wireless earphones in India. Although the top bluetooth earphones price mentioned in the list given below has been updated as of 5th May 2021, the list itself may have changed since it was last published due to the launch of new products in the market since then.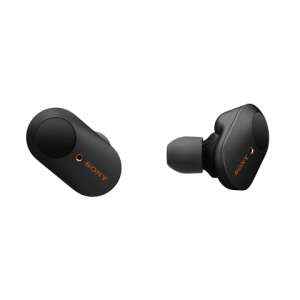 Sony released the highly-anticipated Sony WF-1000XM3 true wireless earbuds in India last year to much critical acclaim. The popular earbuds come equipped with best-in-class noise cancellation abilities enabled by Sony's QN1e processor. It won't give you as much isolation as quality ANC cans, however, for earphones the ANC is just about the best money can buy at this moment, even a year after its release in the country. The earphones also have a classy design with a matte black surface and copper highlights. You get a total battery life of 24 hours, with 6 hours on the buds themselves and a respectable 18 hours via the charging case. The 6mm drivers combined with Sony's QN1e processor gives you a fairly balanced sound profile, featuring exquisite lows and lively mids. The Sony WF-1000XM3 can be used with Sony's companion app that allows users to tweak features and settings, and control Active Noise Cancellation and other profiles. There's no official IP rating, however, so keep that in mind since they're likely not going to withstand a lot of sweat when working out, or light splashes. Overall, there's not much to criticise with the Sony WF-1000XM3 since you get solid sound quality, exceptional ANC for in-ears, long battery life and a host of premium features.
Pros
Surpasses expectations for noise cancellation on earbuds

Premium design

Comfortable fit for most ears

Great sound quality

Companion app provides tons of customisation options
Cons
Bulky charging case

No IP rating

No aptX or LDAC support
SPECIFICATION
Playback Time
:
NA
Frequency Range
:
NA
Channels
:
NA
Dimensions
:
NA
| | | | |
| --- | --- | --- | --- |
| | Available | ₹ 14490 | |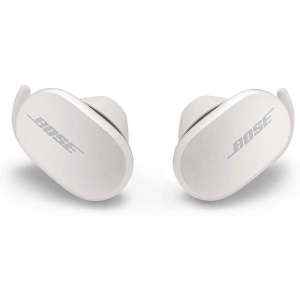 Dimensions

5.05 x 8.69 x 3.4
The Bose QuietComfort Earbuds is the company's second attempt at a pair of true wireless earphones, and they're a lot better than its predecessor, the SoundSport Free. These earphones come with improved design, better noise cancellation and good sound quality. The earphones are one of the few on the market that can give tough competition to the Sony WF-1000XM3 when it comes to Active Noise Cancellation, however, Sony has it beat when it comes to overall sound quality and customisations. The earphones are supremely comfortable to wear owing to the silicone wings support Bose has provided and they also look like a good mix between classy and sporty. The earphones are definitely on the more exorbitant side but for those who can afford to spend the asking price, there's little that could disappoint you. However, if you're looking for a premium pair of earphones at a significantly lower cost with a similar feature set, the Sony WF-1000XM3 and Jabra Elite 85t are better options.
SPECIFICATION
Playback Time
:
NA
Frequency Range
:
NA
Channels
:
NA
Dimensions
:
5.05 x 8.69 x 3.4
| | | | |
| --- | --- | --- | --- |
| | Available | ₹ 26900 | |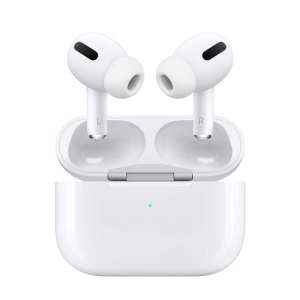 If you're an iOS user, you'll be hard-pressed to find a pair of wireless earphones better suited for your device than the AirPods Pro. Apple's AirPods Pro addressed several issues users had with the AirPods gen 1 and 2, such as the long stem and lack of silicone tips. Not only did they cut down the size of the stem significantly and add silicone tips to the AirPods Pro, but they also added a bunch of features such as active noise cancellation, Transparency mode, adaptive EQ, and wireless charging. The battery life is decent as well with up to 4.5 hours on the buds, and about 24 hours in total with the charging case. The earphones also houses an excellent microphone which is class-leading when it comes to taking calls and recording. The Apple H1 chip employed in the AirPods Pro ensures minimal latency when watching content on your smartphone as well.
SPECIFICATION
Playback Time
:
24 hours
Frequency Range
:
NA
Channels
:
NA
Dimensions
:
10 x 10 x 4.5
| | | | |
| --- | --- | --- | --- |
| | Available | ₹ 20699 | |
| | Available | ₹ 20999 | |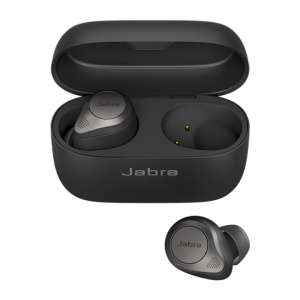 The Jabra Elite 85t are the company's best true wireless earbuds yet, no doubt. Sporting ergonomic earbuds and a fairly compact form factor, the Jabra Elite 85t are excellent true wireless earphones that come equipped with competent Active Noise Cancellation and Ambient Sound mode. The design, in our opinion, does feel like a slight downgrade since it is significantly larger and doesn't feel as premium as its predecessor, the Jabra Elite 75t, however, the fit of the earphones is still pretty stellar. They have a sizable battery life of 25 hours with 5.5 hours in the buds themselves and an additional 19.5 hours from the charging case. The earphones also come with an IPX4 water and sweat resistance rating. Additionally, the Jabra app allows users to customise the EQ and controls via the impressive Jabra Sound+ app. The earphones come with a fairly balanced sound profile with controlled bass, lively mids and decent highs.
Pros
Effective ANC

More balanced and open sounding than the Elite 75t

Excellent accompanying app

Multipoint connection support
Cons
SPECIFICATION
Playback Time
:
NA
Frequency Range
:
NA
Channels
:
NA
Dimensions
:
NA
| | | | |
| --- | --- | --- | --- |
| | Available | ₹ 17999 | |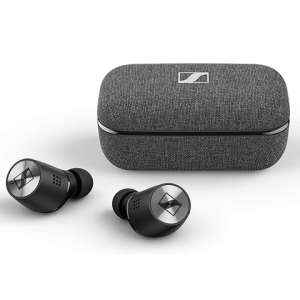 The Sennheiser Momentum True Wireless 2 had lofty expectations to meet, in more ways than one, and they have actually managed to meet and even surpass most of those expectations. The battery life has been hugely improved over its predecessor, the addition of ANC is a welcome one, and the fit and comfort of the earbuds have also been enhanced since the dimensions of the earbuds have been trimmed down. Moreover, the promising sound quality usually found on Sennheiser audio products is here in all of its glory. The lack of wireless charging and the slight veiling of detail in the lower-treble are really the only missteps here. Despite these small issues, the Sennheiser Momentum True Wireless 2 is a truly remarkable pair of true wireless earphones. However, they are not for everyone, owing solely to the exorbitant price. Still, if you can afford to buy these stellar earphones, you will most likely be extremely pleased with your purchase.
Pros
Rich bass response and mid-range performance

Premium build and sensational fit

Customisable EQ and controls

Commendable ANC quality
Cons
No wireless charging

Connects to only one device at a time

Slight veiling in the low-treble range
SPECIFICATION
Playback Time
:
NA
Frequency Range
:
NA
Channels
:
NA
Dimensions
:
NA
| | | | |
| --- | --- | --- | --- |
| | Available | ₹ 21990 | |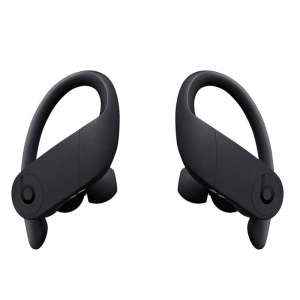 The Beats Powerbeats Pro are a pair of true wireless earphones that are tailor-made for fitness junkies. While their slightly bass-leaning sound profile is nothing to write home about, their exceptional fit and comfort due to the inclusion of an array of ear hooks certainly make them elusive earphones. Additionally, if you own an iOS device, you get the added bonus of being able to 'quick pair' with these earphones since Apple owns Beats. These earphones are also sweat-resistant and seem to stay in at all times even during intense workout sessions. They are also available in a variety of colours that you can choose from. The earbuds have been the premium earphones of choice when it comes to catering to fitness enthusiasts since their launch in 2019. They are perfect for fitness enthusiasts due to their lengthy battery life, powerful bass response, sweat resistance, and comfortable fit.
SPECIFICATION
Playback Time
:
NA
Frequency Range
:
NA
Channels
:
NA
Dimensions
:
NA
| | | | |
| --- | --- | --- | --- |
| | Available | ₹ 21500 | |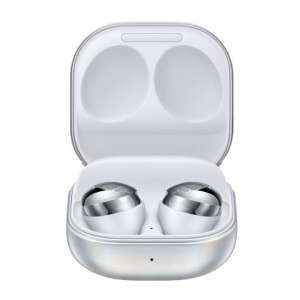 Samsung's foray into the popular truly wireless earbuds market has been a bit of a hit and miss. The hit being the excellent Samsung Galaxy Buds Plus, and the miss being the Samsung Galaxy Buds Live, primarily due to its polarising bean-shaped buds. The company launched the Samsung Galaxy Buds Pro with its S21 lineup of 2021, and the company seems to have moved on from its bean-shaped folly and have adopted a more traditional in-ear design. The buds also come equipped with a wide array of premium features such as Active Noise Cancellation, Voice Detect, Ambient Sound, 360 Audio, Dolby Head Tracking, Auto Switch and much more. The Samsung Galaxy Buds Pro are a no-brainer if you're a Samsung user since you will get excellent sound quality and access to all the Samsung-exclusive features. If you're not a Samsung smartphone/tablet user, you will miss out on some features but you will still get good performance and an array of premium features at a competitive price of Rs 15,999.
Pros
Noise-isolating fit

IPX7 water-resistance

Good sound and decent ANC

Qi wireless charging supported
Cons
No iOS app support at the moment

Codec support limited to AAC and SBC for non-Samsung devices
SPECIFICATION
Playback Time
:
NA
Frequency Range
:
NA
Channels
:
NA
Dimensions
:
NA
| | | | |
| --- | --- | --- | --- |
| | Available | ₹ 16290 | |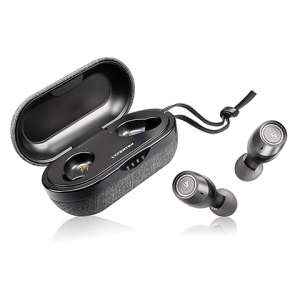 If you're looking for a relatively affordable pair of wireless earphones with stellar sound quality, you likely won't find anything better than the Lypertek Tevi under 10K in the Indian market.The brand itself isn't very renowned, in India at least, but the Lypertek Tevi is creating quite a bit of stir in the audiophile circles. Upon testing the device, we found the Lypertek Tevi to be one of the most musical pairs of true wireless earphones we've had the pleasure of listening to, especially at the sub 10K price range. The sound is open, natural and well-balanced, with oodles of detail and character. Not just the stellar sound, you also get a massive battery life of 70 hours, aptX support, solid physical controls, and a simple yet classy design. These may very well be the best value for money purchase in the true wireless segment owing to the sheer quality of the sound and is currently our top pick for true wireless earphones under 10K.
Pros
Cons
SPECIFICATION
Playback Time
:
NA
Frequency Range
:
NA
Channels
:
NA
Dimensions
:
NA
| | | | |
| --- | --- | --- | --- |
| | Available | ₹ 7999 | |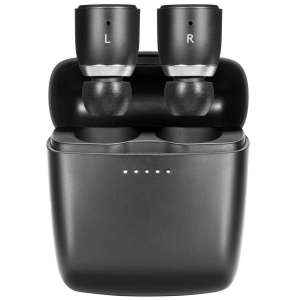 Dimensions

5.84 x 5.08 x 2.29
Equipped with an outstanding 45 hours of total battery life and the brand's lauded sound engineering, the Cambridge Audio Melomania 1 are an excellent pair of true wireless earphones. Housing 5.8mm drivers with graphene diaphragms, the sound quality has surreal clarity and presence. The earphones, however, do not offer features such as Active Noise Cancellation and wireless charging case. Nevertheless, if you are looking for a pair of true wireless earphones with audiophile-grade sound, these earphones are a worthy choice. The earphones also sport a comfortable and ergonomic fit, making them easy to wear for hours. Overall, the Cambridge Audio Melomania 1 are one of the better sounding earphones under 20K, however, they aren't as feature-laden as competitors in this price range.
SPECIFICATION
Playback Time
:
NA
Frequency Range
:
NA
Channels
:
NA
Dimensions
:
5.84 x 5.08 x 2.29
| | | | |
| --- | --- | --- | --- |
| | Available | ₹ 19999 | |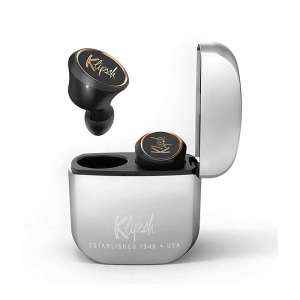 The Klipsch T5 True wireless earphones exude a premium look and feel. The earphones' build quality is not just attractive but also extremely robust and the charging case is metallic, sleek and stylish. The sound profile is what audiophiles have come to expect from Klipsch - a warm, detailed and smooth overall sound which allows vocals and mids to soar. The battery is quite good as well with 8 hours in the buds and a total of 24 hours with the case. There's also fast charging, where 15 minutes of charging will net you over 2 hours of playtime. The earbuds are rated as one of the most ergonomic earphones with their small nozzles and oval ear tips. The earbuds support SBC, AAC and aptX audio codecs and come with Bluetooth 5.0 connectivity.
SPECIFICATION
Playback Time
:
32 Hours
Frequency Range
:
NA
Channels
:
NA
Dimensions
:
4 x 4 x 4
| | | | |
| --- | --- | --- | --- |
| | Available | ₹ 10975 | |

List Of Best Bluetooth Wireless Earphones In India
| Product Name | Seller | Price |
| --- | --- | --- |
| Sony WF-1000XM3 | amazon | ₹14490 |
| Bose QuietComfort Earbuds | amazon | ₹26900 |
| Apple AirPods Pro | Tatacliq | ₹20699 |
| Jabra Elite 85t | amazon | ₹17999 |
| Sennheiser Momentum True Wireless 2 | amazon | ₹21990 |
| Beats Powerbeats Pro | amazon | ₹21500 |
| Samsung Galaxy Buds Pro | amazon | ₹16290 |
| Lypertek Tevi | amazon | ₹7999 |
| Cambridge Audio Melomania 1 | amazon | ₹19999 |
| Klipsch T5 True Wireless | amazon | ₹10975 |
Jabra Elite 65t Alexa Enabled True Wireless Earbuds with Charging Case, 15 Hours Battery,Titanium Black, Designed in Denmark
₹ 3999

|
Audio-Technica QuietPoint Active Noise-Cancelling ATH-ANC40BT in-Ear Earphones Neck Band (Black)
₹ 9999

|
boAt Rockerz 255 in-Ear Earphones with 8 Hours Battery, IPX5, Bluetooth V5.0 and Voice Assistant(Active Black)
₹ 899

|
Sony WH-1000XM3 Industry Leading Wireless Noise Cancelling Headphones, Bluetooth Headset with Mic for Phone Calls, 30 Hours Battery Life, Quick Charge, Touch Control & Alexa Voice Control – (Black)
₹ 17990

|
Samsung Galaxy Buds+ (Black)
₹ 5990

|