WinZip 14.5 - a great new interface & Win 7 specific features detailed review
WinZip, the most used file-compression & encryption software in the world is out with a new version, 14.5, which promises better compression rates, deeper context menu and OS integration, a brand new interface, better security, faster encryption, one-click features, and lots of customization options. Easy to use but feature-rich, WinZip 14.5 is perfect for both advanced and novice users. It runs on Windows 7, Vista, XP, and 2000.
What's new?
Windows 7 Specific Features
With special emphasis on Windows 7, WinZip makes use of a number of features of Microsoft's latest OS, including libraries, jump-lists, multi-touch support, and Windows Explorer preview (using the preview pane), as well as new common and task dialogs.
Libraries
WinZip supports Windows 7 libraries, which group together folders and files with a common theme regardless of where they reside. WinZip gives users the option of creating or opening Zip files within the libraries, allowing them to add files from libraries to a Zip file, or extract to a libraries, making it really easy for you to zip up similar files no matter where they are actually located.

WinZip Job Wizard
This lets you automate the compression of your libraries (which you can define) using jobs that you create or default jobs. Creating an Archive is easy, and available in all WinZip 14.5 Editions (Standard, Backup, Pro), but making a Backup library requires a Backup or Pro Edition.
Jump Lists
Using Windows 7's start menu and taskbar icon jump lists, users have easy access to their documents and programs. WinZip allows you to pin the WinZip 14 icon to your taskbar or start menu for quick access to frequently used zip features, Zip files, and WinZip jobs. The taskbar functionality doesn't end there, but also extends to the Windows 7's taskbar progress meter, letting users see the progress of their compression while concentrating on other tasks.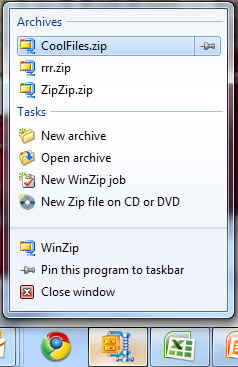 Explorer Preview
Once users activate the preview pane in Windows 7 Explorer, they can view the contents of Zip files as well. Outlook 2007-10 will also provide the same option, within its own preview pane. Single files seen in the preview within the Zip file can be individually extracted and open as well.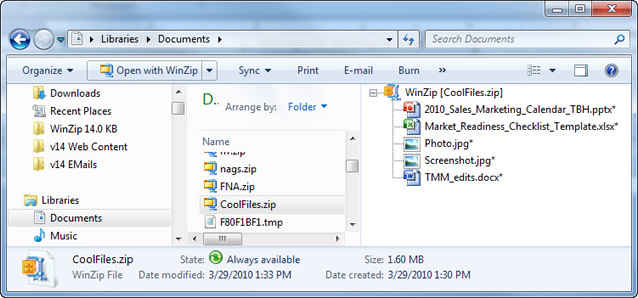 Touch Screens
WinZip offers full support for Windows 7's single-touch and multi-touch gestures, scrolling through Zip files, or even panning, zooming, and rotating images within the WinZip (Pro)'s built-in Image Viewer.
Common Dialogs and Task Dialogs
WinZip's regular dialogs (such as New, Open, Add, and Extract) will use the Windows 7 style, providing users with easy filtering and organizational support for finding a user's files and archives. New task dialogs also provide easy-to-follow instructions. So now users can add or extract easily and precisely, using the Organise and View features.

Read on to know more about WinZip 14.5's new features in various editions, compression types, and much more...

Cross OS features
Taking further the theme of simplicity of interface, deeper integration, and easy file management, WinZip 14.5 attempts to make it more intuitive for a user to work all its features.
Ribbon Interface
Emulating MSOffice 2007-10's Ribbon-style interface, functions of WinZip are presented in icon form and segregated into tabs, kept easily accessible at the top of the window. Home, Backup (available in Backup and Pro Editions), Tools, Settings, Layout and Help. The ribbon can be minimized for the standard view.
Quick-Access Toolbar
Your favourite (most frequently used functions) can be taken from the 'ribbon' and added to the top pane of the window, for very quick access that doesn't requiring tab switching.

WinZip Home Tab
Just like MSOffice 2007-10, the interface is divided into tabs, and the Home tab's Zip option lets users select files to zip, choose options, and where to save the Zip file.


Encrypt Files
The Encrypt check box in Zip options gives users a simple way to password-protect your sensitive Zip files.
Attach to E-mail
The new Attach to E-mail button allows the user to email a Zip file using the default email account, and gives advanced options like 'best method' compression, encryption, and automatic photo resizing.
1-Click Unzip
The new 1-Click Unzip is really useful, but takes some getting used to, as it automatically extracts the Zip file into a new folder and then opens that folder for users to view the contents.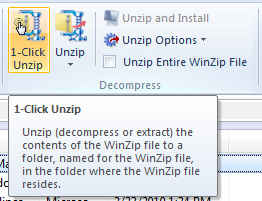 Auto Open
A great feature that requires the presence of MSOffice 2001-10 on a user's system, Auto Open will automatically extract and open a Word document, Excel spreadsheet, or PowerPoint presentation in the relevant application, with a simple double click of the Zip file within Windows Explorer or Microsoft Outlook.
Open With
Similar to Auto Open, user s can open files within the Zip file using the right-click Open With option, in the application they specify, and save any changes they make back into the file within the zip.
Zip File Previewer
Again requiring either MSOffice 2010 or 2007, this feature will let users see exactly what's inside a Zip file from within Windows Explorer or Microsoft Outlook 2007-10, and directly open zipped files by simply double clicking on them.

WinZip Tools tab
Within the WinZip, like the Home tab, is the Tools tab, which gives users easy access to plenty of utilities, such as creating a self-extracting Zip file, encrypting an existing Zip file, along with the option of Unzip and Try to check out the contents of a Zip file and then rollback any changes if required.


Backup Edition Features
These new backup features are available in both the Pro and Backup editions of WinZip 14.5. (For a complete view of what's available in which Edition, click here)
Backup tab
The Backup tab in WinZip gives users choices of how to protect their data files, such as predefined backups for users' documents, desktop, email, etc., and a Backup wizard for creating custom backups, and an easy way to backup photos directly from digital cameras or phones.


Other Backup Edition Features (not new)
Burn backups to CD or DVD and automatically split them over multiple discs, if necessary
Transmit backups automatically via email
Upload backups to an off-site server using WinZip's internal FTP client
Define custom WinZip jobs to automate routine zipping tasks
Schedule backups and other WinZip jobs to run automatically and unattended
Email log files upon completion of backups or other automated jobs

Pro Edition Features
The Pro Edition of WinZip 14.5 gives users many, many functionalities that include the above Backup features, as well as great image viewing and encryption options. (For a complete view of what's available in which Edition, click here)
View/Resize/Rotate Zip Photos
Allows users to view/resize/rotate photos within Zip files without extracting them, by using WinZip's internal image viewer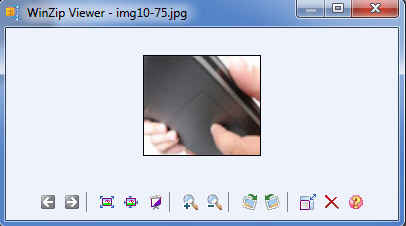 Touch Screen
Touch pan, zoom, and rotate images within WinZip's built-in Image Viewer.

Read on to know about WinZip 14.5's compression and encryption options, pricing and availability...
Compression
Compression Methods: WinZip 14.5 gives its users several compression methods, allowing them to choose specific options depending on the type of data they are compressing, the compatibility of the resultant Zip file, and the time spent compressing. Users therefore have easy access to 3 compression options:
1. Zip (Legacy): This is also called Legacy compression as the resultant Zip file can be accessed by any WinZip version, and virtually all other Zip file utilities (such as WinRAR). Offering speedy and good compression, this is obviously the best choice if you do not know the WinZip version owned by the person whom you are sending the file to. However, it does not offer the level of compression that WinZip's newer method, ZipX does.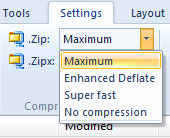 2. ZipX (Best Method): Also called the best method, because WinZip will choose the compression based on the file type you are compressing. It provides the maximum compression, with the smallest resultant Zip file size. It can only be extracted by users of WinZip 12.1 or later. It also uses Jpeg compression and WavPack compression methods.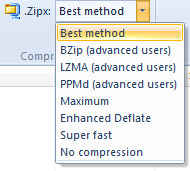 3. Let me choose the specific compression method: This option lets you choose from the gamut of compression options, namely No Compression, SuperFast, Enhanced Deflate, bzip2, LZMA, and PPMd. The first three can be used to make a legacy Zip file as well as a ZipX file, but bzip2, LZMA, or PPMd will result in the creation of a ZipX file.

Compression Rates
Apart from promising 20% reduction in JPEG file sizes (Best Method), WinZip doesn't offer any other details of compression rates. However, users can see the extent to which each Zip file has compressed their content, with the handy comparative bar graph that appears after a new Zip file is made.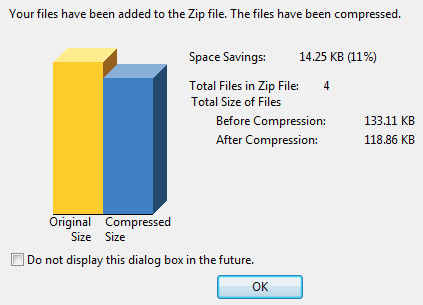 Encryption
WinZip offers two types of encryption, AES Encryption and Standard Zip 2.0 Encryption, both protected by a user-defined password. Both are available for Zip and ZipX output files.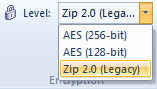 AES Encryption
Advanced Encryption Standard is the result of a 3-year encryption competition by the U.S. Government's National Institute of Standards (NIST). Also known as Rijndael, AES is now a US Federal Information Processing Standard. AES encryption is available in two different levels or strengths: 128-bit AES and 256-bit AES, which refers to the size of the encryption keys that are used to encrypt the data. The only advantage 128-bit has over 256-bit is that it is faster to encrypt and decrypt a Zip file. Note: AES decryption is only supported by WinZip 9.0 onwards, and by WinZip Self-Extractor 3.0 onwards.
Standard Zip 2.0 Encryption
An older encryption technique, it provides basic password protection against casual (read, not expert hackers or those with access to password recovery tools) users. The only advantage that Standard Zip 2.0 Encryption has over AES is that it can be decrypted by a wide variety of Zip file utilities and almost all versions of WinZip, as well as by WinZip Self-Extractor 2.2 or later and by WinZip Self-Extractor Personal Edition (included with WinZip).
Ordering Information
WinZip 14.5 is available now with prices starting at $29.95 (USD) for WinZip Standard and $49.95 (USD) for WinZip Pro. You can also enjoy back-up features of WinZip without paying for the whole Pro edition, at $39.95. Multi-user license discounts are also available. Registered customers of WinZip 14, as well as other WinZip customers with valid upgrade assurance or maintenance, qualify for a free upgrade to WinZip 14.5. Customers of previous WinZip versions not covered by upgrade assurance or maintenance may upgrade for 50% off new license list prices.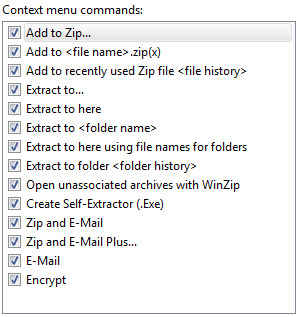 Verdict:
Looking good and working well, WinZip 14.5 provides a high degree of functionality, for both expert and novice users. Its deep and very configurable context and task commands are all pervasive, in a good way. It is a must buy if you regularly transfer, backup, or e-mail/upload a large number of files, especially heavy ones. If you do not intend to use backup or image viewing features, going in for the WinZip Standard Edition is a good long-term investment.
Our Rating: 4.5/5