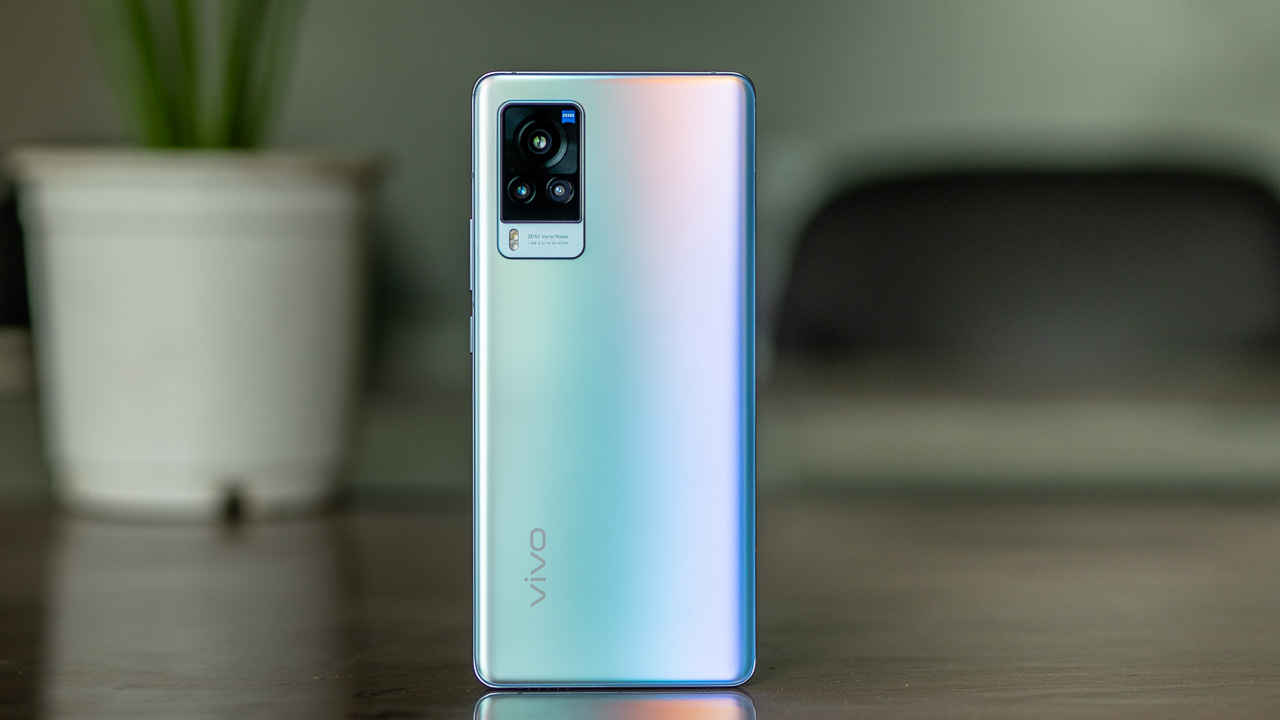 VERDICT:
The Vivo X60 Pro is the coming of age for Vivo. This smartphone establishes that Vivo can make a smartphone with an incredible camera stack, as the Zeiss partnership has yielded very impressive results. The new Gimbal 20 stabilisation also works ridiculously well and the overall camera experience is so good that you'd want to take more photos and shoot more videos. Vivo hasn't skimped out on the hardware either, giving you a flagship Snapdragon 870 SoC, 12GB LPDDR4x memory and even 256GB of UFS3.1 storage. All of these work together to deliver impressive speed, lending an air of extreme responsiveness. This is also in part thanks to the 120Hz AMOLED display which comes with a resolution of 1080×2370 but suffers from poor colour tuning in the wide colour gamuts. another let down is the battery life which delivers just about a day's worth of usage. This is understandable though, given that the phone's ultra-sleek form-factor would not have allowed for a battery any bigger. If you're a person whose primary means of taking photos is the smartphone, then the Vivo X60 Pro, even with all its faults, is still the best option for you.
Vivo made headlines last year when they introduced a sensor-shift based image stabilization system for their smartphone, the Vivo X50. The phone offered very impressive image stabilization, and then some. This year, the company has also partnered with revered lens manufacturer Zeiss for the optics on their camera modules. The phone also comes packing Qualcomm's Snapdragon 870, which is a slightly overclocked version of the still-very-able Snapdragon 865. There's plenty of RAM in addition to the new Virtual RAM feature and the spec sheet just goes on and on with one impressive feature after another. Instead, we're just going to give you the low down on the areas where the Vivo X60 Pro delivers, and the areas it falters.
Vivo X60 Pro Camera Performance
We've got a trio of cameras here, a 48-megapixel primary camera with a Sony IMX598 at its heart. This sensor was present on the Vivo X50 Pro as well, and frankly, is more than able to deliver impressive results. IT also comes with an aperture of f/1.5, making it a prime candidate for shooting in low light. You additionally also get a 13-megapixel ultra-wide camera and a 13-megapixel portrait camera with a 2x field of view. So, here's how they all perform. Before getting into the detail of the camera performance, I do want to point out one very critical detail. The Vivo X60 Pro is producing images in the Display-P3 colour profile and not the typical sRGB one. What this means is that not only do these images contain far many more colours, but also will be more saturated to look at. This isn't the same as "boosting saturation through an algorithm." If you were to view the images on a display that confirmed the sRGB colour space, you will notice the saturation drop considerably.
Note: All images embedded below have been resized for the web. To see the full resolution JPG files, please head over to our Flickr Gallery. It will most definitely be worth it.
The primary camera on the Vivo X60 Pro evokes a wow factor that I last experienced when I used the Lumia 920, the first smartphone with optical image stabilization. The Gimbal 2.0 stabilisation is ridiculously effective, allowing you to hold shots with tricky composition with relative ease. I was able to walk around with the phone held in my hand and still not get any noticeable shake in my videos. The only other smartphone to offer this kind of stabilization is the iPhone 12 Pro Max, but the stabilization isn't the only area where the Vivo X60 Pro excels. Just look at the samples embedded below.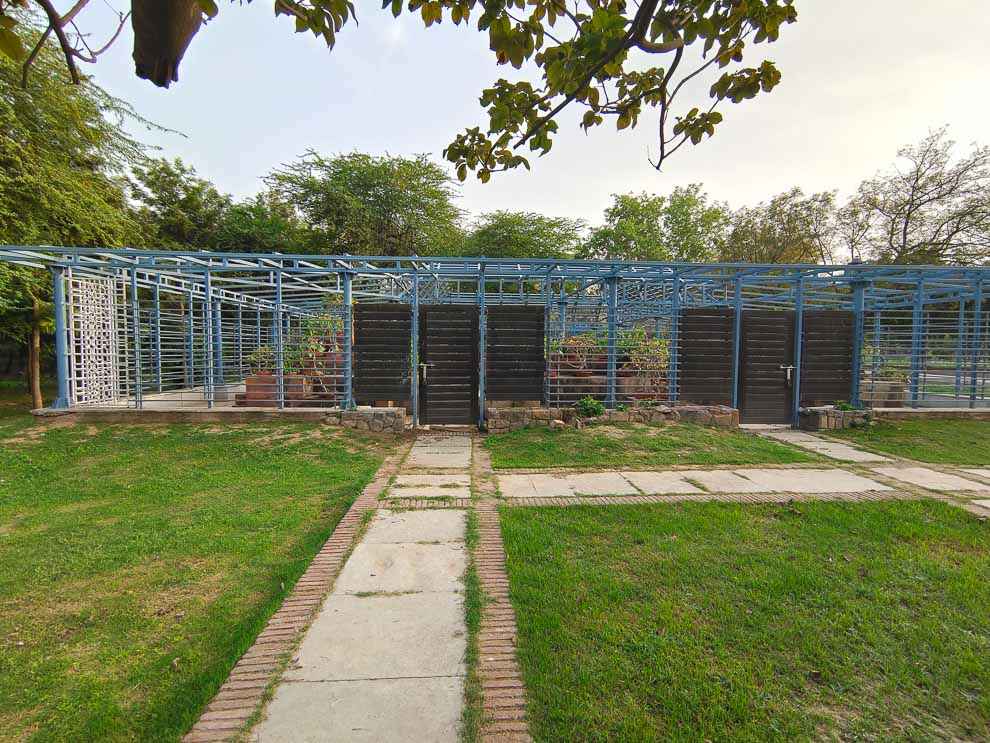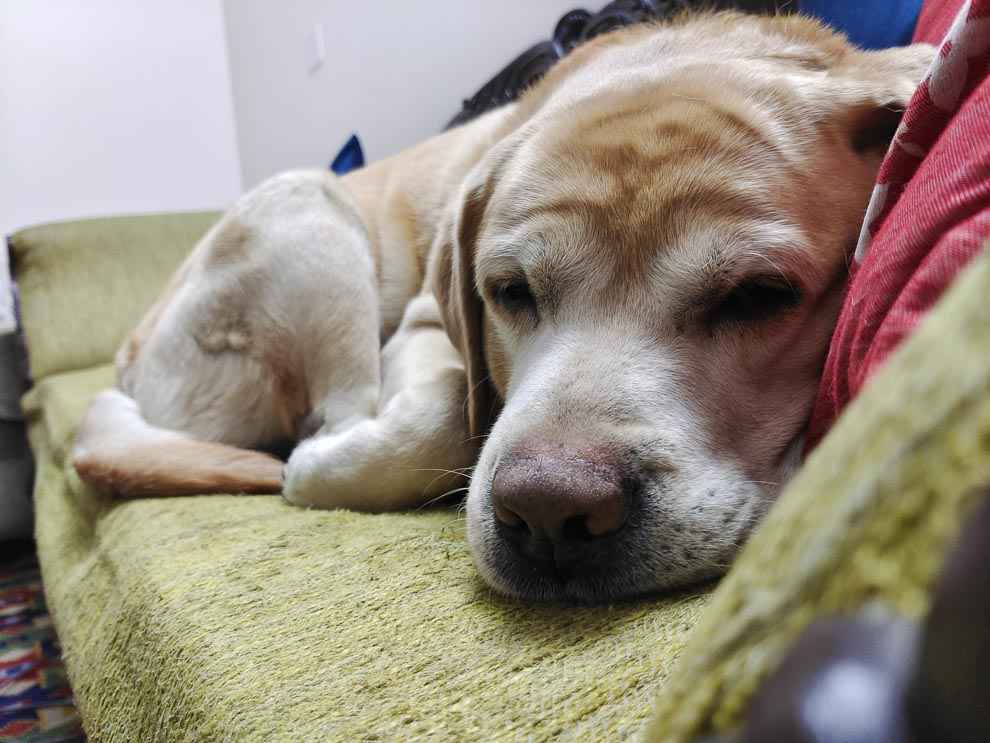 One thing that's clear is that the Zeiss partnership has borne fruit in the form of some crazy sharp optics. Last year's Vivo X50 had an aperture of f/1.6, while this year, its increased ever so slightly to f/1.5. Increasing the size of the aperture is a huge feat to achieve on a given sensor size, while also maintaining all other aspects of good lens design such as sharpness, curbing of internal reflections and of course, eliminating any kind of fringing. Even on DSLRs, prime lenses with large apertures tend to be less than perfectly sharp at their starting aperture, becoming sharper only when stopped down. Smartphones don't enjoy that luxury, so lens design is very critical. While a lot can be improved in software, it always serves to start with the right RAW data.
The Zeiss partnership isn't the only thing that Vivo has struck to improve its camera tech. Instead of simply relying on a legacy name to lend its camera stack legitimacy, Vivo also seems to be doing its part in filling the void left behind by Huawei. They've got some crazy innovative sensors coming out later this year, but for now, you have to settle for another crazy innovation; pixel-shift. Pixel shift works by shifting the sensor as a whole by one pixel in every direction for capturing a frame. This technique has been employed by DSLR and even Medium format camera manufacturers to deliver images with a much higher resolution than their sensors were natively capable of. Vivo, instead, is using the technique to fill the gaps that are inherent to the Bayer filter, each line of which records only 50 percent green, 25 percent red and 25 percent blue pixels. For example, if there are 12 pixels in each line of the sensor, 6 of those will be green, 3 red and the other 3 blue. This data, along with that from the rest of the lines on the sensor will be combined together, run through a "de-bayering" algorithm that approximates the other colour values. Vivo's approach to pixel shift allows them to capture 12-green, 12-red and 12 blue pixels for each "expanded" line, leading the algorithm to no longer "guess" the missing colours. The result is a more realistic colour rendition straight off the sensor, now pending further image processing. It should be noted that all images shot from the Vivo X60 Pro are captured in the Display-P3 colour gamut, so they will appear supersaturated on the phone's display. They will appear more toned down when looked at using a regular, sRGB monitor.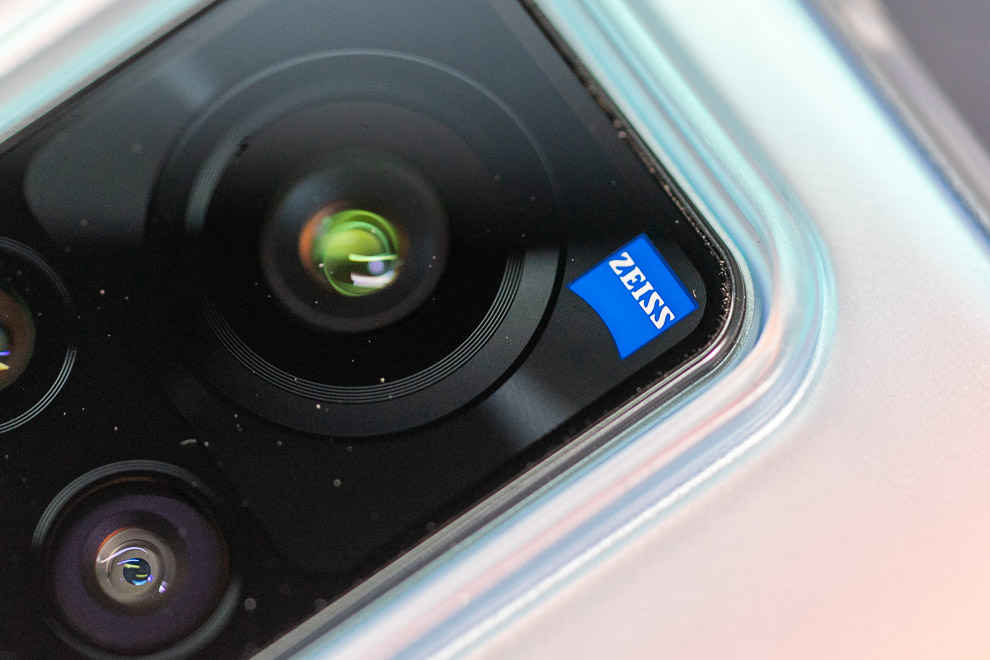 Moving on from the primary camera, we've got the ultra-wide lens, with 13-megapixel output. Day time shots from the ultra-wide camera reveal excellent sharpness across the frame, even at the extreme edges. We also see there's also a strong contrast curve being applied, which does levy a penalty on the dynamic range by crushing shadows. However, this behaviour is not consistent in all shots and only shows up in situations where there is strong lighting. Images of subjects that are backlit will see some crushing of the shadows in the background for sure.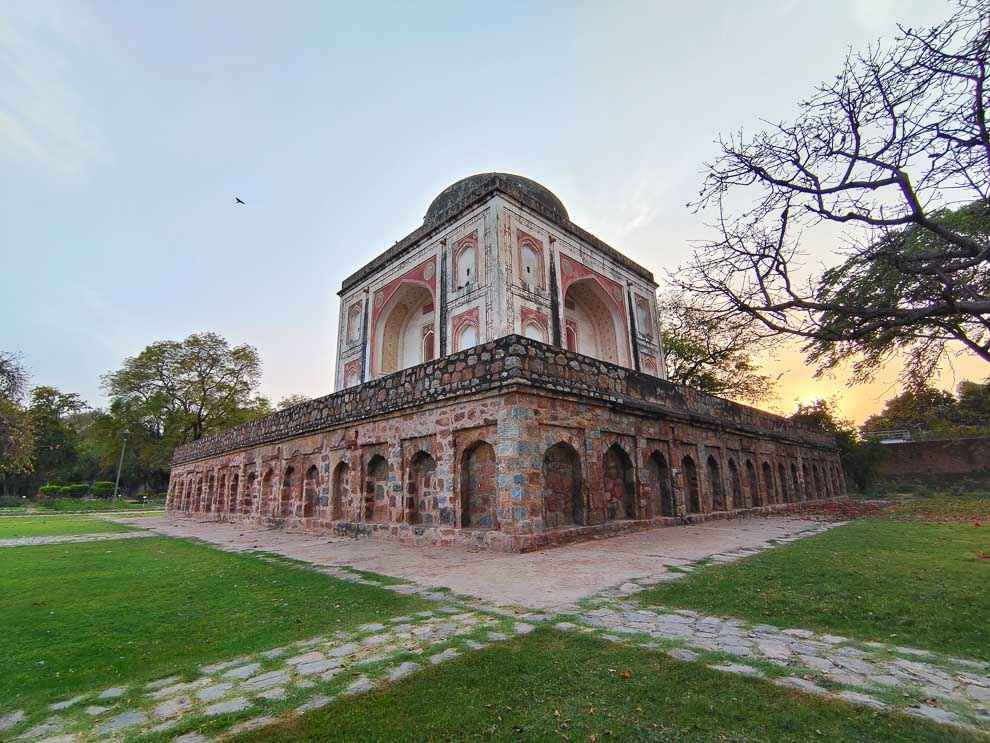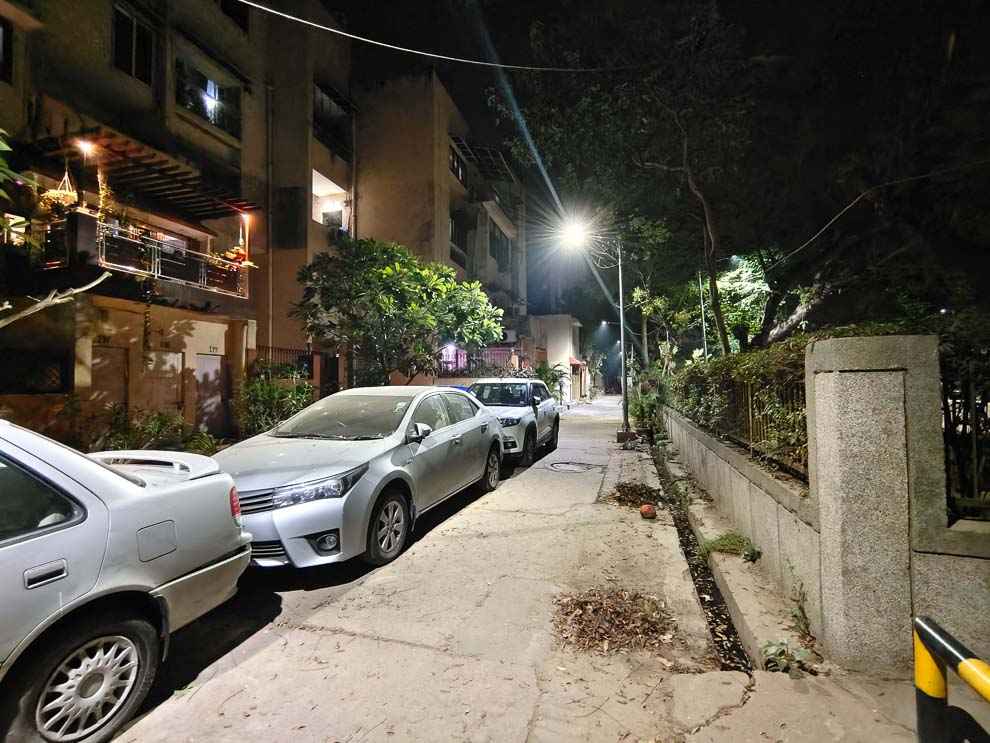 The third camera is a 50mm telephoto lens with an aperture of f/2.5 with decent output when shooting in good light, but progressively becoming less than stellar as the light goes down. This is because the camera switches to using the primary sensor to take telephoto shots in low light, and in this case, you don't get to enjoy the benefits of binning.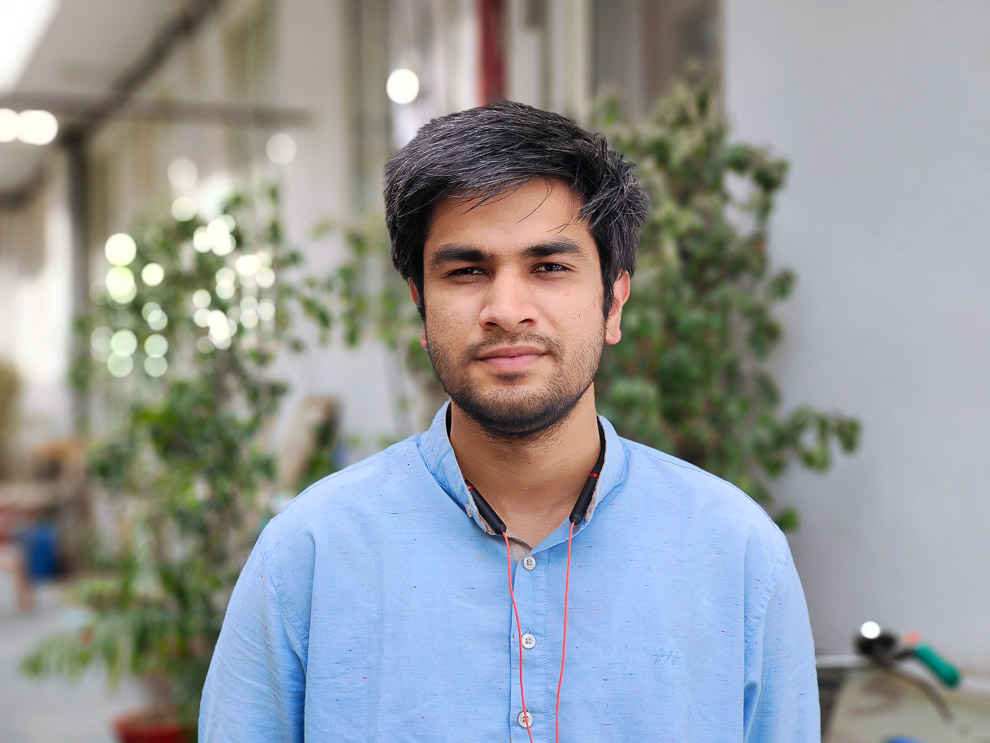 Low light shots out of the Vivo X60 Pro are just ridiculously impressive. They're well exposed, exhibit good dynamic range, the colours look right and well, there's practically no noise for the most part. In many shots, we also see fairly good detail retention, and this is all just shooting from the primary camera in the normal mode. Switch over to night mode and you can shoot in near darkness, a feat the Pixel and Huawei smartphones have best been known for. The league just got a third member and it's the Vivo X60 Pro. The results from the ultra-wide and the telephoto lenses aren't that great though, which is a bummer.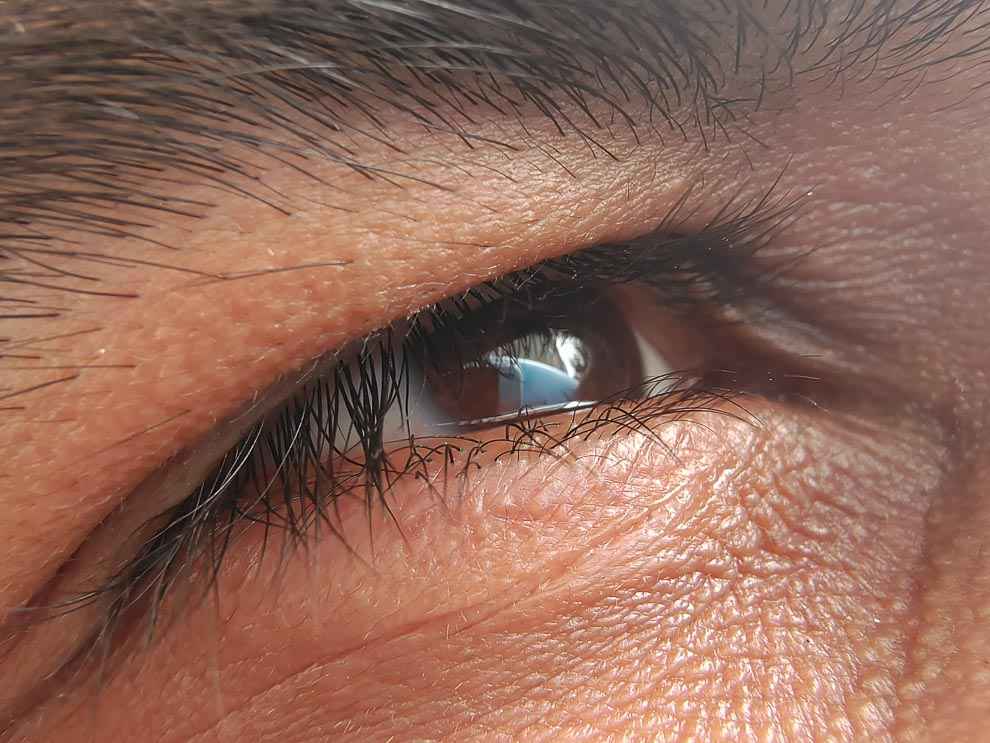 Another disappointment is the lack of access to the ultra-wide or telephoto cameras in the Pro mode. It is unfortunate that Android manufacturers still prefer to lock these cameras out, most likely to prevent people from learning the true extent of the corrections being applied to both camera systems. Hopefully, this is a trend that changes sooner rather than late.
Vivo X60 Pro Performance
The Vivo X60 Pro houses a 7nm-based Qualcomm Snapdragon 870, a slightly overclocked version of the Snapdragon 865+. There's 12GB of LPDDR4X memory along with the ability to use up to 3GB of the UFS3.1 storage as a pagefile, in case you ever find yourself running out of RAM. Vivo calls this "Virtual RAM" and is a feature you can find on the OnePlus 9 and the OnePlus 9 Pro as well. It's a ridiculous feature quite frankly.
In our synthetic benchmark testing, the Snapdragon 870-powered Vivo X60 Pro came out consistently ahead of the Snapdragon 865 powered OnePlus 8T but consistently fell behind the Snapdragon 888 powered OnePlus 9. No surprise there to be honest. You can see the results from our benchmark suite below.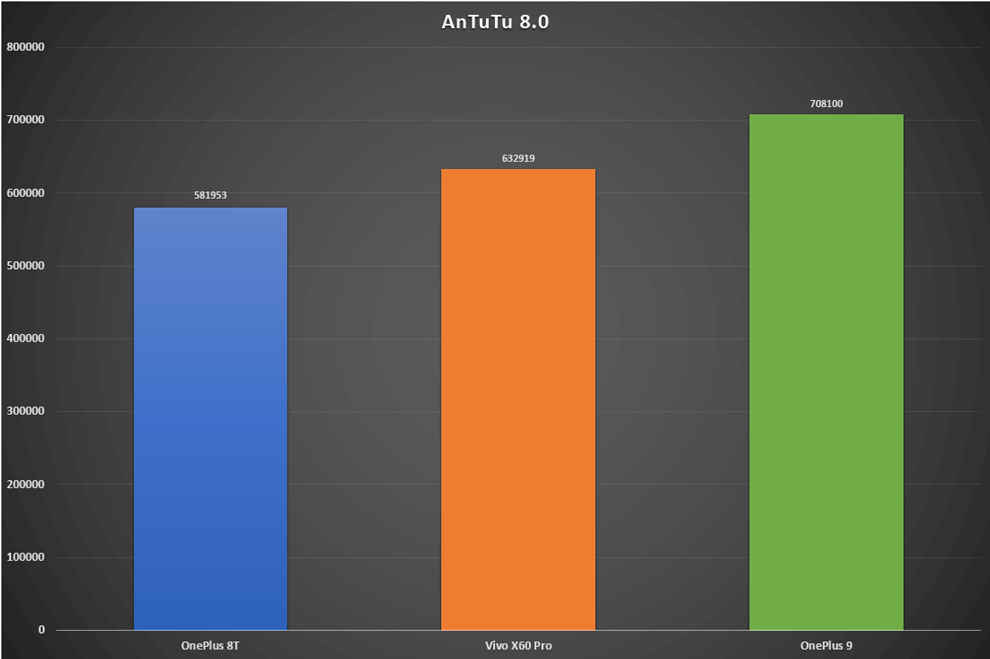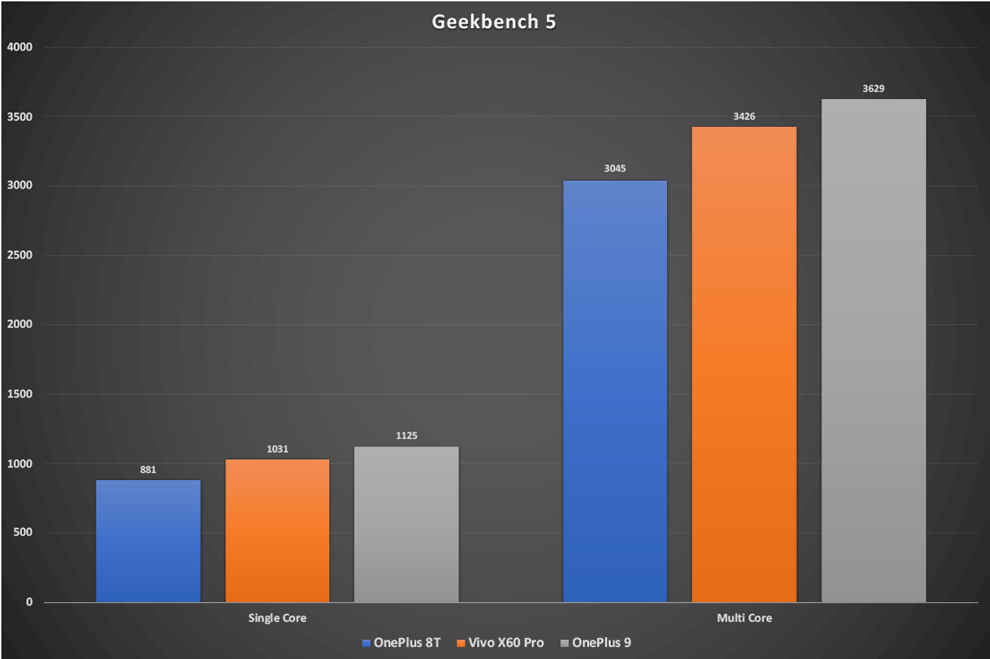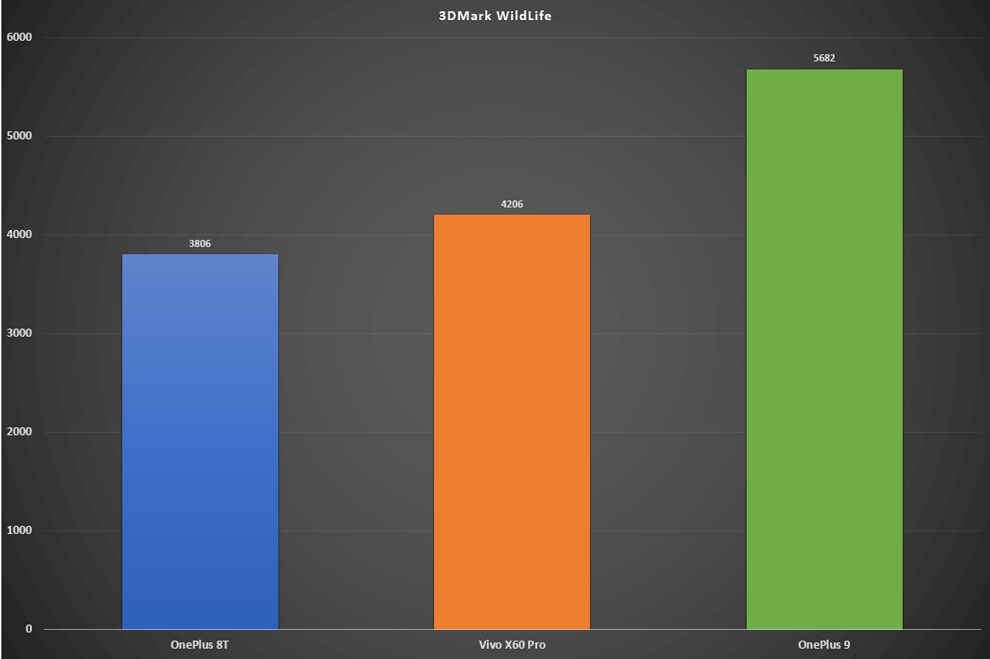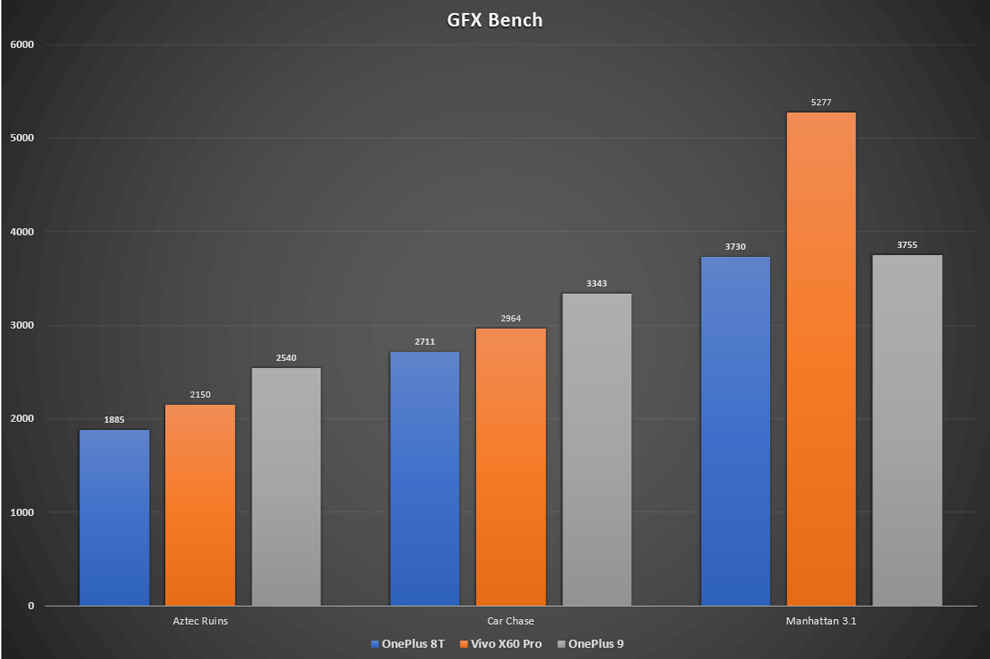 In day to day usage, the Vivo X60 Pro goes toe to toe with the very best the smartphone world has to offer, mostly because Apps have reached a performance cap. Games don't run over 60fps unless you're using a specialty gaming phone like the ROG Phone 3, so what really is the point of constantly making faster SoCs and plonking higher capacity RAM chips? Its high time game developers really pulled up their socks on this matter. You can game, edit photos (I edited a LOT of photos) and even do a little video editing on the go without the phone breaking a sweat.
Vivo X60 Pro Software
The Vivo X60 Pro runs on Vivo's own FunTouchOS based on Android 11. While I am a firm believer in the fact that the human spirit can adapt and conquer any new terrain, FunTouchOS has been quite the challenge. Vivo had announced a radically different looking Origin OS some time ago, so you might be wondering why this phone didn't launch with the newer OS. Well, truth is, Vivo spends a lot of effort developing India-centric features into FunTouchOS, so it must've made sense to ship the Vivo X60 Pro with it. Whatever the reason may be, if there was an Achilles heel for the X60 Pro, it's definitely the OS. It does not feel as fluid or snappy as iOS or even OxygenOS and lacks the kind of polish we see in Samsung's OneUI 3.1. the OS is also full of bloatware, the most annoying of which is the V-appstore which will pollute your notification shade with more notifications that you have the patience to deal with.
The OS itself feels intuitive but lacks finesse. The iconography is clunky and after a few days of trying to stick with the stock appearance, I caved and installed Nova launcher. There were times when Vivo's own Quickstep launcher would take over, even though Nova is set as the default launcher. Setting up the Vivo X60 Pro to truly feel like "your" phone will take a few days, to be honest, but once you've got your default apps and settings dialled in, it works like a charm.
Vivo X60 Pro Display
The Vivo X60 Pro houses a 6.56 inch FHD+ AMOLED display. There's also a 120Hz refresh rate for the display, along with a super-fast, 240Hz touch polling rate to ensure your every swipe registers perfectly. We registered a typical peak brightness of 730 nits from the display, which can go down all the way to 4 nits. This is an adequately bright range for daily use, with the peak brightness for HDR content playback going even higher. The phone is certified for HDR10+ playback, so you shouldn't face any problems with respect to brightness or contrast.
The phone does offer three display colour profiles; Standard (default), Professional (sRGB) and Bright (possibly expanded Display-P3). We ran the display through our Calman analysis for each of the colour profiles and here's the data.
Professional Colour Profile
This colour profile clearly conforms to the sRGB/BT.709 colour space as confirmed by the Calman analysis. When set to the Professional option, the display limits the colour gamut to 97 percent of the sRGB/BT.709 colour gamut. We see an average DeltaE error of 2, with a maximum error of 3.9. This isn't a number as stellar as we've seen on the OnePlus 9 or the OnePlus 9 Pro even, but is well within the margin of error to still considered a colour accurate panel.

Calman analysis of Vivo X60 Pro Display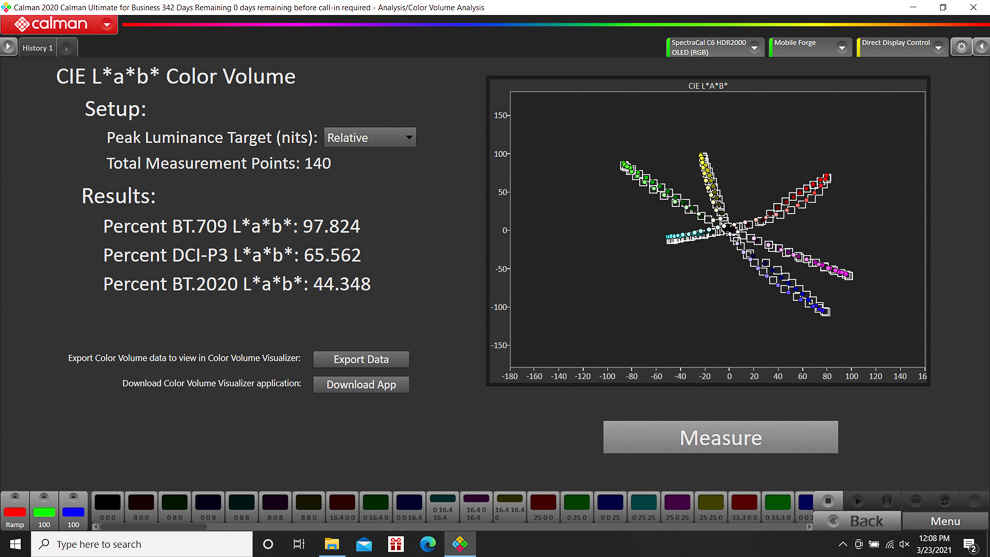 Calman analysis of Vivo X60 Pro Display
Standard Colour Profile
When switching over to the standard profile, we see the phone's display get access to an expanded colour gamut, covering 104 percent of the Display-P3 colour profile. However, the profile does come with a less than ideal colour error, registering an average DeltaE of 4.7 and a maximum error of 9.8. This doesn't bode very well for the Vivo X60 Pro, given that its panel isn't the most colour accurate. Vivo can still issue a software update that tunes the displays in a manner that prioritises colour correctness.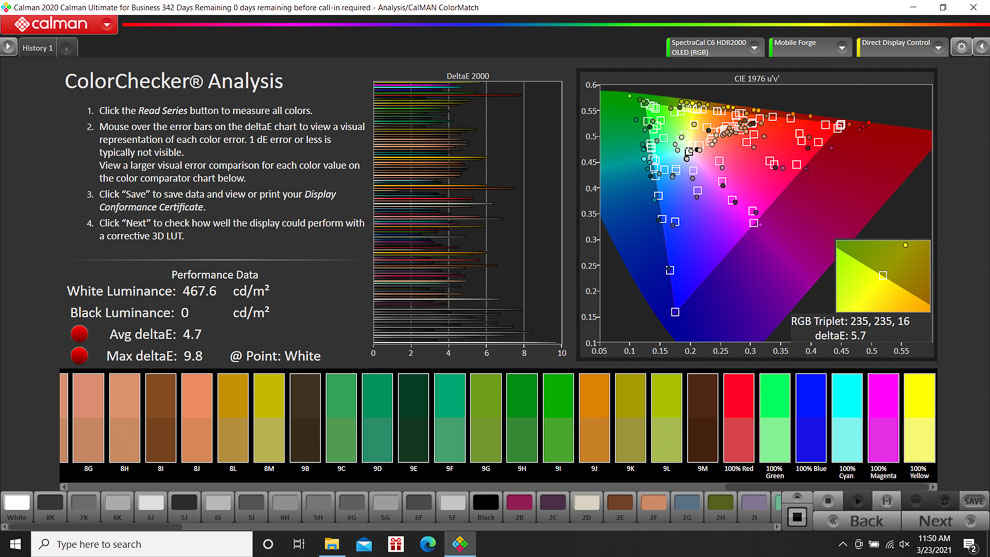 Calman analysis of Vivo X60 Pro Display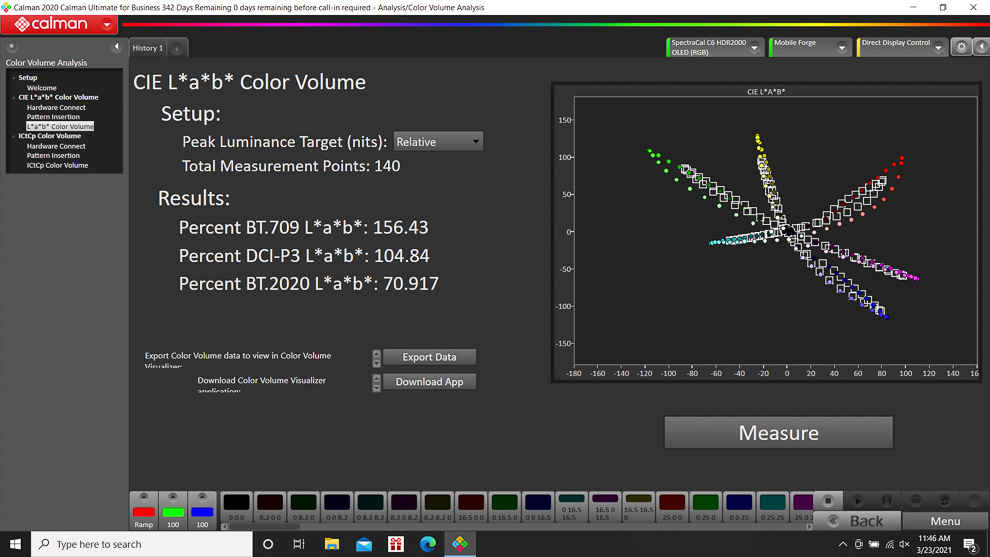 Calman analysis of Vivo X60 Pro Display
As good as the display may appear to be, as of now, the Vivo X60 Pro's display ships with a large room for improvement with respect to colour accuracy.
Vivo X60 Pro Battery
The Vivo X60 Pro's 4200mAh battery feels rather small at first glance. But then you consider the incredibly slim form factor of the phone and realise why Vivo couldn't fit a bigger battery in there. The battery also supports only 33W fast charging, which is fine on most days, but there were times I found myself missing the 65W Warp Charge of the OnePlus 9 series. The phone, with its display set to 120Hz lasts just about a day, in some cases, a little less even. Let me explain.
The camera on the Vivo X60 Pro is so impressive that I found myself taking a lot more photos than I normally would. This is what has largely lead to the battery drain being higher than normal. On days where the camera use is limited, I would still manage to get a day's worth of use. It's a good thing that we're in the middle of a pandemic and hence, don't go partying after work, else I'd have definitely needed to top the battery off in this phone. Speaking of topping off, the 4200mAh battery takes a little over 90 minutes to go from 0 to 100, not the fastest, but definitely not the worst. Watching an episode of Altered Carbon via the Netflix app drained 11 percent battery while each multiplayer match of CoD Mobile ate away 4 percent of the same. Not too shabby. I would recommend having a battery pack handy just in case.
Vivo X60 Pro Build and Design
Another feather in Vivo's cap is the design of this phone. The frosted glass on the back is fingerprint resistant and how. The camera module, though it stick out, is an elegantly designed block of glass and metal. The Zeiss branding doesn't hurt either. The phone is ridiculously thin at just 7.6 mm and for the duration of my usage, I was afraid that I would drop it from not being able to get a good grip on it. Thankfully, it didn't happen especially because the case provided by Vivo in the box doesn't actually offer much protection. It is completely exposed on both the left and right sides and a tumble is most likely to cause heart-breaking damage to the display.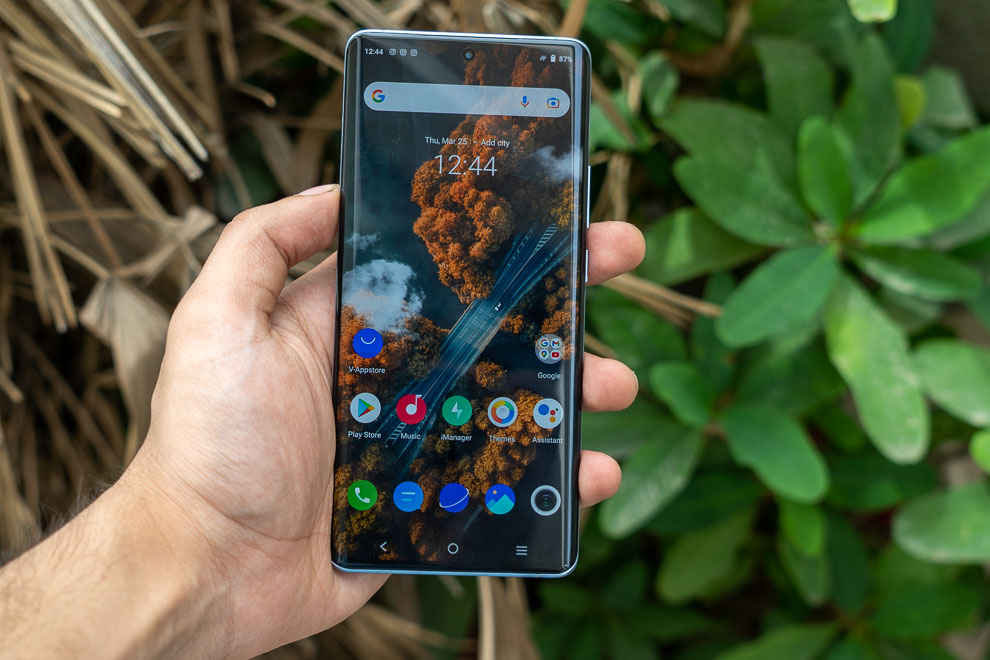 Ergonomically, the phone has some very interesting attention to detail. The top is flat, with "professional photography" etched on there. The bottom also has been carved in an interesting manner that uses both straight lines and curvy grooves. The right side of the all-metal frame houses the power button which has a nice textured finish, with the volume rocker just above it. The use of textures on the power button make it near impossible to mix the two up.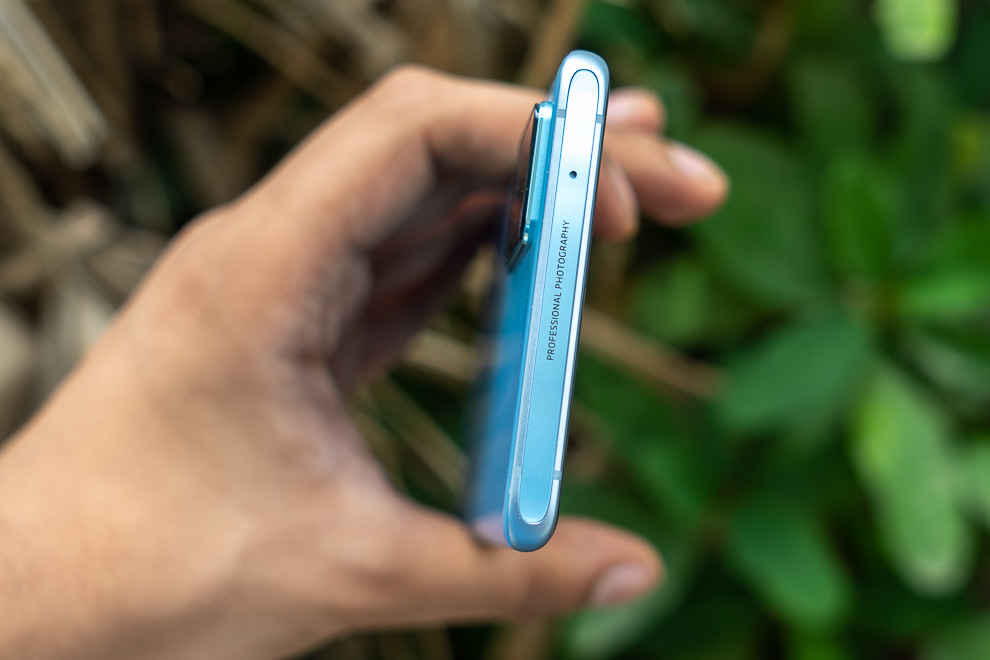 Overall, there's no mistaking the Vivo X60 Pro if it's ever sighted in a sea of other smartphones. The only time it will get confused with another, is if there's a Vivo X60 or X50 Pro around.
Verdict
The Vivo X60 Pro, as advertised by the company, is kind of like a camera attached to a smartphone, and they're not wrong. The Zeiss-Vivo partnership has borne some very impressive fruit. This is a camera stack that impresses in ways more than one and is perhaps the best camera system on a smartphone in India as of now. The primary and the ultra-wide cameras produce tack sharp images and the macro camera sets the bar for everyone else to follow. The Biotar portrait effect from Zeiss being simulated by the telephoto lens in portrait mode is pretty amazing and bound to find favours with photographers who love the hollow-ring-like bokeh. The detail retention from all three cameras is impeccable, with the Macro lens going toe to toe with DSLRs in this regard. No joke. Topping all the camera goodness off is the Gimbal 2.0 stabilisation which pretty much sets the bar for stabilisation on a smartphone camera. The design and form factor of the Vivo X60 Pro is another feather in the company's cap. The display is fine if you're limiting yourself to the sRGB space (Professional profile), but if you're looking to capitalise on the HDR content, be ready for over-saturation in some colours, and inaccuracies in others. When it comes to performance, it doesn't leave any room for unrequited desires and this should continue to be the case for the next two years, at least.