Samsung Galaxy On NXT detailed review
The number of devices in Samsung's smartphone portfolio can often seem overwhelming. The Korean electronics giant has an extensive number of devices in India to cater to nearly every type of buyer, with budget and premium devices alike. The Galaxy On NXT here falls near the budget segment, and Samsung's intention behind the On NXT is to present a device that is easy and reassuring to use. Samsung is also capitalising on the impact of its brand to take the focus away from specifications.
With all of this in mind, here's looking at how much Samsung has succeeded, through our in-depth review and analysis of the Samsung Galaxy On NXT.
Build and Design
The Samsung Galaxy On NXT looks typically like a Samsung smartphone - a 5.5-inch candybar design with a metal rear panel and 2.5D curved glass on top. The On NXT measures 8mm in slimness, and measures 166 grams. Display area of 73.53% means bezels are reasonably slim, and along with the slimness of the chassis, the phone feels quite tall.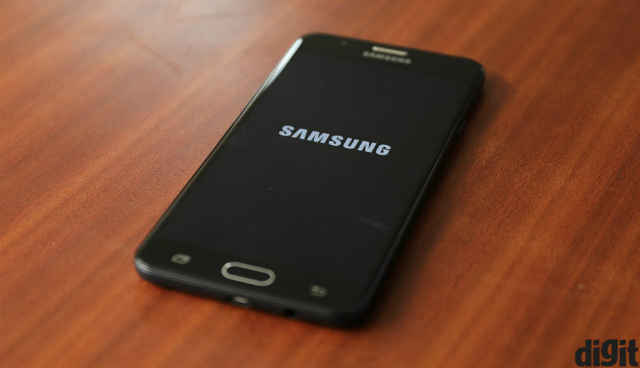 The Galaxy On NXT feels reassuring in hand, and finer details like well-rounded creases along the body and a chrome inlay around the primary camera make it look quite suave. The rear looks somewhat 'plain' in comparison to other smartphones around, although I quite like the muted shimmer on it.
In terms of buttons and ports, the power/unlock button to the right is preceded by the solitary speaker outlet placed to the top right. The left edge houses volume up and down keys, and there are two tray slots - one is a single SIM slot, while the other tray includes two slots for a second SIM and microSD storage expansion. The bottom edge includes the primary (in this case, the only) microphone, a microUSB port and the 3.5mm audio port (yeah, it still lives).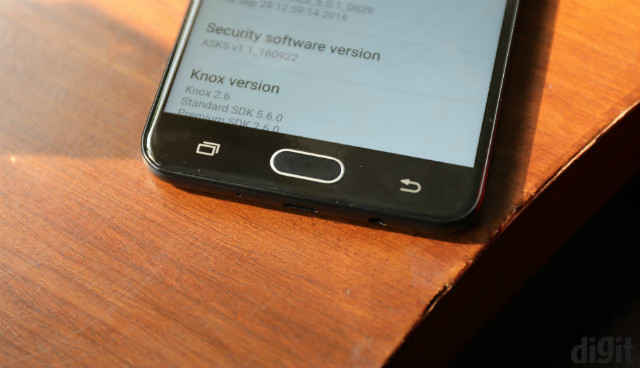 Up front, the 5.5-inch display is flanked by two very clearly marked capacitive buttons on either side of the physical Home button. The fingerprint sensor is also integrated into the Home button, although the Galaxy On NXT misses out on a noise-cancelling microphone around its earpiece. Power and volume button feedback are quite decent, although the physical Home button has a hollow, plasticky feedback that is not entirely satisfying.
Summing up, the Samsung Galaxy On NXT is built well, and has a neat simplicity to it that will appeal to many users for whom ease of usage is of utmost importance.
Display and UI
The Samsung Galaxy On NXT uses a 5.5-inch LCD panel with screen resolution of 1080x1920 pixels. The Full HD display is actually very pleasant to look at, with slightly warm colour balance that takes the tinge of oversharpening away. Colours are sharp, reasonably close to source and nearly accurate, and the overall colour balance is great. Samsung has used an IPS LCD display panel here instead of AMOLED, and as a result, the Galaxy On NXT delivers good viewing angles, too. However, there is slight vignetting of the display at angles beyond 75 degrees.
That, though, does not take much away from the crisp, vibrant display. In terms of brightness, the Galaxy On NXT is sufficiently bright, and offers decent sunlight visibility. The interface has an 'Outdoors' mode that increases the brightness for 15 minutes. However, Samsung does not proportionately scale contrast, vibrancy and sharpness in this mode. As a result, the Galaxy On NXT does look slightly bleak. It works, though, and actually helps in making the screen more legible. It is a functional addition, one that works reasonably well.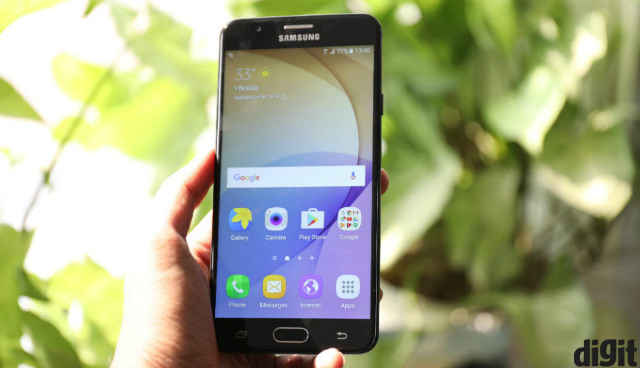 Samsung's TouchWiz UI has indeed improved over time, although it is still not the best around. For instance, the Settings menu feels redesigned without adding much to convenience. I'm not a big fan of the icons, either, although Samsung does include a couple of useful optimisations here.
For instance, the aforementioned Outdoor mode is a neat addition, and so is a default sound equaliser for the smartphone, that allows you to toggle with the frequency distribution. Samsung also alerts you to mask domains and apps by enabling Secure WiFi, and also comes integrated with the S-Bike mode for riders. All of this adds to the functionality of the interface, although you may not really miss these features if you do not have them.
Performance
The octa-core Exynos 7870 SoC powers the Samsung Galaxy On NXT, clocked at 1.6GHz. This is combined with 3GB of RAM and 32GB internal storage. While the Galaxy On NXT performs slower than many sub-20k smartphones in the market right now, the smartphone actually delivers better real-life performance than what the synthetic tests suggest.
The Exynos 7870 manages to deliver stable real life performance. Most of the frequently-used apps load without any major delay. Device startup time is minimal, and app load times are also reasonably short. There is a slight delay for apps to open when you compare it with Snapdragon 820-powered smartphones, but for all practical purposes, the lag is not too evident to disrupt the flow of usage.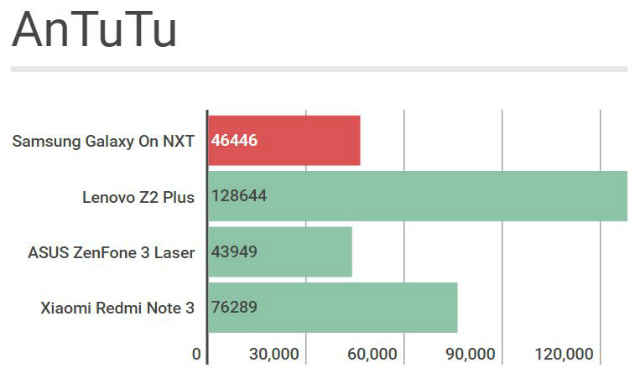 The Galaxy On NXT is actually a pleasant surprise when gaming performance is considered, and graphic-intensive games are fairly smooth. There are frame drops, and you will encounter significant hiccups particularly when you game for longer durations, but for the most part, the smartphone allows ample power for occasional gamers.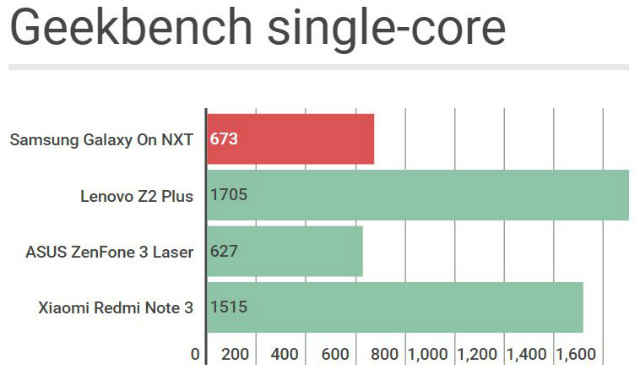 Device temperature is well-checked on the Samsung Galaxy On NXT. After 15 minutes of gaming, the device reached peak temperatures of 36.8 degrees Celsius, which is actually among the lesser heat readings we have encountered in our tests. After 10 minutes of recording a Full HD video, the Galaxy On NXT measured 37 degree Celsius, which is also optimum. However, when heat graphs are closely inspected, the Galaxy On NXT is optimised to keep its processor at average clock speed of 0.8GHz. The processor is throttled to ease heat levels, although the processor does go to its max clock speed when the performance demands it.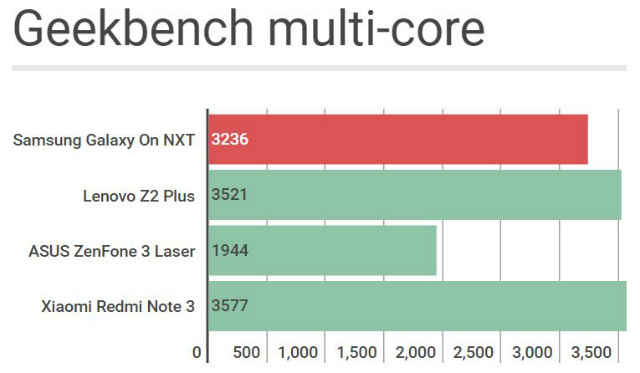 The On NXT, like we stated before, is aimed at functional users for whom simplicity and convenience is of utmost usage, and such users may possibly be sporadic gamers at best. For such usage, the Galaxy ON NXT is quite decent. Smaller games like Zig-Zag or Drop are very playable, and opening multiple apps, like email, text messages, social media and music streaming still keeps the smartphone fluid, without any noticeable disruptions.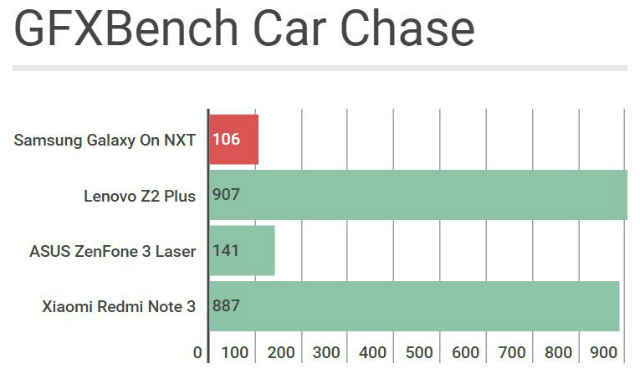 The Galaxy On NXT is good and call quality and network retention, and maintains stability in WiFi connectivity. The lack of a noise-cancelling microphone has a slight impact on earpiece audio quality, but for the most part, the Galaxy On NXT is fairly reliable. The solitary speaker, though, is not adequately loud. It is also placed somewhat awkwardly, and as a result, makes for slight inconvenience here.
Overall, however, the Galaxy On NXT delivers reliable performance - enough for light to medium-intensity users to be happy. Heavy-demand users may find the On NXT lacking enough firepower to deliver performance similar to the likes of Lenovo Z2 Plus and Xiaomi Mi Max, which are among the best-performing smartphones in this segment.
Camera
The 13-megapixel image sensor on the Galaxy On NXT is paired to an f/1.9 lens. To begin with, the camera app itself is slow in focusing on subjects, even under bright daylight. Shutter response is faster, although it is not among the fastest in its segment. However, in terms of image quality, colours are reasonably close to source. Saturation and contrast levels are well-maintained, although the very important area where the camera fails to justify is in image detail.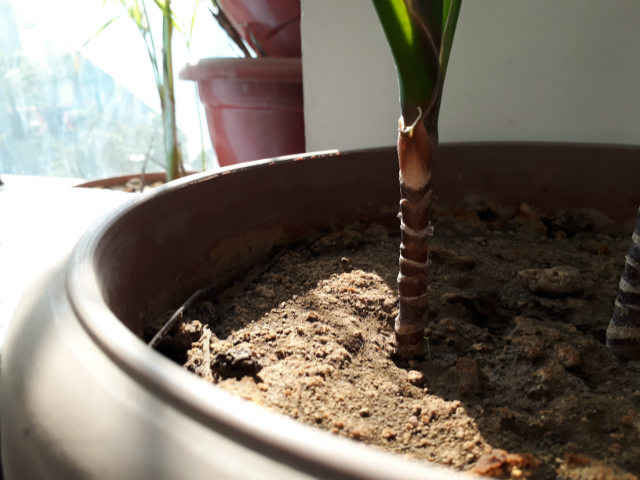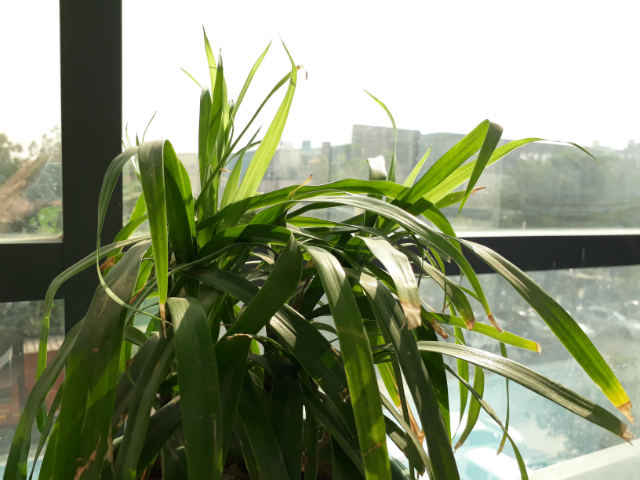 In most photographs, sharpness goes for a toss, and the level of details is really low. Image noise is also considerably high, particularly when you look at low light photographs. Digital image stabilisation does not help significantly in improving image quality, and all of this combines to make this one of the weaker primary camera modules around. The Galaxy On NXT can shoot Full HD videos at 30fps at its best, which in itself is limited against 4K video shooting capabilities of other smartphones in this segment. The quality is acceptable, but nothing stellar.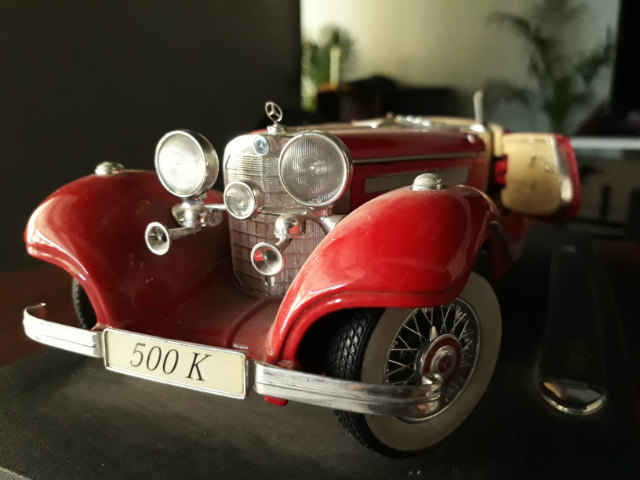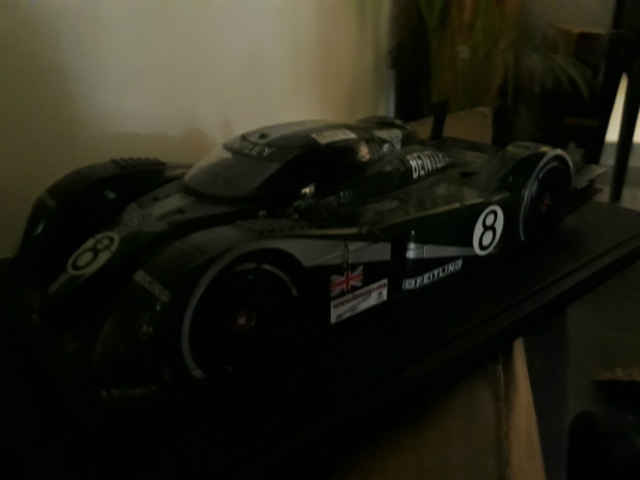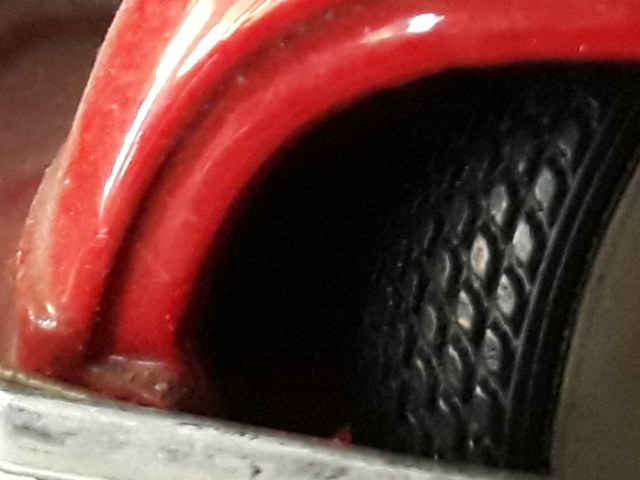 100% crop sample shows lack of details despite decent colour accuracy
Battery life
Yet again, while PCMark tests revealed 4 hours and 52 minutes of battery life, real life usage from the 3300mAh battery pack will see it last easily for about 14 hours with the daily dosage of emails, messages, browsing, social network surfing, 30 minutes of navigation, an hour of music streaming and some sporadic gaming.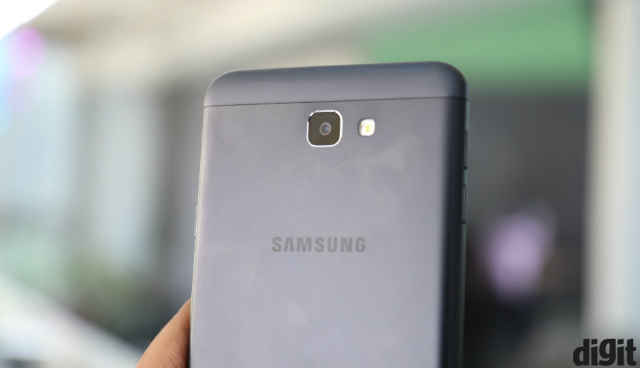 Under intensive usage, the Galaxy On NXT loses 16% battery in 30 minutes of gaming, which is somewhat steep. If you tone down your usage to emails, calls and messages only, you can even get up to 18 hours on a single charge.
Overall, though, this is not the ideal case for good battery life. The Samsung Galaxy On NXT would suffice for basic users, but phones like the ASUS ZenFone 3 Laser can do better.
Bottomline
All said and done, despite the Samsung Galaxy On NXT being a reasonably decent mid-range Android smartphone, it is not very recommendable. Performance is good, but is not among the best in its class. The camera is underwhelming, and although it is well-built and has a decent display, the likes of Lenovo Z2 Plus and Xiaomi Redmi Note 3 are much better overall smartphones. If camera and battery life are your priorities, the Zenfone 3 Laser and Max make a case for themselves.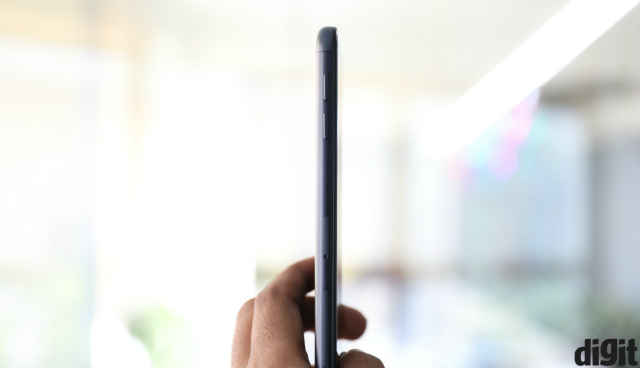 The Galaxy On NXT will also sell offline, and has the brand presence of Samsung working for it, so it actually will find acceptance among users for whom simplicity is key priority. If you're not particular about the brand you choose, there are better options out there.