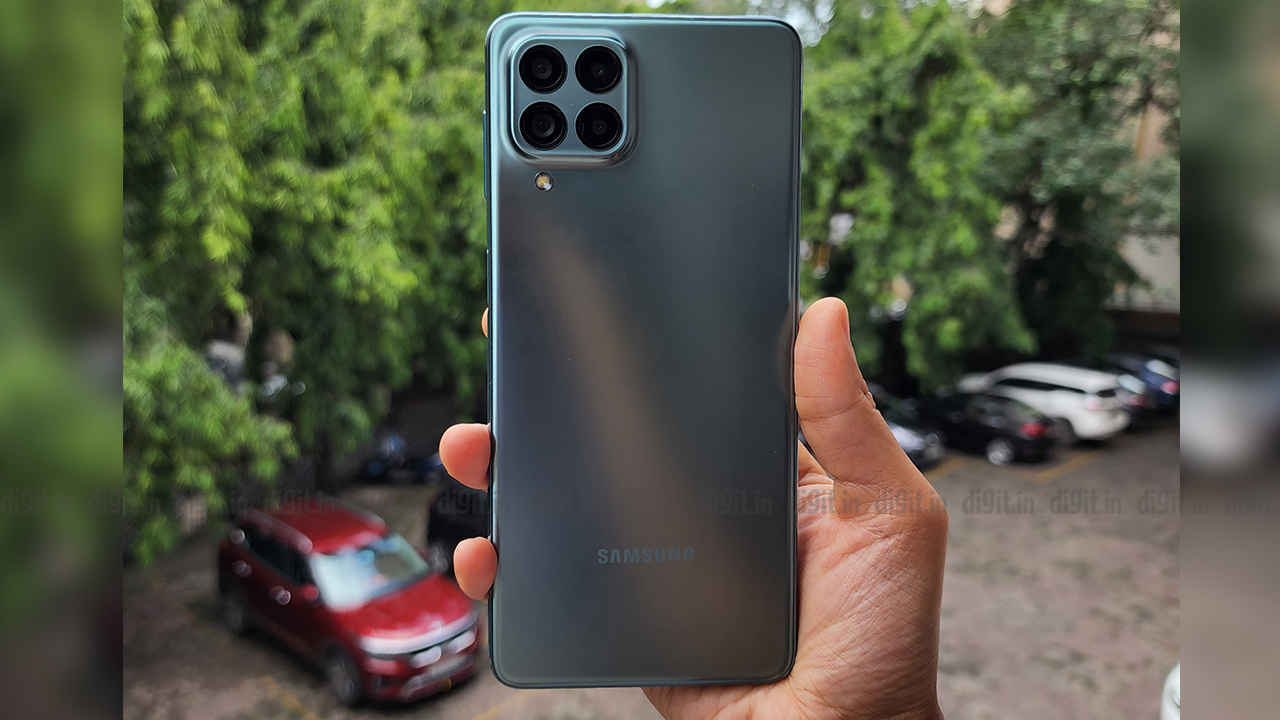 PROS:
Crisp and smooth display, Good battery life, Guaranteed software updates, Impressive selfie camera, Lightweight build
CONS:
Preinstalled bloatware, No charger in the box, Missing stereo speakers, Lacklustre low-light performance
VERDICT:
The Samsung Galaxy M53 5G is an easy recommendation for those who value build quality, design and screen performance the most. It is a robust yet lightweight device with a classy look; something that isn't too common at this price point. Despite these strengths, the Samsung Galaxy M53's shortcomings cannot be ignored. The camera performance, especially low light photography, isn't as consistent as some competitors such as the OnePlus Nord CE 2 and Realme 9 Pro+ offer. Additionally, if gaming is your priority, the phone doesn't offer sustained performance under intensive workloads.
Since the Samsung Galaxy M series launched in 2019, the company has been actively competing with other brands to bring out phones with segment-leading features that don't break the bank. With competing options from companies such as Xiaomi, Realme, and OnePlus, the need to innovate and be at the forefront has never been more apparent. Cue the Samsung Galaxy M53 5G, Samsung's latest entrant in the M series and the direct successor to the wildly popular Samsung Galaxy M32.
Boasting an array of alluring features such as a 108 MP primary camera, sAMOLED+ 120 Hz display, Vapour Cooling Chamber, Voice Focus, and a 5,000 mAh battery, the Samsung Galaxy M53 looks like a promising device, on paper, at least. However, does it justify its asking price of Rs 26,499 or are there more impressive options under 30K? Let's find out.
Samsung Galaxy M53 5G: Build and Design
Sticking to classic design thematics, the Samsung Galaxy M53 5G is one of the most suave-looking phones under Rs 30,000, in our opinion. The device comes equipped with a pretty standard polycarbonate rear panel with a smooth matte finish that feels fantastic in the hand. We got the Olive Green colour variant for review and were impressed by its looks. The phone is also super lightweight and thin. It weighs merely 176g and is just 7.4mm thick, which is fantastic considering that it sports a large 6.7-inch display and a 5,000 mAh cell. This is quite a detour from its predecessor's thick and bulky design.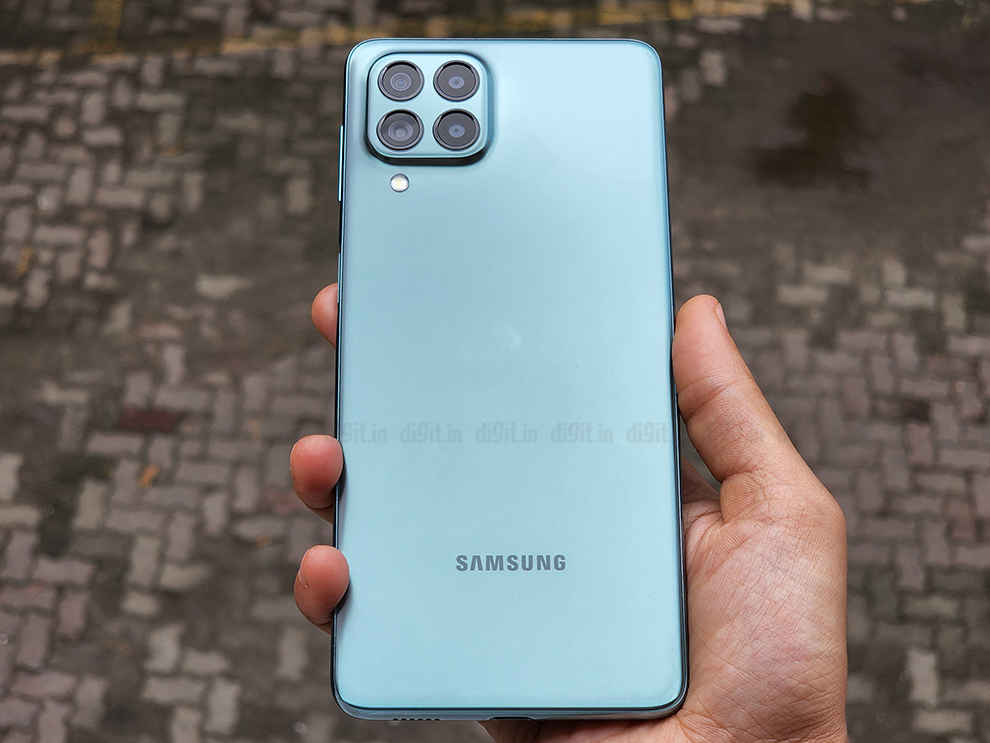 At the top left corner of the rear panel, you have a quad-camera set up on an island that melds quite seamlessly into the frame, giving the device a premium look. Now, although the back has a matte finish, it did, surprisingly, collect fingerprints and smudges after some use which is disappointing. The phone is also a bit slippery to hold, so we recommend a case. Unfortunately, you won't find that bundled in the box and neither will you find a 25 W charging adapter, which is supported by the device.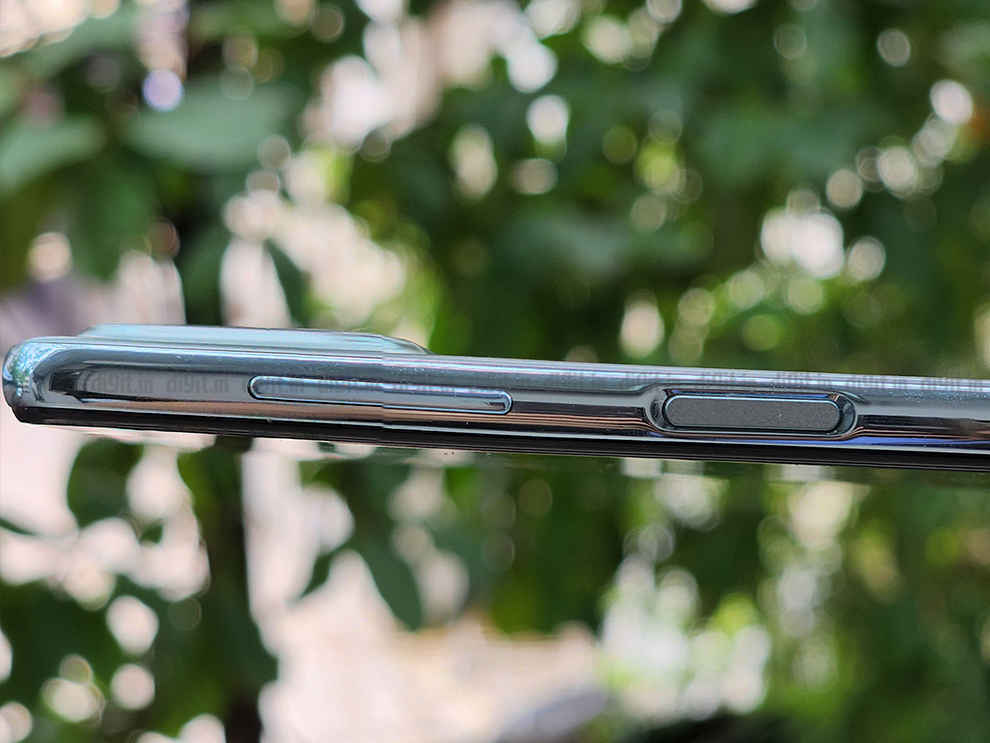 On the front, you have a 6.7-inch display with minimal bezels, although the chin bezel is slightly thicker than the rest. There's a punch-hole cutout for the selfie camera that isn't too obtrusive when viewing content. On the right side, you have a power button that doubles as a pretty snappy fingerprint sensor alongside volume buttons. The power button is easy to reach one-handed but the same can't be said for the volume rockers. On the bottom, you have the USB Type-C charging port and a singular speaker and on the right, you get a hybrid SIM tray.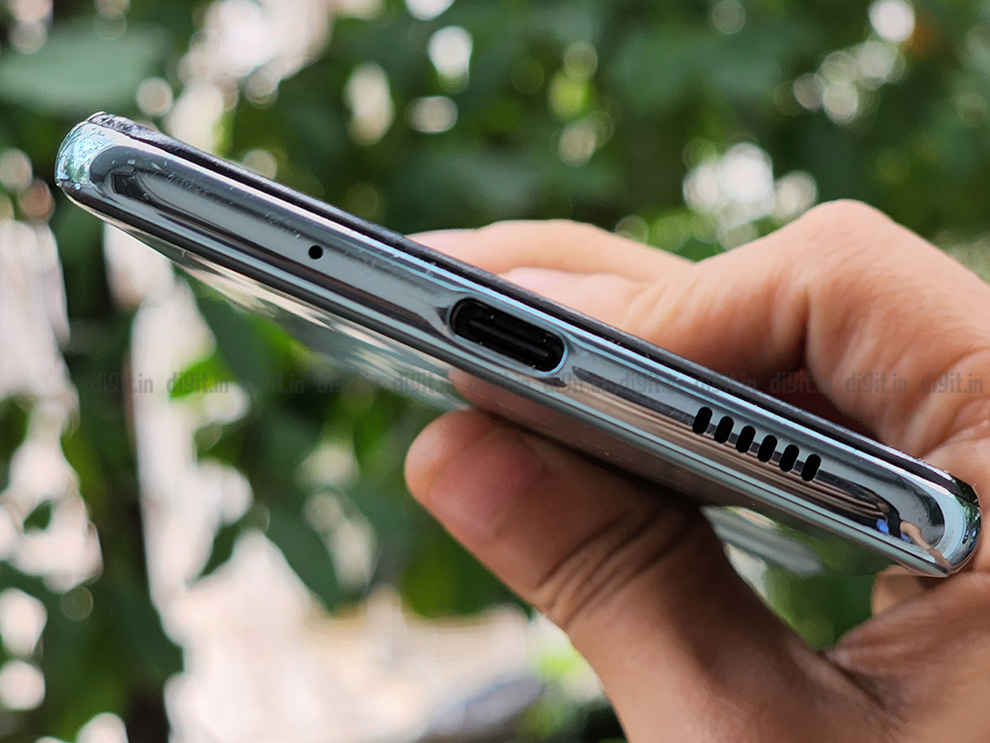 The phone lacks stereo speakers and a 3.5 mm audio jack, which may irk some since these features are usually present at this price range. Overall though, the phone is an elegant, minimalist device with a nice clean look that isn't so common in mid-range phones. However, if you do want a device that's more manoeuvrable one-handed, consider the OnePlus Nord CE 2 with a 6.4-inch display.
Samsung Galaxy M53 5G: Display
One of Samsung's biggest strengths has always been its phones' displays and the Galaxy M53 is no slouch in this area as well. The phone sports a 6.-7inch Super AMOLED Plus display with Full HD+ resolution and 120 Hz refresh rate support. There was a time when these specs were only found on flagship Samsung phones and it's exciting to see them trickle down to the mid-range segment. The display is definitely one of the strongest suits of the phone. It comes with excellent viewing angles, crisp content, and accurate colour reproduction. The display's contrast makes for an immersive viewing experience with deep blacks and vivid colours.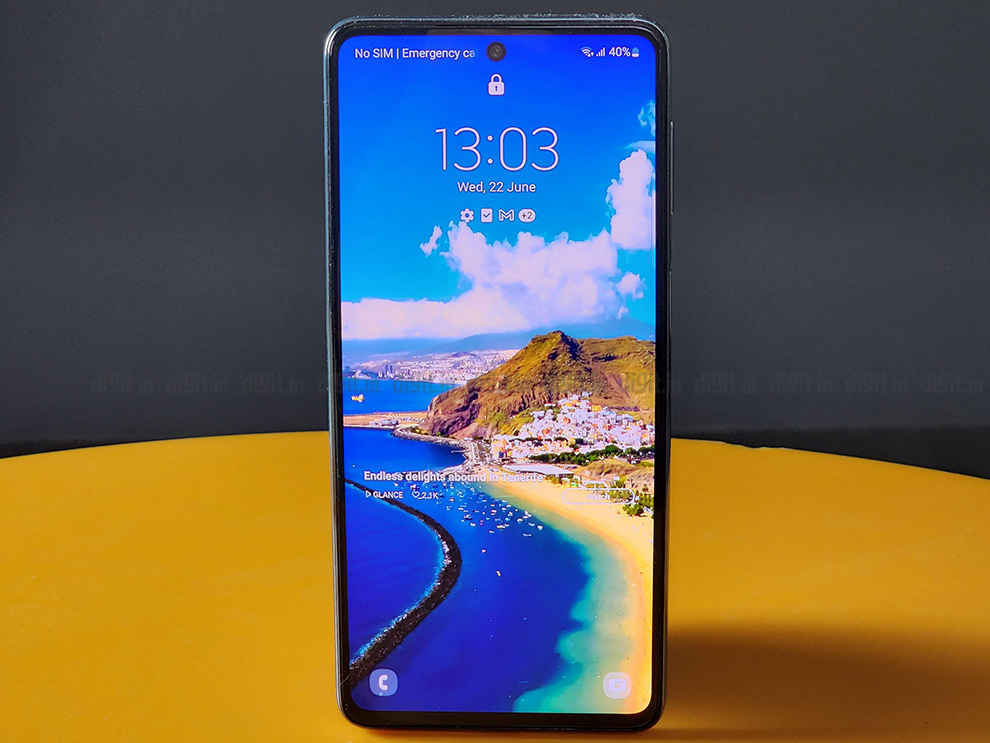 The phone's peak brightness is rated at 420 nits, which is a bit on the lower side than what we expected. In our tests, the phone touched about 390-400 nits with Adaptive Brightness turned on. Screen legibility does take a slight hit in harsh sunlight at times but otherwise, it is a perfectly usable display in most lighting conditions.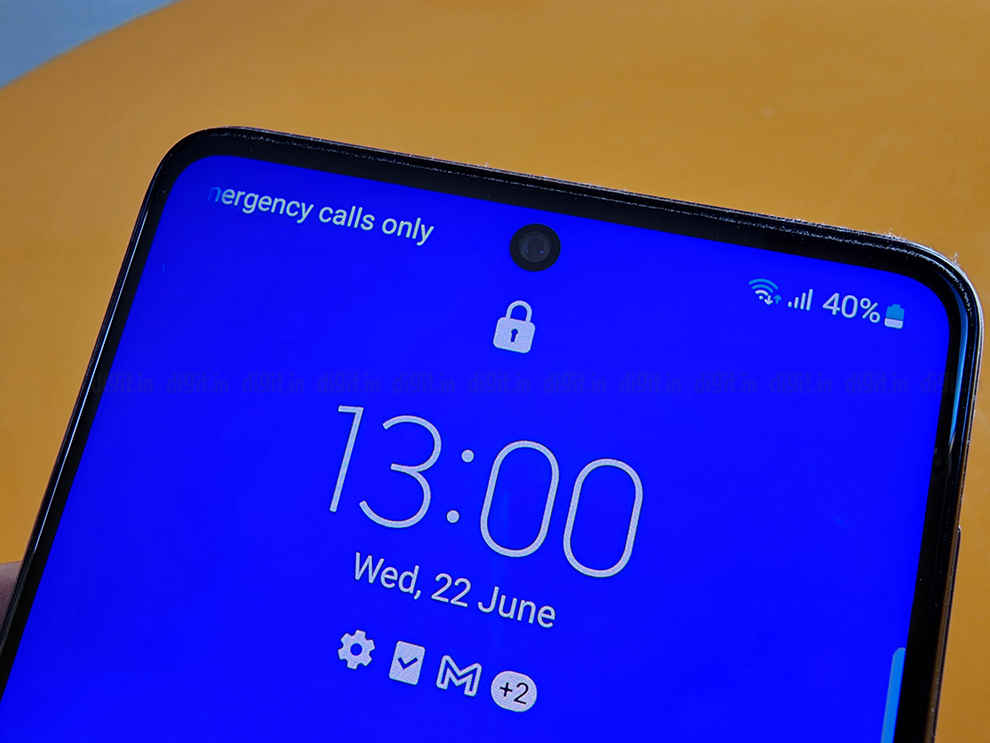 The display is capable of 120 Hz smooth refresh rate and you can bring this down to 60 Hz as well to conserve battery. There's no adaptive refresh rate support, so those are your only options. Scrolling is a smooth affair on the device and it makes the phone's performance feel snappy and seamless as well. The phone even comes with Widevine L1 support for HD viewing on streaming apps. However, it does lack HDR10 playback on Netflix and Amazon Prime, which is disappointing since some budget phones also provide this feature. Overall though, this is an excellent display for content consumption. Stereo speakers would be a cherry on top, but sadly that feature is missing.
Samsung Galaxy M53 5G: Performance
The Samsung Galaxy M53 5G comes packing a MediaTek Dimensity 900 SoC under the hood that offers balanced performance for daily use. The M52, on the other hand, boasted a Snapdragon 778G processor. Samsung doesn't usually go for MediaTek processors on their M series phones, so this is a diversion for the company. Despite the switch and the fact that Samsung hasn't worked much with MediaTek processors, the performance was consistent for daily, non-intensive tasks.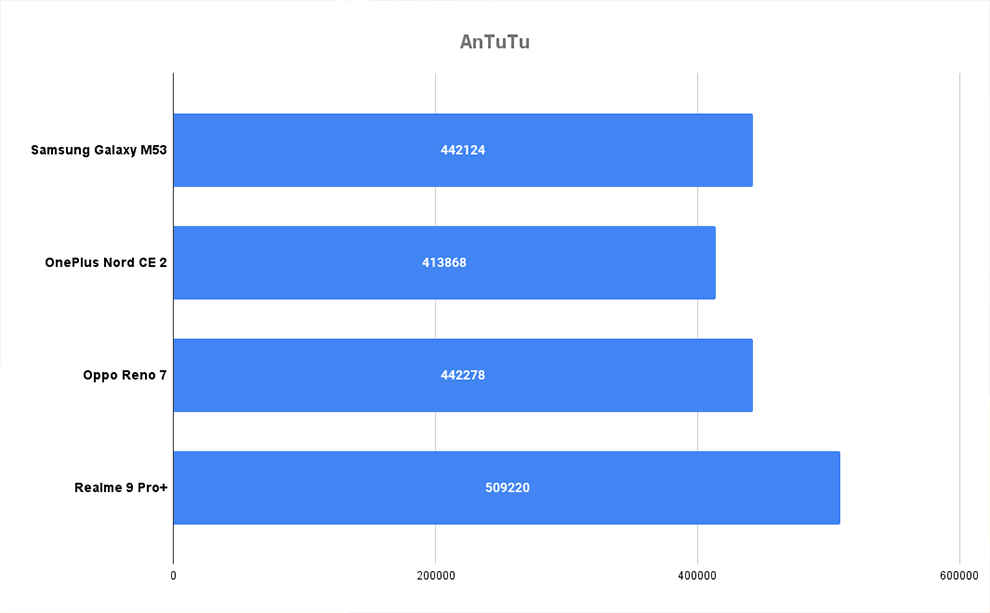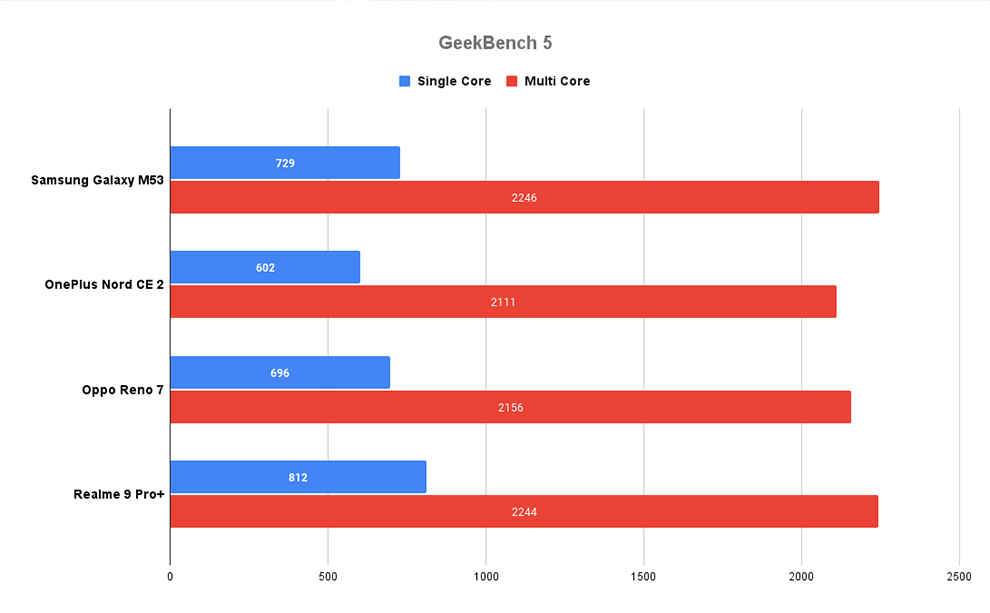 The phone performed decently well in synthetic benchmarking apps. In AnTuTu, the phone clocked a score of 442124. It did slightly better than the OnePlus Nord CE 2 but the Oppo Reno 7 had a slight edge. Both the OnePlus Nord CE 2 and Oppo Reno 7 also come with Dimensity 900 SoCs. In GeekBench, the Samsung Galaxy M53 performed better than both the OnePlus and Oppo by a decent margin.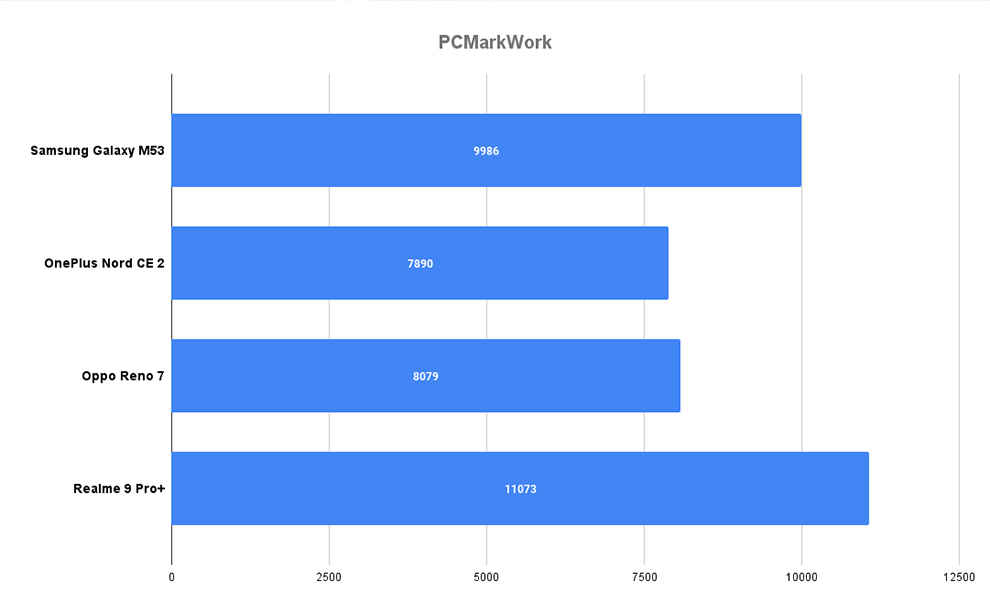 The same pattern is repeated in PCMarkWork, where the Samsung M53 scores close to 2,000 points more than both the OnePlus and Oppo phones. This indicates that the phone should be able to handle tasks such as web browsing, photo editing and more with ease.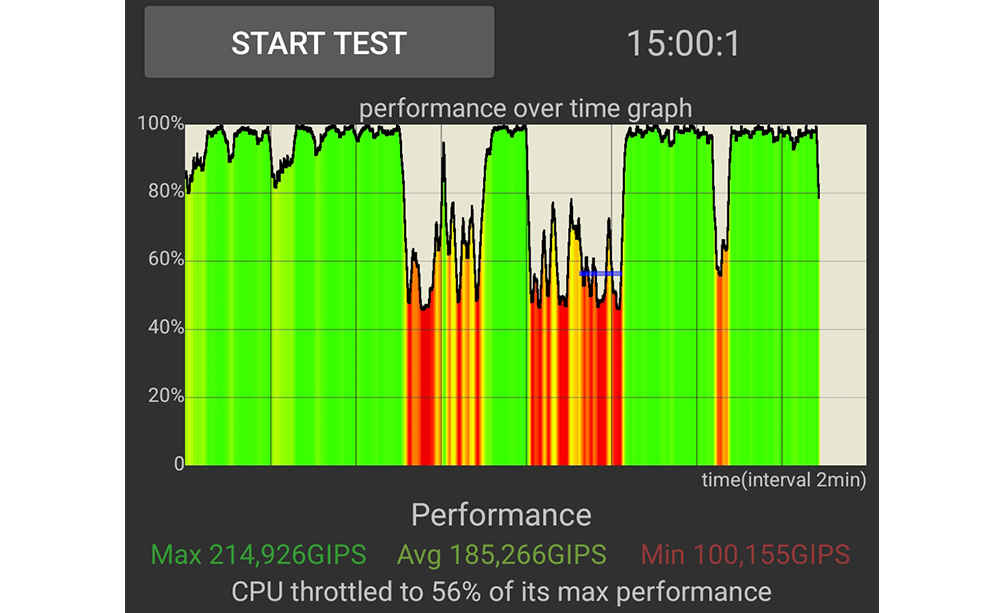 However, when we ran the CPU Throttling Test, the Samsung Galaxy M53 throttled to a whopping 56 per cent of its maximum performance in merely 15 minutes. This indicates that the phone isn't too capable of sustained performance under intensive workloads. Still, using a phone as a non-power user isn't much of an issue despite this score.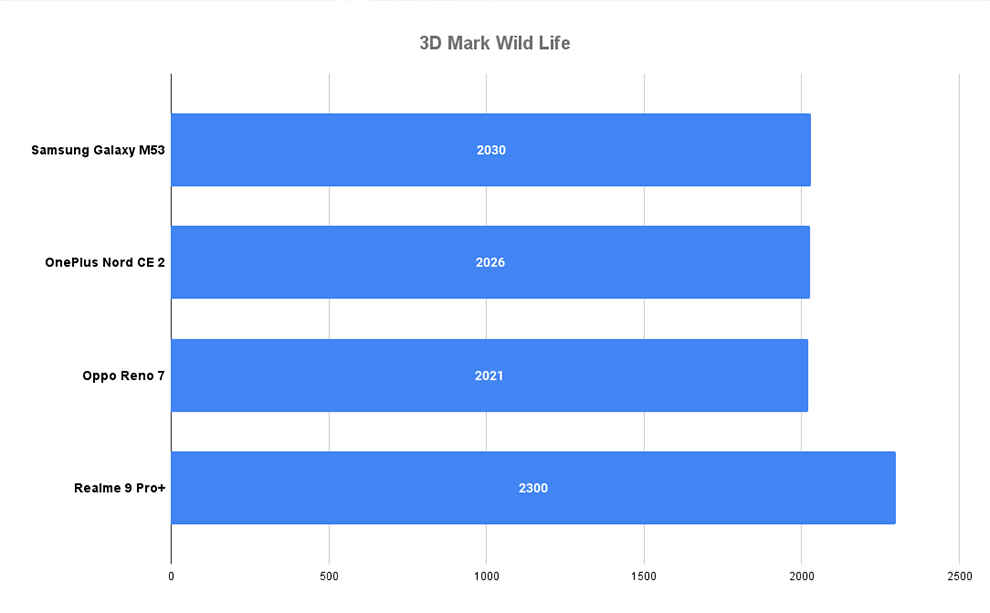 Speaking of intensive workloads, we ran a couple of GPU benchmarks as well and the scores pretty much mirrored that of the Oppo Reno 7 and OnePlus Nord CE 2. The phone scored 2030 in 3D Mark Wild Life which is slightly higher than Oppo and OnePlus' scores. In GFXBench, the phone performed about as well as the competing phones.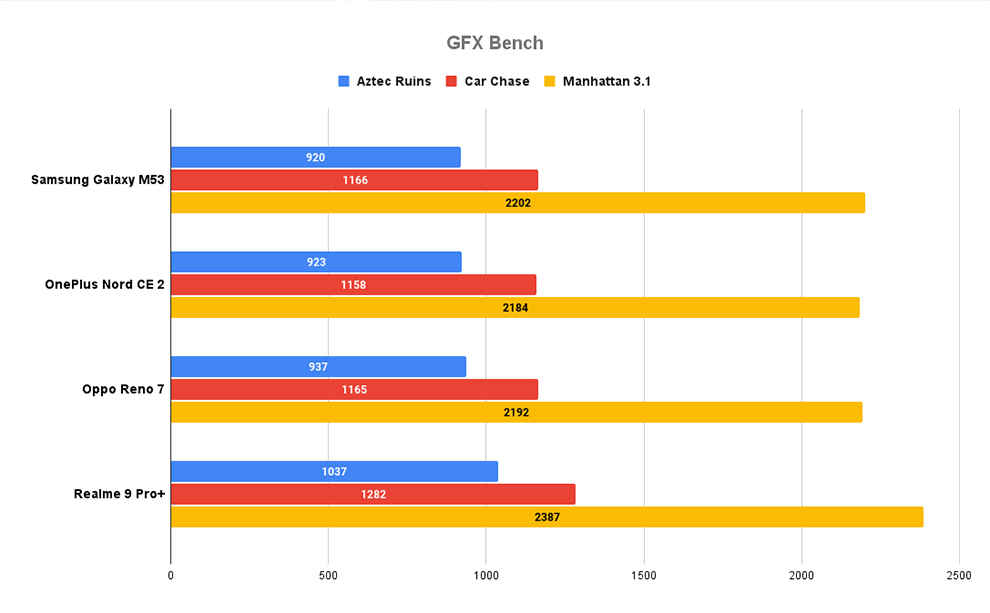 We also played a few games such as Call Of Duty: Mobile and Asphalt 9 Legends on the phone and ran it through Gamebench Pro to get a lowdown of its in-game performance. In COD: Mobile, the phone gave us 59 fps at 89 per cent stability (Medium Graphics) while in Asphalt, we got 30 fps at 99 per cent stability. While these scores are decent, we did encounter some lags and frame drops while gaming and the phone also got pretty toasty after about 15 minutes. This isn't the most reliable game for intensive gameplay, but if you're more into games such as Candy Crush, you shouldn't have an issue at all.
The phone runs Android 12 out of the box with Samsung's One UI 4.1 on top. Samsung has also committed to two years of Android updates and 4 years of security updates, which is fantastic for a mid-range phone. One UI is easy on the eye and beginner-friendly but it does come loaded with a bunch of third-party bloatware. You can uninstall most of these apps but it doesn't bode well to have users go through the pain of uninstalling all the apps they may never use.
This is a 5G phone with support for 12 common 5G bands, so it is quite a future-proof investment. There are also some rather exciting features such as Object Eraser in Gallery, Auto Data Switching, and Intelligent Voice Focus. Auto Data Switching intelligently switches to your secondary SIM to make calls or use data when your primary SIM has no network. Voice Focus leverages AI to cut out loud background noise for clear calls. We tested out the latter and found it to be quite decent. The phone does cancel out a wide array of ambient noise when on calls but if you're in an extremely loud environment, there's still some ambient sound captured, but it is minimal.
Samsung Galaxy M53 5G: Camera Performance
The Samsung Galaxy M53 features a quad-camera array on the back compared to the M52's triple-camera stack. The primary lens has been bumped up to 108 MP compared to its predecessor's 64 MP shooter. You also get an 8 MP ultrawide, a 2 MP macro, and a 2 MP depth sensor. For selfies, the company has provided a 32 MP Sony IMX 616 front camera. There is no optical image stabilisation though.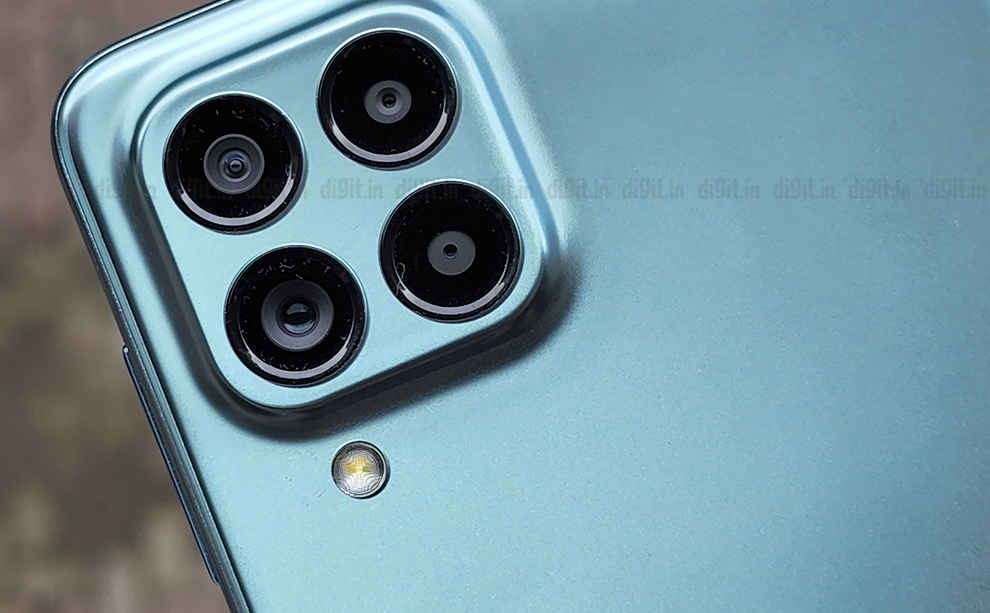 Daylight images come out looking pretty vibrant and detailed from the camera. However, when images are taken in tricky lighting conditions, the Samsung M53's camera does tend to crush the shadows or overexpose highlights slightly, so the dynamic range isn't the best at this price point. In some pictures, the colours also looked washed out, again, this mostly occurred when the lighting conditions were tricky. The Samsung M53 also had some issues focusing on the main camera and often blurred out the subject of an image. Close-ups turned out pretty pleasing to the eye with good colours and natural background blur.
Portrait images were decent on the Samsung with great natural skin tones and decent detail, but the edges weren't as refined as one would expect. Additionally, the background blur can be a bit too aggressive at times, but thankfully, there's a feature that allows you to adjust background blur as per your preference.
Macro shots from the 2 MP lens are decent, they're not as unusable as we've seen on some other phones in this price range but you will have to struggle to get a shot that isn't blurred since there's no stabilisation support.
Moving on to the ultrawide lens, the colours of the photos taken via this lens closely match the colours from the primary lens, which is a good thing. The dynamic range is decent enough, but it could definitely use some work in the shadows where the photos sometimes lack detail. There is also minimal barrel distortion in ultrawide images and in daylight you can get some pretty social-media-worthy shots from this lens, however, the low light performance is less than ideal.
Speaking of low light, photos from the primary lens taken at night appear to be pretty soft and grainy. There's a lot of noise in the pictures and the colours appear quite washed out as well. Turning night mode on does alleviate some of these issues, but not to a degree we'd like. Overall, the lens definitely needs some tuning for low-light shots and there are better-performing cameras for low-light photography in this price range such as the Realme 9 Pro+ and the OnePlus Nord CE 2.
The 32 MP selfie camera is definitely the strongest link in the Samsung Galaxy M53's camera setup. You get detailed pictures with excellent colours and natural skin tones. Do remember to turn off beauty mode in the settings to get the best results. Portrait selfies are also great with solid edge detection. However, at night, the experience sours. The images appear grainy and details are amiss. Turning on night mode does solve this to some extent, but the results still aren't up to the mark. You can check out all the images and videos we've shot from the phone here:
Video recording tops out at 4K 30 fps and you also get Slow Motion videos at 240 fps at 1080p resolution and 960 fps at 720p resolution. The phone relies on Electronic Image Stabilisation to stabilise video footage, however, the results are still shaky, even in bright daylight. In low light, we experienced some additional jitter as well. The camera does come with Samsung's Super Steady mode, which helps out quite a bit, but the recording tops out at 1080p for this.
Samsung Galaxy M53 5G: Battery Life
The Samsung Galaxy M53 5G boasts a 5,000 mAh battery with support for 25 W fast charging. However, the box only provides a charging cable and no adapter. You can purchase a Samsung 25 W adapter for about Rs 1,200 but that's an extra cost a user shouldn't really have to bear but Samsung has taken this route to be more environmentally conscious. The phone's battery easily got us through a day's worth of usage consisting of tasks such as gaming, running benchmarks, photo editing, and social media browsing. So, if your usage isn't as aggressive, you can expect the phone to last well beyond a day.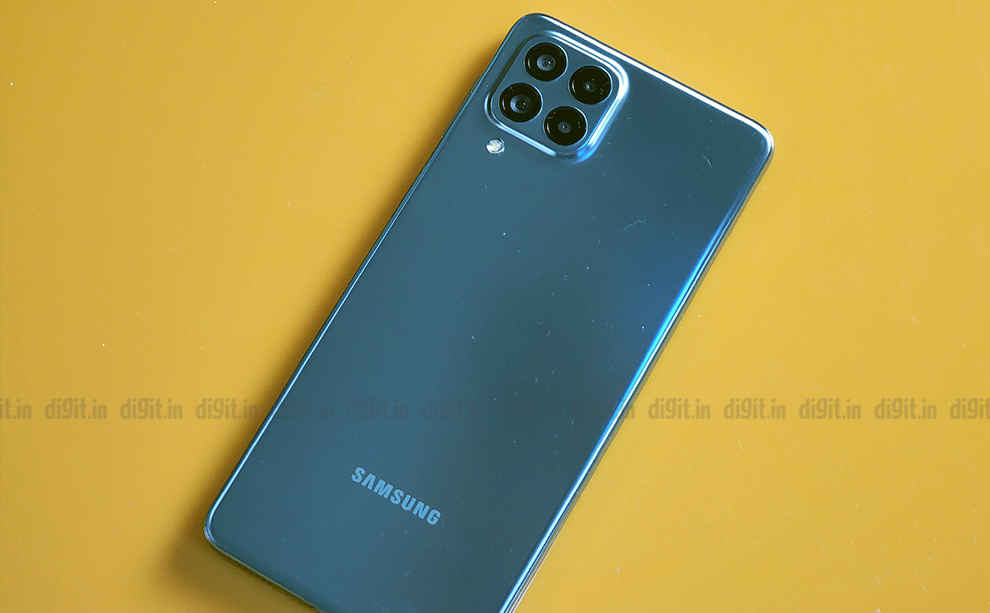 During our testing, the phone lasted approximately 16 hours in our video loop test. GPS Navigation for 1 hour drained the battery by 5 per cent from 92 per cent, and playing COD: Mobile for 15 minutes dropped the battery levels by 6 per cent from 86 per cent. The phone took approximately 1 hour and 20 minutes to charge from empty to full, which is decent.
Samsung Galaxy M53 5G: Verdict
The Samsung Galaxy M53 5G is an easy recommendation for those who value build quality, design and screen performance the most. It is a robust yet lightweight device with a classy look; something that isn't too common at this price point. Additionally, the large 6.7-inch Super AMOLED Plus display is a treat to watch content on, however, the device does miss out on stereo speakers which could have added to the overall immersiveness. You also have the guarantee of two Android updates and 4 years of security updates; something that shouldn't be taken lightly.
Despite these strengths, the Samsung Galaxy M53's shortcomings cannot be ignored. The camera performance, especially low light photography, isn't as consistent as some competitors such as the OnePlus Nord CE 2 and Realme 9 Pro+ offer. Additionally, if gaming is your priority, the phone doesn't offer sustained performance under intensive workloads and we frequently faced lags and frame skips when playing games such as Call of Duty: Mobile. Also, the Galaxy M52 is still an excellent proposition and the M53 is only an incremental upgrade over it. Overall, while we love the premium and classy look of the phone, there isn't much convincing us to recommend it over competitors such as the Xiaomi Mi 11i HyperCharge 5G, OnePlus Nord CE 2, or the Realme 9 Pro+.
| | |
| --- | --- |
| Release Date: | 22-04-2022 |
| Market Status: | Launched |
Key Specifications
Screen size (in inches)

6.7

Rear Camera Megapixel

108

Battery capacity (mAh)

5000