Samsung Galaxy A8 detailed review
The Samsung Galaxy A8 was marketed as the slimmest phone by Samsung till date, and when a phone is marketed with its form highlighted as a key factor, you usually expect a really good looking one. The Samsung Galaxy A8 is really good looking smartphone, and what hit first is the really nice build. Samsung seems to have finally switched to the right gear with its design, beginning with the Samsung Galaxy S6 and Galaxy S6 Edge.
With a relatively heavy price tag, the Samsung Galaxy A8 looked promising. However, I had an intuition that the Galaxy A8 might be a little overpriced, even with the good looks. Here's what I found after taking it around for a while.
Build and Design
The Samsung Galaxy A8 retains a typical Samsung feel about it, even after cutting down on as much flab as possible. It has been trimmed down to a mere 5.9mm. As it goes, Samsung devices will never be themselves without the button in the middle, and the Galaxy A8 does retain it, along with a fingerprint sensor around the button. The metal sides are tapered at the edges to retain the slim factor. The power/unlock button is to the right side, while volume buttons are to the left. The bottom of the phone has the microUSB charging port and the 3.5mm audio port. The only disparity in design is in the volume keys, that are placed a little higher on the left side. Using it only with your right hand makes accessing the volume keys very difficult, and practically impossible if you happen to have smaller hands.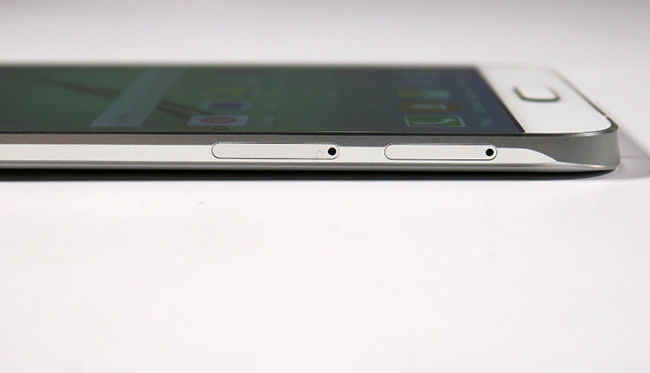 The metal build is seamless, and there are no loose ends to the Galaxy A8's finesse. Samsung has done well to craft a large metal-body device at a weight of 151g, although there's this one factor which I found missing. The Samsung Galaxy A8, while holding, feels too thin, slippery, and large. Personally, I wouldn't mind a few grams extra for my device to feel more durable and strong. The OnePlus 2, and also Sony Xperia C4, suffice in terms of the feel that a phone emanates. Apart from this, the Samsung Galaxy A8 is really well crafted and designed.
Display and UI
The Samsung Galaxy A8 packs in a vibrant 5.7-inch screen, with a Super AMOLED display panel at a resolution of 1080x1920 pixels and 24-bit colour depth. It is not a quad-HD display, but in no way does it look bad. In fact, the S-AMOLED display shows richer colours and higher contrast levels than a lot of QHD displays in the market. To make a note, both the OnePlus 2 and the Sony Xperia C4 Dual feature 1080p resolution displays, and look distinctly better than the QHD counterparts - some food for thought.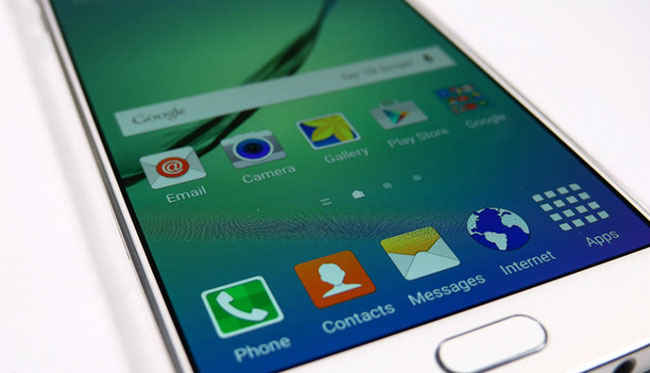 The Samsung Galaxy A8 features very narrow bezels, with a 74.1% display area (ratio of screen area against total front area). While the display itself is large, it feels even larger. This is a neat little optimisation Samsung has done, making the phone feel larger than what it is. The OnePlus 2 has a 73.5% display area, a considerable difference between the two. The colours on the display can be best defined as 'pleasing' and the display will get the vote of approval from the masses, if not from the purists. The display, however, has a slight hue shift issue, something that should be noted if you are specifically looking for IPS panel like viewing angles.
Samsung's TouchWiz UI continues to play on top of Android Lollipop v5.1.1. Although it has gone through a lot of changes across time, the TouchWiz UI is still not one that I personally prefer. Having said that, Samsung has worked a lot on its TouchWiz UI, especially in terms of resource consumption and it does feel a lot better in terms of response and overall feel. Just that the impact of overloaded colors and generous helping of fluorescence is starting to wear off.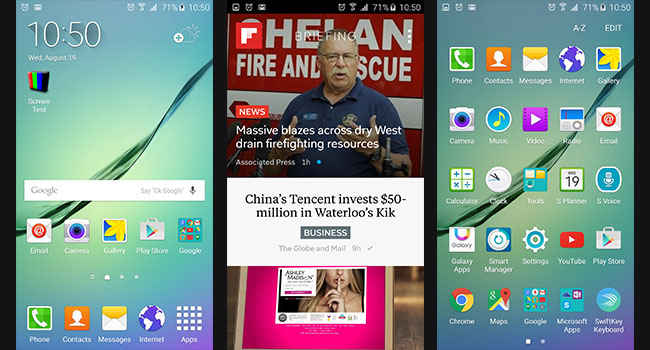 Left-Right: Home Screen, Flipboard, Applications Menu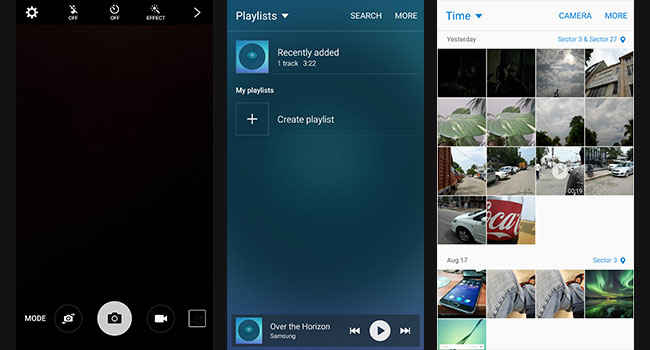 Left-Right: Camera, Music Player, Image Gallery
Performance
The Samsung Exynos 5 octa-core 5430 chipset clocked at 1.8GHz, along with Mali T628 MP6 GPU, provides fluid performance with good graphic renders. I faced no lags in regular use, multitasking and extended graphic-intensive gaming. CSR Racing and Marvel: Contest of Champions ran without any lag. Browsing, messaging, and internet-related tasks are a breeze on the Samsung Galaxy A8, and even call quality is excellent. Tower retention is strong, and there were no notable signal drops in between calls or data sessions.
While 2GB of RAM might sound low in a segment where the OnePlus 2 houses 4GB of RAM, the processor optimises applications, managing resources to provide seamless multitasking. The touch response on the Galaxy A8 is good, without any missed swipes or double taps required to open an application. The fingerprint scanner is also quite responsive, unlocking in a fraction of a second. All of this, coupled with an excellent battery stamina (discussed below) makes the Galaxy A8 a very good performer. Attached below are the synthetic benchmark tests to give an indication of its processor and graphic performance.
The only issue performance I had with the Galaxy A8 is the audio. First off, the speaker is placed rather awkwardly as it's right beside the camera on the back. This leads to the audio being muffled easily when placed on its back. Additionally, the audio delivery itself is not too great, bearing a tunnel-ish ambient effect. The bass sounds false and trebles seem high. Listening to music on a high-end mobile headset (Sennheiser Urbanite) gives much improved audio clarity and timbre, but the Galaxy A8 still sounds meek and flat.
Camera
The 16-megapixel Samsung LS13P3 ISOCELL sensor with f/1.9 aperture produces really decent photographs, even in very low light situations. Daylight photography is distinct, and colour processing is accurate. In low light, sensor noise understandably increases, but does not make images too marred. Samsung's noise reduction algorithm is not too aggressive, which does leave low exposure images with a lot of grain, but with sharp outlines. There are no soft focusing issues and photographs in varied lighting conditions appear bright and sharp.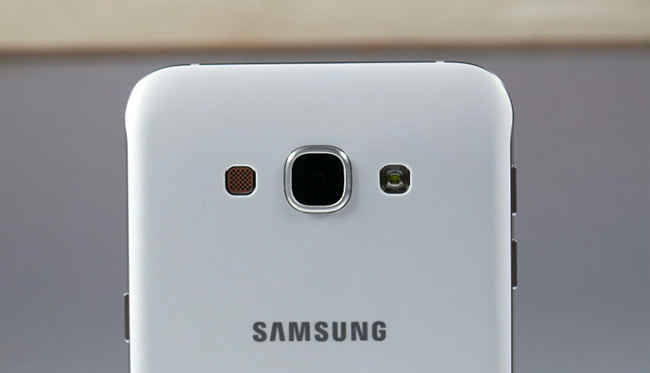 An interesting fact about the Samsung ISOCELL sensor is its superior crop area. Comparing it to the OnePlus 2, the Samsung Galaxy A8 features a crop ratio of 7.1 against the OnePlus 2's crop ratio of 5.9 on the PureCel Omnivision OV13860 sensor. The distinctly larger sensor area enables the Samsung Galaxy A8 to capture images with higher quality, lower noise, and faster image processing times, which is a distinct advantage of the Galaxy A8 over the OnePlus 2. Check out the image gallery for camera samples.
Note: A sensor's crop area is the ratio of the concerned sensor's diagonal size against the diagonal size of a full frame sensor equipped in a 35mm full-frame sensor camera, which is 43.3mm.
Samsung Galaxy A8 image gallery
Battery
Although Samsung presented the Galaxy A8 by focusing on its build quality and design, what really stole the show was the battery stamina. On paper, the Samsung Galaxy A8 houses a 3050mAh Li-ion battery pack, which might raise a few questions regarding its competence of supporting such a powerful device with a powerful camera and bright display. After benchmark scores that reflected a not-so-strong battery life, it is here where I noticed the massive disparity between the benchmark scores and real-life battery stamina. On our battery test, the Samsung Galaxy A8 lasted 20 hours - an incredible feat.
Leaving tests aside, upon normal usage, I could use the Galaxy A8 for almost 30-odd hours. If you happen to game a lot, watch videos and stream music online all through the day, you will still obtain more than 14 hours of battery life. The superlative battery stamina catapults the Samsung Galaxy A8 right up as one of the most recommendable cellphones out there. Applause to Samsung for focusing on real-life functionality on a build-highlighted smartphone.
Bottomline
I am almost tempted to say that the stellar battery should make the Samsung Galaxy A8 one of the best buys in the market right now. But, most of its other competitors do last an entire day's usage for sure, and you are most likely to put your cellphone on charge at night, before going off to sleep.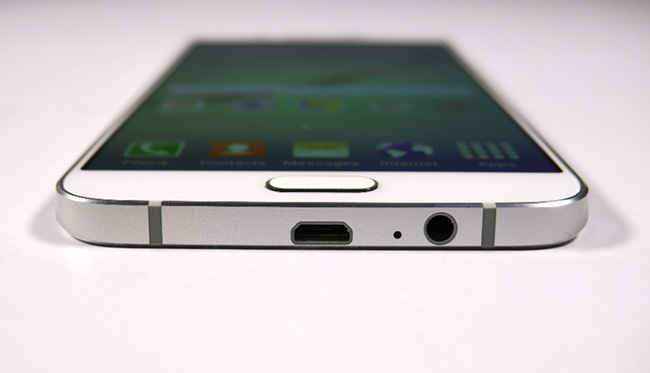 There are no real glitches, except for the speaker placement. The Samsung Galaxy A8 is well built, comes with a pleasing display, offers good performance, and a competent camera. But the aspect that impressed us the most was how Samsung managed to offer such a slim, large screen phone that manages to ace in the battery life department. As a standalone product, it is a very recommendable one. However, once you compare it to the OnePlus 2, which offers better performance and good battery life at lower price point, the Samsung Galaxy A8 starts to appear unreasonable at its current price point of Rs. 32,500. Having said that, if you are looking for a large screen smartphone (a 'Phablet', as some may call it), the Samsung Galaxy A8 is an excellent phone, with brilliant built, design and outstanding battery life.