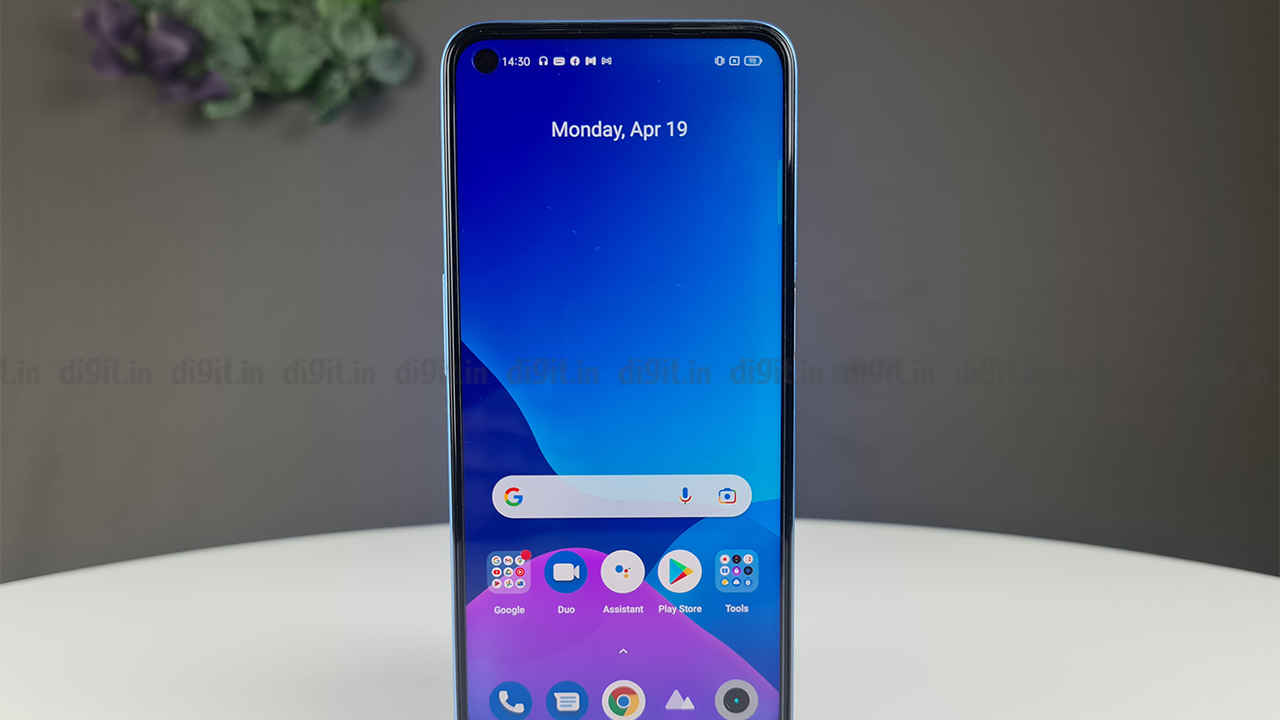 VERDICT:
The Realme 8 5G is a feather in the company's cap when it comes to performance in phones under 20K. The smartphone performs admirably well in most scenarios and beats out its competitors in most benchmarks. The phone's real-world performance didn't disappoint either when it comes to gaming or day-to-day tasks. What did disappoint us though is the camera's performance that proved to be mediocre, at best.
Realme has been going absolutely ham with affordable smartphone launches in 2021 and the company has really been pushing towards democratising smartphones with lucrative features and specs. The company's latest offering is the Realme 8 5G, a 5G-enabled smartphone in the sub-20K price segment. While the Realme 8 5G may seem like a simple 5G upgrade over the regular Realme 8, in reality, it isn't really the case. The phone comes with vastly different specs and hardware such as a different SoC, camera stack, and even display. There have been some compromises made to include 5G at an affordable price and that clearly reflects in the spec sheet in comparison to the Realme 8. Still, it is one of the most affordable 5G smartphones on the market that essentially democratises 5G for the masses. It gives users who want to future proof their device an affordable option to consider. However, does the Realme 8 5G have enough firepower to be a worthy 5G contender under 20K? Let's find out.
Realme 8 5G: Specifications
The Realme 8 5G is the very first smartphone launched in India to be powered by the new MediaTek Dimensity 700 SoC based on the 7nm production process. It features two ARM Cortex-A76 'Big' Cores at a max clock speed of 2.2GHz and 6 ARM-Cortex A55 cores with a max clock speed of 2GHz. As for the graphics, the Dimensity 700 SoC comes with a Mali-G57 GPU. This is paired with 4 or 8GB of LPDDR4x RAM and 128GB UFS 2.1 internal storage. The 4GB RAM variant is priced at Rs 14,999, while the 8GB RAM variant costs Rs 16,999. Realme has also integrated a technology that they dubbed "Dynamic RAM Expansion" that converts storage or ROM into VRAM or virtual RAM. According to Realme, the 4GB model will essentially act like a 5GB RAM phone, while the 8GB one, which we got for review, will act like an 11GB RAM phone.
Being a 5G-enabled device, the phone supports various 5G SA and NSA bands and 5G Dual SIM Dual Standby. It comes with a SIM slot that can house two Nano SIMs and a microSD card. The phone features a 5,000mAh battery with support for 18W fast charging. As for the display, the Realme 8 5G comes with a 6.5-inch IPS LCD panel with Full HD+ resolution and 90Hz refresh rate. The phone also supports auto refresh rate that intelligently switches between display refresh rates as per the requirement. Moving on to the cameras, the Realme 8 5G comes equipped with a triple rear camera array consisting of a 48-megapixel primary lens, a 2-megapixel Black and White Portrait lens, and a 2-megapixel macro shooter. On the front, you have a 16-megapixel selfie camera. Lastly, The phone runs Realme UI 2.0 based on Android 11.
Realme 8 5G: Build and display
With the Realme 8 5G, the company has focused heavily on keeping the device as slim and lightweight as possible. It weighs 185g and isn't very thick either at 8.5mm. The regular Realme 8 was lighter and thinner than the 5G variant of the device but adding 5G connectivity does generally tend to add to the bulk of the device, so Realme has done a commendable job at keeping the device as slim as possible.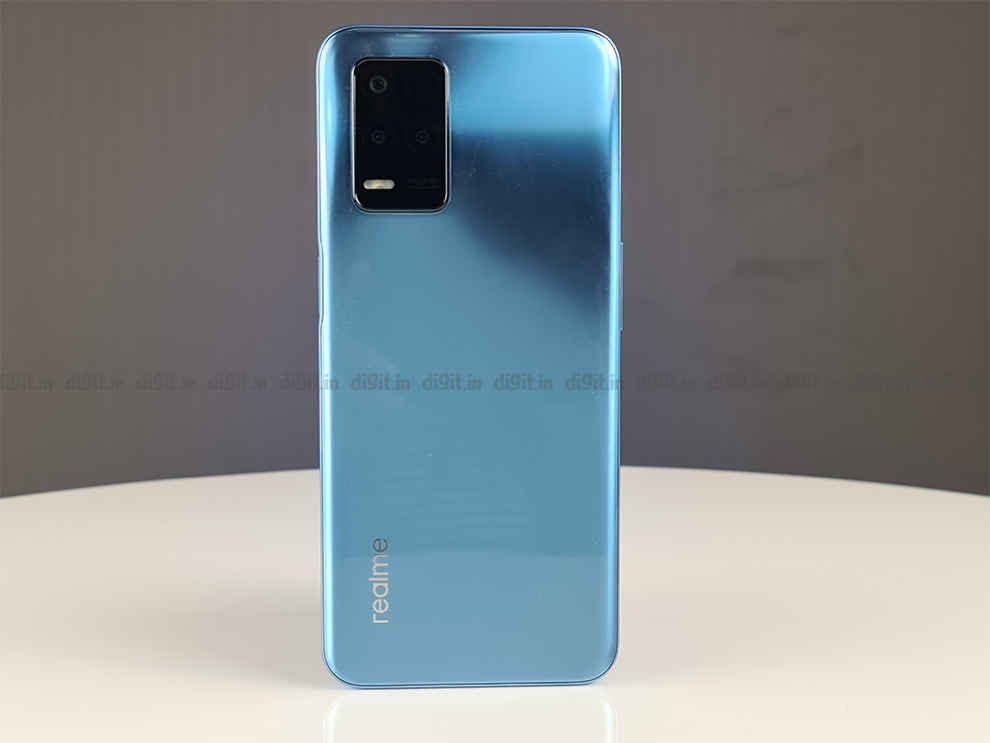 The back panel of the Realme 8 5G features a glossy finish, which, in our opinion, is a step down below matte finishes that are usually adopted by budget devices with plastic rear panels. Matte finishes keep fingerprints at bay and allow users to have a better grip on the phone. Glossy backs, on the other hand, are notorious for being fingerprint magnets, and the Realme 8 5G's back panel is no different with fingerprints and smudges galore within minutes of using it. The glossy back panel also makes the phone feel more slippery. These problems are alleviated when the phone is used with a case, which Realme has provided in the box itself.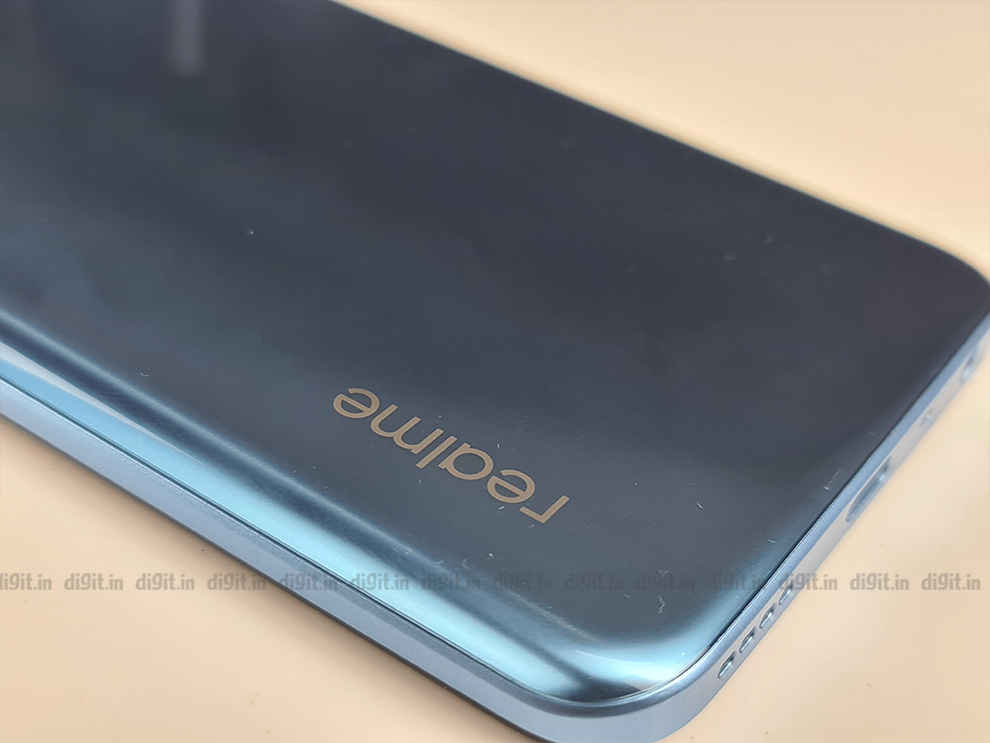 On the more positive side, the company has opted to remove the garish "Dare to Leap" logo that graced the back panels of the Realme 8 and Realme 8 Pro. Instead, they've gone with a much cleaner look, with a simple Realme logo on the bottom right. The phone comes in two colour variants – SuperSonic Black and SuperSonic Blue. While the design isn't the most impressive we've seen on an affordable smartphone, it does have an iridescent effect on the back panel which makes it slightly more interesting to look at.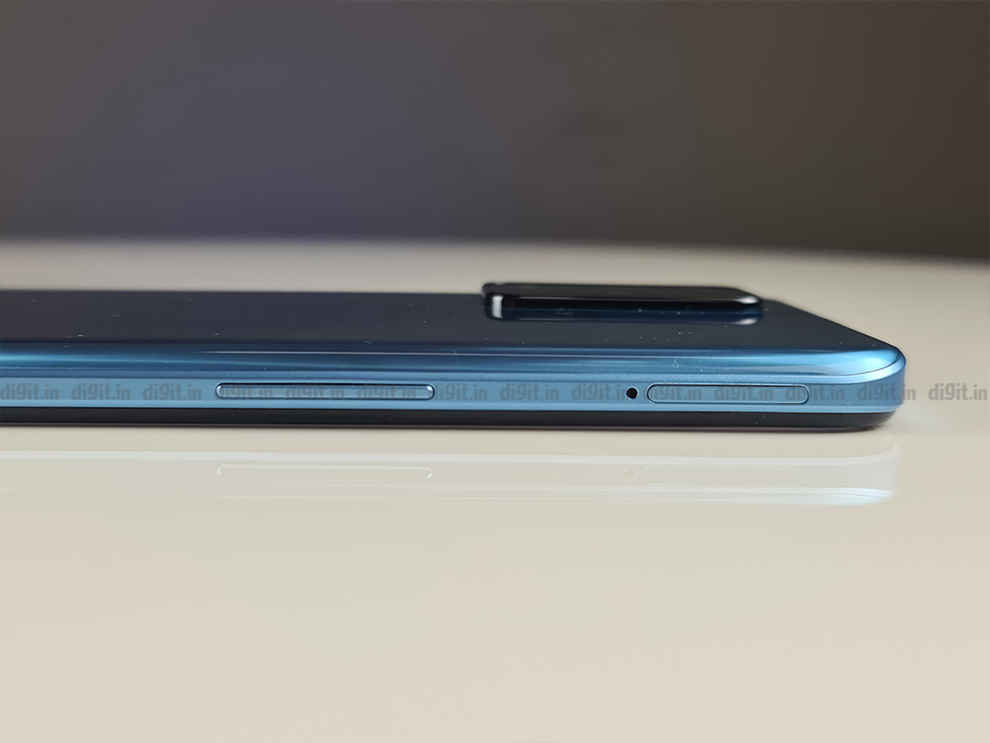 Moving on to ports and buttons, the Realme 8 5G houses a power button on the right that doubles as a fingerprint scanner. It proved to be very responsive throughout our testing period with the phone unlocking in a jiffy almost every time. The fingerprint sensor can be customised to unlock with a simple touch or a full-blown press, which is a nice touch since it allows users to cater to their preferences. On the left, you have the volume buttons and the SIM tray. The buttons have good feedback and are very responsive. The SIM tray houses two NANO SIMs and a microSD card for expandable storage up to 1TB. So, in case the 128GB onboard storage falls short for you, there's more than enough room to expand the storage considerably.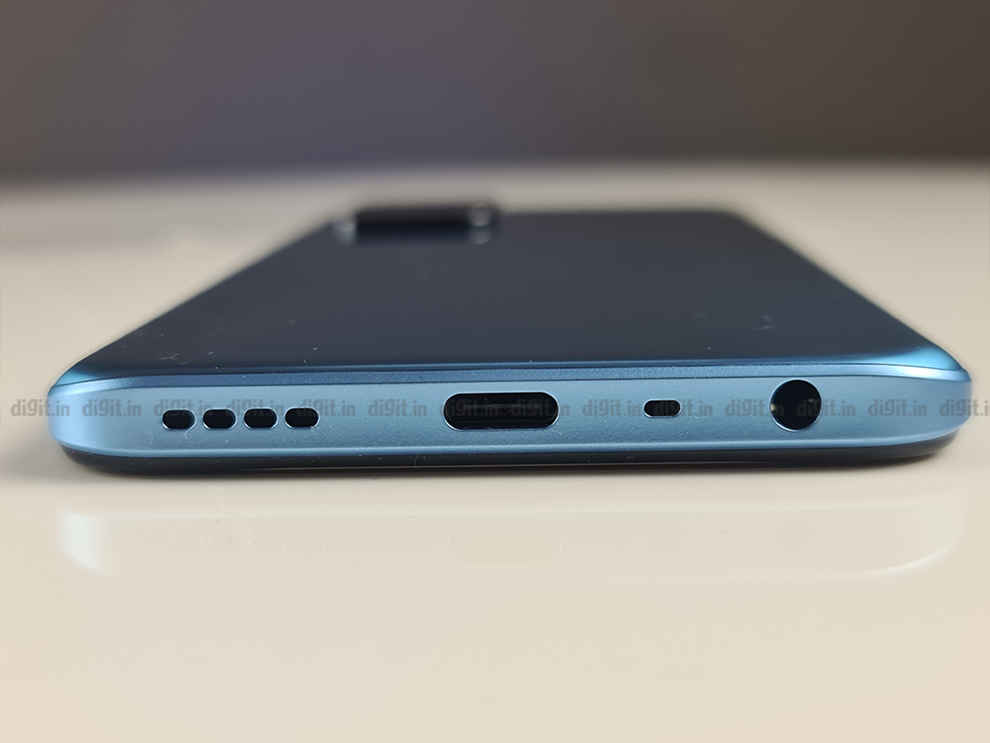 The bottom of the device houses the USB-C charging port, a single speaker, and a 3.5mm audio jack. We were slightly disappointed to not see dual stereo speakers since phones at a much lower price point, such as the Poco M3, have also begun offering them. The sole speaker is relatively loud and crisp, however, it would be preferable to have a stereo setup for more immersion.
On to the display, the Realme 8 5G houses a large 6.5-inch IPS LCD display at Full HD+ resolution with a punch-hole cutout for the selfie camera. In contrast, the Realme 8 priced under 15K features a Super AMOLED display and an in-display fingerprint sensor. So, some compromises have been made here to keep the 5G-enabled Realme 8 priced competitively. Still, you get 90Hz refresh rate on the panel that makes scrolling and flicking between apps appear smooth. The panel looks crisp and while the display may not be the most colour accurate, it does make content pop and look more visually appealing. Additionally, the display gets bright enough to be easily viewable even under direct sunlight. Lastly, the phone also comes packing WideVine L1 support that allows users to enjoy HD content on streaming platforms.
Realme 8 5G: Performance
As mentioned previously, the Realme 8 5G is powered by the new MediaTek Dimensity 700 SoC and is the first smartphone in India to feature this chipset. Our review unit came with 8GB of LPDDR4x RAM and 128GB storage. In our usual set of benchmarking tests, the Realme 8 5G delivered a convincing performance. The phone outshone its rivals in benchmarks such as AnTuTu, Geekbench 5, and PCMark Work 2.0. The Realme 8 5G scored over 100,000 more than the Redmi Note 10 in AnTuTu and over 3000 more in PCMark Work 2.0. It even beat the more expensive Redmi Note 10 Pro Max by a similar margin in both AnTuTu and PC Mark Work 2.0. Oddly enough, the phone even outperformed the company's own Realme Narzo 30 Pro, featuring the Dimensity 800U SoC, in AnTuTu but scored slightly lower than it in GeekBench 5. The phone managed to beat out both the Redmi Note 10 and Note 10 Pro Max in GeekBench 5 as well. So, when it comes to benchmarks, the Realme 8 5G does swimmingly.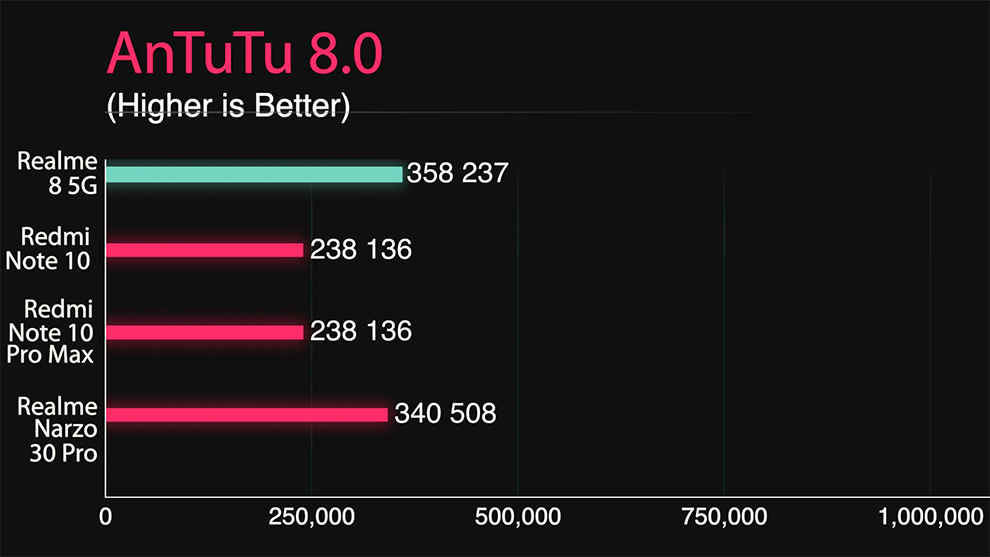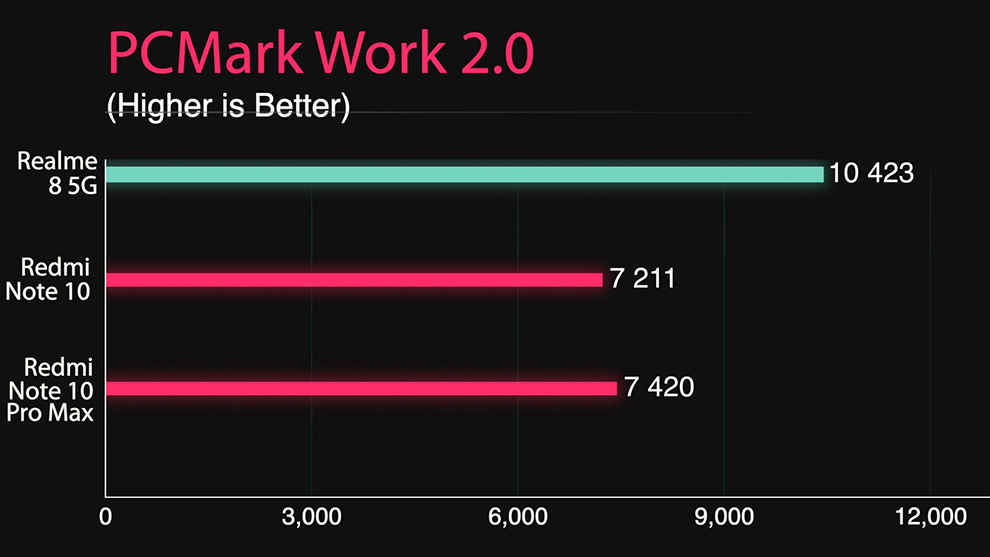 Coming to GPU performance, the Realme 8 5G yet again manages to outperform the Redmi Note 10 and a few other phones under 15K convincingly in 3DMark Wild Life and GFXBench. In our gaming test, the Realme 8 5G recorded an average FPS of 30 at 93 per cent stability on Gamebench in the default graphics settings, which were set to Medium. We lowered the settings and recorded a median FPS of 39 with 91 per cent stability. We switched over to Asphalt 9 Legends where we recorded a median FPS of 30 with 90 per cent stability, which is decent. Benchmarks aside, the phone feels smooth when playing titles such as Call of Duty Mobile and Asphalt 9 with little stutter or lag. However, the phone does get considerably warm when gaming, especially over extended periods of time.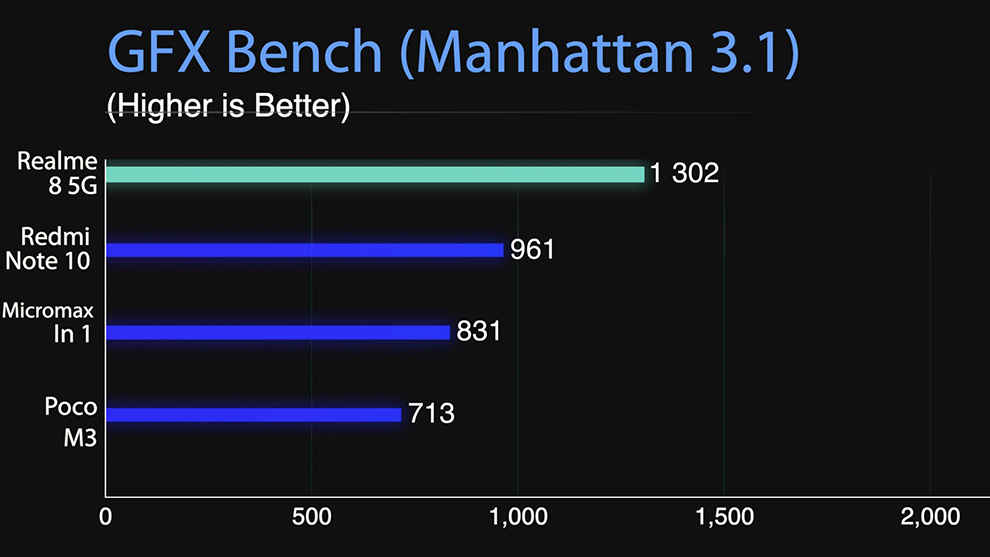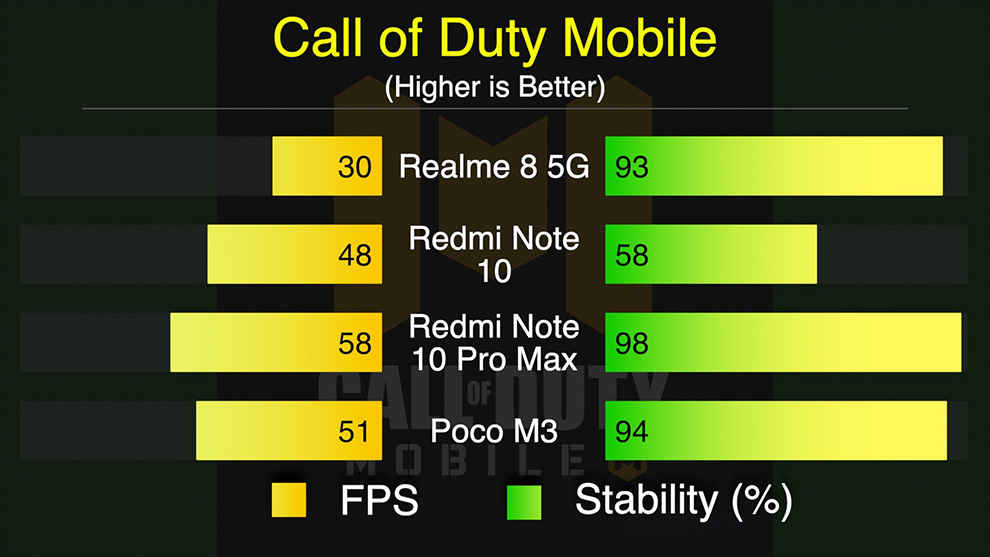 In other real-world usage instances, the phone also performs admirably well. Performing basic tasks and multitasking is a smooth affair on Realme 8 5G. The 8GB of RAM on our review phone really showed its mantle and we were able to keep several apps running in the background over long periods. There are barely any stutters or lag when moving between screens and opening up different apps. Scrolling on social media, websites, and YouTube was extremely smooth due to the 90Hz refresh rate as well. Overall, there's very little to fault with the phone's ability to carry out day-to-day operations. Now, if you're doing more intensive work such as editing a video on InShot, the phone is pretty slow at exporting the final video, however, it's something most people don't do on a daily basis. The phone is a capable performer for day to day tasks and even gaming for the most part.
The software, however, isn't our favourite. While Realme UI looks pretty clean, it is chock full of third-party preinstalled apps such as Amazon Music, Booking.com, Duo, Netflix, Soloop, and others. There are also numerous Realme apps preinstalled on the device. Apps such as Soloop, booking.com, and Amazon Music aren't used by most people, so we weren't a fan of Realme overcrowding the phone with these mostly non-utilitarian apps. The phone runs Realme UI 2.0 based on Android 11 and there are tons of customisations you can do in the settings. Overall, while we are fans of the Realme UI's looks, we could do without the horde of bloatware. Still, it doesn't plague you with as many ads as MIUI does though.
Realme 8 5G: Camera
The Realme 8 5G comes equipped with a triple camera array consisting of a 48-megapixel primary lens with an f/1.8 aperture, a Black & White Portrait 2-megapixel shooter, and a 2-megapixel macro camera. For selfies, the phone houses a 16-megapixel shooter. The phone misses out on an ultrawide lens which is present in competitors such as the Redmi Note 10. Even the regular Realme 8 includes an 8-megapixel ultrawide shooter.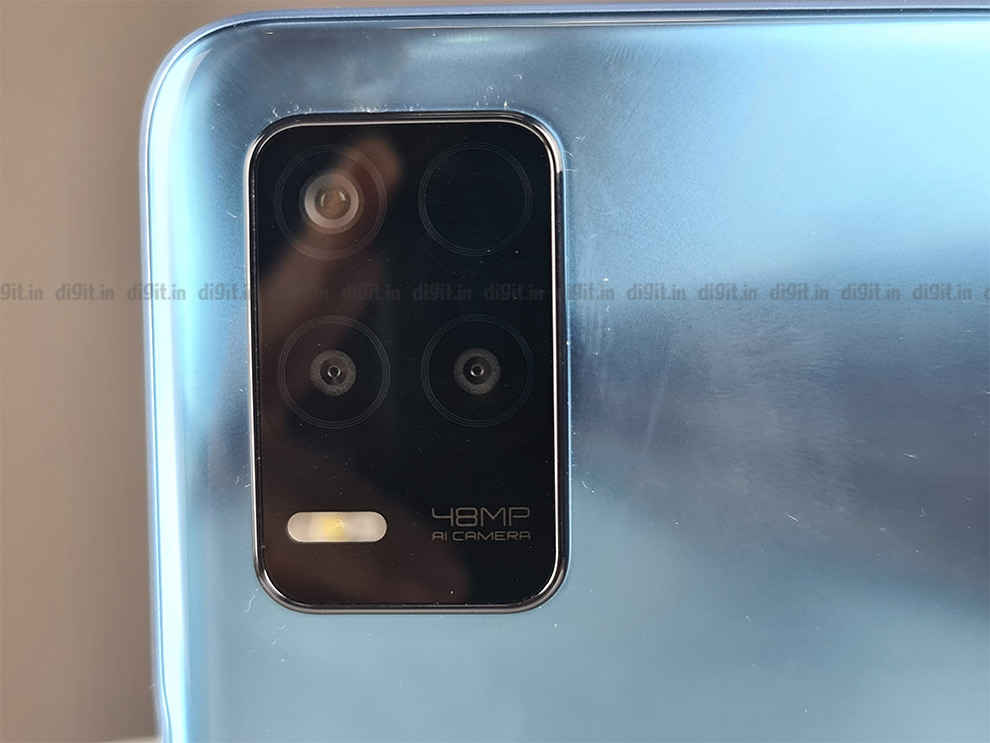 The Realme 8 5G isn't the best performer when it comes to the cameras of the phone. While daylight shots with ample light usually turn out decent with good detail and colour, the dynamic range of the phone is not the best. Photos with tricky lighting often lack detail in the shadows and there's a perceivable amount of grain in the shots. This trend worsens in low light photography where the performance is mediocre, at best. There is plenty of noise in the shots and the camera struggles a lot to lock focus on subjects in low light. Realme's NightScape mode doesn't work as expected as well, with Night Mode shots looking almost as grainy, dark and noisy as ones without Night Mode on. You can view camera samples below. Please note that these images have been resized for the web.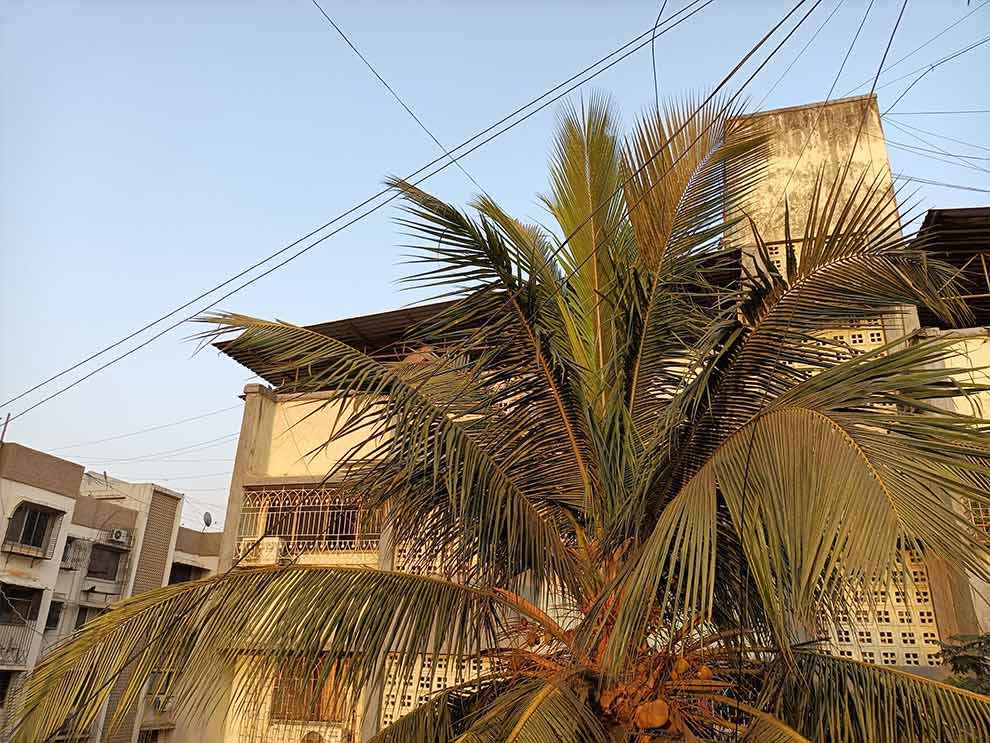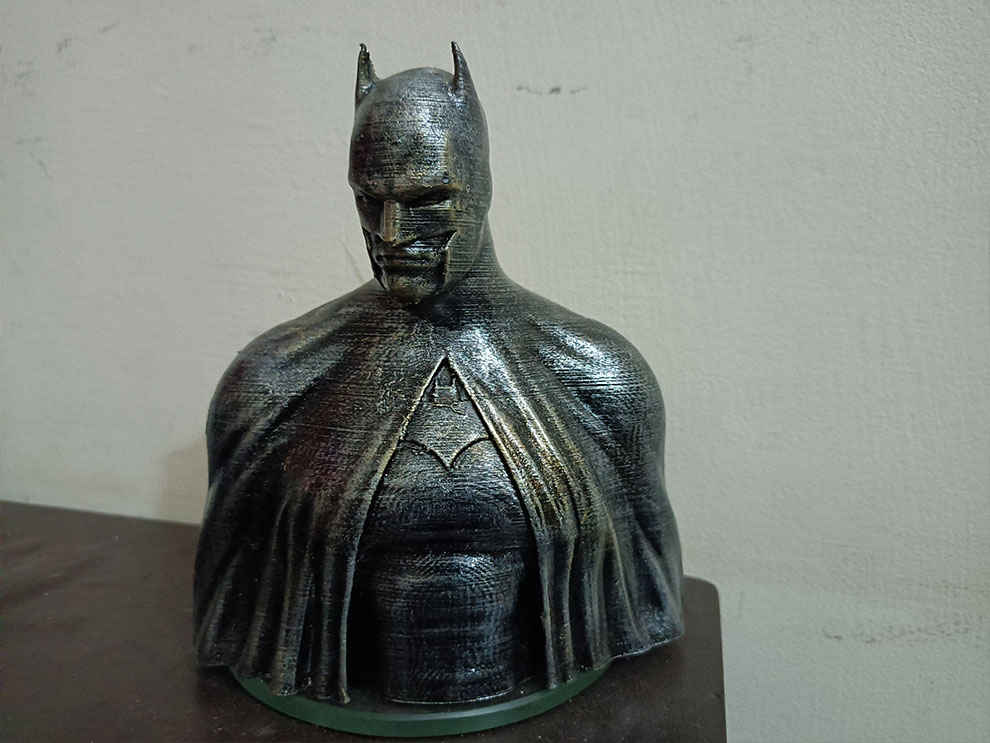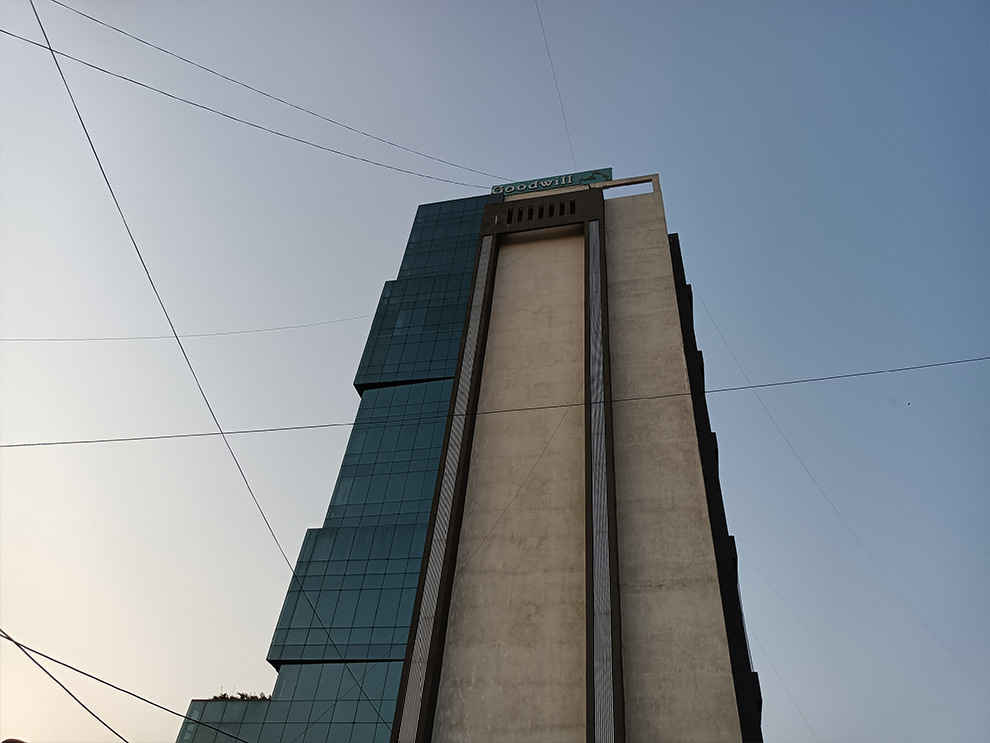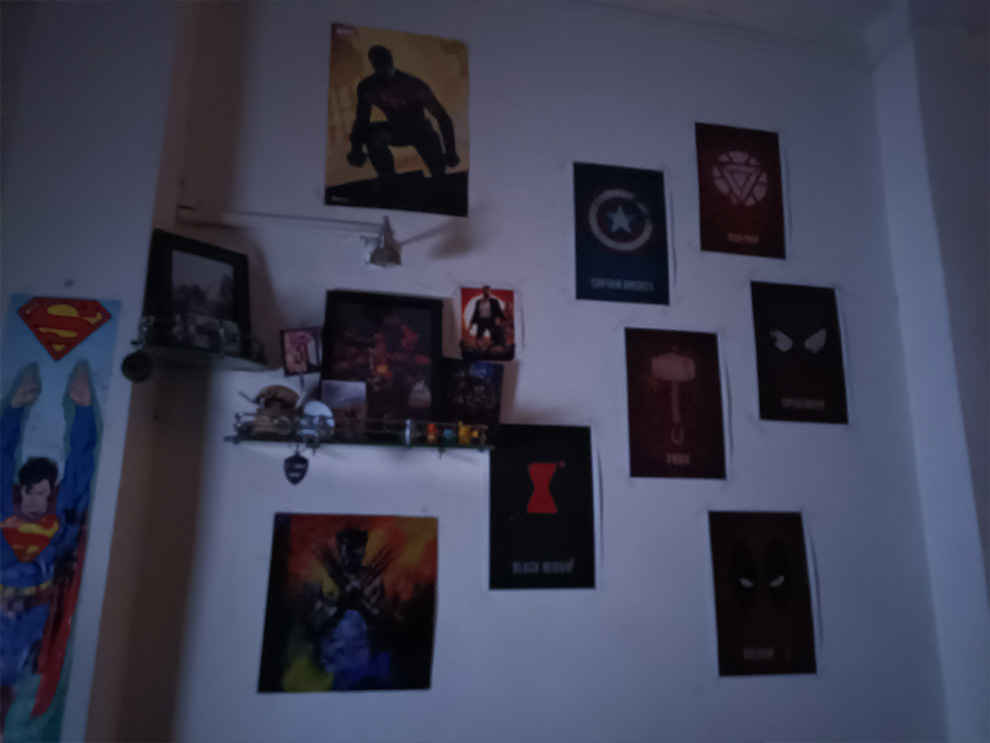 Low light photo on the Realme 8 5G without Night Mode active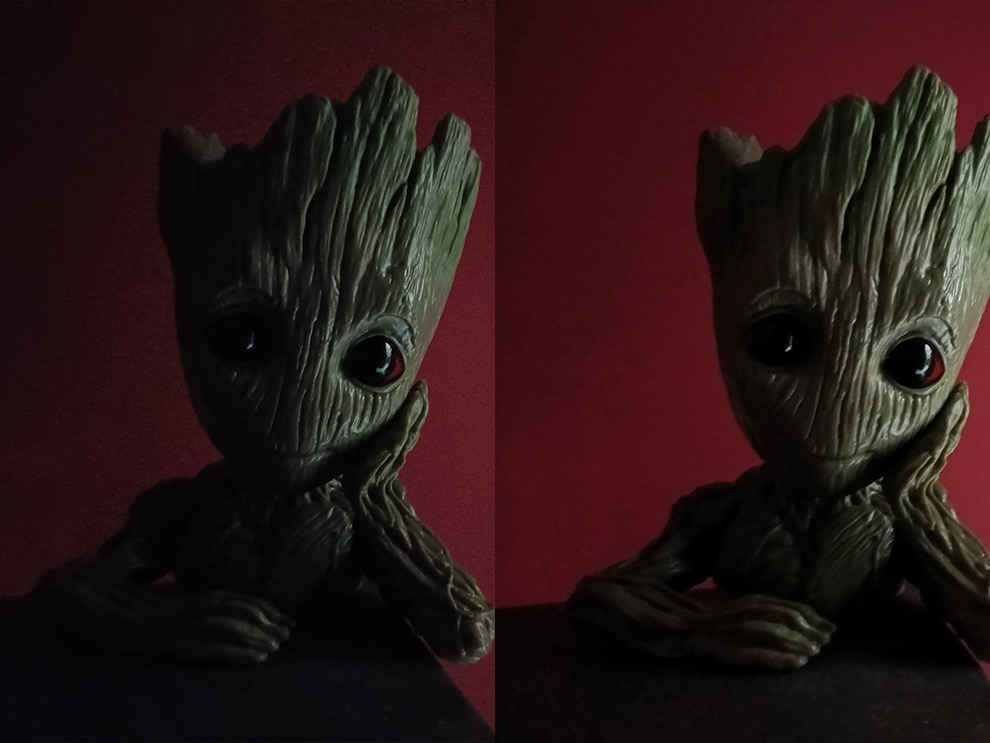 Low light photo with Night Mode turned off vs Night Mode turned on
For portrait photography, the main camera disappoints yet again with the camera struggling to blur the background in some shots when portrait mode is active. For shots it does manage to blur the background, the blur isn't very accurate. Additionally, human skin tones are made to look more orange and the face is often softened. The macro lens on the phone is yet another disappointment since the 2-megapixel lens lacks autofocus and simply refuses to lock focus on objects that are close to the camera. The shots are often blurry and lack detail.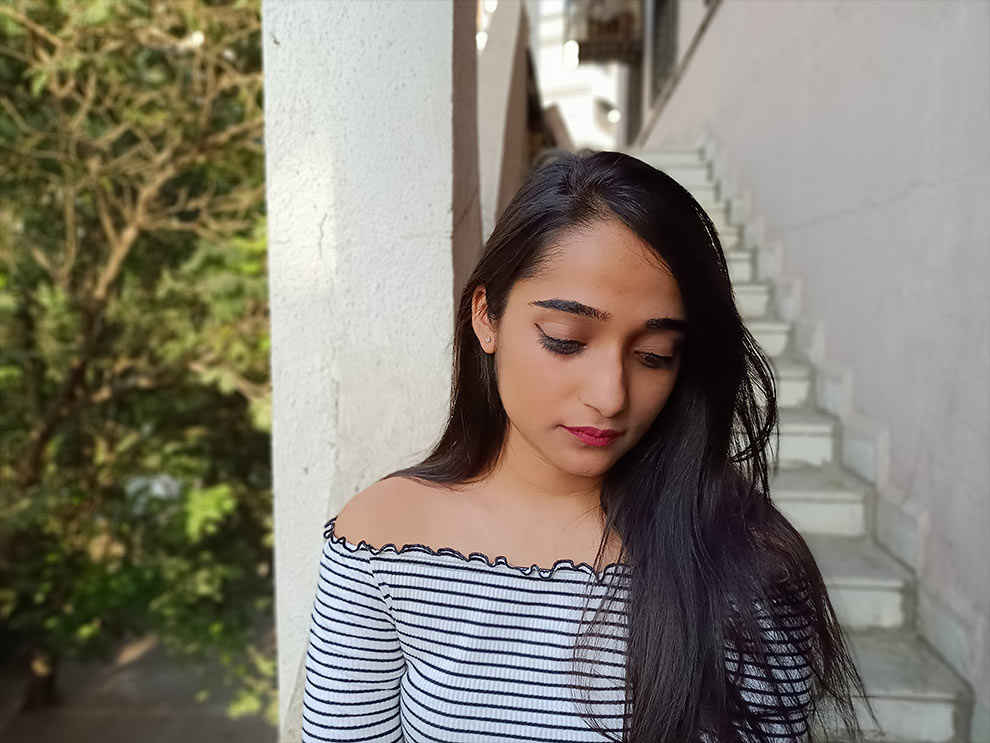 The 16-megapixel selfie camera shoots decent selfies with a good amount of detail, but the facial features are softened yet again and the orange-ish tint continues to persist. Video quality is decent but the videos usually suffer from shake if you're walking or running. Overall, the Realme 8 5G simply isn't a good option for people who expect consistency and quality from their smartphone cameras.
Realme 8 5G: Battery life
The Realme 8 5G sports a sizable 5,000mAh battery that performs pretty well. The phone houses a 90Hz refresh rate display that cuts down the battery life considerably if kept on at all times. However, if you use the Auto Refresh Rate mode or simply default to 60Hz, you're looking at a phone that can easily last a day and a half with moderate usage, and a full day with heavy usage.
In our tests, streaming Netflix for half an hour drained the battery by merely 5 per cent and 15 minutes of COD: Mobile brought it down by 7 per cent. The phone supports 18W fast charging, which is slightly underwhelming, especially since the Realme 8 came with 30W Dart Charge support. The Realme 8 5G took 2 hours and 23 minutes to charge from 0 to 100% battery, which is laboriously slow by 2021 standards.
Realme 8 5G: Verdict
The Realme 8 5G is a feather in the company's cap when it comes to performance in phones under 20K. The smartphone performs admirably well in most scenarios and beats out its competitors in most benchmarks. While MediaTek does have a reputation of boosting cores for benchmarking tests, the real-world performance of the phone didn't disappoint when it comes to gaming, multitasking or performing basic tasks. What did disappoint us though is the camera's performance that proved to be mediocre, at best. Low light and portrait photography, in particular, showed significant weaknesses and there are numerous phones under 20K offering a better experience in this department. If performance matters to you the most in a smartphone, and you're looking for an inexpensive 5G ready phone, the Realme 8 5G is a no-brainer.