Lenovo K3 Note detailed review
The Lenovo K3 Note has generated a considerable amount of popularity in the smartphone market. The K3 Note comes in a neat, standard packaging. Lenovo has not tried to make its device look alluring, but it somewhat works in its favour. The unassuming facade gives way for the K3 Note to be a well-functioning device that is adept at doing what a smartphone is meant to, without any frills. Does it live up to its initial impression?
BUILD and DESIGN
As mentioned before, there is nothing exceptional about the Lenovo K3 Note's design. It doesn't overbear its 5.5-inch screen size, it is reasonably thin at 8mm, the 3.5mm audio port and the microUSB/charging port are at the top, and the volume rocker and power/unlock button to the right side. There is no metal on its outer casing, but it does not feel cheap in terms of overall build and the quality of the plastic used.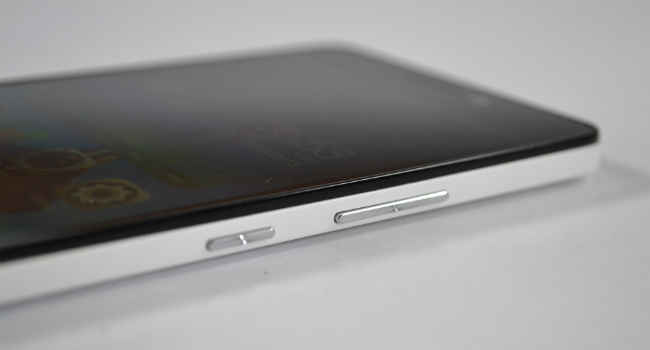 Lenovo K3 Note's build: Not the sturdiest, but still good
The only big qualm that you will have about the physical aspect of the device is the lack of backlight on the touch function keys. Until you get very used to using the device, maneuvering it in dimly lit or dark environments may get difficult. Yes, the arrangement of the function keys is the standard grouping of multifunction - Home - return (from left to right), which should be of relative help if you happen to have used cellphones with this key arrangement before. Otherwise, this is a considerable setback.
There are no hot-swappable SIM slots, and both the SIM slots and the microSD expansion slot need to be accessed by opening the back cover. With more smartphones going with the sealed back panel build, the Lenovo K3 Note's detachable back panel might sit well with a lot of people, who would prefer to have the ability of being able to access the battery pack.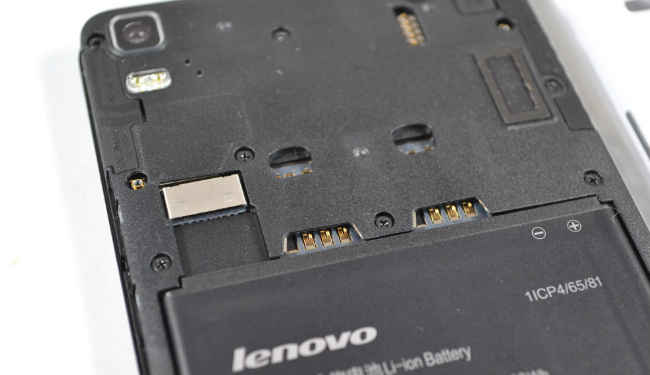 Back panel: Dual-SIM slots, battery pack and microSD expansion slot
The build is decent, although other competing smartphones like the Meizu M2 Note feature an outer shell that is sturdier, and better to look at. The Lenovo K3 Note misses glass protection, and although you might make it through a couple of falls with it, we would not be comfortable with letting our smartphone face the world without the screen protection.
Overall, the Lenovo K3 Note's outer facade can be called decent, at best. The simplistic approach may work for users who focus on core functionality, and while it does work for us, it misses out on the added bonus that other devices with better looks and stronger builds present.
DISPLAY and UI
The Lenovo K3 Note scores high on display quality, and the originality of colours on it. The display is amply bright, with wide viewing angles that do not inflict any colour or hue shift at obtuse angles nearing the 180-degree mark. The only flaw that we could point at with the K3 Note's display is the reflective outer coating, which makes viewing content on the phone under direct sunlight quite difficult. Nevertheless, the bright display prevents it from becoming unusable, but you might find the reflection of your own head jarring.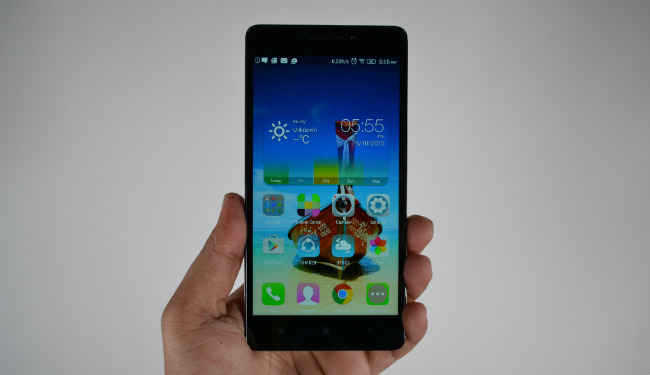 Lenovo K3 Note display: Bright, crisp, but reflective
In terms of indoor viewing, the Lenovo K3 Note is as good as you can expect. We played a few 1080p films on it, and enjoyed the experience. There is never any hint of interpolation, colours remain true to the source, and the bright screen manages backlight intensity well to not become too sharp on the eye. The 5.5-inch, IPS-panel LCD screen is large enough for viewing movies on the go, and the 1080p resolution ensures smooth playback. The screen occupies 72% of the front panel area, and the bezels are not overbearing. Additionally, touch response is very accurate. We did not experience any missed taps and swipes, and the uber-responsiveness makes for a very handy tool when typing fast or playing games.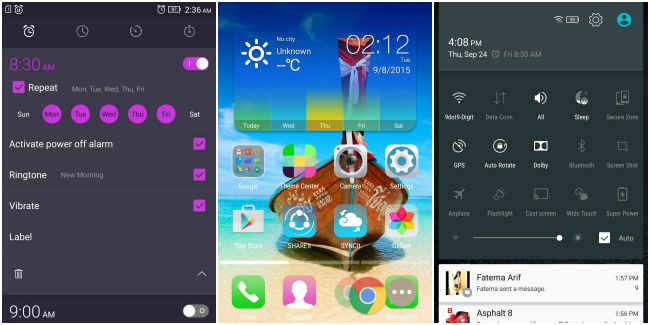 L-R: Alarm, Home screen, Notification panel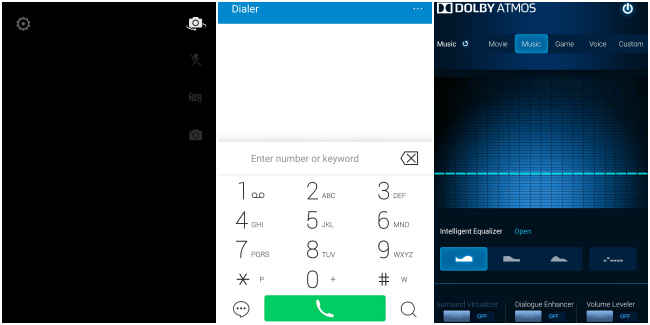 L-R: Camera, Dialer, Audio control panel
Lenovo has loaded its custom Vibe UI v2.5 on top of Android Lollipop v5.0. There are no separate Home pages/app drawer, and the custom icons are just about good to look at. However, it comes with an extensive amount of pre-loaded applications including Evernote, Asphalt 8, Guvera Music, Skype and Flipkart, along with Lenovo's own Theme Center, SYNCit and SHAREit. While a number of these applications can be deleted, many are locked. With the amount of apps pre-loaded and the free-flowing graphic animations, there is a heavy load on resources, because of which you will seldom see free memory more than 1100MB. The custom icons are decent to look at, and despite the load on memory resources, most applications run without any lags and stutters.
PERFORMANCE and BATTERY
It is here that the Lenovo K3 Note makes most of its money, and almost loses it too. The K3 Note set the benchmark test scores for its category, returning results higher than other devices by a considerable margin. In light of this, looking at its performance in terms of daily applications and services, the K3 Note lives up to its scores. Calling, messaging, browsing, music/video streaming and light gaming is smooth. With extensive usage, playing games like Subway Surfers and Jetpack Joyride seemed to take a slight strain, but there was no other rift between its scores and actual performance.
One of the biggest selling points of the Lenovo K3 Note is its superior specs-to-price ratio. It runs on a MediaTek MT6752 octa-core chipset clocked at 1.7GHz, along with Mali T760-MP2 GPU, 2GB of LPDDR3 RAM, 16GB of internal storage, and a 3000mAh battery. It features a 13-megapixel OmniVision PureCel OV13850 sensor primary camera with an f/2.0 lens and dual-tone LED flash, and a 5-megapixel front camera. Theoretically, Lenovo has presented the K3 Note as a formidable package, strong enough to ruffle feathers in its own category, and even a few above the 10k price market. In terms of the specs-to-price ratio, the Lenovo K3 Note is among the best, with the likes of Meizu M2 Note, Yu Yureka Plus and the Xiaomi Mi 4i for company.
Network retention quality is good - there were no drops in call, data or WiFi networks. In-call audio is pristine, and there are no aberrations in incoming audio via the earpiece, and the main microphone. The secondary microphone on the back, while not being the best in terms of noise cancellation and clarity of recorded audio, suffices when you need to make that emergency record, and is actually decent in closed, indoor environments.
The Lenovo K3 Note's performance in terms of everyday applications is one of the best in its class. Messaging, internet-based social media applications and services, lightweight games, music streaming, YouTube and the likes work without any glitch. Surfing Facebook and Twitter timelines with simultaneous music playback through Guvera and updating apps in the background did not lead to any stutters, and running multiple applications at the same time, even with relatively low amount of RAM available, did not lead to any difficulty in terms of regular usage. So far, the K3 Note was really impressive.

The death knell lay in opening the pre-installed Asphalt 8. The K3 Note is meant to get your essentials right, and in process, misses out on optimising gaming performance. After about five minutes into the first race, Asphalt 8 stuttered to the extent that made it unplayable. The same occurred with Marvel: Contest of Champions, which performed even worse, if that was possible. Heavy gaming, on the Lenovo K3 Note, is practically impossible. The maximum that Asphalt 8 remained playable was for 15 minutes, and that too with a large extent of stutters. The best you can do with gaming, or continued photo editing with Adobe Photoshop Express, is for 15 minutes. Photoshop becomes extensively slow, taking long times to apply filters and saving photos to device. The K3 Note, unfortunately, is just not for heavy usage.
It does pick up with the audio, though. The Lenovo K3 Note packs in a Dolby Atmos audio chip, delivering stellar audio quality within its budget segment. Audio quality through headphones is excellent - put your favourite pair of headphones on, and you will not have a single ounce of disappointment. The speaker on the rear is loud, and surprisingly clear for a cellphone's native speaker. We played a host of different tracks, ranging from streaming online at 64Kbps, to high fidelity 320Kbps audio tracks from Pink Floyd's The Wall. Well done, Lenovo. Well done, Dolby.
While the K3 Note's battery life is not really commendable, it is not bad, either. On an average day's usage of making calls, messaging, occasional music playback and about one hour of playing White Tile, the K3 Note returned home with almost 15% of charge left. It does what every smartphone around it is doing - last an entire day. Our battery test returned a battery life of 8 hours and 20 minutes - standard performance. Continued gaming was difficult, but the battery drain was low. The K3 Note drained 11% of the battery in 30 minutes of gaming - decent, considering that most phones discharge the first 20% quite rapidly. As mentioned before, the Lenovo K3 Note is all about getting the essentials correct. It does miss out on high-octane performance, but with the main focus being on users with a utility-centric approach, the K3 Note works just fine.
CAMERA
In broad daylight, the Lenovo K3 Note takes decent photographs. Low light photography is not the best around - images often appearing blurry and pixelated. The main issue with low light photography is in the K3 Note's image stabilisation, which is weak. The shutter, along with the camera application, is fast, light and responsive. Video recording is reasonably smooth, and there is little interpolation unless you shoot fast-moving objects, or pan the camera fast. The front camera is very good in well-lit environment, and decent even in dimly-lit conditions. Video recording with the front-facing camera is also decent, making the overall camera unit of the Lenovo K3 Note a well-performing camera for its price.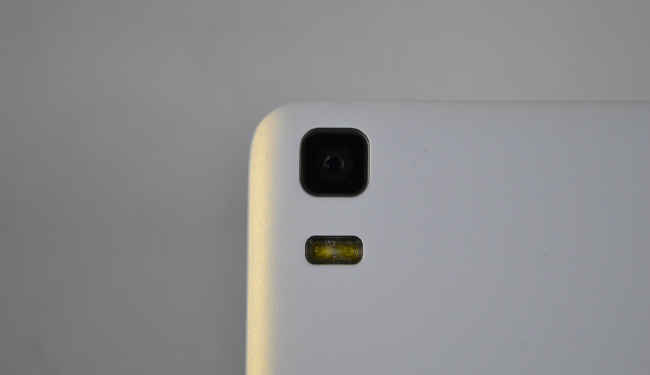 The K3 Note's camera performs well in certain conditions, but fails in low light photography
Check out photographs taken by the Lenovo K3 Note's camera in the album below:
BOTTOMLINE
The Lenovo K3 Note is one of those devices that really gets its essentials correct. In terms of everyday usage, its competence is unquestionable. It has a good display, very good audio output, a decent camera unit, and possibly the best performance in terms of lightweight usage that any smartphone within the sub-10k budget segment has to offer. The only place where it misses out is the below-par gaming performance. If your priority is for a smoothly-functioning Android smartphone which will see you through the day's essentials without breaking a sweat and saving some battery too, the Lenovo K3 Note is your phone. Alternatively, the Meizu M2 Note makes for a better device at the same price point, giving similar or better performance, along with featuring a better display and camera.