Sony VAIO Tap 20 detailed review
The Sony VAIO Tap 20 (SVJ20236SNWI) is among the first wave of all-in-one desktop / tablet hybrid device that we received which has a built-in battery to boast of. Having had the chance to review all-in-one desktops for several years now, it's great to see all-in-one desktops finally come packed with built-in batteries. And looking at the Sony VAIO Tap 20, it's unlike any other all-in-one desktop PC we've seen in the past year or so. It's not the same as the Android-powered HP Slate 21 or the ASUS AiO Transformer P1801 for that matter, making us wonder: is it a desktop or is it a tablet?

Build and design
Sony traditionally makes well-designed products that look good, and it's the same story with this desktop tablet hybrid. The 20-inch wide frame of the Sony VAIO Tap 20 is built well, with a thin bezel and nice finish that oozes premiumness and style all around. The body is predominantly of high-grade plastic, with a foldable metal stand that props the unit up like a photo frame. Its two-toned black and white finish looks great, and when viewed from the front the Sony VAIO Tap 20 AIO resembles a giant Windows 8 tablet. It can lie completely flat on its back panel, allowing you to use and interact with its multitouch screen as large tablet PC with friends – or give you a whole new perspective on watching videos at the dinner table.

The 20-inch, 1600x900 pixel resolution screen of the VAIO Tap 20, and its pristine white back panel.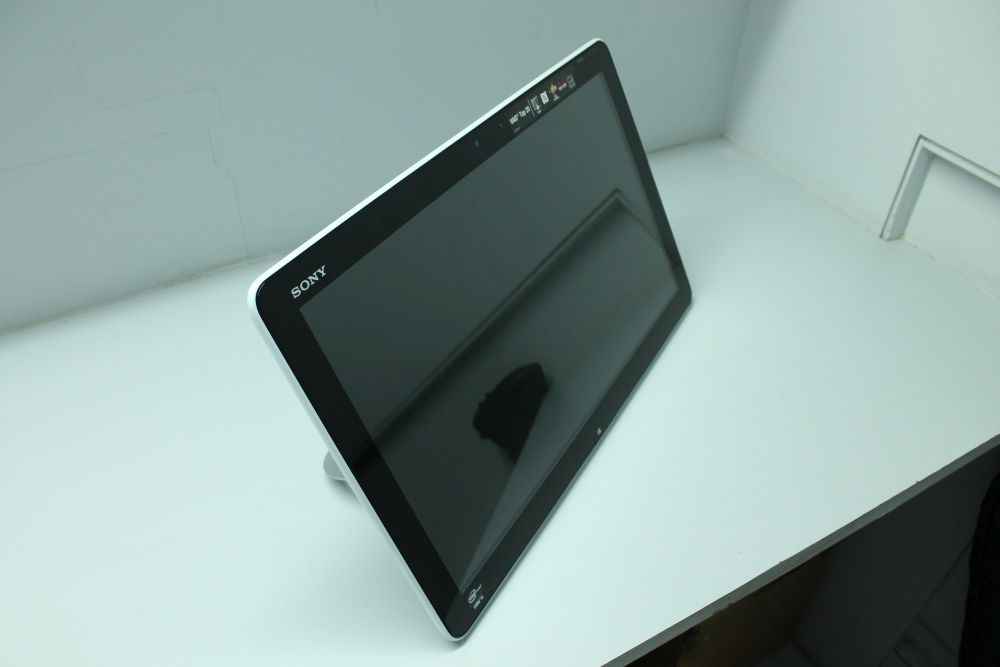 Having said that, there's no doubt that the Sony VAIO Tap 20 is a bit too heavy to be used as a tablet constantly while you're slouched on a sofa. Not only is it too heavy at 5 kg, it's also too big in terms of form factor, which isn't readily portable, and this will definitely pose no threat to the iPads and Galaxy Tabs of the tablet world. Primarily, the VAIO Tap 20 is a style-savvy, luxury desktop that will make heads turn in your living room.
Features and Performance
The 10 finger multitouch screen is quite responsive, especially during simultaneous multi-user interactions e.g. while playing games or painting on the VAIO Tap 20's canvas, and there's no navigational nag to talk about. Despite not being an IPS display, the Sony VAIO Tap 20 all-in-one desktop tablet hybrid's screen viewing angles are pretty good, with little or no colour shift even at extreme viewing angles. However, it's screen does attract fingerprint smudges very easily, which is a constant nuisance. The built-in NFC capability of this device is also something unique to the VAIO Tap 20 -- this is the first NFC enabled AIO desktop tablet hybrid we've witnessed. The feature works similar to how it operates on NFC-enabled phones, and is a convenient way to drop images and videos from your phone or tablet onto the VAIO Tap 20 effortlessly. The built-in webcam is good enough for video chats over the web.
The Sony VAIO Tap 20 isn't an extraordinary all-in-one desktop or tablet hybrid, when it comes to hardware features. It packs in a decent set of internal hardware, nothing too great. Connectivity ports on its left and right edges include two USB 3.0 ports, SD Card slot, headphone, mic, and ethernet jacks. It has no optical drive, which is a bit of a shame considering its desktop DNA, but not a big concern if you don't deal much with optical media. The machine handles regular PC-related work, like surfing the Web, working on productivity tools, listening to music, etc., quite well and multitasks efficiently despite its ULV processor and average RAM offering. If you look at the VAIO Tap 20 as a giant tablet, you'd pleased to know that the bundled desktop-grade Windows 8 OS makes it better than the "restrictive" work environment found on Apple and Android tablets.
The wireless keyboard and mouse accompanying the Sony VAIO Tap 20. Click to enlarge.

The bundled wireless keyboard and mouse connect effortlessly with the Sony VAIO Tap 20 and work well overall. The keyboard has chiclet-styled keys that are nice to type on, and there's no lag whatsoever. The mouse, however, has an odd shape, and can take some time getting used to in terms of gripping it properly. In terms of its multimedia potential, watching movies and videos was a pleasant experience on the VAIO Tap 20 -- despite its non Full HD screen, the display kept up with fast-paced visuals with a healthy amount of visual brilliance. Watching movies is great fun on the VAIO Tap 20.
The desktop tablet hybrid's onboard stereo speakers, which come equipped with a subwoofer (situated at the top on the back panel), are quite pleasant to listen to. They aren't loud enough to fill a large room, but adequate for personal entertainment, with largely distortion-free audio even at high volume levels. Don't even think of gaming on the Sony VAIO Tap 20, as it only comes fitted with Intel HD 4000 graphics (along with an Intel Core i5-3337U 1.80 GHz chip, 4GB DDR3 RAM, 500GB HDD) which is limited to watching HD videos and not gaming. Why Sony wouldn't include a high-speed SSD into this device (which sells at 70k) is something that bewilders us as much as the VAIO Tap 20's potential customers – this is simply inexcusable on Sony's part.

Sony VAIO Tap 20's connectivity ports: USB 3.0, SD Card slot, headphone, mic and an Ethernet jack
The built-in battery of the Sony VAIO Tap 20 isn't much to talk about either. Because of its large screen, which is the number one reason behind battery drain, the AIO tablet hybrid barely lasts the full length of 2 hours, just enough to let you watch a Hollywood flick, we reckon. This is nowhere close to the performance you get on a laptop, ultrabook or a 10-inch tablet, for instance. So if you're buying this with the expectation of using it like a wire-free tablet for 6-7 hours, you'll be in for a disappointment with the Sony VAIO Tap 20. If it were running on Intel's new
Haswell
chips, instead of the pre-existing Ivy Bridge CPU, may be the story would've been better in the battery department.
The VAIO Tap 20's touchscreen is a fingerprint magnet
Bottomline
As an idea this Sony desktop-tablet hybrid isn't without its merits, but it's still far from perfection. If you always dreamt of buying a stylish, space-saving all-in-one desktop with a built-in battery, the Sony VAIO Tap 20 is worth looking into. It has great looks and design, decent hardware that performs well, and offers good multimedia potential. However, it's rather large for a tablet when it comes to personal use, and quite cumbersome to move around. If you're looking for other options, check out the
HP ENVY Rove 20
desktop-tablet hybrid AIO PC.