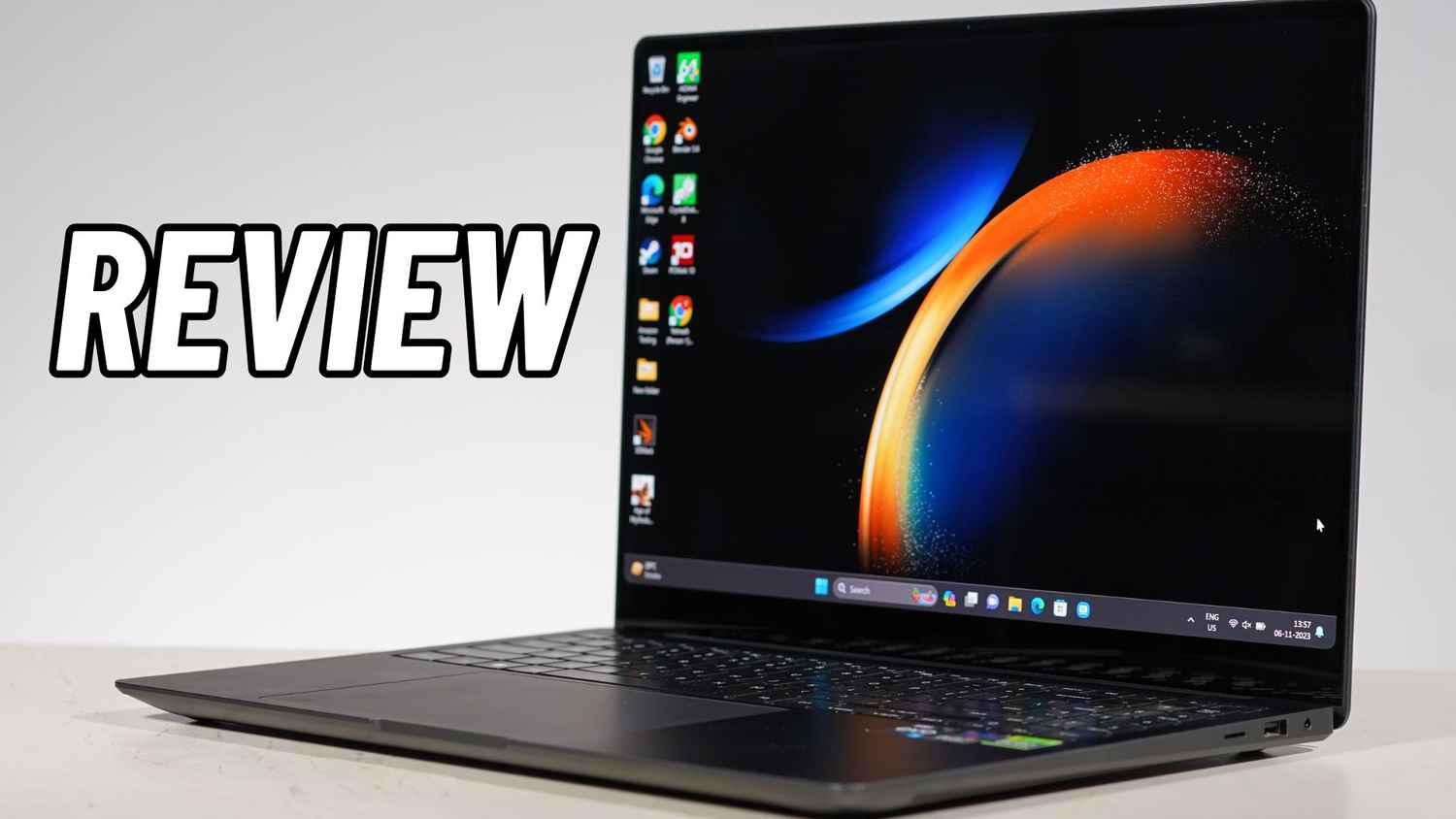 VERDICT:
The Samsung Galaxy Book3 Ultra stands out as a formidable contender in the creator laptop arena. With a high-performance Intel Core i9-13900H, 32GB of RAM, and an NVIDIA GeForce RTX 4070 GPU, it powers through demanding tasks effortlessly. The stunning 16-inch 3K AMOLED display with a 120Hz refresh rate, coupled with a spacious, responsive trackpad and comfortable keyboard, enhances productivity and creativity. Though it's not the most color-accurate, the vibrant display and high color space coverage make it a visual treat. Solid build quality and premium design elements solidify its status as a top-tier, versatile device for professionals.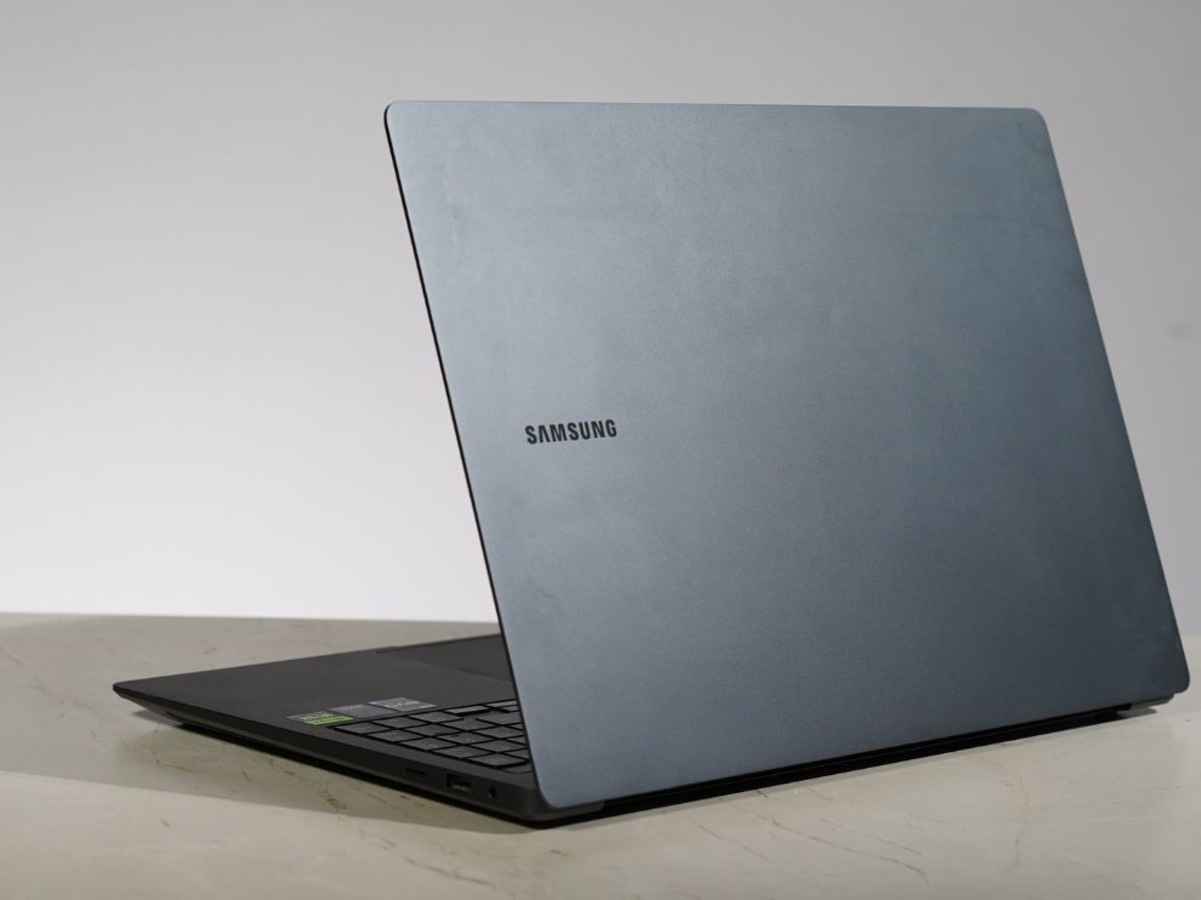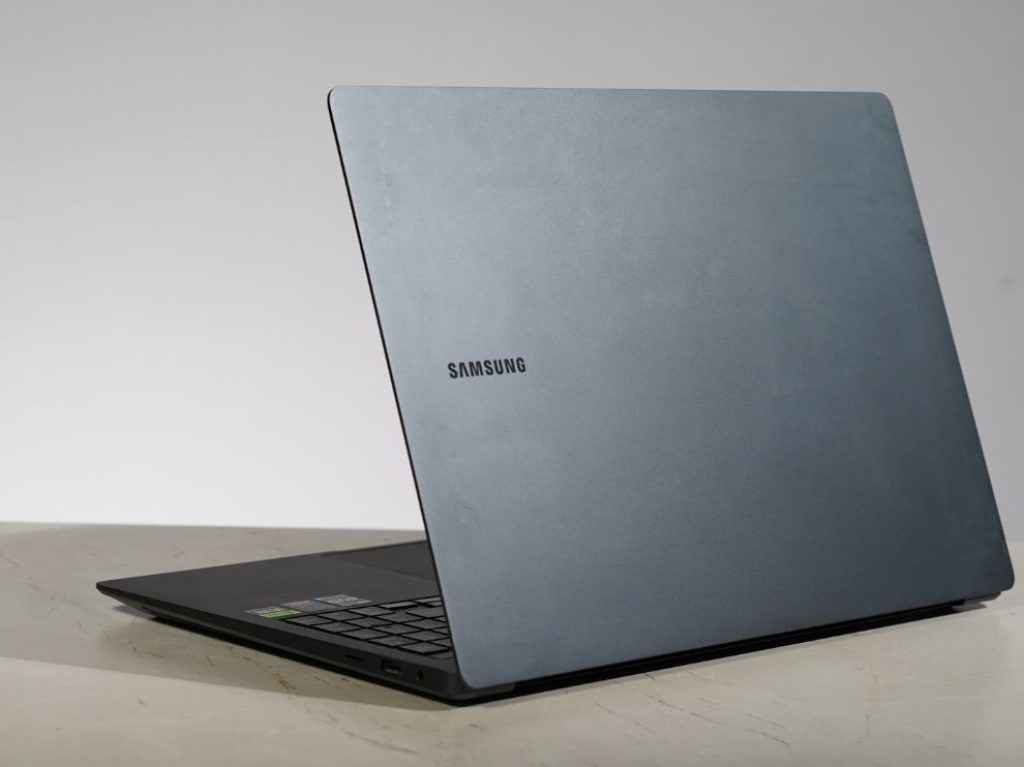 Alright, here's the Samsung Galaxy Book3 Ultra review and I had a pretty fun time writing it. See, if you're in the market for a laptop that's all about doing the heavy lifting without breaking a sweat, this one's been creating quite the buzz. I'm diving into this review to see if it's really the big deal everyone's saying it is.
The Galaxy Book3 Ultra is what we're focusing on, and it's like Samsung threw everything but the kitchen sink into this baby. It's got a screen that'll make your eyes pop, a processor that chews through tasks like it's nothing and a look that'll have you wanting to show it off. But I'm not just going to take their word for it – I'll be putting this laptop through its paces to see if it lives up to the hype.
We're talking about a laptop that's aiming to please the crowd that needs their tech to keep up with their fast-paced life. Whether you're punching out spreadsheets, editing your latest vlog, or just binge-watching your favorite show, the Galaxy Book3 Ultra claims to handle it all with ease. I'll be checking out everything from how long it can go without a charge to how smooth it'll run your games and everything in between.
So, grab a seat, and let's get into it. This review is going to give you the lowdown on the Galaxy Book3 Ultra, with all the nitty-gritty details to help you figure out if this is the tech upgrade you've been looking for. Let's see if this laptop is really as ultra as it says it is.
Samsung Galaxy Book3 Ultra Specifications
Processor: Intel Core i9-13900H, with i7 speeds up to 5.0 GHz and i9 speeds up to 5.4 GHz.
Graphics: NVIDIA GeForce RTX 4070
Memory: 32 GB RAM LPDDR5 RAM running at 6400MHz.
Storage: 1 TB SSD with support for up to 2 TB of expandable storage.
Display: 16-inch 3K (2880 x 1800) AMOLED screen with a 120Hz refresh rate.
Ports: Includes HDMI 2.0, two Thunderbolt™ 4, USB-A 3.2, MicroSD slot, and a combo headphone out/mic-in.
Speakers: Quad AKG speakers with Dolby Atmos.
Web Camera: 1080p full-HD webcam.
Battery Capacity: 76Wh battery with fast charging support.
Weight: 1.79kg.
Operating System: Windows 11 Home.
Connectivity: Equipped with Wi-Fi 6E (Gig+), 802.11abgn/ac/ax, and Bluetooth v5.1.
Security: Includes TPM and a fingerprint reader for security.
Dimensions: Length – 355 mm, Width – 250 mm, Height – 17 mm
Samsung Galaxy Book3 Ultra Review: Design, Build Quality, Keyboard, And Trackpad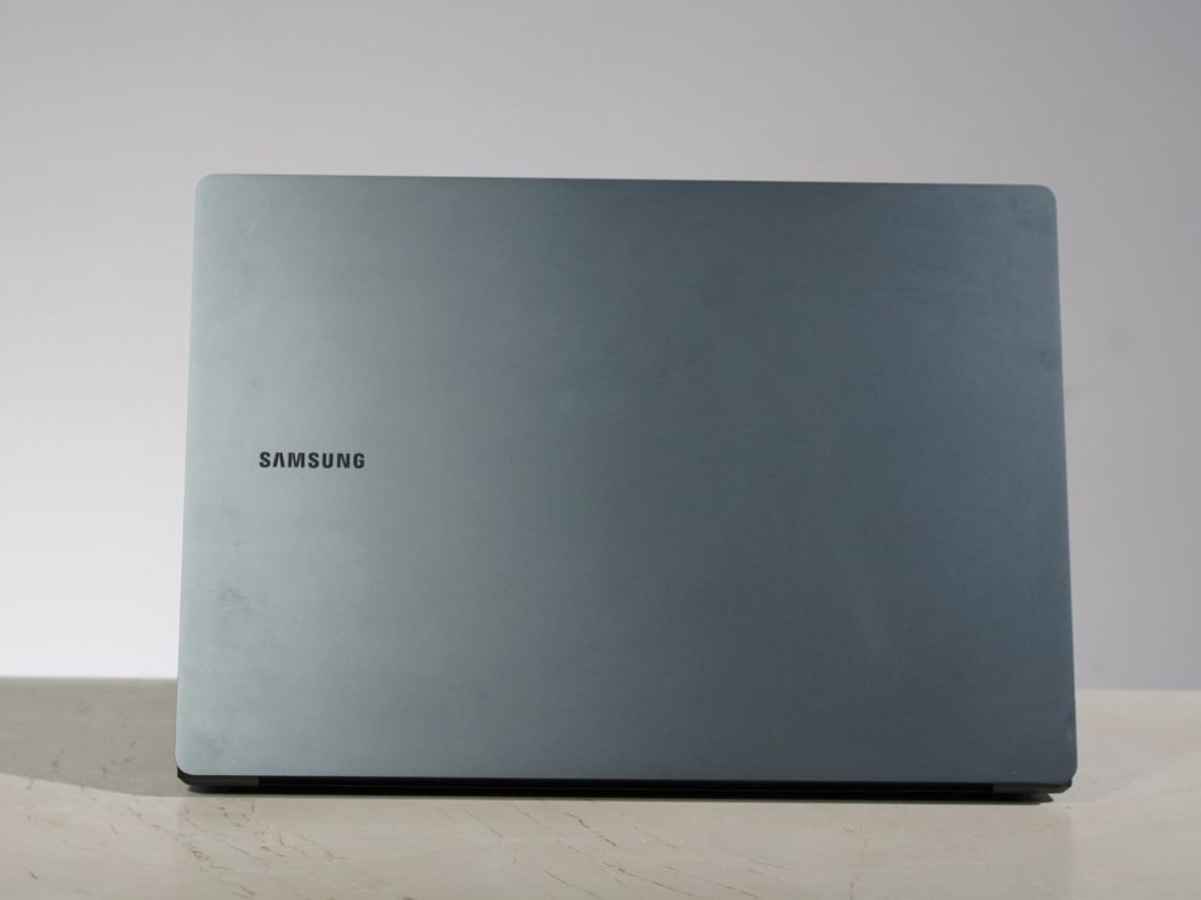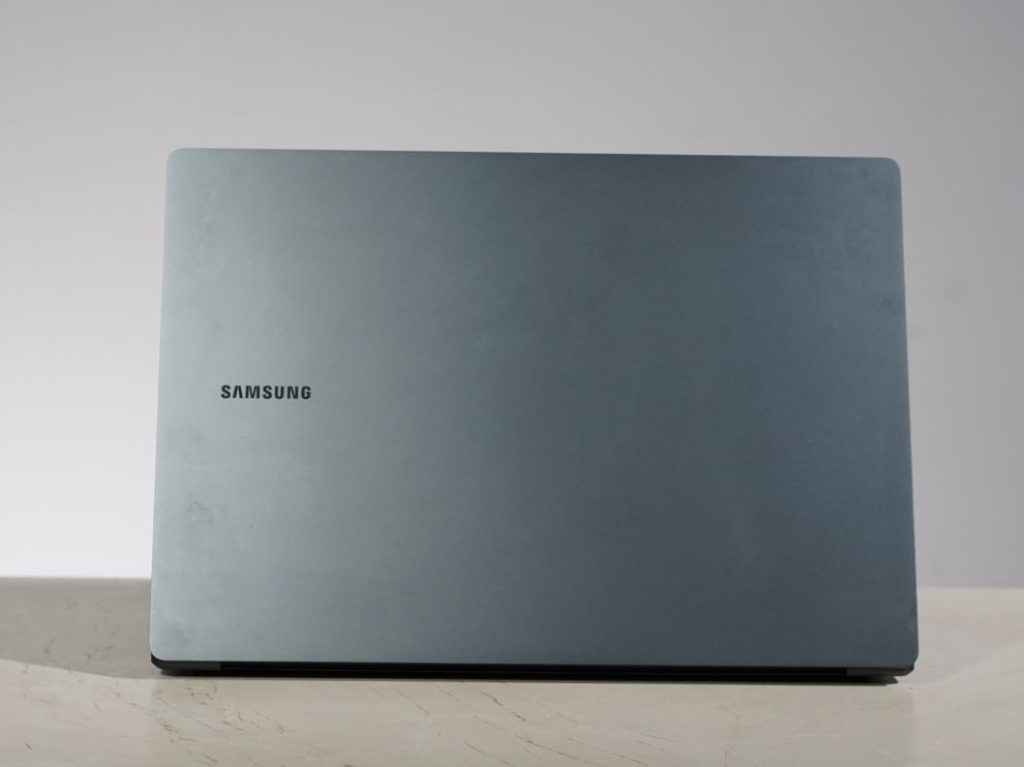 The design of the Samsung Galaxy Book3 Ultra is clean and modern, with a no-frills approach that keeps things professional. It's slim and doesn't scream for attention, yet it has a quality feel that suggests it's not just another laptop. The color and finish are chosen for a look that's versatile enough to fit anywhere, from a casual café to a corporate boardroom. It's clear that Samsung aimed for a design that would be timeless rather than trendy, ensuring the Galaxy Book3 Ultra looks good now and will still hold up in the years to come. The clean lines and refined finish give it an air of elegance that stands out in a sea of plastic-clad notebooks.
When you're investing in a premium device, you want something that's built to last, and the Galaxy Book3 Ultra delivers. It feels robust enough to take the knocks and bumps of daily travel, yet it doesn't compromise on its lightweight charm. The chassis is rigid, likely thanks to some high-grade aluminum, and it's got the kind of build that reassures you that the premium you paid was worth it. This is a machine that feels like it'll maintain its integrity long after the latest specs have become yesterday's news.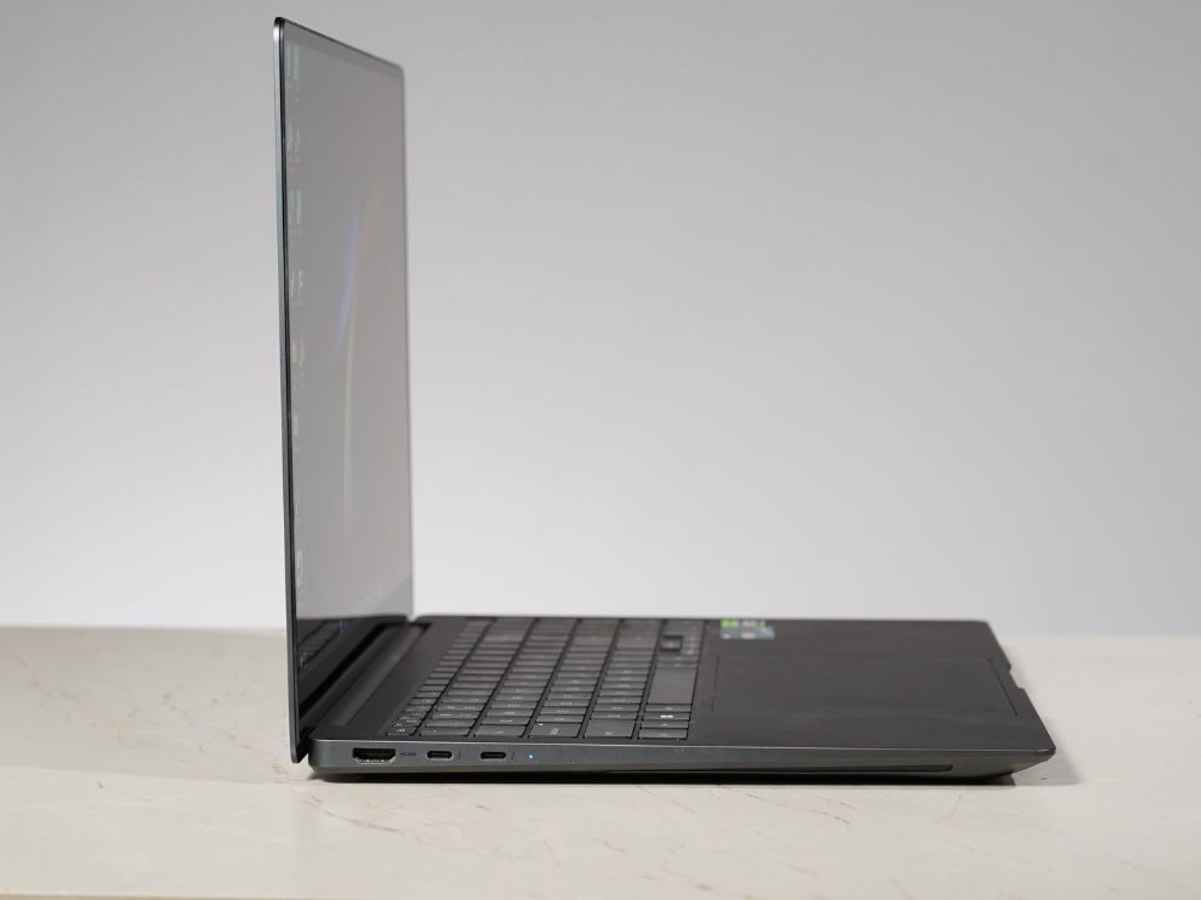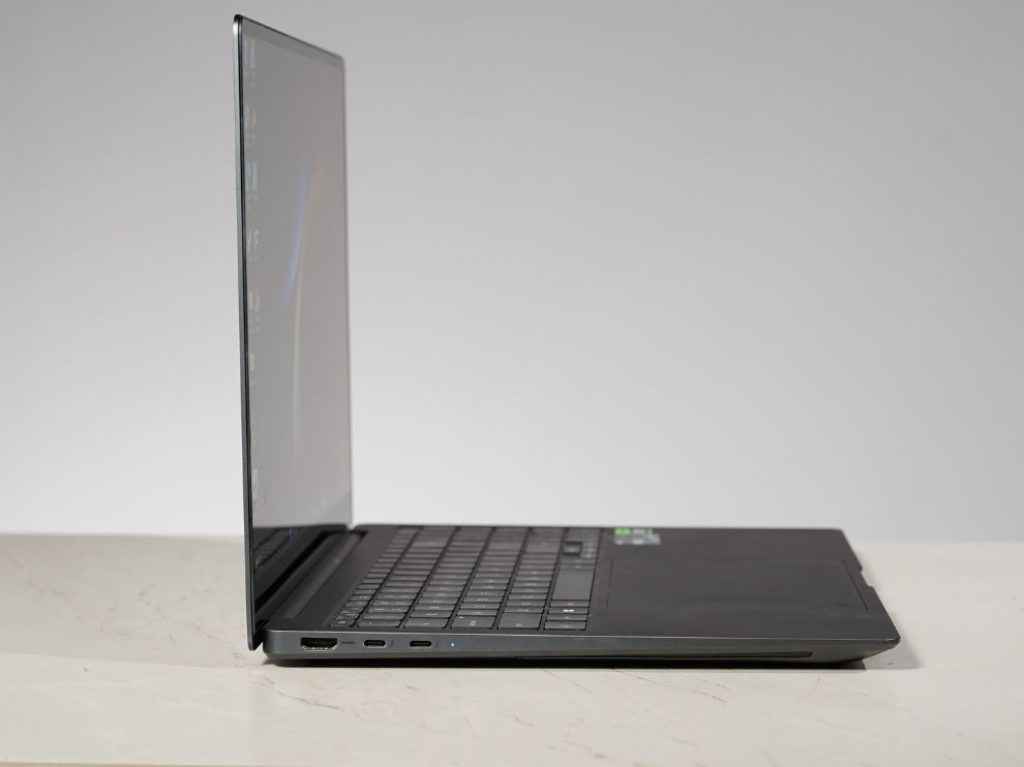 The keyboard on the Galaxy Book3 Ultra is a tactile delight, striking a balance between responsiveness and comfort. The Samsung Galaxy Book 3 Ultra's keyboard has a key travel of 1 mm, which is on the lower end of the spectrum. The keystrokes are satisfying, giving you that immediate feedback that's so crucial for fast typists or those late-night essay crunches. It's not just functional; it's designed with user comfort in mind, ensuring that even after hours of typing, you won't feel like your fingers have run a marathon. The LED backlighting is the cherry on top, illuminating the keys with a soft glow that doesn't tire your eyes, even as it guides your fingers in low-light conditions.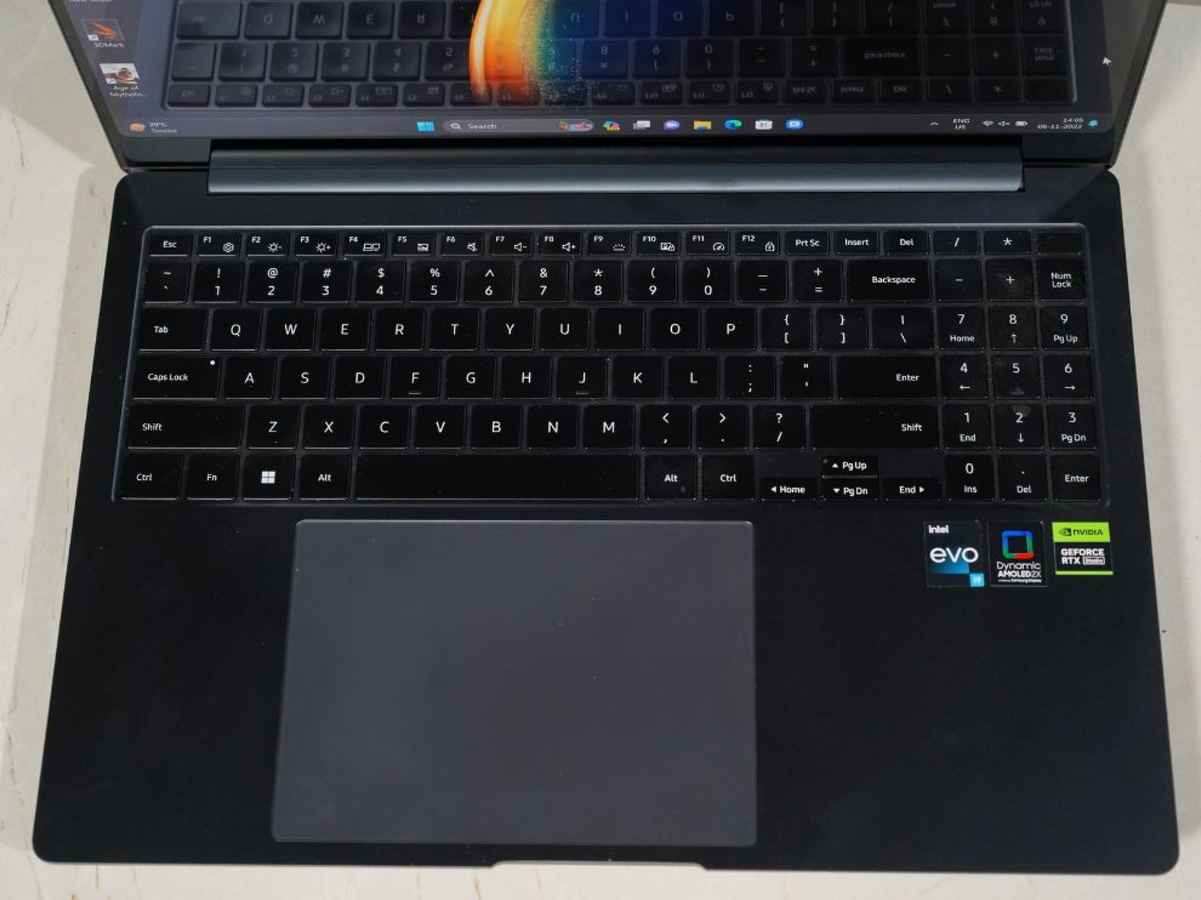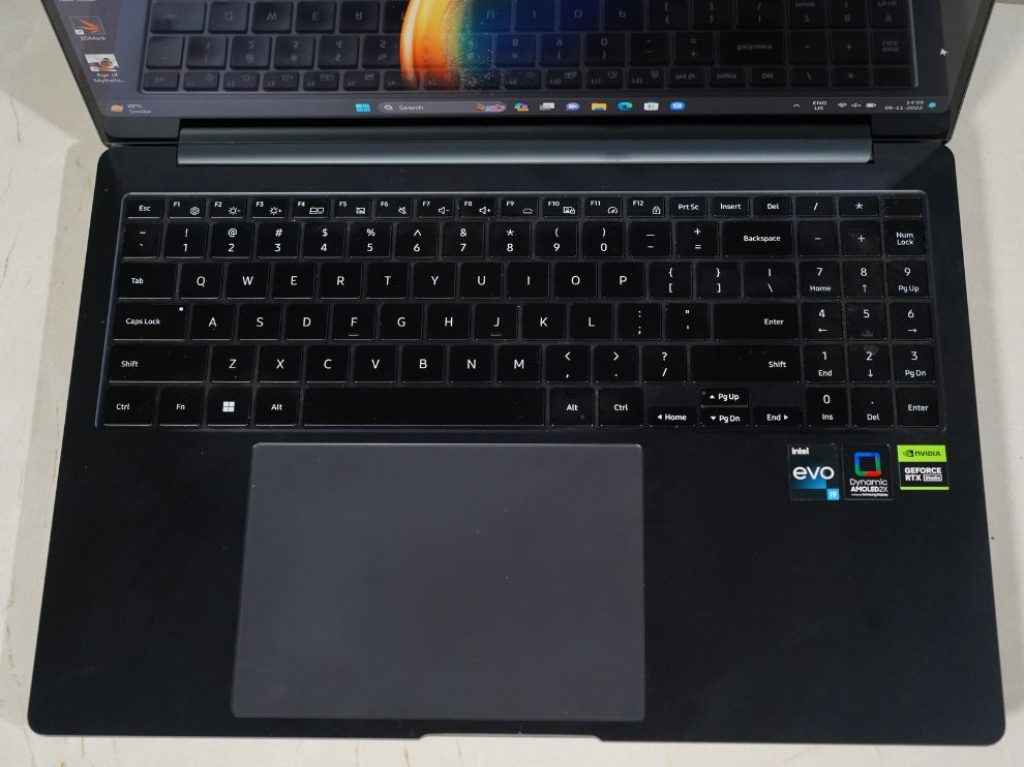 The trackpad on the Galaxy Book3 Ultra is what you'd want in a laptop: big, responsive, and no-nonsense. It's got plenty of room, so you're not constantly bumping into the edges, and it reads your swipes and taps accurately without any lag. The surface is smooth, making for easy navigation, and the click is satisfying without being too loud. It's precisely the kind of trackpad that gets the job done well, which is what you need whether you're working through a spreadsheet or scrolling through your social media feed. It's all about function meeting form in a way that feels effortless.
Samsung Galaxy Bool Ultra: Screen And Speakers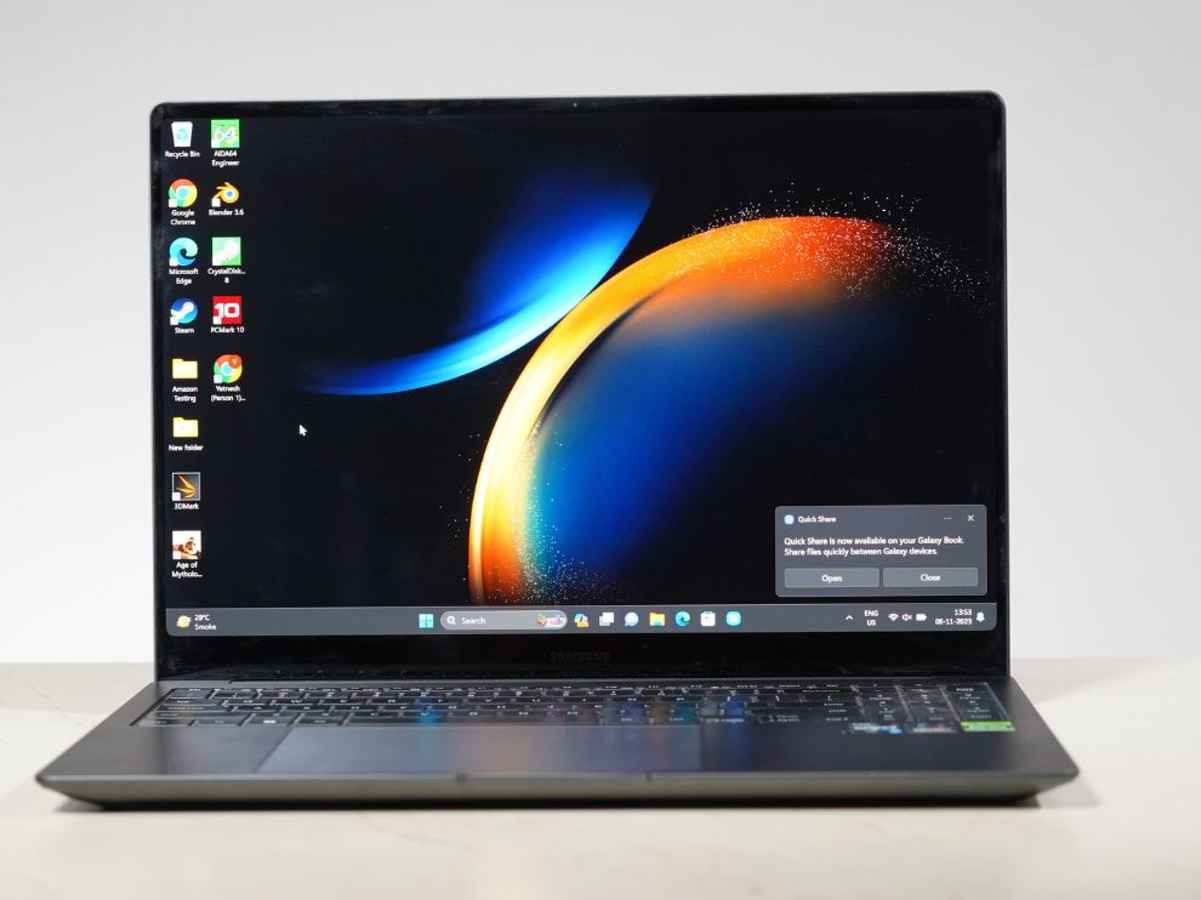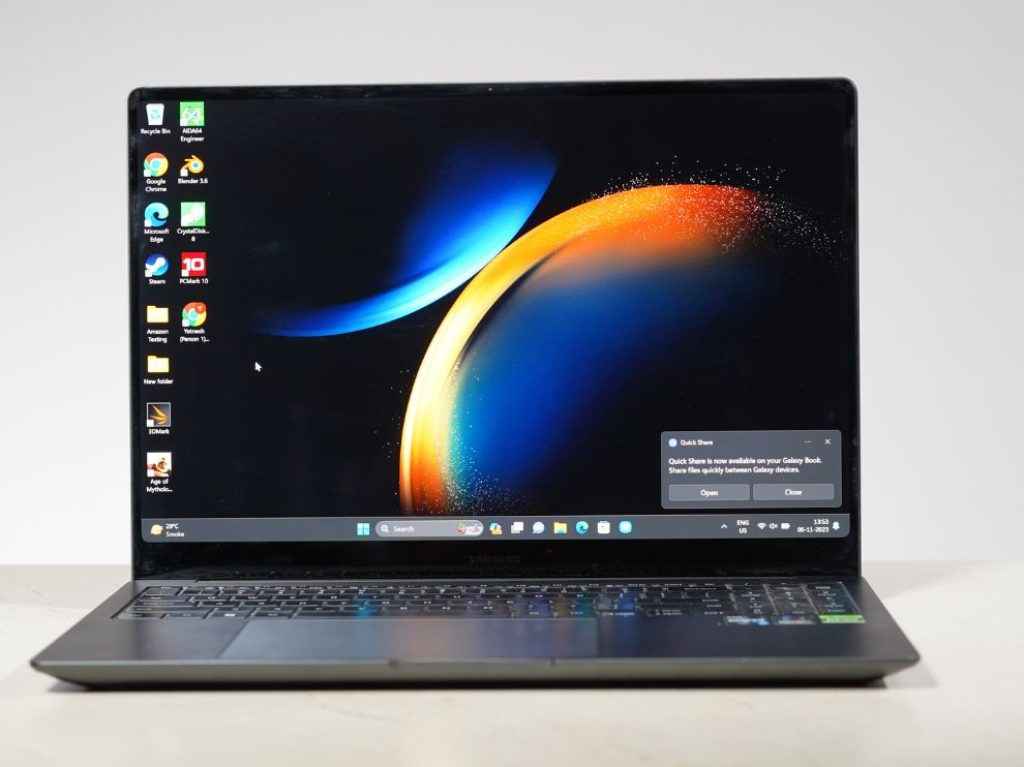 The Samsung Galaxy Book3 Ultra, which has been garnering attention for its impressive features, is a topic of interest for many tech enthusiasts looking for a comprehensive review. This device boasts a sizable 16-inch AMOLED display that brings visuals to life with a pixel-packed 3K resolution of 2880×1800 pixels and a fluid 120Hz refresh rate, making for smooth scrolling and crisp image quality. For those seeking an in-depth Samsung Galaxy Book3 Ultra review, it's noteworthy to mention that the AMOLED panel is known for its vibrant colors and deep blacks, enhancing contrast and overall viewing experience.
With a screen-to-body ratio facilitated by a 16:10 aspect ratio, the display is both expansive and immersive, offering more vertical space, which is beneficial for productivity tasks like document editing and web browsing. The display's quality extends to its brightness, averaging around 399.3 cd/m² with a peak of 412 cd/m² (nits), which indicates that the screen is sufficiently bright for indoor use and competent for some outdoor scenarios, although, in direct sunlight, visibility may be affected due to the reflective surface of an OLED panel.
This level of brightness is typically considered good among laptops, allowing for clear visibility in various lighting conditions. Viewing angles on AMOLED screens are generally excellent, providing consistent colors and contrast from off-center perspectives. This ensures that the image quality remains stable even when viewed from the side, making it good for sharing content with others around you.
One thing to note, however, is that the OLED panel can exhibit flickering at brightness levels of ≤ 100 percent at a frequency of 240Hz due to the brightness control of the panel, which might be sensitive to some users. This is something to consider if you are sensitive to screen flickering or if you're using the laptop for extended periods.
Overall, the Samsung Galaxy Book3 Ultra's display is crafted for those who demand high-quality visuals, whether for work or entertainment, offering a robust balance of resolution, refresh rate, and color fidelity that should satisfy both everyday users and demanding professionals.
In my testing, I found that the Samsung Galaxy Book3 Ultra has an sRGB colour space coverage of 151%. Such a high colour space coverage suggests that the display can reproduce a much wider range of colors than the standard sRGB space, leading to more vibrant and diverse colors​​.
DCI P3 is a color space with a wider gamut than sRGB, used mainly for digital movie projection and by Apple Inc. for wide-gamut displays. It's particularly strong in the green to red regions of the color spectrum. At 99% coverage, the Galaxy Book3 Ultra's display is able to represent almost all of the colors within this space, which is excellent for a laptop display and indicates that the content will have a cinematic color quality, especially beneficial for video and photo editing where color precision is key​.
Delta E is a metric that measures the difference between a displayed color and the actual color that should be displayed. It's used to determine color accuracy, with a lower number indicating higher accuracy. The laptop's Delta E value of 5.1 means that there are noticeable color differences to the discerning eye, which might not be ideal for color-critical work. However, for general use, it may not be a significant issue​.
Based on these figures, the Samsung Galaxy Book3 Ultra's display seems to have excellent color coverage in both sRGB and DCI P3 spaces, suggesting that it will display vibrant and accurate colors. The brightness is also good, meaning the laptop should be usable in most lighting conditions. However, the Delta E value indicates that there might be some color inaccuracies, which could be an issue for professionals who need precise color representation.
The Samsung Galaxy Book3 Ultra comes equipped with a new quad speaker system, designed to elevate the audio experience significantly. This system provides a more refined sound, ensuring that high notes are delivered with clarity and the bass resonates with richness. The improvement in the audio department aims to provide an immersive listening experience, whether you're enjoying media, engaging in gaming, or listening to music.
In addition to the enhanced speaker system, the Galaxy Book3 Ultra features studio-quality dual microphones complemented by AI Noise Canceling technology. This combination is particularly beneficial for voice clarity during video calls, reducing unwanted background noise and ensuring that your voice is captured with precision. The focus on audio quality reflects a broader commitment to professional-grade communication tools, recognizing the importance of clear and effective audio in our daily virtual interactions.
Samsung Galaxy Book3 Ultra Review: Performance
The Samsung Galaxy Book3 Ultra performs really well. It should because it is packing some really powerful internals. Starting with the Intel Core i9-13900H, a 14-core CPU with support for up to 20 threads and a boost clock speed of up to 5.40GHz. Moreover, the CPU also has the Intel Evo certification.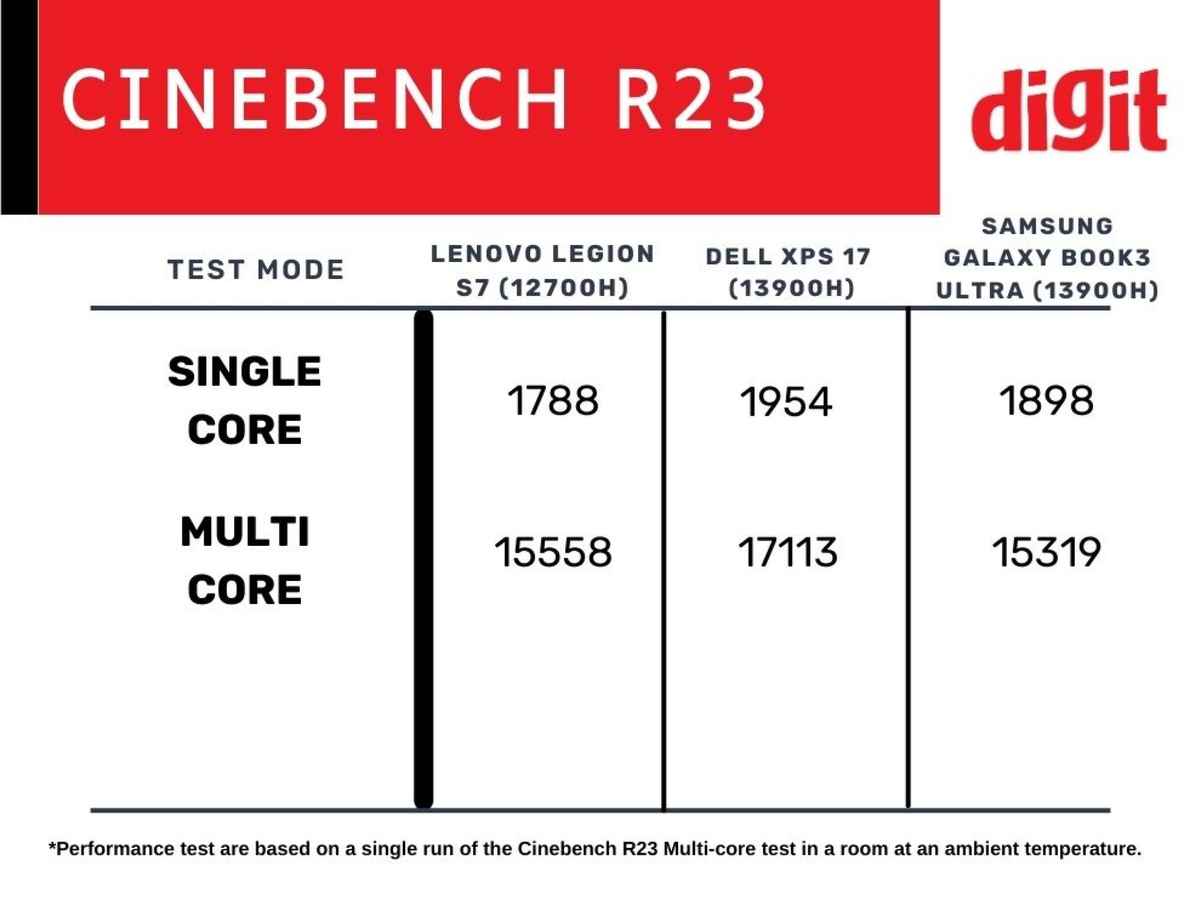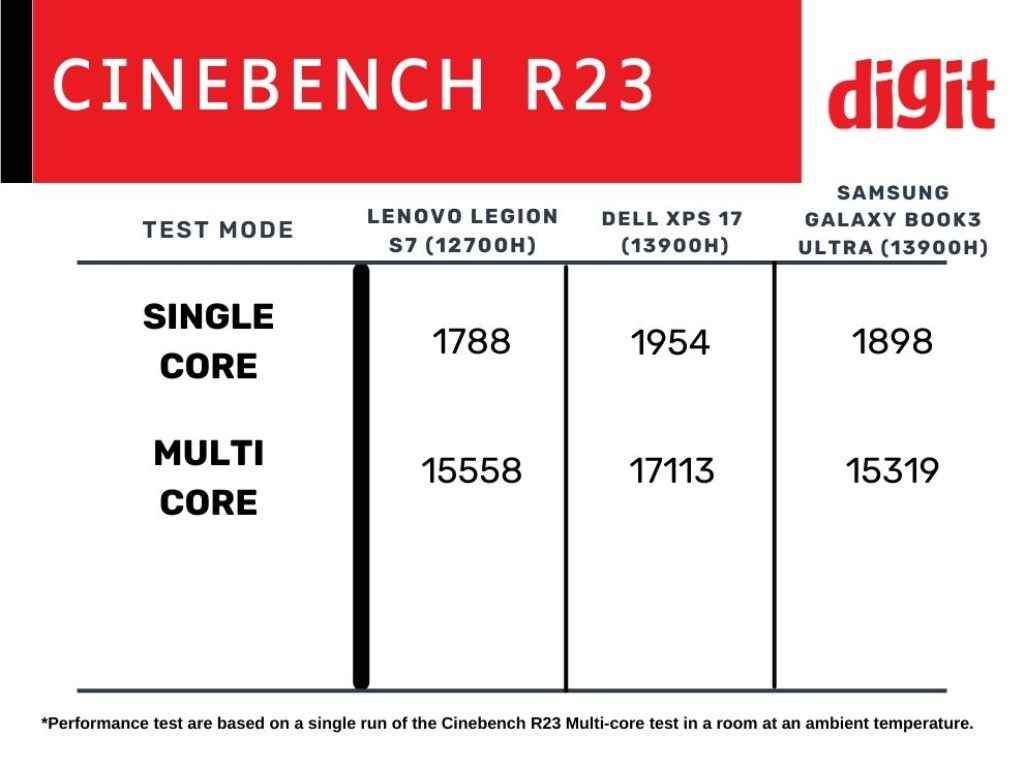 Intel Evo certification indicates a laptop meets stringent performance criteria, including 9+ hours of battery life, instant wake from sleep, fast charging over USB-C, and advanced connectivity features like Thunderbolt 4 and Wi-Fi 6E. And the Samsung Galaxy Book3 Ultra has all these features.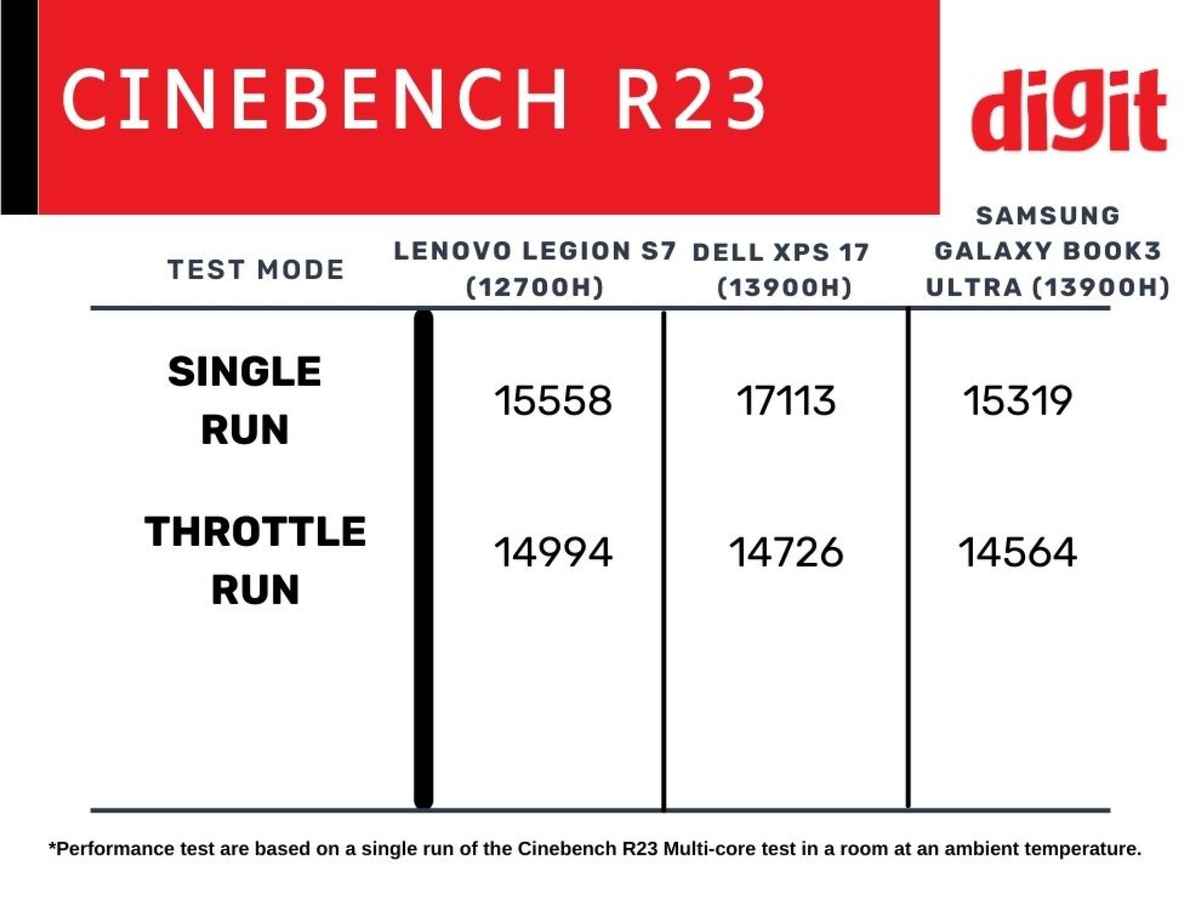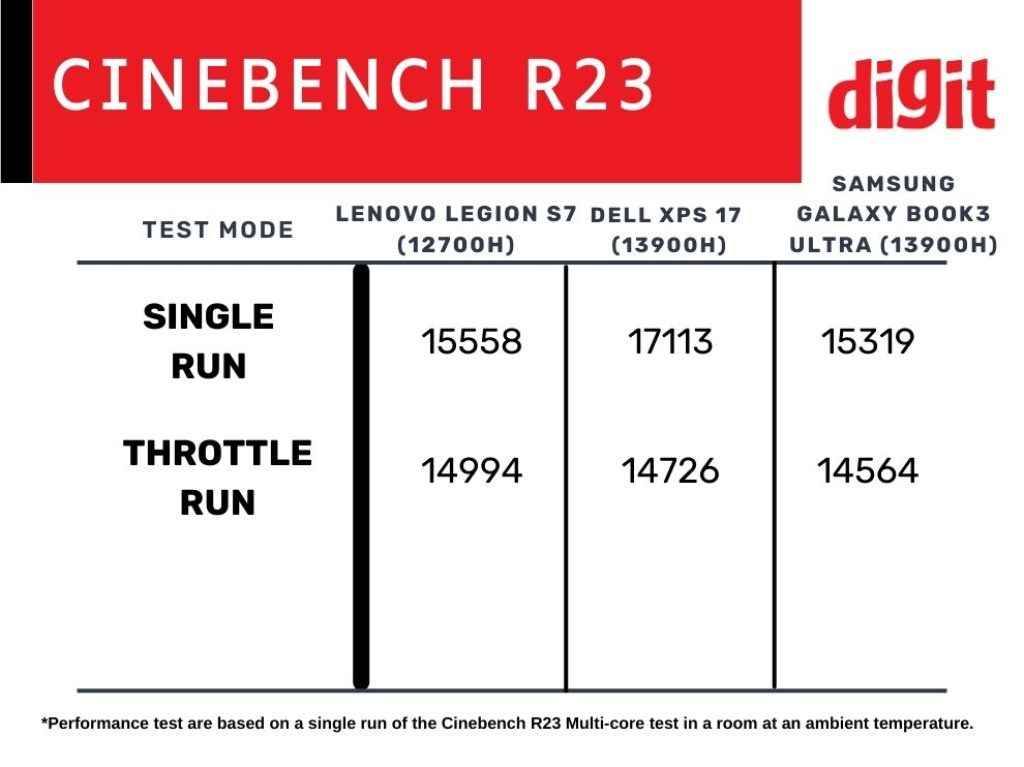 The Evo-certified Core i9 CPU is really one of the best things about the laptop. For starters, it consumes 55W consistently during heavy workloads without any major drop in CPU package power. Indicating that the chip experiences minimal thermal throttling. The minimal performance drop is also clearly visible in the Cinebench R23 throttle test.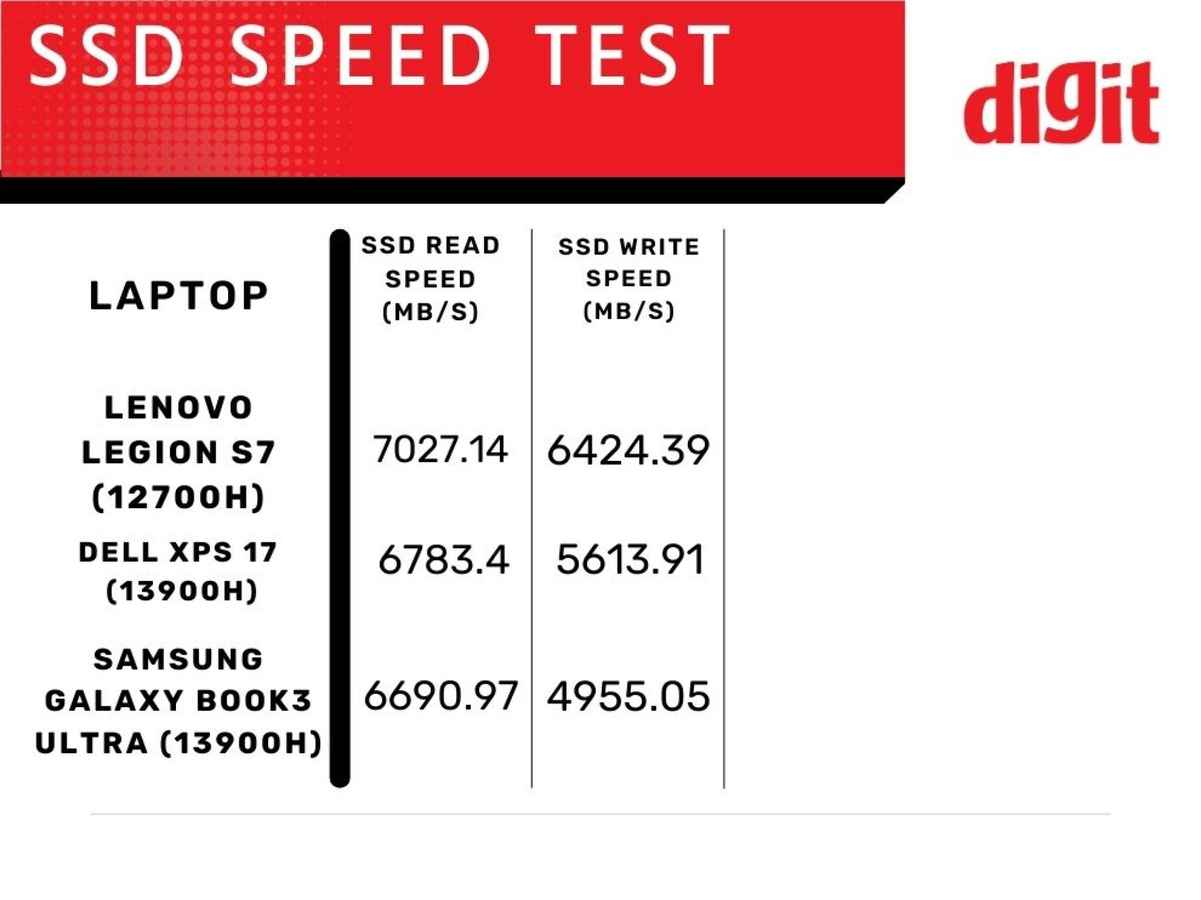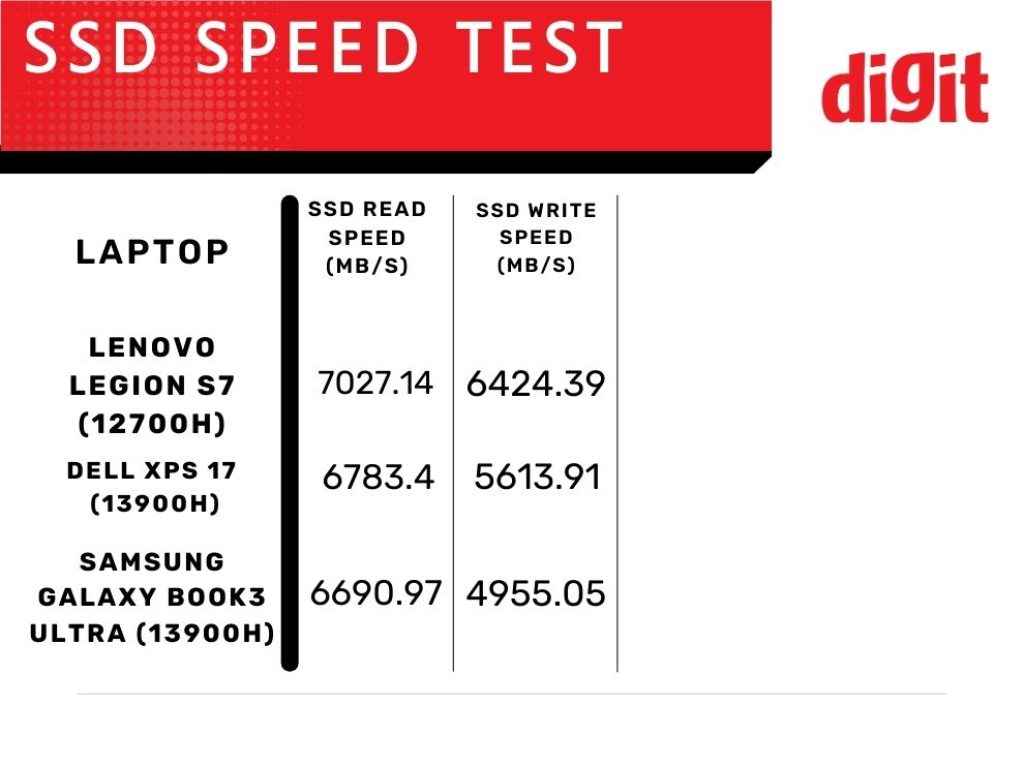 With a drop of around 700 points during a 10-minute throttling test, I'd describe the resulting performance of the Intel Core i9-13900H as solidly consistent. Similarly, the Nvidia RTX 4070 GPU is also deserving of praise. It has a 60W TGP, and in my testing, I found that the GPU core power easily ranges between 55-60W. What this means is that the GPU uses the full spectrum of power that is available to it.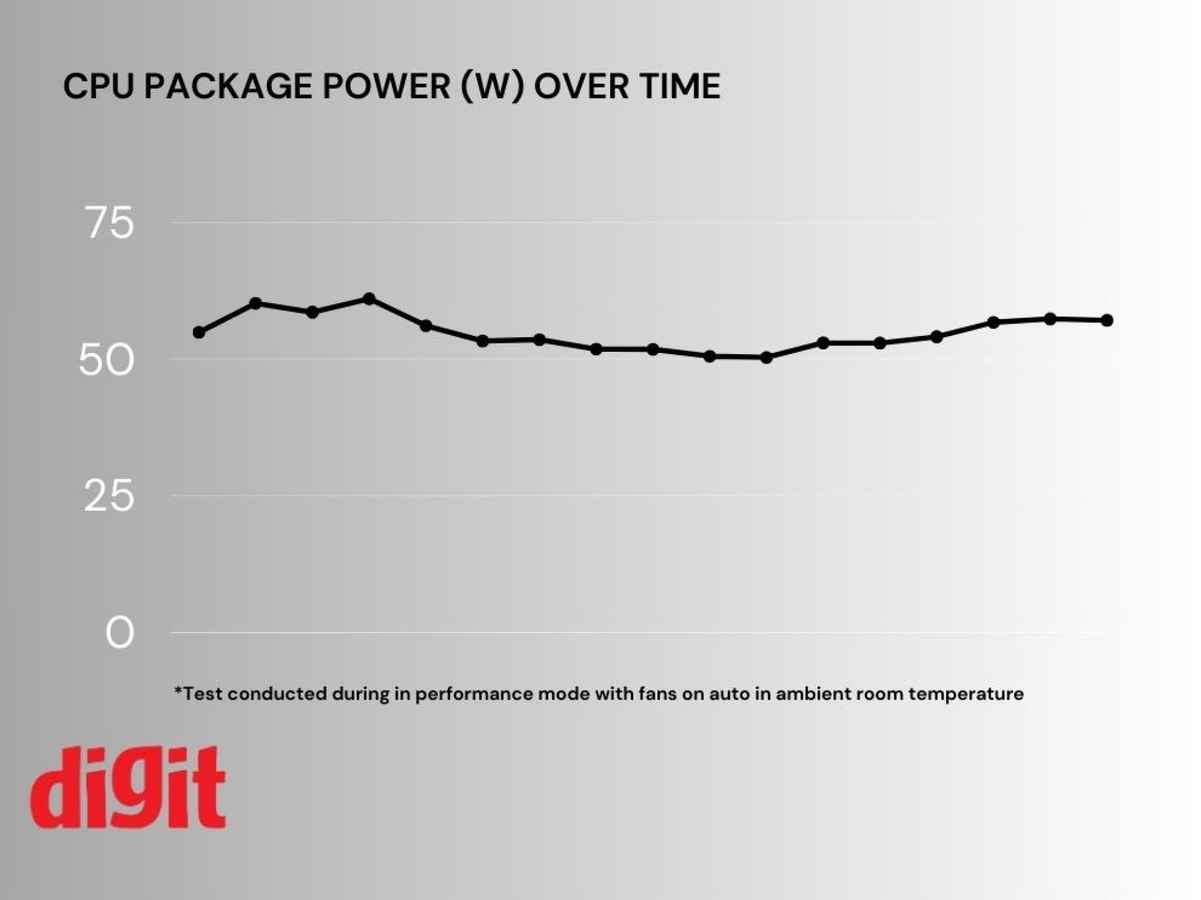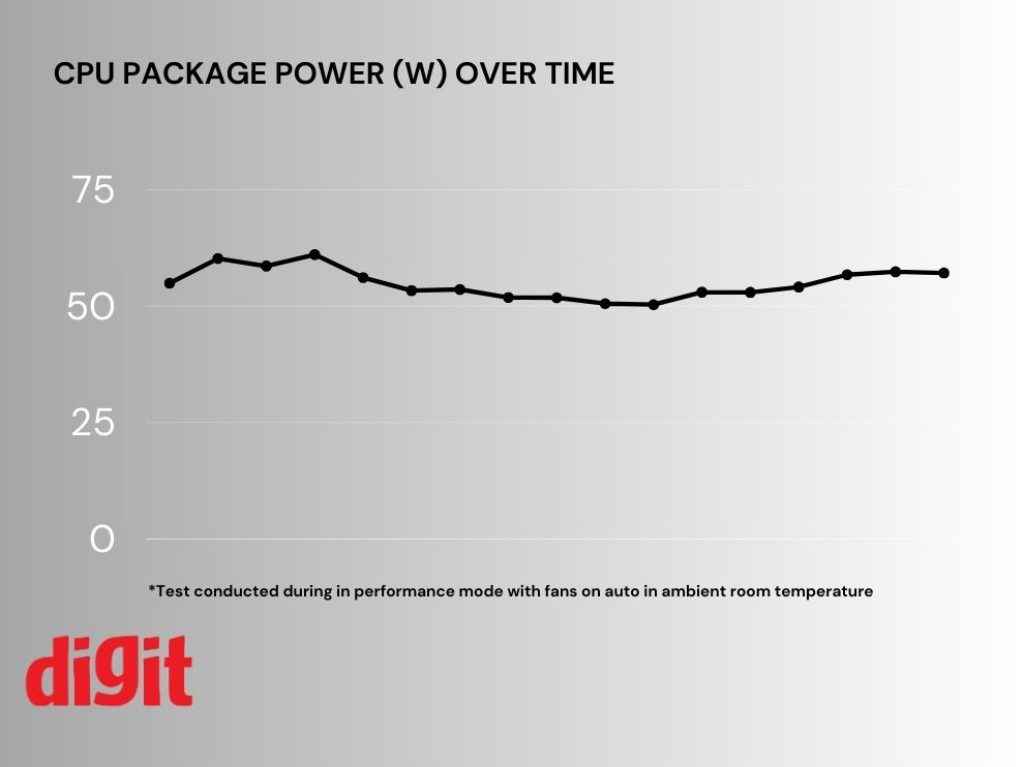 The laptop also comes with 32GB RAM and 1TB of storage, which you can also expand in the future if you wish to. During the Crystal Disk Mark SSD test, the read and write speed of the 1TB SSD came out to be 6690 and 4955MB/s, which is really high. On the gaming front too, the laptop performed really well.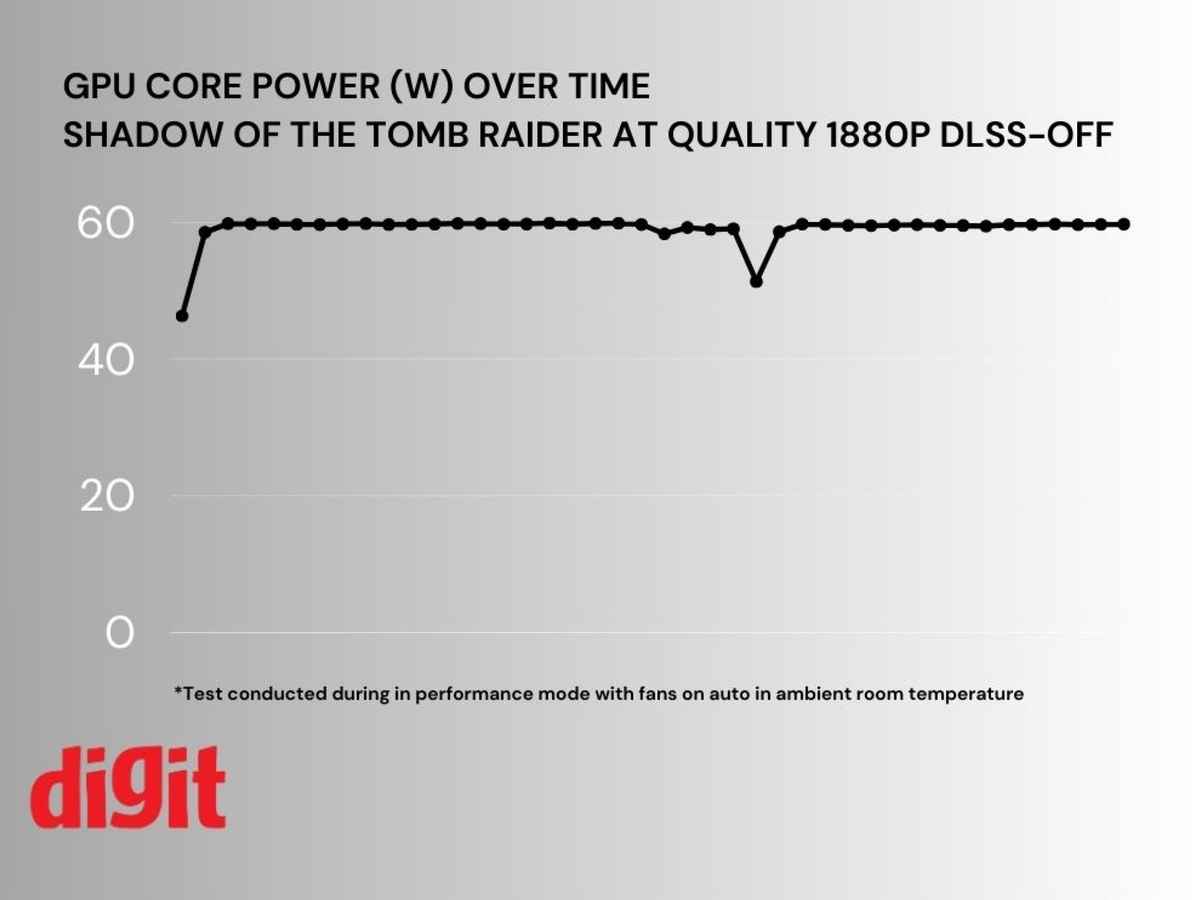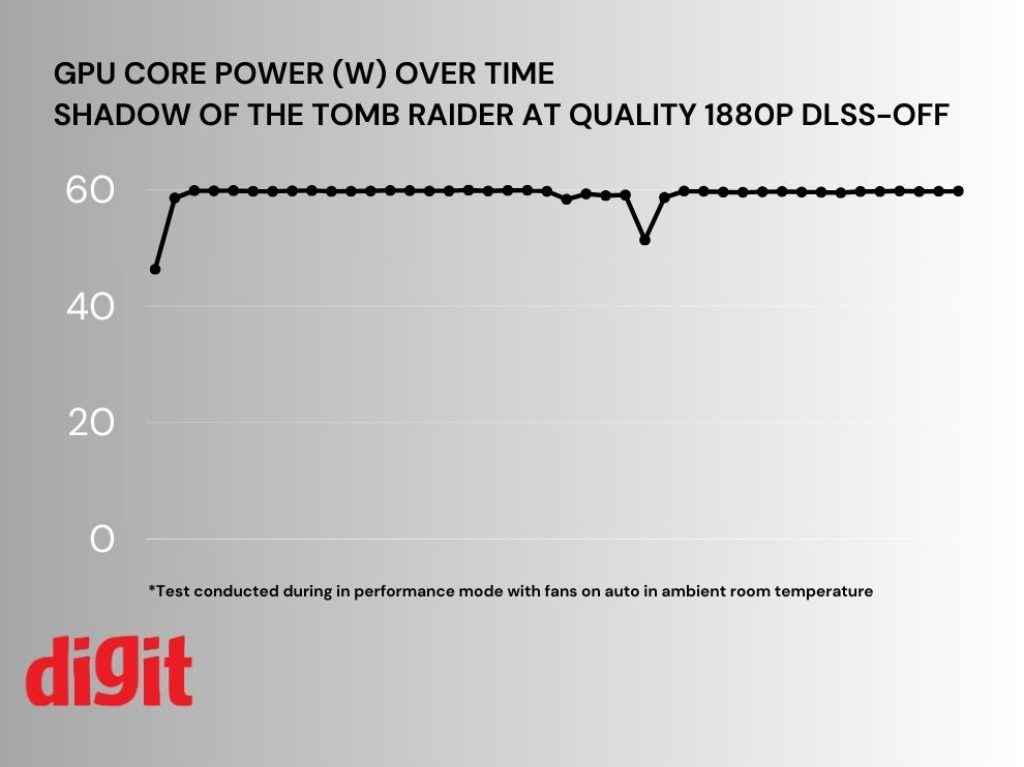 It ran Shadow of the Tomb Raider and Dirt 5, Gears 5, and GTA V at a pretty smooth frame rate. Here's its comparison with dedicated gaming laptops and you can see that the Galaxy Book3 Ultra stands on its own, despite rocking a slim and highly portable form factor.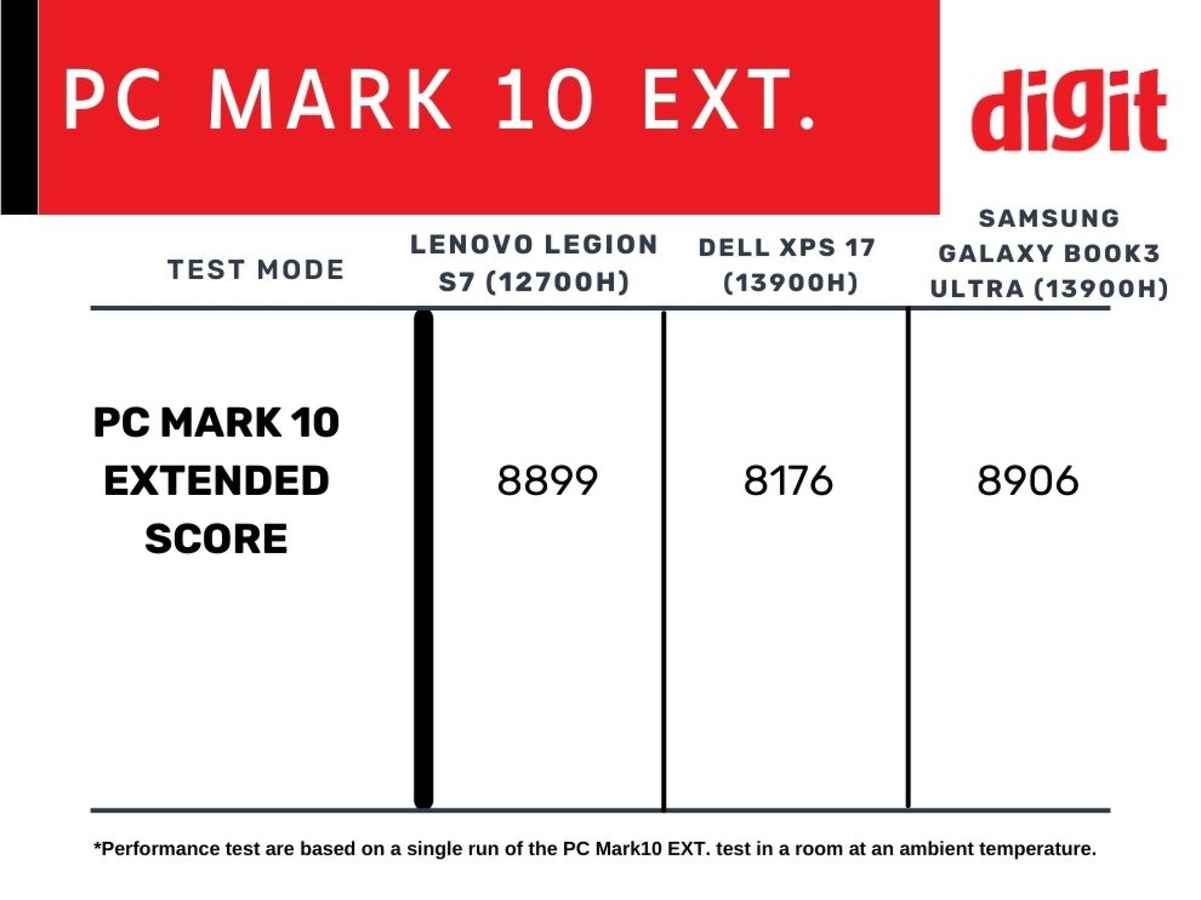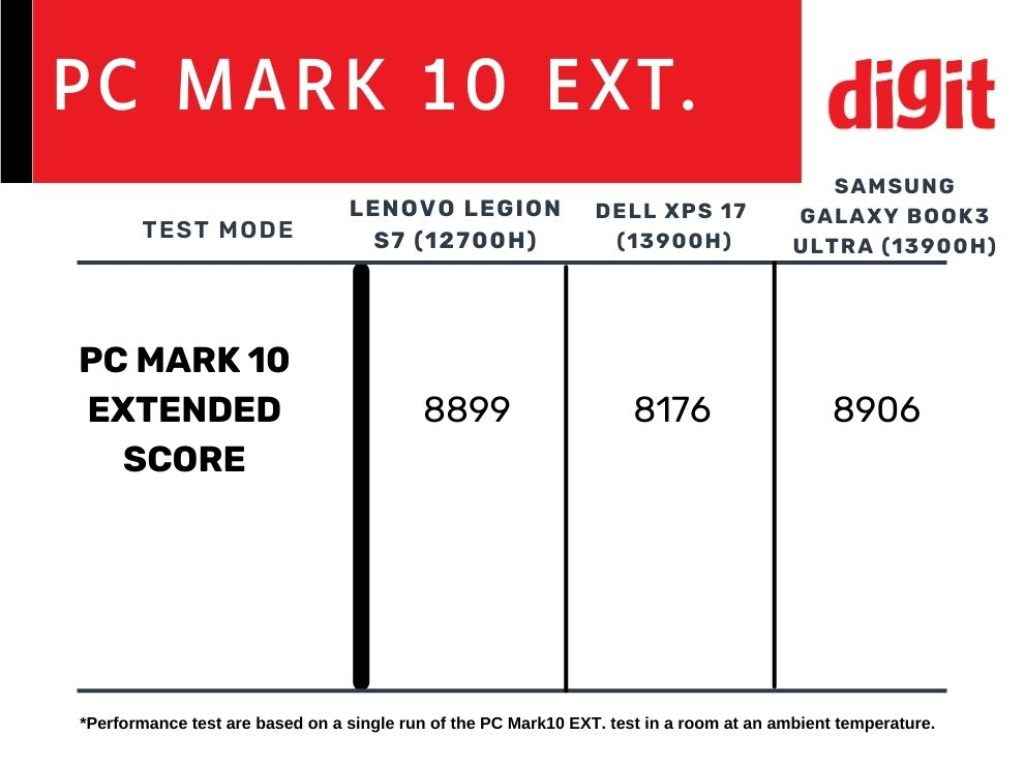 Samsung Galaxy Book3 Ultra Verdict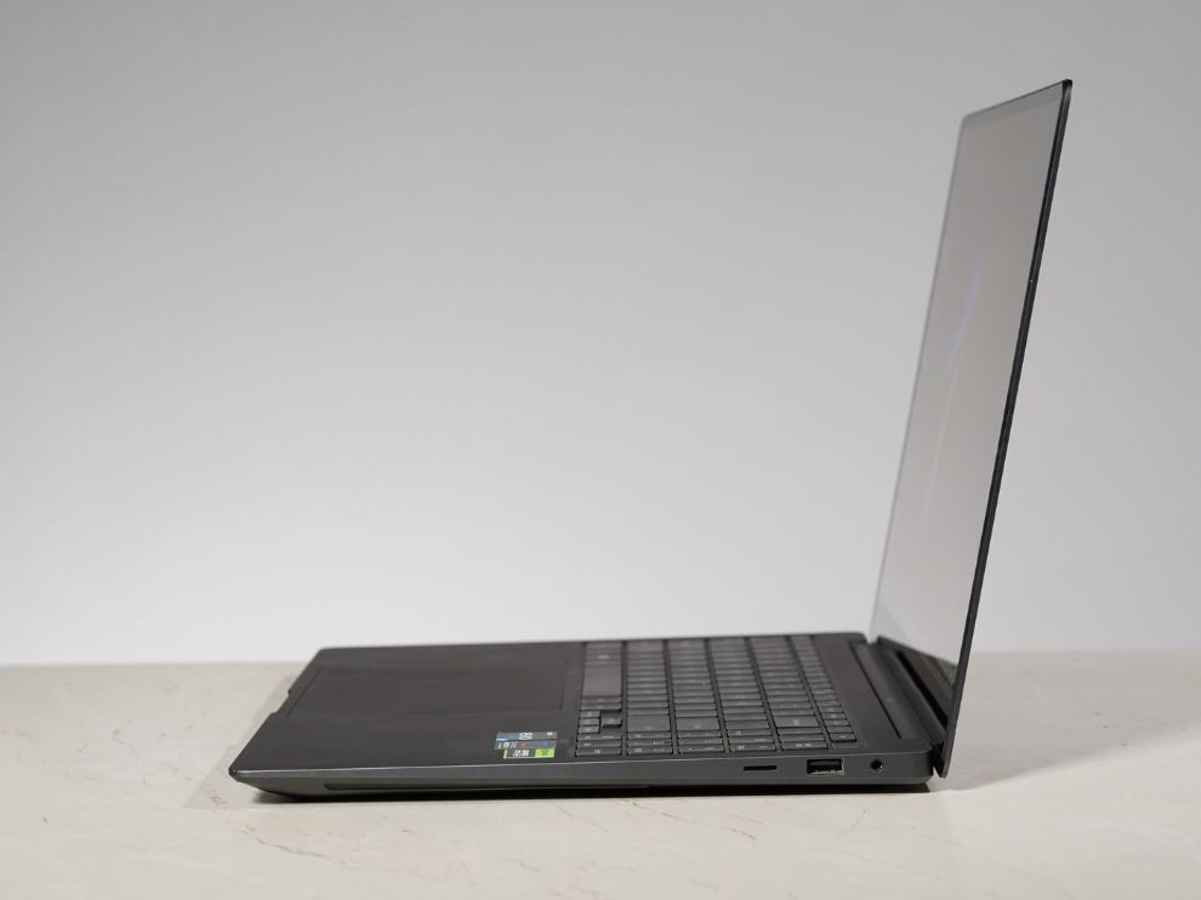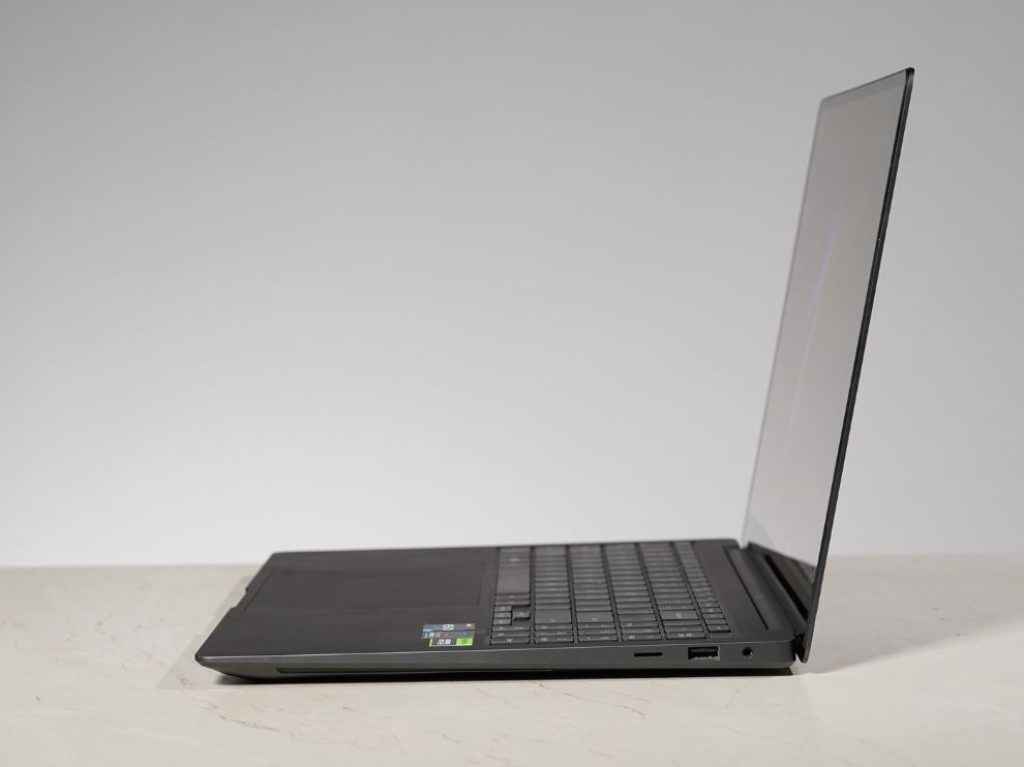 In conclusion, the Samsung Galaxy Book3 Ultra stands out as a high-performance, stylish laptop targeted at a specific segment of the market. It is most notable for its superb 16-inch screen, solid productivity and creative capabilities, and seamless integration with other Galaxy devices, which positions it well as a desktop replacement and content creation powerhouse.
The laptop's advantages include a visually impressive OLED display with a high refresh rate, powerful dedicated RTX GPUs for demanding graphics tasks, a sturdy build, and an excellent touchpad. It also boasts portability for work on the move, establishing itself as a reliable device for professionals who require both power and the ability to work from anywhere.
On the flip side, the high cost is a significant consideration, as it demands a substantial investment. There are also remarks on the battery life being less than impressive for its category, and the speakers don't match up to the rest of the hardware's quality. Additionally, while the laptop is powerful, there are competitors that offer better graphics performance at a lower price point.
This laptop is best suited for users who need a potent machine for work and creative tasks, value the integrated Galaxy ecosystem, and are prepared to pay a premium for a top-notch display and construction. It is less ideal for gamers, those who prioritize long battery life and high-quality audio, and budget-conscious consumers or those who can compromise on some performance aspects to save money.
| | |
| --- | --- |
| Release Date: | |
| Market Status: | Launched |