MSI GE62VR 6RF Apache Pro detailed review
In 2015, we reviewed the MSI GE62 6QD that featured NVIDIA 960M but MSI has since updated it and the latest SKU features NVIDIA's recently launched Pascal-based GPU - the GeForce GTX 1060 for laptops. Let's see what this gaming laptop's got for us:
Design:
Everything we loved from the MSI GE62 6QD, the MSI GE62 VR 6RF's predecessor, is back. The laptop continues to sport brushed aluminium finish on top with the backlit MSI logo and the exact same chassis as its predecessor. The screen bezels are plastic this time again and can be flexed easily with a little pressure which did concern us.
The hinges mounting the screen to the base are quite rigid and sturdy but do not allow you to open the laptop without holding the base. The keyboard palmrest area feels really solid and premium, complementing the lid.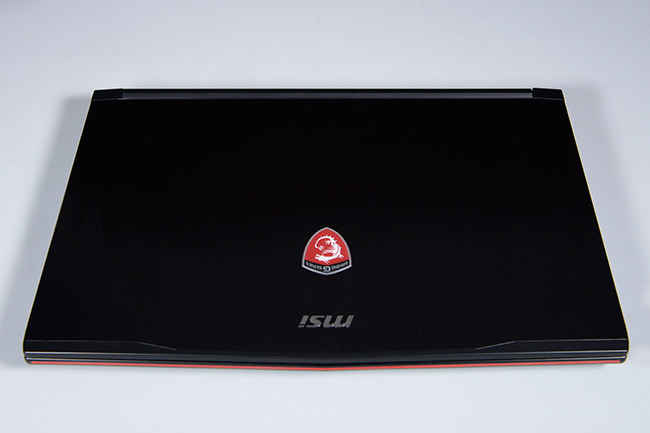 Weighing 2.5 kg, this gaming beast is one of the lightest gaming rigs we've used, but not the lightest. You wouldn't mind carrying it around with you if you have strong arms.
On the front you'd find three wide 'mean looking' indicating lights for power, hard drive and wireless activity. The back and the bottom of the laptop consist vents running across for increased airflow, keeping the temperatures inside under control. There's also an 'Apache' branding on the back of the laptop for those who like to flaunt it.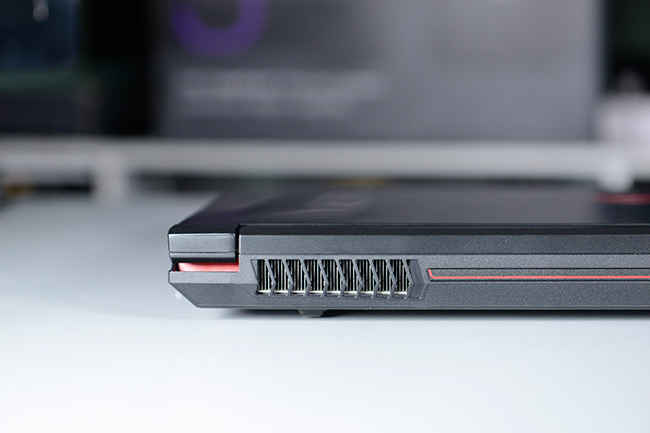 Speaking of the ports situated out on each sides, on the left you have a Kensington security lock, Gigabit Ethernet, HDMI 1.4 followed by a mini Displayport 1.2, two USB 3.0, a USB 3.1 Type-C, and two 3.5mm jacks for microphone-out and audio-out.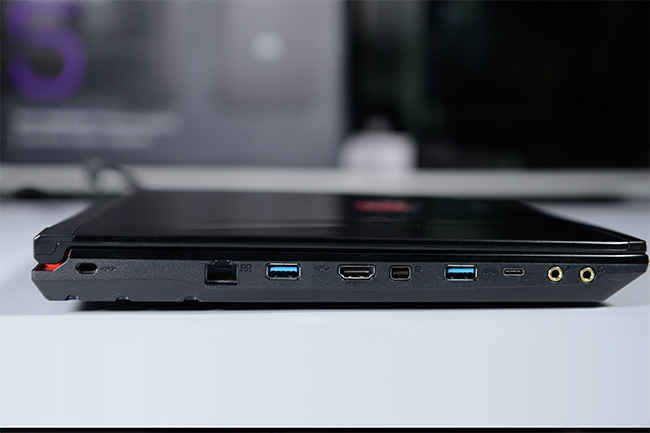 On the right, MSI has decided to include an optical drive, a USB 2.0, a full size SD card reader and the AC adapter port on the right.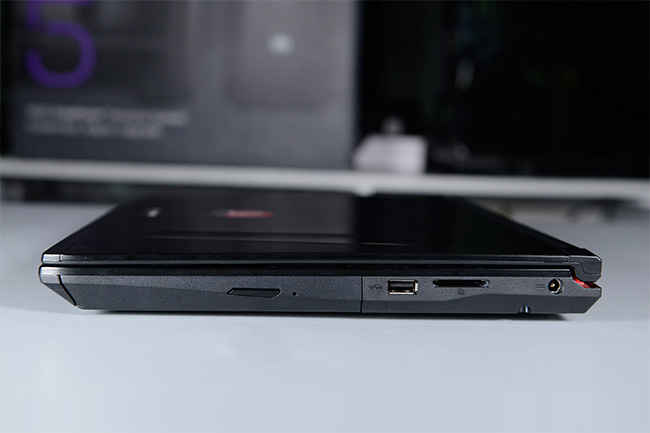 Display:
Acer Predator 15 G9-591, our last best gaming laptop came with a 4K display and didn't fail to mesmerise us with it. However, our MSI GE62 VR test unit was equipped with a Full HD display, MSI does offer you an option to upgrade to a 4K display that boasts 282 PPI. The 15.6-inch Full HD IPS-level panel with 141 PPI at 60Hz was adequately bright, reproducing crisp and sharp picture quality during the use along with accurate color representation to match other gaming laptops displays.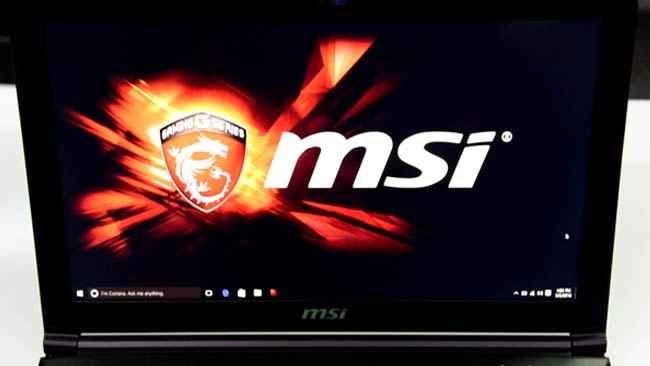 The 92% sRGB 71% AdobeRGB G-Sync enabled display offers great picture production while gaming, editing and while other multimedia usage. MSI also bundles along its True Color Technology software for increased colour contrast and greater image precision and colour detail, spread across 6 presets – Gamer, Anti-blue, sRGB, Designer, Office and Movie mode. You can also customise these settings to fit best according to your needs and the screen to automatically shift profiles when a specific app is launched, using MSI's App Sync.
Overall, the display is not something that will disappoint you and gaming on this anti-reflective display is definitely a treat to your eyes.
Internal specifications:
The MSI GE62 VR packs in an Intel Core i7 6700HQ processor clocked at 2.6 GHz along with 6GB DDR5 NVIDIA GeForce GTX 1060 Pascal GPU locked at 1405 MHz to handle those games you'd be playing on the maximum settings possible.
The MSI laptop came equipped with 16GB DDR4 RAM with 2 DIMM slots that can handle a total of 32GB memory along with a 128GB NVMe Samsung SSD and a 1TB Hard drive. You also have the option to add another SSD under the easily removable service bottom panel.
You also get the Killer DoubleShot with Ethernet E2400 and Killer Shield to offer lower latency and jitters while gaming. The Killer E2400 comes equipped with Advanced Stream Detect 2.0 that can now prioritise 6 applications for efficient stream and takes complete control of your network traffic.
Keyboard & Touchpad
The membrane based SteelSeries keyboard included with the MSI GE62 VR is pretty solid and offers about 2mm travel with a tactile feedback. It surely does not match the quality of feedback and comfort provided by mechanical keyboards we've seen in flagship gaming machines. The RGB backlit keyboard features anti-ghosting and MSI has been considerate for its gamers and the Windows key has been re-positioned to avoid accidental hits.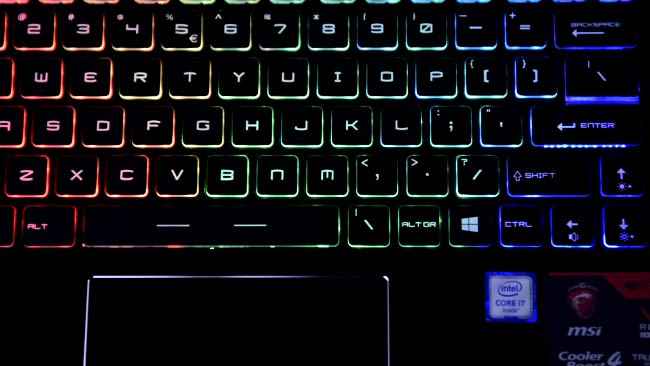 MSI also bundles in the SteelSeries Engine 3 which allows you to configure and customise the backlighting for all the keys individually. In case you are an FPS player, the laptop packs in GameSense, a software that changes your keyboard illumination depending on the in-game events. The software divides the keyboard into three customisable sectors, for eg. health, armour and bullets. The backlighting of these sectors changes according to the changes in your health, armour and bullet counts set by the user using GameSense. Games that are currently supported by GameSense include CS:GO, DOTA2 and Minecraft. What lacked was omission of dedicated Macro keys that let you switch profiles on-the-fly.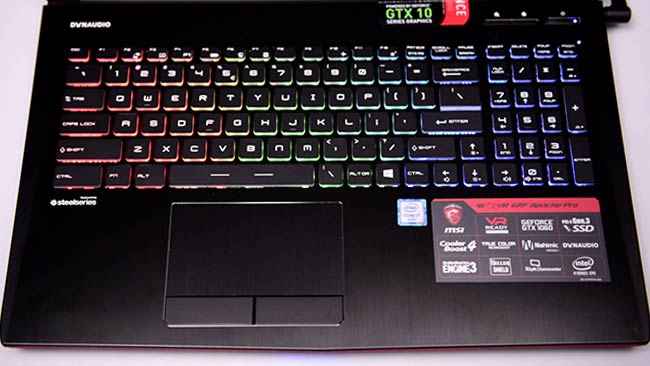 The trackpad included is identical to the one we saw on the MSI GE62 6QD with the same brushed aluminum texture finish. The trackpad was adequately sensitive, responsive and precise straight out of the box. The left and the right click buttons provide adequate feedback leaving you with a great feeling overall even after long use.
Performance:
The MSI GE62 VR 6RF is one of the most powerful laptops you can purchase today in India. The Core i7 6700 HQ combined with a SSD storage and the GTX 1060 offers very good performance.
Here are some numbers for you to crunch. PCMark 8 Creative Accelerated test returned a score of 5162 whereas the laptop scored 4237 in Home Accelerated test and 4836 in the Work Accelerated test. To put these numbers into perspective, the PCMark 8 scores for MSI GE62 VR have clearly soared compared to the previous one, proving that it is capable of handling any day to day task you throw at it with more efficiency and speed.
The real difference was visible while running 3DMark tests. Fire Strike returned with a score of 9643, Fire Strike Extreme with 5078 and Fire Strike Ultra with 2491. The improvements that the Pascal architecture brings in with the 1060 is pretty evident with the scores that are improved majorly over the GTX 960M we saw in the previous MSI GE62 and even over the GTX 980M present in the Asus ROG G752VY and Acer Predator 15, both of which have made it to our list of the best gaming laptops.
The upgrade definitely promises higher and efficient CPU as well as GPU performance. Throw any game from your library onto the G-Sync enabled MSI GE62VR 6RF and it would not disappoint you in anyway. Be it running on maximum settings at 60fps, frame drops or load timings. The 1060 also ensures you are future proof, especially if you are planning to add an HTC Vive or other such head-mounted VR devices to your gaming rig. The MSI GE62 VR 6RF is capable of running it with optimised settings.
Audio
The Dynaudio speaker and subwoofer configuration on the MSI GE62VR remains more or less similar from the previous GE62 we've tested. The audio from the 2W front facing speakers is pretty loud, crisp and provide clear sound output. The 3W subwoofer, however is pretty average but still provides noticeable contribution to the overall output, making MSI stronger in this sector as compared to other gaming laptops.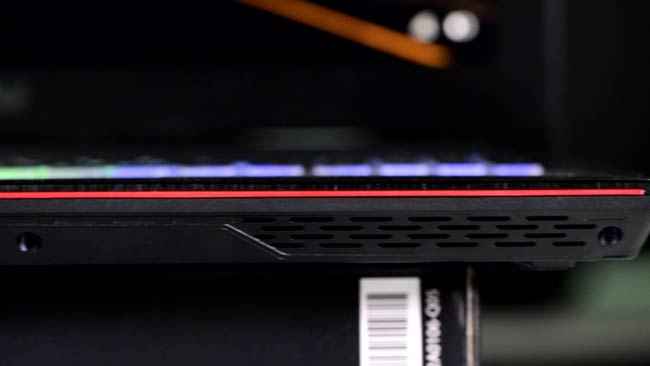 MSI also bundles its Nahimic 2 sound system for optimised and superior audio output, be it while multimedia activities or during your long gaming sessions. It comes with a total of 6 presets based according to the type of the game you are playing – shooter, strategy or role play along with multimedia presets like music movie and com. You also activate options like microphone loopback, microphone activation level, noise reduction and sound tracking features from the refreshed Nahimic interface.
With the great audio performance from the older MSI GE62 along with the newer add-ons, MSI has ensured to deliver best possible audio output from this one. However it would have been a welcoming surprise to be treated with a 5.1 speaker setup or even something similar to Acer's SoundPound 4.2 setup with that extra subwoofer.
And everything else:
Along with everything that we mentioned above, the MSI GE62 VR also packs in some more features to offer the best bang for your buck.
Starting off, you have MSI's Dragon Centre, a console that allows you to take over the laptop settings completely. The panel allows you to monitor your laptop performance, CPU and GPU temperatures, fan speed, allows you to shift between different power modes (Sport, Comfort, Eco and User) enable or disable features like X-boost and VR device scanning along with it. You can also pair your phone with the laptop and later take control or transfer files between them.
MSI also bundles along 2 months of free WTFast, gamers private network service helping you to keep your ping and jitters under control. In case you are interested in streaming your gaming sessions, you can take full advantage of the 1 year premium license of XSplit Gamecaster 2.7 provided along with this laptop.
Battery & Running temperature:
Battery life is the only area where the MSI GE62 VR falls short. In our synthetic benchmark test, the laptop could survive for just over 1 hour at full load and full brightness. While regular usage, the laptop would last you for over two hours with extreme power saving actions enabled.
MSI has packed in non user-removable a 6-cell 51 WHr battery to keep the weight under a check, but however, you will have to carry that 180W power adapter along with you for your LAN parties. In case you are planning to not game and use it for just general tasks, you still wouldn't be able to get very far without plugging it in for a few times throughout the day. Huge disappointment!
As far as running temperatures are concerned, there is no disappointment here. MSI has reworked the internals to fit in a dual fan assembly with 6 heatpipes divided between the GPU and the CPU and they're calling it Cooler Boost 4. MSI claims that the newer assembly increases airflow by 20% and is capable of bringing down the temperatures by 5-degrees. During benchmarking with the heaviest possible load, temperatures stayed around 76-degrees where as long gaming sessions were clocked under the 80-degree mark. The laptop also stays comparatively silent as compared to many others that roar.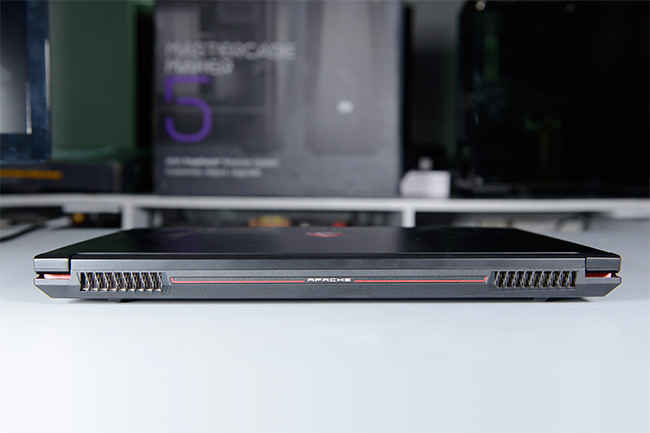 Verdict:
If you are looking for a light, lean laptop and don't mind carrying around that adapter, look no further. MSI GE62 VR 6RF Apache Pro not only is light to carry around, but also light on your pocket as it offers the best bang for your buck – as far as high-end gaming laptops is concerned.
Agreed, there haven't been many changes made to the design as compared to the earlier version, but the upgrade to the GeForce GTX 1060 should be enough for you to not only consider this laptop, but also get your hands on it. If you are looking for a 4K display, there's an option for that too.
If you're not going to be carrying your gaming laptop around and do not mind the bigger profile along with the bulk and higher battery capacity, you may consider the Asus ROG G752VY or the Acer Predator 15, but both are priced higher and come with older generation graphics, making it a deal breaker. Thus we say, look no further, because MSI GE62 VR Apache Pro is our new 'Best Gaming Laptop' you can buy right now at a good price!