VERDICT:
The latest Lenovo ThinkPad X1 Carbon is the best iteration of the iconic laptop thus far. It has everything you would need in a thin and light laptop and more. The higher price tag may not suit everyone but if you have that kind of money, this is a worthy, dependable option for both consumer and commercial customers.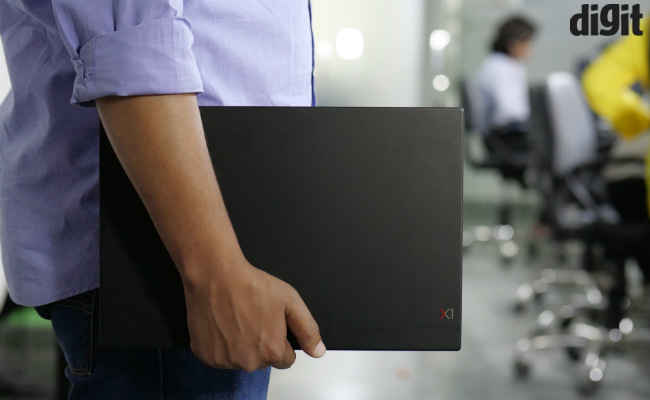 Build and Design
Thinkpads have always carried a unique design since their days of being a part of IBM. Over the years Lenovo has tweaked, experimented and added more options in the Thinkpad line, but the X1 Carbon remains the company's crown jewel. In this new avatar, where even the Thinkpad logos are blacked out, it is by far the meanest looking thin and light laptop out there. It has subtle, almost nondescript exterior and yet it is recognizable from across the room. While part of that charm lies with the iconic Thinkpad keyboard which hasn't changed much from early days, it is now accompanied by a new display that gives the laptop some serious charm.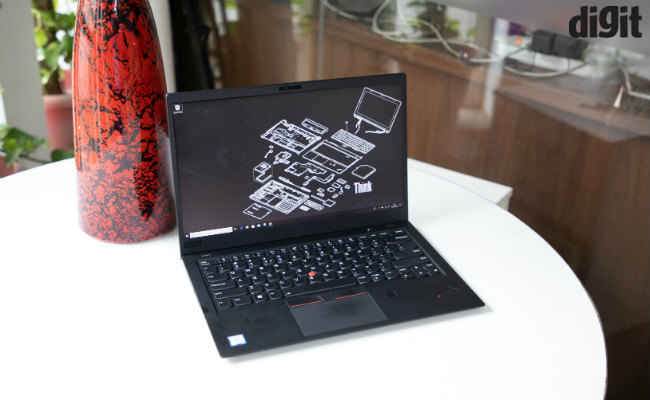 As for the build quality, the Thinkpad X1 Carbon still carries the 12-MIL standard badge and is the only one to boast a magnesium and carbon fibre body. Lenovo has tweaked the chassis this year, so while it still has internal roll cages and a super strong body, it weighs just 1.13 kilograms. The whole body is covered in the typical matte black paint job which is smooth to touch and gives the laptop a unique yet premium feel. It is still a fingerprint magnet though.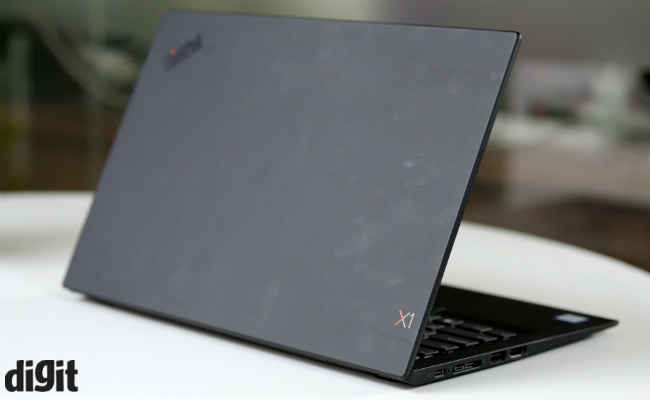 There is no maintenance hatch on the machine, but like all previous ThinkPads, this is still very easy to open. The back panel is fastened by just five Phillips head screws. There are no hidden latches and removing the screws just lets you take a peek at the tightly packed hardware. The RAM as you can see is soldered on the motherboard, but the storage is user replaceable. There is a 57Whr battery, which is more than enough for a day worth of use (more on that later).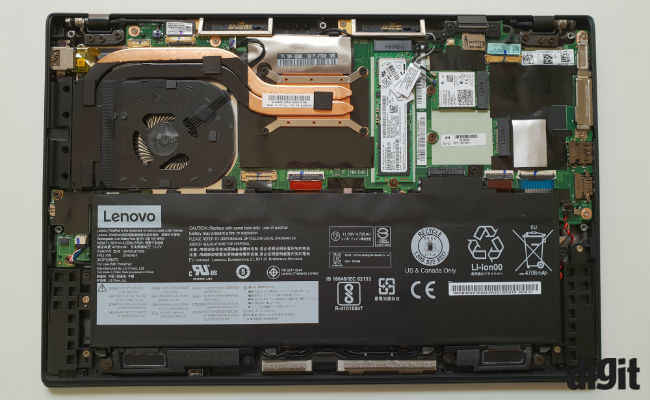 Display and I/O
The biggest update the laptop has received this year, besides the 8th gen Intel processor is the new display. This is the first time I have seen an IPS LCD display which is touch-enabled and has a matte finish. It should be noted that the Dell XPS 15 (9560) does have 1080p variant which offers a similar matte touchscreen display. Anyway, I've had this complaint with all touch-enabled laptops that the glass front is glossy and reflective, but this changes the equation. The matte coat does have a small drawback though. It is not super sensitive to touch, and you can't use it to draw or take notes. However, if all you need to do is browsing or highlighting some text, the display is far more capable to do that.
Touch aside, this is the best display I have seen on a thin and light laptop till date. Lenovo claims that the display covers 100% of the colour gamut. However, our tests indicate that the display covers 77% of the Adobe sRGB and 99% of the sRGB colour gamut. To put it plainly, the colour fidelity is amazing and since this is an IPS display, the viewing angles are best in class. The viewing experience is also enhanced by the now thin bezels on either side, which is not exactly a new feature anymore.
I am quite satisfied with the I/O selection as well. There are two USB 3.1 Type-C ports with Thunderbolt 3 support. There are two Type-A USB 3.0 ports and there is an HDMI out as well. There is a proprietary ethernet port as well, but it can only be used with the dock that is sold separately. At the back, there is another tiny port which hides the MicroSD card slot and the SIM card tray. I have a couple of complaints here. Firstly I miss the standard SD card slot and the SIM slot doesn't work as there is no LTE modem inside, at least in our test unit. That said, Lenovo assures us that corporate buyers can opt for one if they require.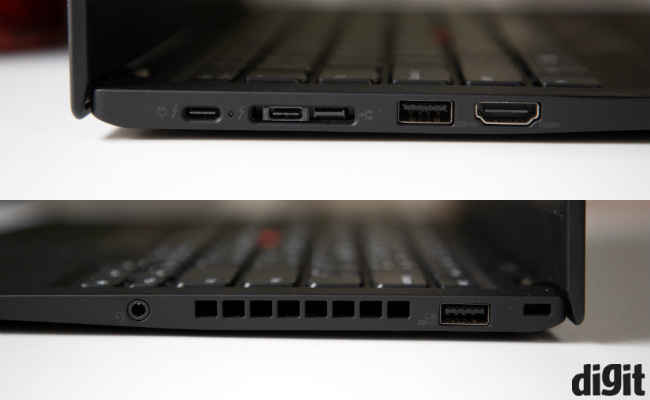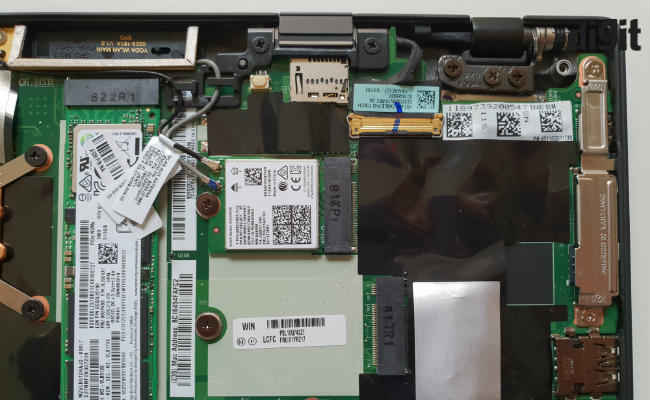 Keyboard and touchpad
The one thing that hasn't changed over the years on X1 Carbon laptops is the keyboard. It is just as good as the year before. The island-style keyboard layout is easy to work on and offers a luxurious 1.8mm of key travel, which is even better than some desktop keyboards. The typing experience is sublime and a bit addictive, as it is hard to go back to any other laptop keyboard after this. Like previous ThinkPad keyboard, the keys don't make a particularly clacking sound and are concave which helps in typing silently and precisely. It still carries the 'fn' key at the wrong place, but worry not as it now can be swapped with the 'ctrl' much easily from within Lenovo's Vantage app. The app is a one-stop shop for all settings and maintenance options. The app also allows users to customize the F12 key for their own shortcut which is a bonus. I am not too stoked about the position of 'page up' and 'page down keys as they can be accidentally pressed instead of the arrow keys. That said, I got used to the change within a couple of days. In short, you can't go wrong with a ThinkPad keyboard.
Same is true for the soft touch matte-ish touchpad. It is not large or wide like some other thin light laptops offer, it is just big enough to have a comfortable experience. Don't be fooled by its looks though as it is a glass trackpad. It is quite precise and has excellent finger tracking. It is using Windows Precision drivers and supports all Windows 10 gestures. The left and right clicks press down with small yet precise depression offering a subtle click sound. However, the three separate mouse keys (left, scroll, right) above the touchpad are far easier, satisfying and natural to use. Lenovo has also carried the red TrackPoint which sits between the B, G and H buttons. It takes some time to get used to at first but it is very handy to use and fits perfectly with the rest of the setup.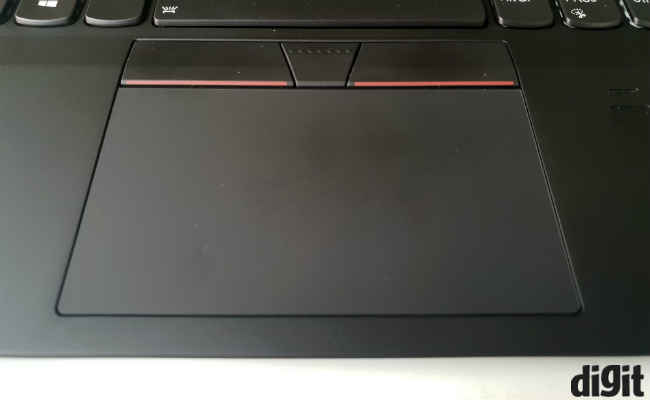 Security
Being an enterprise laptop, ThinkPad has all the required security specifications the high-end business customer requires. You've got your standard Windows Hello camera, which is still isn't the best unlocking solution when you are sitting in a dim lit area. However, the fingerprint scanner is a valid alternative for that. It is a bit slow compared to modern day smartphones, but in my use, it never faltered. The other thing which enterprise and other potential customers will like is the fact that the fingerprint scanner has its own security chip and all the data is kept on the machine itself. I wish it had an HP Sure View like feature on the display, similar to what we saw on the HP Elitebook x360 1030 G2, but I guess you can't get everything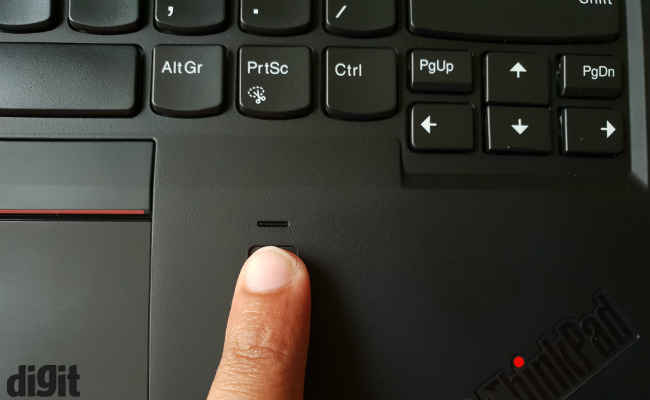 Corporate security managers will love the fact that the machine still carries the latest vPro security features and includes the new 'Glance' feature. Once enabled the system recognizes the user and tracks the face when he/she is using the machine. If the user moves away, the screen automatically locks and come back only when the user unlocks it. The Glance feature also lets users move an open application from the laptop display to extended displays with just a glance, but I couldn't make that work during my use. I will update this review, once I figure it out.
Performance
This new 2018 ThinkPad X1 Carbon is powered by the latest Intel Core i7 8650U processor. This is the first time I have seen this chip in a laptop. It is a quad-core processor just like the Core i7 8550U other thin and light laptops use, but is slightly faster with a higher base and boost clock speeds. The processor is helped by dual channel 16GB 2133MHz RAM which as I mentioned is soldered to the motherboard itself. The NVMe PCIe based Samsung SSD is, however, user replaceable. This is the latest variant of this SSD and by far the fastest SSD I have seen on a laptop. This combination makes this ThinkPad, the best thin and light performer to date.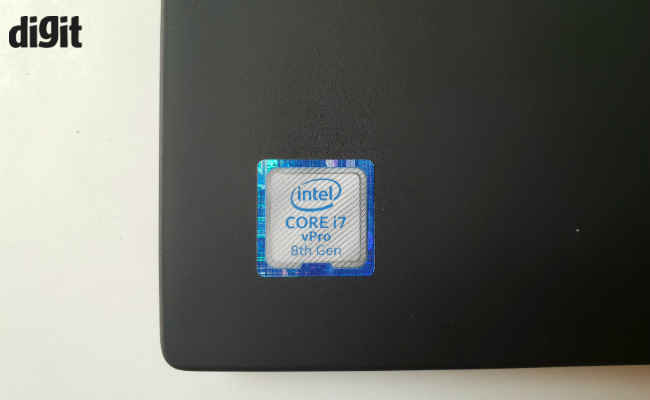 So, as far as the synthetic benchmarks go, this is right up there. However, the day-to-day performance is just as good as any other premium thin and light machine. To put it simply, you won't have any issues running office applications on this machine. Be it opening multiple tabs (more than 30) on Google Chrome, running heavy excel sheets or just running a presentation or even watching videos in 4K, everything is handled without a hitch. Like with every other thin and light laptop out there, this is not meant for gaming, even though you can push the integrated UHD 620 graphics to run games like Dota 2 at low settings at 1080p resolution. The good thing is the machine never gets hot and the single side venting fan remains eerily silent even at 100% load. The processor does throttle down about 400MHz while on battery and 200MHz while on power from the base 1.9GHz under full load, which is the category average. Don't fret though, as this does not hamper the machine's performance.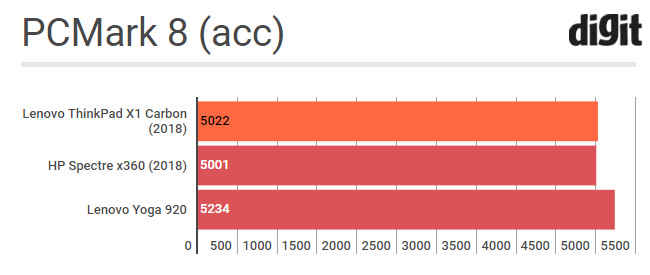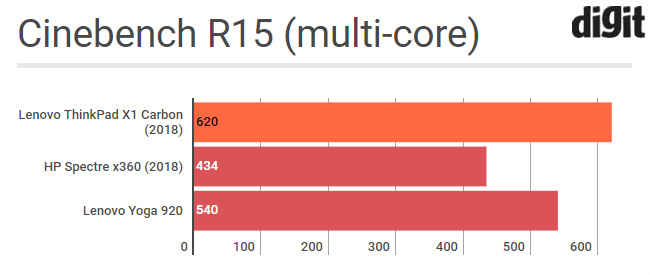 Audio quality is nothing great and that has been a complaint with all thin and light laptops alike. It is loud for sure and you won't find any issues while taking conference calls, but it is not really tuned for music aficionados.
Battery life
The battery life on the machine is quite impressive. The 57Whr battery provides about 10-12 hours of non-stop usage in day-to-day workload regardless of varying display brightness throughout the day. Compared to every other thin and light machine I have tested up until now, this is by far the best. You can easily get through a workday with one charge and since the machine supports fast charging with up to 80% charge in an hour, you wouldn't have much to worry about.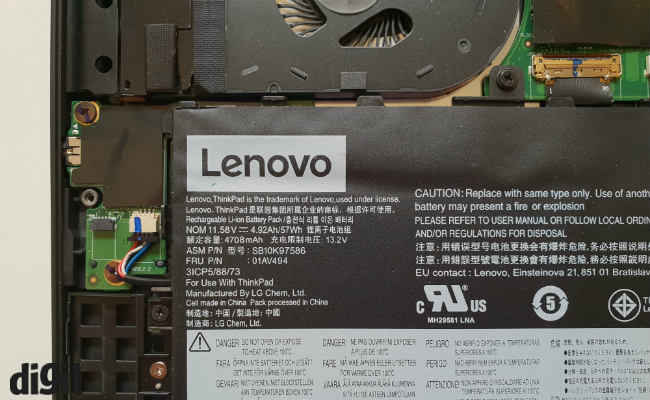 Bottomline
The Lenovo Thinkpad X1 Carbon then is the best enterprise laptop one can buy today. The machine does everything (ever-so-slightly) better than most thin and light laptops out there. It offers a brilliant performance, the display is excellent, the battery life is dependable and the keyboard can only be described as "the best". If I had to nitpick, I would have loved to see user replaceable RAM and even better battery life, but even without those extras, this is still a really good laptop.
The price is a little steep at Rs. 1,52,220, but even at that price, this is still a really good machine compared to whatever is available in the market.