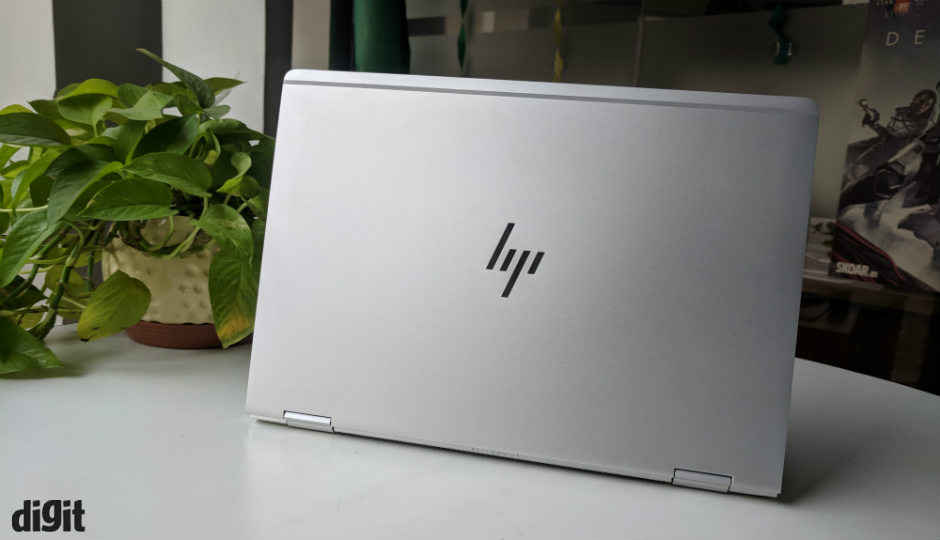 HP Elitebook x360 1030 G2 Price in India

141690 /-

Buy Now
Set Price Drop Alert
The HP Elitebook 1030 G2 is one of the finest thin and light laptops we have seen from HP in the past year.
HP Elitebook x360 1030 G2 Rating

76

100
Our Verdict
The HP Elitebook 1030 G2 is a brilliant thin and light convertible laptop for business users. It delivers on all the key aspects that a business laptop should deliver on while offering top class build quality and elegant design that makes it stand out.
PROS
Best in class build quality
Striking looks
Good port selection
Reliable battery life
CONS
Display could have been brighter
HP Elitebook x360 1030 G2: Detailed Review
Specifications:
CPU: Intel Core i7-7600U
GPU: Intel HD 620
Display Size: 13.3-inch
Display Resolution: 1920 x 1080p
RAM: 8GB DDR4
Storage: 512GB SSD M.2
Battery: 57Whr
The Elitebook 1030 G2 is the commercial counterpart of the much loved Spectre x360 laptop from HP. Hence this is a business thin and light with the capabilities of a touchscreen convertible.
The HP Elitebook packs a 7th gen Intel Core i7 processor, 512GB storage, a 13.3-inch display and a large 57Whr battery. Does it all come together nicely? Well, the short answer is a big 'Yes', but if you want to know more then go ahead, this is my full review of the machine, which I believe is currently amongst the best convertible business laptops you can buy.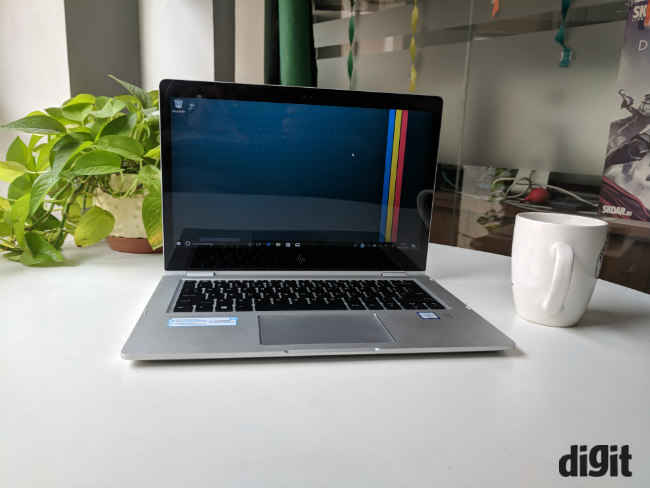 Build and Design
Flaunting CNC Aluminum panels on both the front and the back, milled from a single metal block, the Elitebook looks elegantly premium while delivering the underlying feel of robustness. The incisive industrial design incorporates subtle highlights around the edges which add to the premium look of the machine.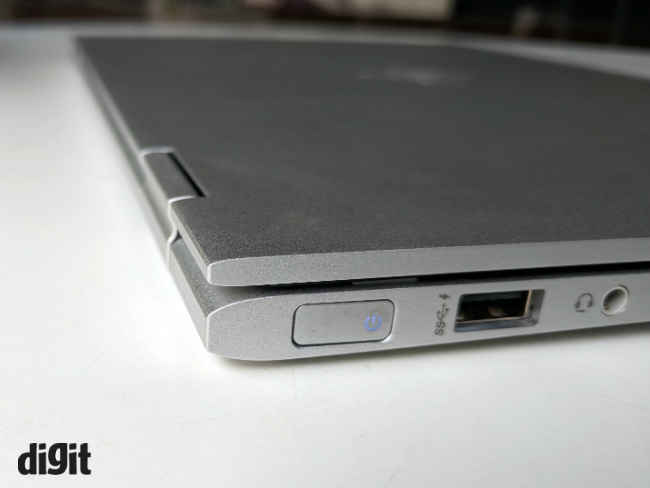 However, the beauty is not just skin deep, the Elitebook 1030 G2 is one of the most sturdy machines I have laid my hands on in recent times. The machine is MIL-810G certified which translates to its ability to sustain extreme weather.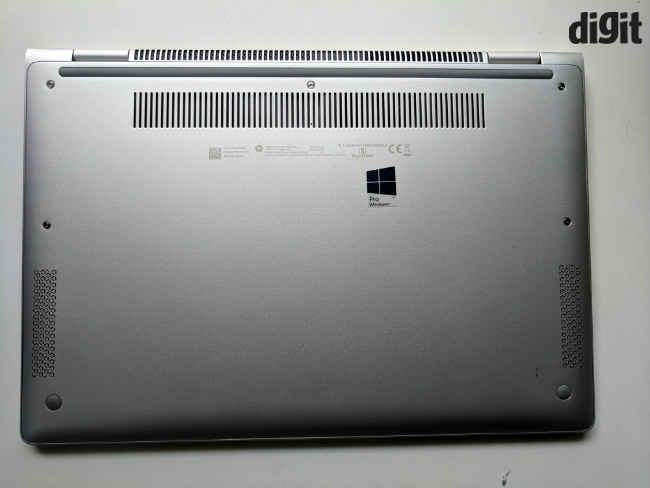 On a more practical note, there is no flex whatsoever in the machine. The aluminum chassis just won't budge under normal pressure. There is a sense of continuity in design all around, which is only broken by the single antenna line running across the top panel. This serves as the antenna for the Wi-Fi and is also used for the optional 4G if you were to opt for it. The robust all-metal build does not really impact its weight profile, the machine weighs just 1.3 kilograms. Which makes it an easy to carry yet a tough business thin and light. Continuing on the build and design, the hinge on the EliteBook is so well calibrated that you can open the laptop with just one hand when kept flat on the table. More importantly, the hinge has enough resistance keeping the display in the desired position while typing with the machine on your lap.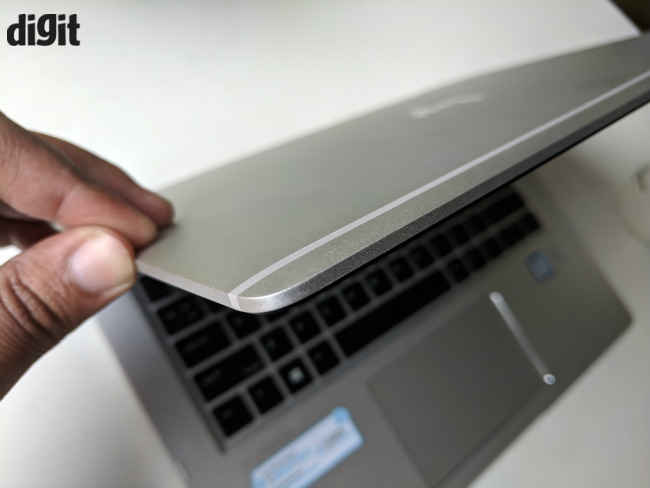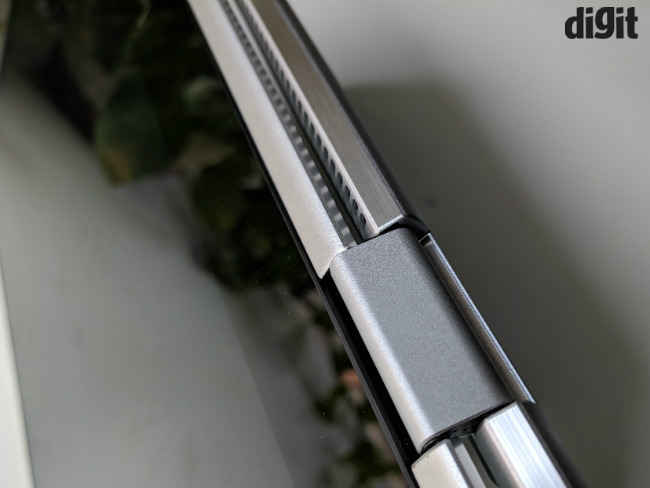 Display and I/O
The laptop features a 13.3-inch 1080p touchscreen display, which supports HP's Active pen, but unfortunately, that is not bundled with the machine, it needs to be purchased separately. Nonetheless, you can still use a non-active stylus to mark and draw if you like. The display itself is quite nice although it is not as bright as the HP's own Spectre x360, the colour fidelity is also not as well calibrated out of the box. The touch response is smooth and accurate. The Elitebook also offers HP Sure View technology, a privacy feature that can be simply activated with a single button press (F2). Sure View makes the display look washed out to the person sitting next to you, giving you privacy while you work. The display will appear normal to you when Sure View is at work. It'll just seem slightly dimmer than usual. Sure View is an effective way of keeping sensitive information away from snooping eyes. A nifty feature that should be offered in most premium business laptops.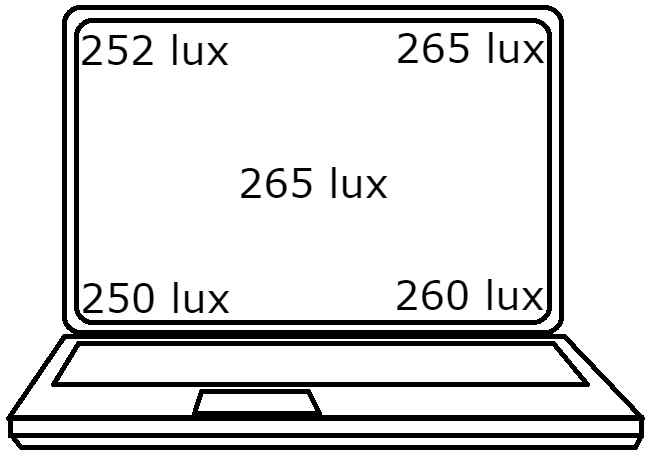 HP has also given little reason to complain about the port selection, starting on the left side, the laptop offers a standard (Type-A) USB 3.1 port, a microphone/headphone jack combo, a SIM card slot and last but not the least, a security card slot. While the SIM card slot on our review machine is just a dummy slot, HP's official page does mention that the SIM card capability is available on the two units available on its website. The right side of the machine features a microSD card slot, USB 3.1 Type-C Thunderbolt 3 capable port, HDMI 1.4 out, another USB 3.1 port and the standard barrel power port. That said, I want to point out two things. Firstly the Kensington lock is right in the middle of the ports on the right, which seems out of place on a machine, which at least from a design point of view, is so precise. Also, HP could have easily powered the unit with a standard USB Type-C port, which would have added another port to the machine when not in charge.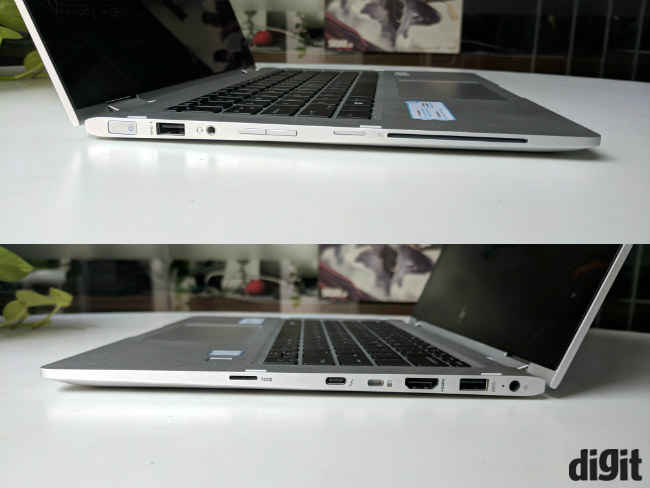 Keyboard and touchpad
HP has been updating its keyboards, essentially making them better over each iteration. I liked the typing experience on the Spectre x360 and with the 1030 G2, HP has taken that a notch higher. The keys are firm, have good travel and offer a precise feedback. They press down with an audible click and come with two-step backlighting. Since the laptop is meant for business users, it comes with a dedicated calendar button, call receive and call disconnect keys. This means the "prt sc" key is moved to the right-hand shift key. Hence, now to take a screenshot, instead of pressing Windows key + prt sc, you have to press fn + Windows key + prt sc, which can get confusing during the initial period.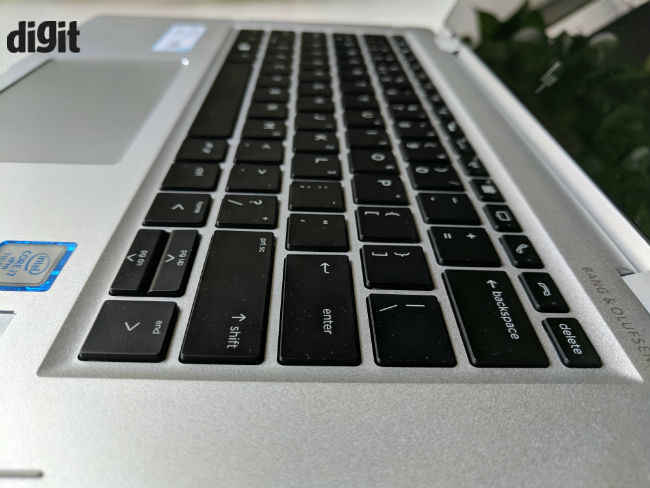 The touchpad is consistent and precise as well. Measuring 11 x 6.5 cm, it is a glass touchpad which means it is quite smooth from edge-to-edge. HP is using Glidepoint drivers here which works just as well as Windows precision drivers while adding some extra tweaks. Although, our unit came with Windows Precision drivers as default and I would recommend sticking with it. All windows gestures work fluidly and the two left and right keys press down with an audible click and have a rather smaller travel.
The laptop also features a fingerprint scanner which works with Windows Hello without any issues. In addition, HP has also added two IR sensors on both sides of the camera, for recognition based Windows Hello security, just in case you prefer that.
Performance
In the past year, I saw most thin and light laptops powered by the Intel Core i7 - 7500U processor at best. Even the Spectre had that, but the Elitebook 1030 G2 is powered by the Intel Core i7 - 7600U processor. It is still a dual-core part but the base clock is higher at 2.8GHz and thus the boost clock is also higher. This is paired with 8GB DDR4 RAM clocked at 2133MHz. This is a welcome change since most thin and light machines still use DDR3 RAMs. Then you have the 512GB PCIe NVMe SSD drive from Toshiba, which offers inferior read/write speeds compared to some of the faster Samsung SSDs available today.
The laptop is quick to boot, fast in tasks and does allow 4K video output over Thunderbolt 3. It doesn't matter whether you are browsing heavy web pages in multiple tabs or just going over a massive excel sheet, the laptop remains buttery smooth throughout. I even tried running Prime95 blender test on the machine which pushes all available CPU cores to run at their best clock speed and observed only a minor throttling issue which does not impact performance. This also speaks well of the cooling solution that HP has implemented on the Elitebook.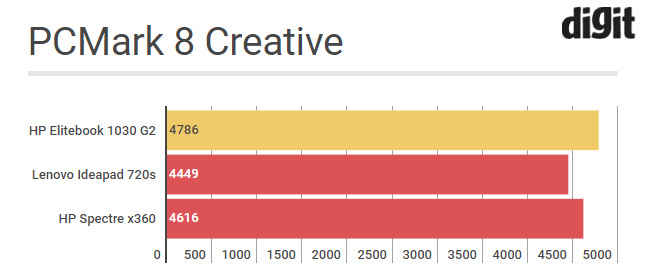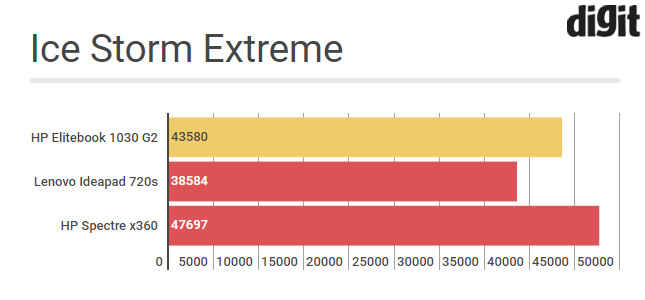 Audio output is handled by a pair of dual speakers on either side of the laptop. The bottom-mounted speakers perform well if you have a hard surface underneath. However, with bottom-mounted speakers, the sound output will suffer when you have the laptop on your lap. Tuned by Bang & Olufsen, the speaker system on the Elitebook 1030 G2 is fairly loud and does not get distorted even at the highest volume. Although don't expect the Elitebook to sound fuller in terms of mid and low frequencies, it is still a thin and light laptop that has to deliver sound through compact(tiny) drivers.
Since this is a business laptop, you also get a standard set of security features like HP SureStart which works at the BIOS level and ensures that your BIOS remains safe in case it gets attacked by any malicious software or if there is a security breach in the network. It is part of HP BIOSphere technology which works with HP Client Security that provides enhanced security by adding two-factor authentication including fingerprints and secure PINs. You get all this besides the Intel-enabled TPM 1.2/2.0 security.
Battery life
On an average, you can expect 9-10 hours of battery life from the HP Elitebook. Which isn't class leading but it does fall under the realm of 'good battery life' in the thin and light category. The laptop can be charged with the supplied charger in around two hours, which is just as good as any other premium thin and light laptop out there.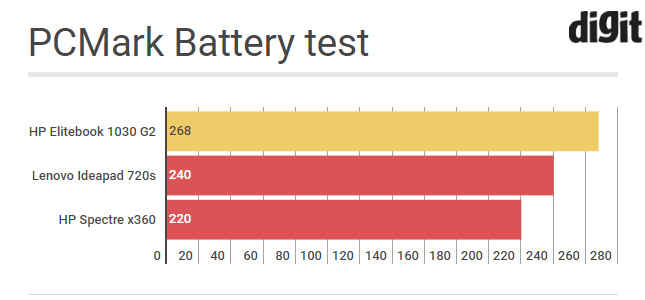 Bottomline
All-in-all then, the HP Elitebook 1030 G2 is one of the best thin and light convertible business laptops out there. It has the design, the build quality, the performance, the security features, the battery life, best-in-class keyboard, a fine touchpad and a good port selection. The display is the only key area where the HP Elitebook 1030 G2 could have done better. Priced at Rs 1,61,496, the HP Elitebook G2 does seem to be asking for a rather stiff premium. However, once you consider that price points for business focussed convertible ultraportables are around the same range, and the fact that HP offers a 3-year warranty on the machine, it doesn't come across as an overpriced machine.
Other Popular Deals
Lenovo Ideapad 15.6-inch Laptop...

Rs. 24490

Buy Now

Acer Aspire A515-51G Ultrabook...

Rs. 36891 *

Buy Now

Dell Inspiron 3565 AMD E2 7th...

Rs. 22990

Buy Now
*Includes Cashback