Lenovo ThinkPad S1 Yoga detailed review
Lenovo's Yoga series of laptops has always been held in high regard, as far as tablet-laptop hybrids go. The ThinkPad S1 Yoga is an attempt to convince business users (and common ThinkPad fans) that these two converging product lines can actually merge like a charm, and the result is in front of your eyes.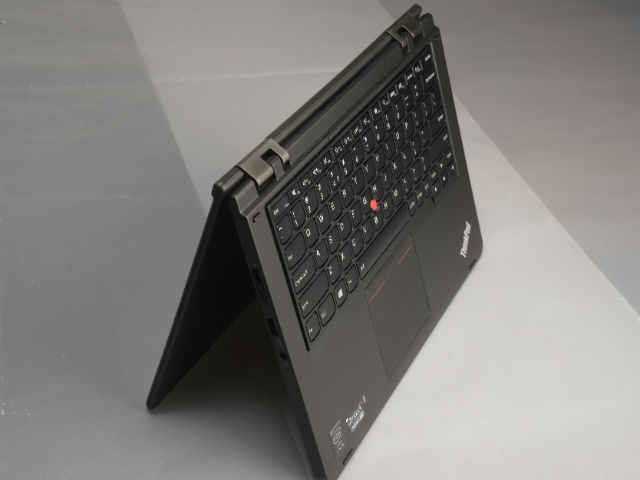 The ThinkPad S1 Yoga can morph from being a laptop all the way into a tablet. This is somewhere in between. Tent mode.
In terms of looks and design, the S1 Yoga is every inch a ThinkPad. It's not a glamorous, drop-dead gorgeous looking device, but its industrial dark gray look with a matte finish all around works for the people it's targeted at. What's more, it's functional design that's both rugged and innovative. Its unique 360° hinge design is the Yoga's crowning glory, giving the ThinkPad laptop the ability to morph into a tablet. What's interesting to note is the fine attention to detail given to the Yoga's overall metal exterior. For e.g., when you seamlessly tilt the screen all the way back to use the machine in tablet mode, the keyboard's raised keys are pulled in so that they merge into the same plane of the deck. As far as expensive business laptops go we thought the Toshiba Portege Z30t was very well built, but the ThinkPad S1 Yoga easily trumps that experience. The S1 Yoga is slightly heavier at 1.6 kg, but in every other department, it shines right through and exudes great confidence in its build and design.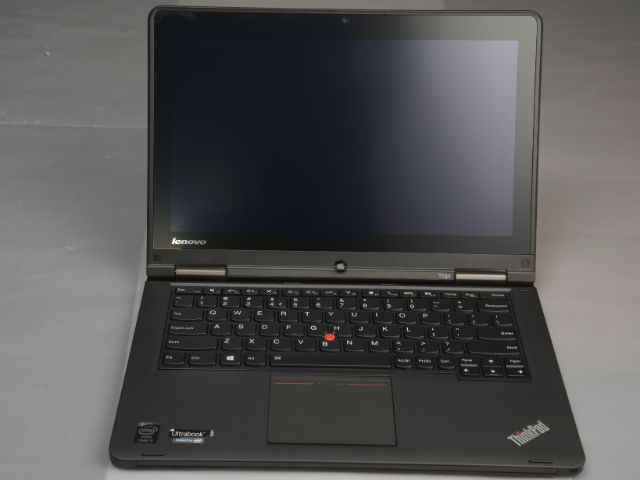 Just like the good old trusty ThinkPad the S1 Yoga. Of course, there's more here than meets the eye.
The ThinkPad S1 Yoga is primarily a business laptop, and to that effect it's great, similar to ThinkPad X-series ultraportables we've seen in the past. But we like the enhanced changes it sports, the raised tiled keyboard and the single-slab touchpad with a nice haptic feedback. In the tablet mode, the keyboard switches off, and you interact with the device like a regular tablet. You can either touch and feel the screen with your fingers or use the smart stylus (which snugly slides into the chassis) to either write notes or point and click. Both ways work very well, due to Windows 8's native touch-input support, on the S1 Yoga, and the stylus is especially one of the better ones we've used. However, using it solely as a tablet, the form factor of the ThinkPad S1 Yoga isn't close to ideal yet, as this laptop-tablet hybrid does feel too heavy to use compared to a full-fledged 10-inch tablet that doesn't come with some of its baggage.
The spill-resistant keyboard with island-styled raised keys is a joy to type on, not to mention the trackpoint stick addictive as ever once you get to used to it, and the palmrest is much improved in terms of response, texture and performance. The only mild disappointment here is the placement of the Function key on the bottom left corner of the keyboard, traditionally where the Control key is. It's just a question of retraining your muscle memory, something that is a bloat on the otherwise fantastic keyboard.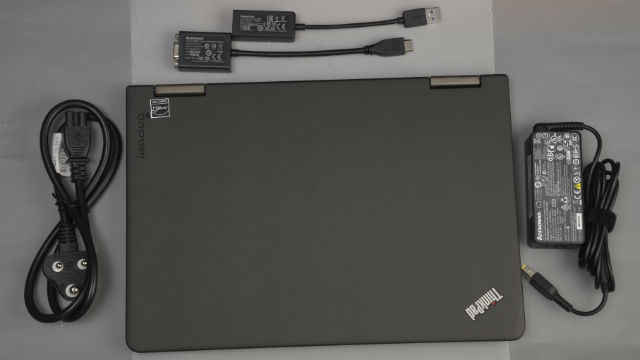 Its adapter brick is small. Above you can see the Ethernet and VGA attachments.
The ThinkPad S1 Yoga comes all the bells and whistles of Lenovo's proprietary software installed on top of Windows 8 Pro 64-bit OS. Lenovo ThinkVantage is a great tool to manage the various software and services installed on the device. Attention is also paid to the video-calling capabilities on the S1 Yoga with a 720p HD webcam and dual-array mic for clearer audio recording to ensure you get good quality business calls on Skype or any other solution you use. Sure, it doesn't have a display-sharing port and ethernet jack built into it, but attachments for the same (Gigabit Ethernet and mini-HDMI to VGA) give you a way to use these features if you really want to – perhaps during a boardroom presentation or an office environment with poor Wi-Fi strength.
In terms of pure performance, the Lenovo ThinkPad S1 Yoga provides good overall performance. It has a low-voltage CPU which can multitask with 4-5 apps at once, but can't really set the stage on fire. The onboard GPU is capable of casual browser games, if you're trying to kill some time on a flight, nothing more. But this machine isn't meant for anything more in terms of raw, number-crunching performance.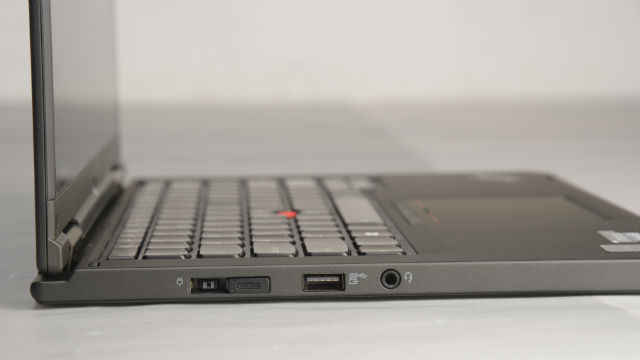 Ports lining the left side of the Lenovo ThinkPad S1 Yoga hybrid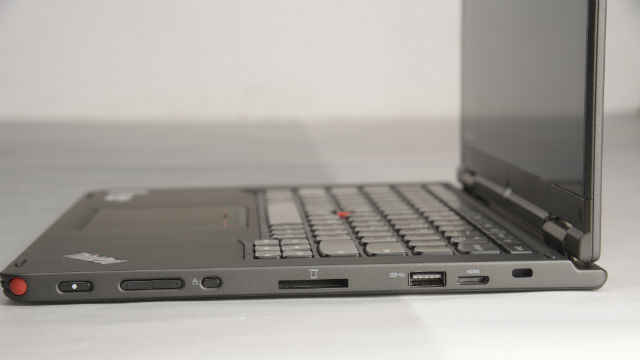 Ports lining its ride side. That red dot on extreme left is the stylus, which works nicely with the screen.
Where it does surprise is its nice screen quality and brightness, very good for watching movies and reading text (anti-glare coating works like a charm under bright lights, too). The in-built speakers are good for personal entertainment, as they're both loud and largely distortion-free at high volume. But most importantly, the ThinkPad S1 Yoga's battery life is among the best we've pegged in a business laptop, lasting over 200 minutes in our tests, and we think it should last at least over 6 hours of standard use on a single charge.
The ThinkPad S1 Yoga is a very good attempt to mould an iconic laptop into a functional tablet, one that comes with our full recommendation. It's still a bit heavy to use and operate in tablet mode only, but if you look at this primarily as an ultraportable ThinkPad with the added bonus of turning into a Windows 8 tablet, the experience only flatters to impress from this small perception shift. Other impressive laptops for you to check out at a similar price point are the Toshiba Portege Z30T and Acer Aspire S7.