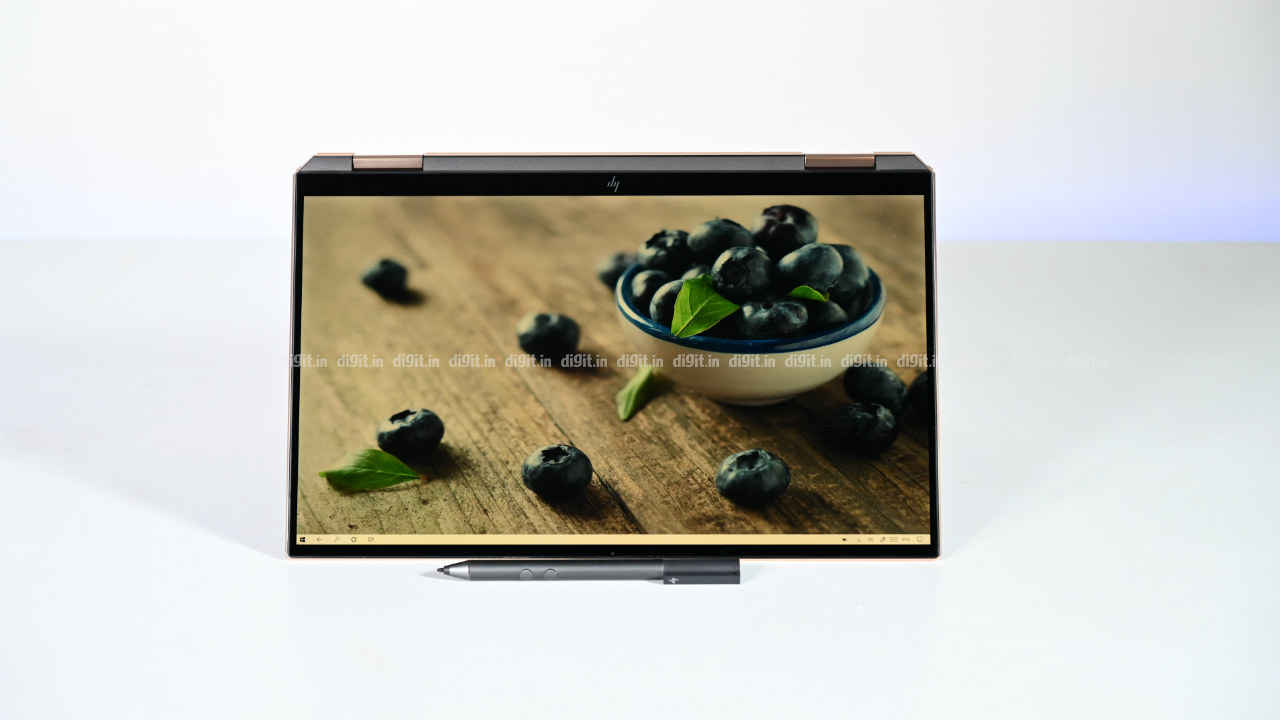 VERDICT:
The HP Spectre x360 13 rights most of the wrongs from previous Spectre models to come up as the best of its kind yet. It's one heck of a premium convertible laptop if you're willing to spend close to Rs 2 lakh.
In my opinion, HP is definitely (and finally) headed in the right direction as far as its consumer PC notebook division is concerned. Now, I say this based on two notable examples I've observed in the recent past. One, HP has brought in as many as four new Chromebook models in the last six months alone, including the highly affordable Chromebook 14 that starts at Rs 22,980. Two, HP has finally listened to its irate users and switched to a precision touchpad on its latest Spectre and Envy models. Keeping these changes in mind, I believe HP's new portfolio could boost its success in the Indian laptop market by a considerable margin.
HP has been selling its Spectre line-up of premium convertible laptops since late 2013. Of late the American multinational has been refreshing its models quite vigorously to keep them slim and updated. This year alone, we've seen two iterations of the Spectre x360—one that brought in a major aesthetic overhaul and another that introduced 4G LTE connectivity. Read our review of the former here. The latest one, a model HP likes to call Spectre x360 13, sees a massive reduction in the laptop's top and bottom bezels. It also comes with Intel's 10th Gen Ice Lake U (10-nanometre) CPU and 4G LTE connectivity. Let's see how it did at the Digit Test Centre.
Performance
The HP Spectre x360 13 is one of India's first few devices to be powered by Intel's 10th Gen Core i7 (Ice Lake U) CPU, which is a 10-nanometre Quad-core chip with a max boosted clock speed of 3.90GHz. Our review unit was complemented by 16GB of RAM, and 512GB of storage on an Intel Optane H10 chip, which combines traditional Optane technology and quad-level cell NAND technology for even faster solid-state storage. Handling graphics was the new integrated Iris Plus GPU, which Intel claims delivers up to two times better performance.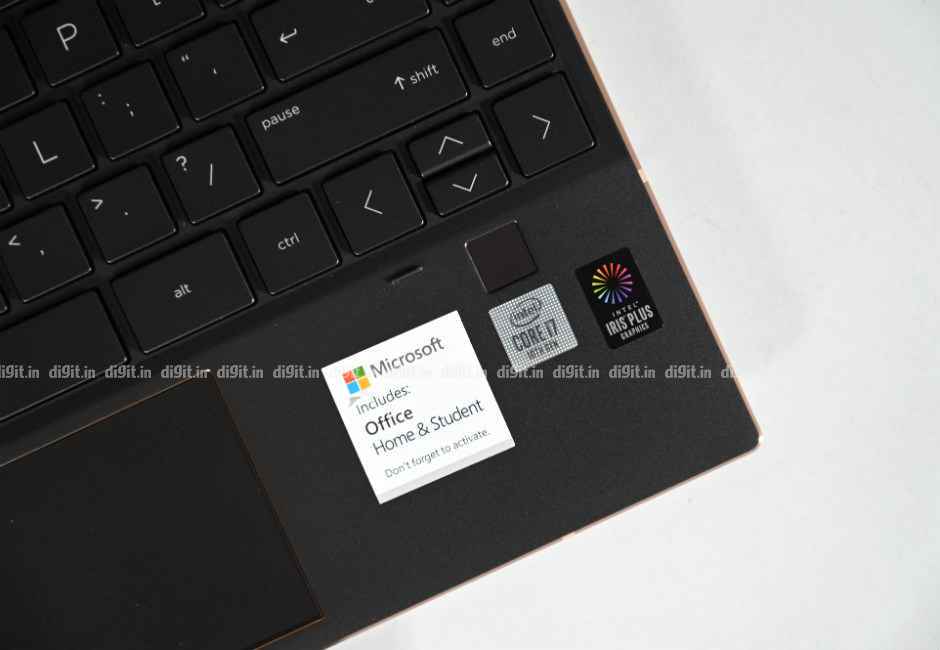 Intel 10th Gen Ice Lake U CPU inside
The Spectre x360 13 review unit bagged commendable scores on our CPU and GPU benchmark tests. Some of its GPU test scores were higher than those scored by the Lenovo IdeaPad C340, a mid-range convertible laptop with a dedicated Nvidia GeForce MX230 graphics card. On PCMark 8's Accelerated Creative test, the review unit took home 4295 points, which is ahead of its own score from earlier this year by nearly 500 points. On 3DMark's Fire Strike and Cloud Gate, the review unit walked away with 2605 and 13263 points, respectively. Those are the highest scores we've seen on any convertible laptop this year. Surprisingly, the Spectre x360 13 didn't beat the much cheaper IdeaPad C340 on our storage speed test despite the new tech boost from Intel.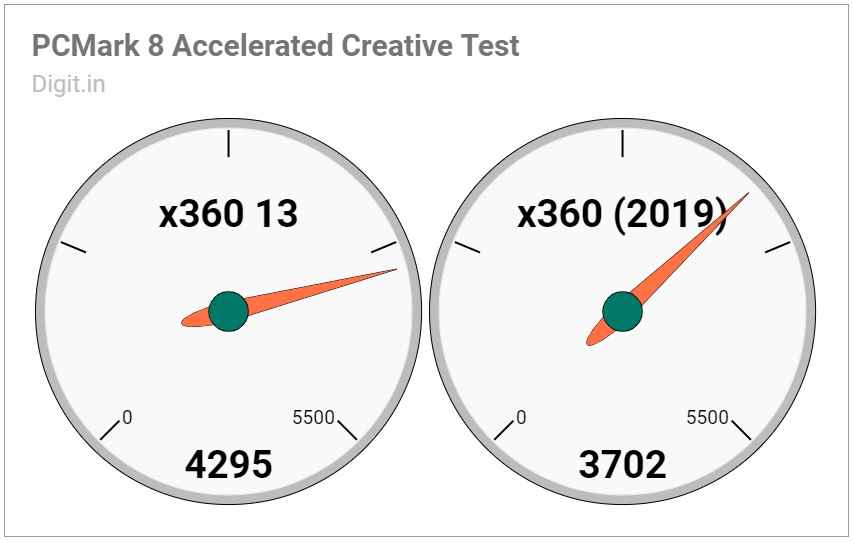 On our everyday tests, the Spectre x360 13 was fantastic. The laptop had absolutely no problems handling multiple instances of everyday applications such as Word, Excel, iTunes, File Explorer, Chrome, and WhatsApp for PC across multiple virtual desktops. Switching between these applications was a cinch, too, with zero signs of stuttering or lag in animation. I was able to edit and batch-process large JPEG and PNG files without experiencing any hiccups. Sadly, I did not get a chance to run any video games on the review unit during its short stay at our test centre.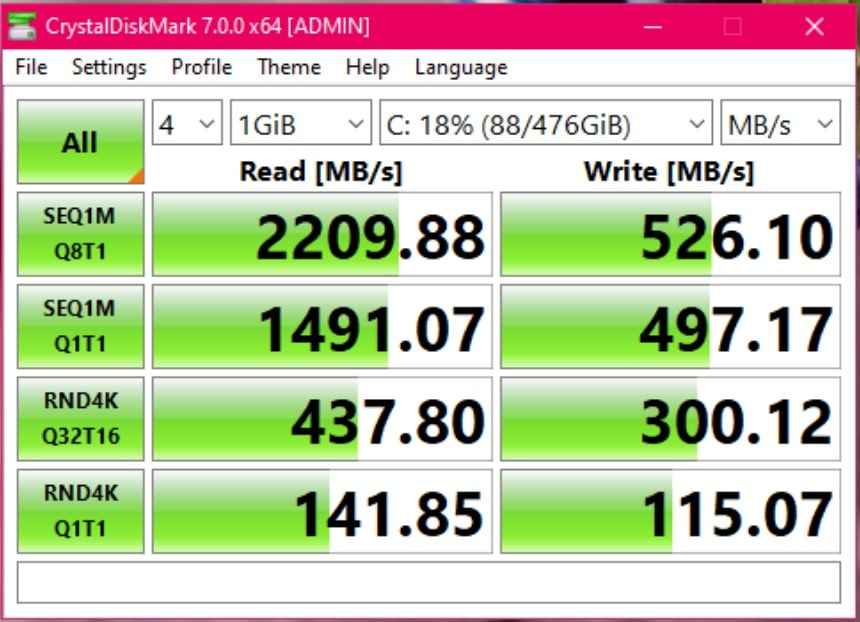 Surprisingly, the IdeaPad C340 beats the Spectre x360 13 here
Given my experience with the device, I can vouch for the HP Spectre x360 13's effortless performance in everyday home and work scenarios. If anything, the laptop's single CPU fan could have been a little quieter. The noise wasn't loud enough to cause any nuisance while working in a quiet conference room, but it definitely caught my attention every time I launched a new application or increased disk activity on the laptop. In summary, the HP Spectre x360 13 is a fine device for everyday computing whether it's work or play.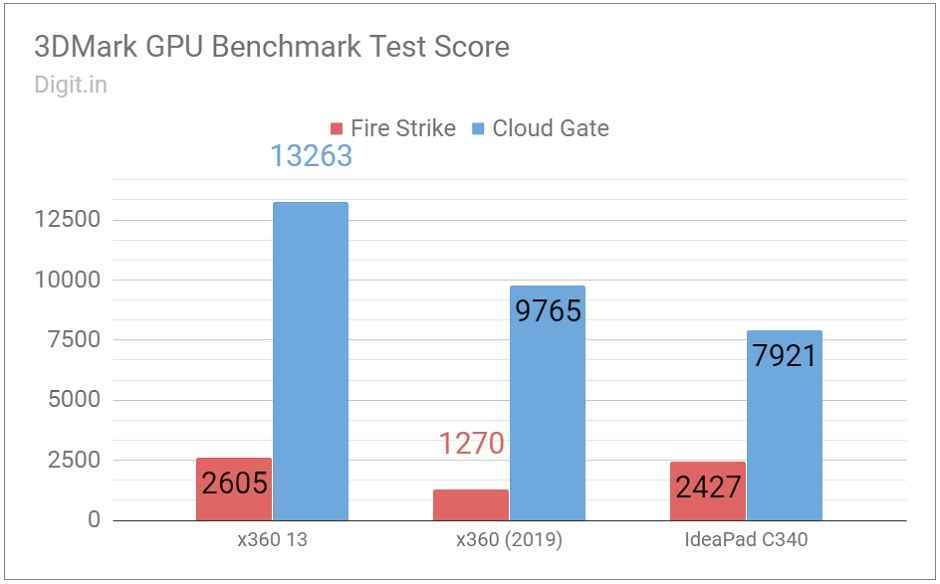 4G LTE Connectivity
HP's Spectre x360 got 4G LTE connectivity in late July this year after a quick model refresh. I'm happy to note that the feature continues to exist in the new '13' model as well. Getting connected works more or less like it does on a smartphone. The laptop is equipped with an internal Intel XMM 7560 1Gbps-capable 4G LTE modem. There's a nano-SIM card tray on the left side of the device for physical SIM authentication along with support for dual eSIM connectivity in certain regions. The laptop should work with most Indian carriers as long as there's no PIN-based lock applied to the SIM card.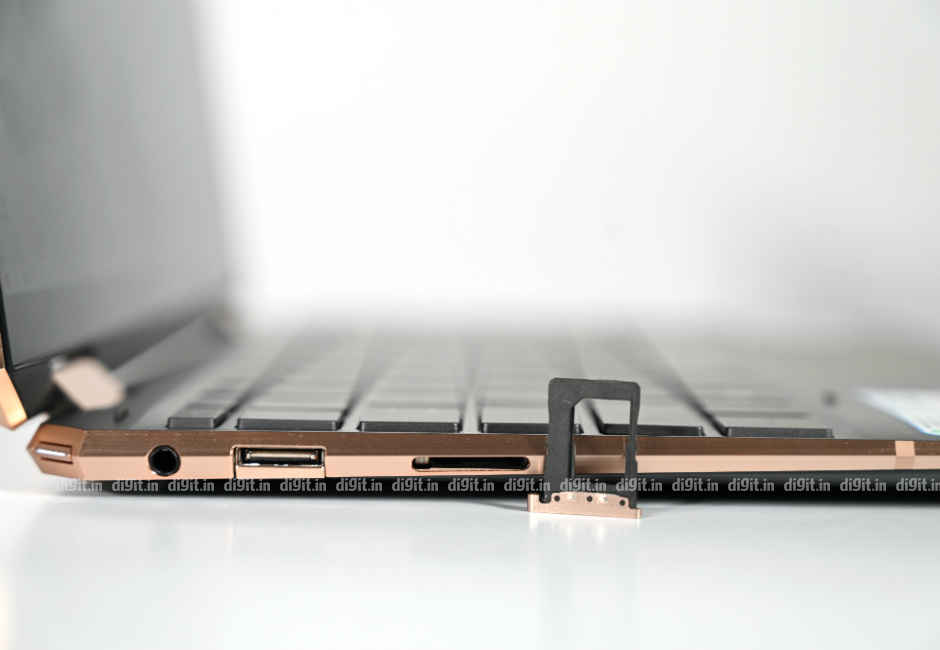 Your nanoSIM card goes here
I could not get a Jio SIM card to work with the review unit even though it was unlocked but I was able to get an Airtel SIM up and running in a few minutes. All I had to do was pop in the nanoSIM card and set up a SIM profile in Windows Settings (with the right Access Point Name). Within Windows Settings, I was able to toggle settings such as metered downloads. 4G LTE connectivity will no doubt prove to be a useful feature for frequent travellers on the HP Spectre x360 13.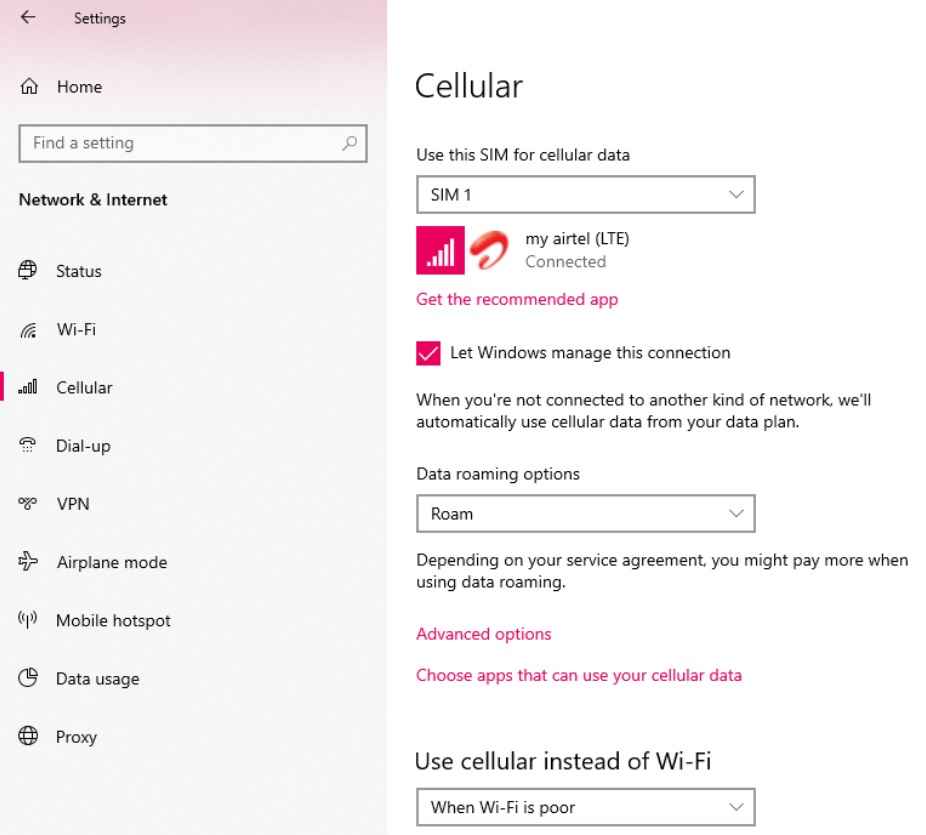 Battery
The Spectre x360 13 packs a quad-cell 60Wh lithium-ion polymer battery, which is slightly smaller than the unit on the previous model. On our standard battery benchmark test, the review unit lasted 4 hours, 57 minutes. That's not only a new record score for HP's Spectre series in our books but also the highest score we have seen this entire year in the category of convertible laptops. The only other laptop to score in the same range as the new 13 is the Asus ZenBook Flip 13 (UX362) at 4 hours, 53 minutes.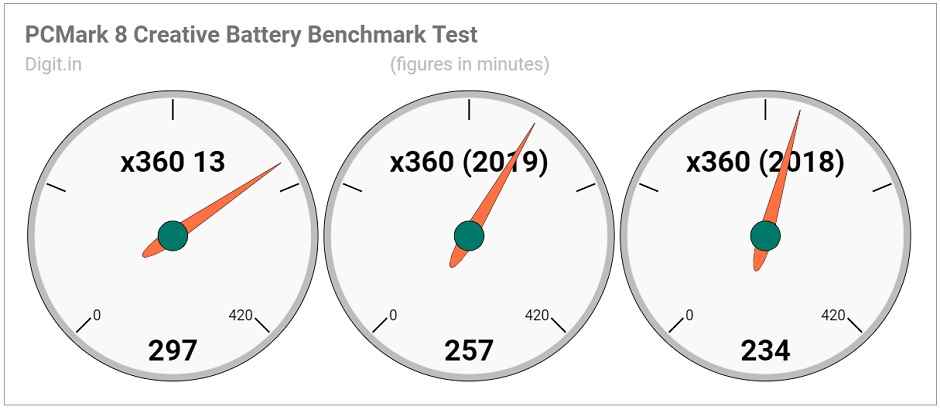 Though it runs on the latest Intel 10th Gen chip and employs a 1W low-power LCD panel, the Spectre x360 13 is not listed as an Intel Project Athena model, which means it's impractical to expect 9+ hours of web browsing on battery. On our daily test runs, the review unit performed well on battery power but didn't blow our minds. On one occasion, the battery level fell from 92 per cent to 15 in exactly five hours. Throughout the cycle, the laptop was tasked with heavy browsing, intermittent video playback, 4G use (for about half an hour), and occasional image editing at max screen brightness.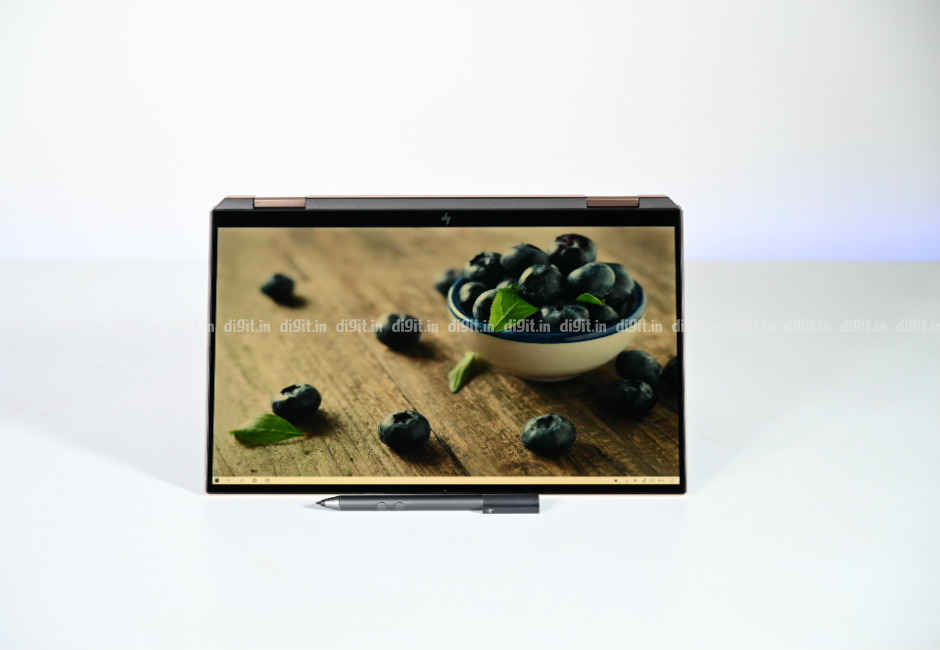 The Spectre sports a 1W low-power display
On another occasion, the battery level fell from full to 83 per cent in about one and a half hours. During the run, the screen brightness was set to 70 per cent and the laptop was used for moderate browsing. In other words, you can expect up to six or even seven hours of continuous use on battery power. That may not beat an Apple MacBook Air but it will definitely come close. Charging from 17 per cent to 82 on the review unit took about 1 hour, 15 minutes.
Display, Audio, and IO
The HP Spectre x360 13 comes with a 13.3-inch HP BrightView WLED-backlit touchscreen panel with Full HD resolution and Corning Gorilla Glass NBT protection. According to HP, the display on certain variants can produce 100 per cent sRGB colours and up to 400 nits of brightness. Our review unit did not come with HP's SureView Gen 3, an optional technology that ensures the contents of the display are blocked from side angles for increased security and privacy. In my experience, colours on the screen were naturally rich without appearing too saturated. I often found myself pushing the brightness down (to around 60 or 70 per cent) even in bright ambient conditions.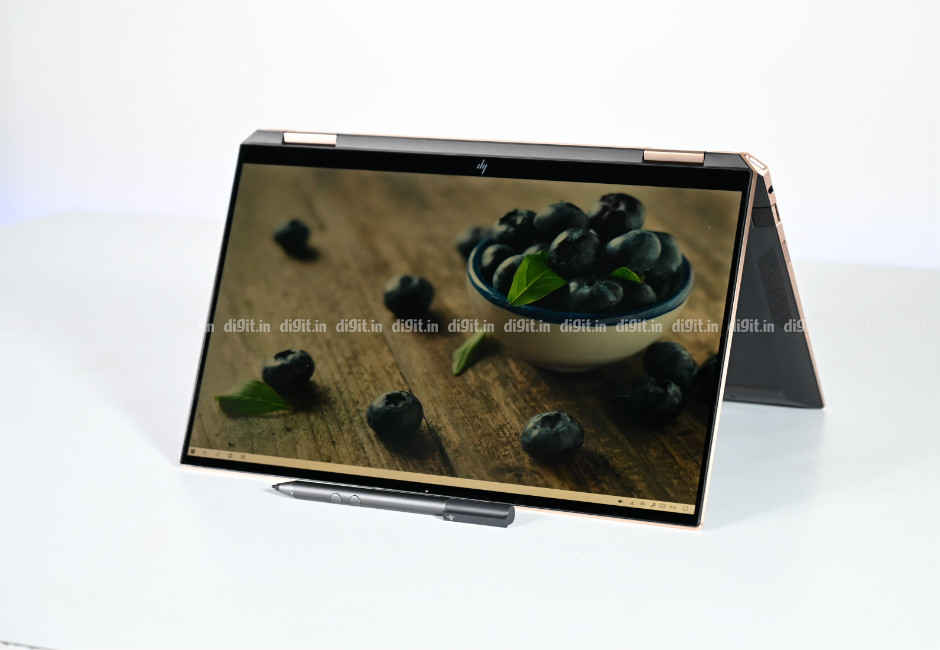 Bright and colourful display
The review unit came bundled with an HP Active Pen stylus, which worked very well with the laptop's touchscreen in tablet mode for drawing and annotating. Palm rejection was precise and the stylus displayed ample control when it was used with inbuilt Windows apps, such as Microsoft OneNote and 3D Paint. The one thing the Spectre lacks is a dedicated parking garage for the bundled stylus. This means you'll have to fish it out of your leather messenger's bag every time you want to highlight an element on the screen. The laptop has an excellent viewing setup otherwise.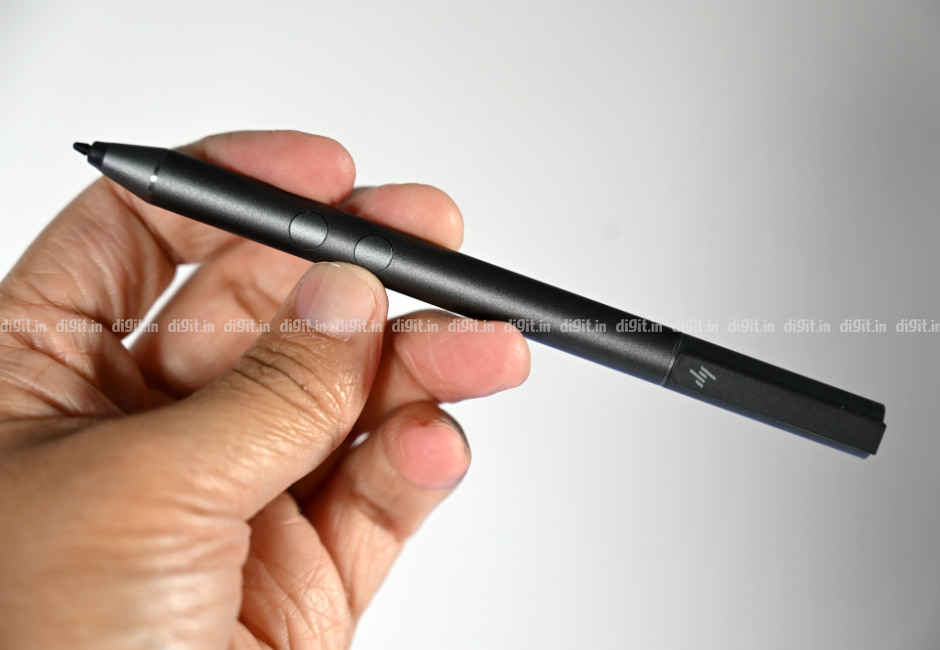 HP Active Pen comes bundled with the Spectre but has no place to stay inside the laptop
Despite the bold Bang & Olufsen badging above the keyboard, the sound from the Spectre x360 13's bottom-firing speaker grille is underwhelming at best. There's sufficient volume for video calls in a small conference room but not enough detail for active music listening. Lows, mids, and highs fall flat on electropop tunes such as The Weeknd's Starboy. You're better off investing in a pair of powerful headphones or an external Bluetooth speaker if portable audio is your thing.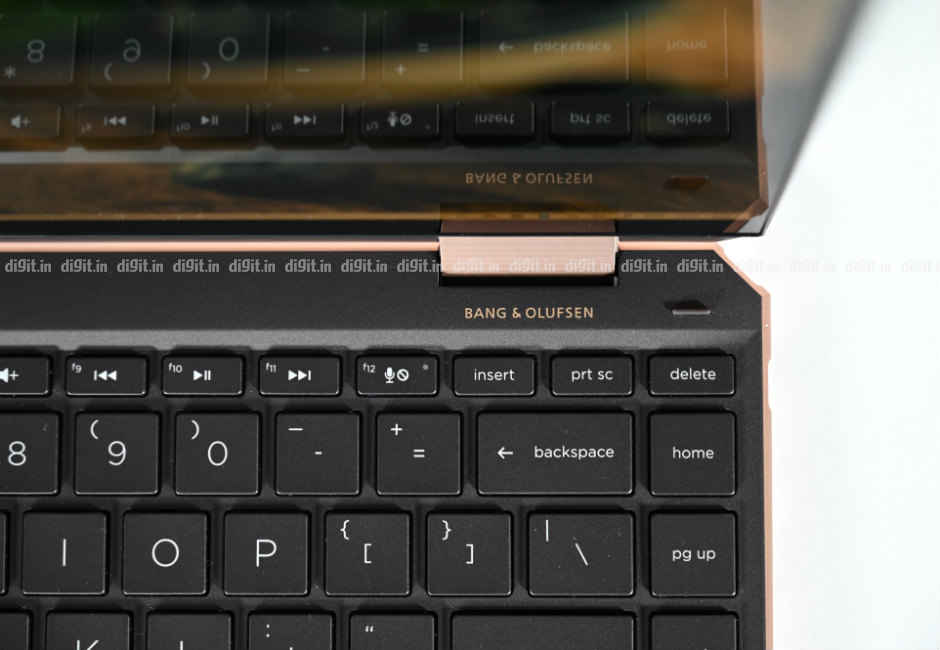 Bang & Olufsen heritage doesn't reflect in the Spectre's sound quality
Being a little under 17 millimetres in thickness, the Spectre x360 13 doesn't offer too many connectivity options outside the basics. So, on the left side, we see a 3.5mm audio jack for headsets and a USB-A 3.1 port with a flap. This USB port supports HP's Sleep and Charge technology, which lets you charge smaller devices like smartphones even when the PC is turned off. On the right side, there are two USB-C 3.1 Gen 2 ports (one of which is on the faceted edge to prevent cable intrusion) with support for Thunderbolt 3, DisplayPort, and Power Delivery 3.0.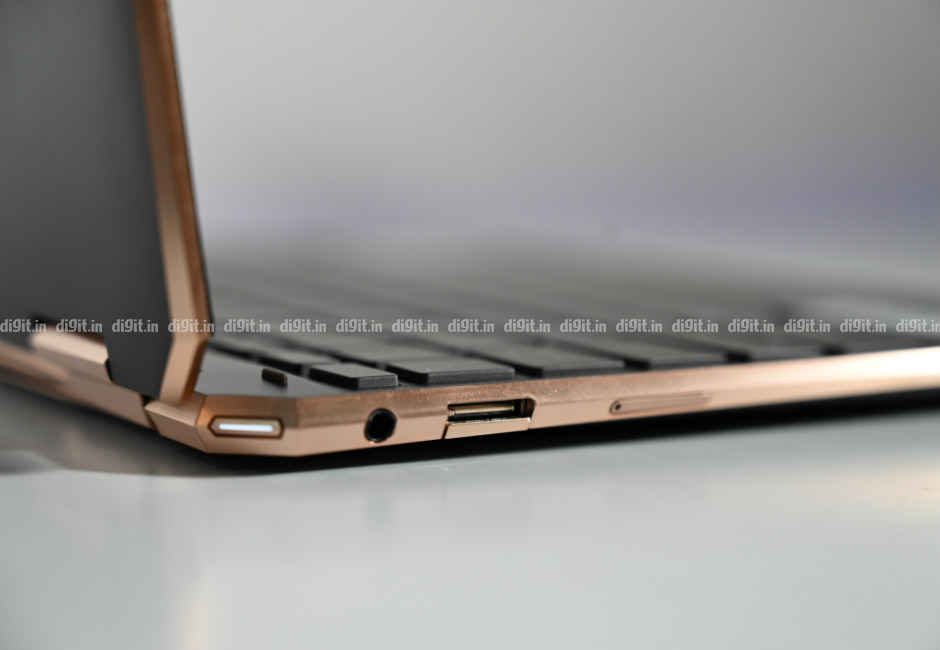 USB-A gets a clever flap for space conservation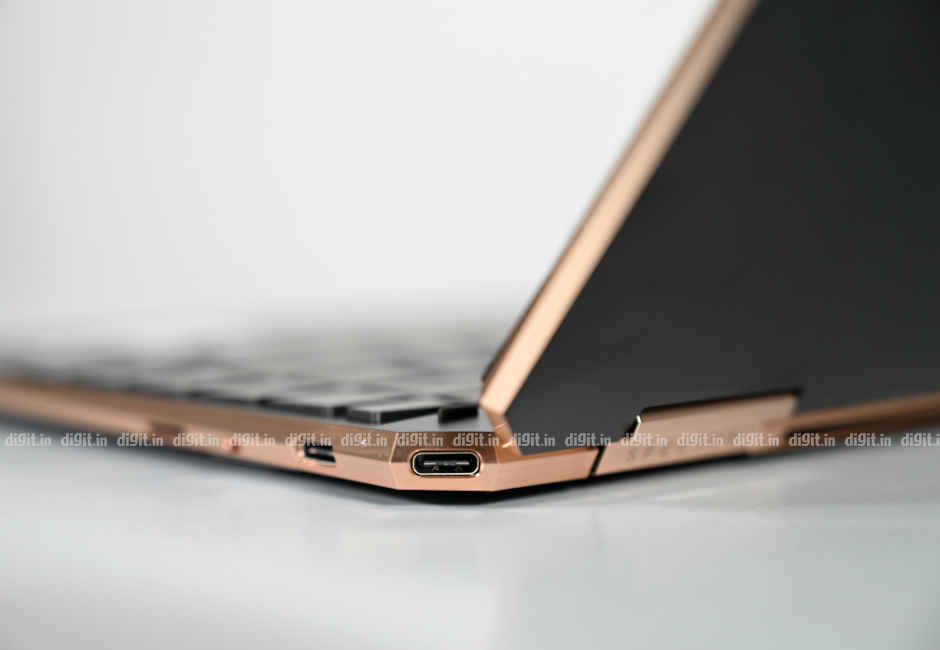 USB-C on faceted edge to prevent cable intrusion
There's also a microSD card slot and a 'Webcam Kill Switch' that disconnects the webcam electronically for added privacy. It's a neat innovation but I feel Lenovo's more obvious and direct ThinkShutter approach may convince users better. Though the Spectre x360 13 comes with "the world's smallest" 2.2mm IR camera, our review unit featured only a tiny square fingerprint scanner just below the keyboard. Nevertheless, it worked swiftly with Windows Hello for sign-ins.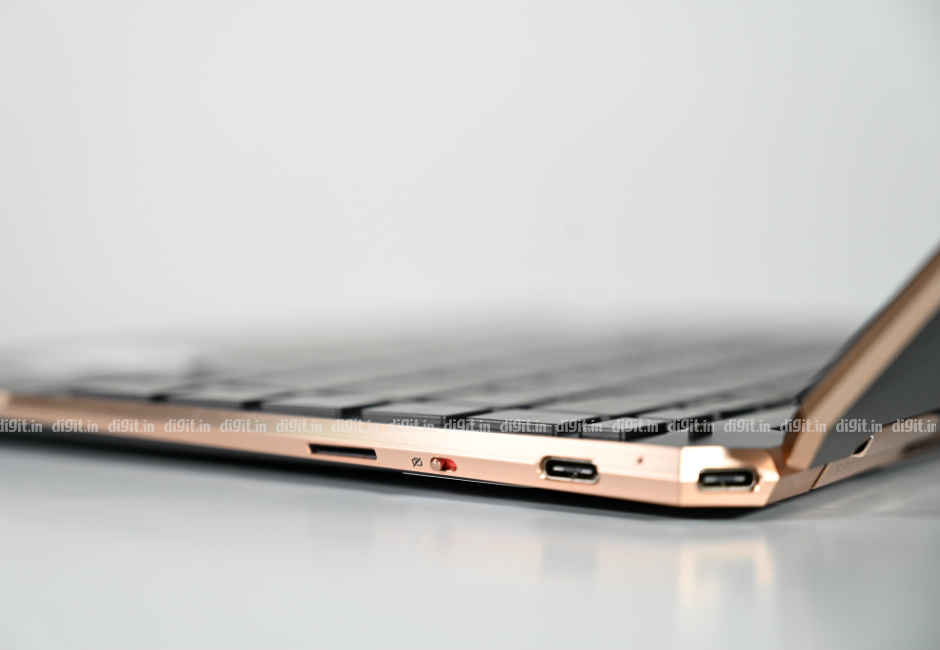 Webcam Kill Switch electronically turns off webcam
Keyboard and Touchpad
Typing on the review unit was an absolute pleasure. The typing experience on the Spectre x360 13 is quite similar to what you get from a high-end Lenovo ThinkPad X-series model, and that's saying a lot. To begin with, HP has redesigned the keycaps to provide a shallow but highly effective dish. This makes finding keys on the laptop's keyboard much easier than before. HP keys have been traditionally flat, so this is a first for the Spectre. What's more, the keys have just the right amount of travel and resistance, making long email and document compositions a piece of cake.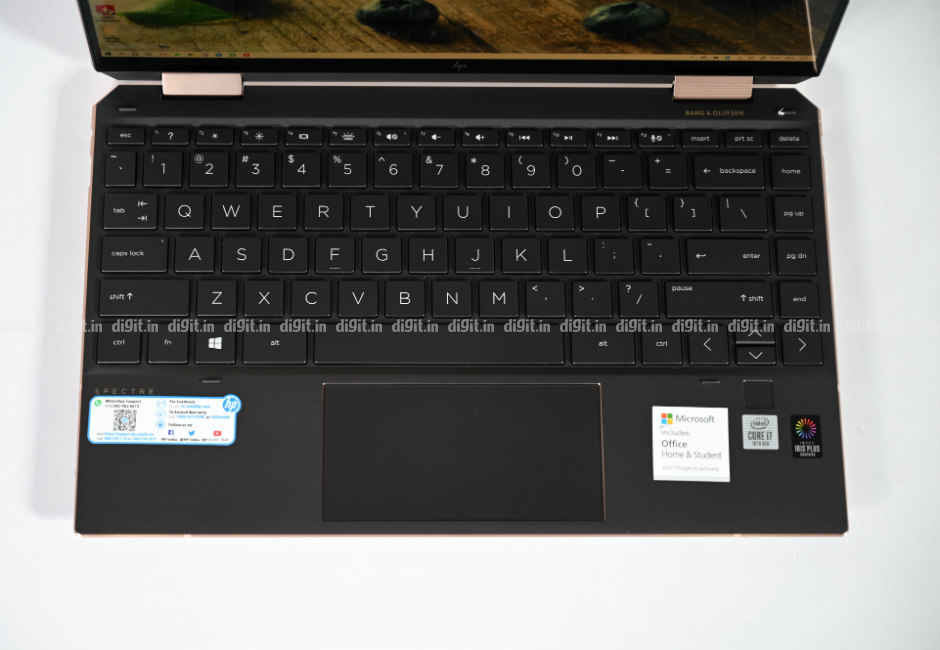 Keys finally get a shallow but effective dish for easy identification
On the minus side, the keycaps are a tad tiny for large hands and the extra column on the right (though useful for text manipulation) offsets the entire keyboard by a few critical millimetres. What's more, the keyboard backlight's automatic timeout can get distracting when you're trying to concentrate on the screen. Despite those minor flaws, the Spectre x360 13 delivers the best typing experience I have seen so far on any HP laptop.
Hurrah! HP has switched to precision touchpads at last!
Joy to the world, HP has listened to its customers at last! Unlike the previous Spectre and Envy models, the Spectre x360 13 employs a proper Windows 10-recognised precision touchpad. This means the pointer movement is linear and multi-finger taps and swipes are supported natively. Touchpad settings can be changed from Windows Settings without the need for a third-party driver or utility. On the review unit, the touchpad surface was smooth and the click keys beneath it were easy to press. If anything, the touchpad surface could have been taller and wider.
Build and Design
The redesigned 2019 Spectre x360 that we reviewed earlier this year oozed character and class, and this Spectre x360 13 is no different. It's essentially the same model but in a more compact avatar with Intel's new 10th Gen chip and considerably narrower bezels. In fact, HP says the new Spectre is the "world smallest convertible" with a 90-per cent screen-to-body ratio in its reviewer's guide. The Spectre continues to employ the same angular design with faceted "gem-cut" edges on the back side. These edges are home to to the power button and one of the two USB-C ports. The body is made of CNC-machined aluminium with dual chamfering on all four sides. The result is a slim, lightweight convertible laptop that's sure to draw attention from your mid-air business class neighbours. Just make sure you give the top cover a wipe often because it's a smudge magnet.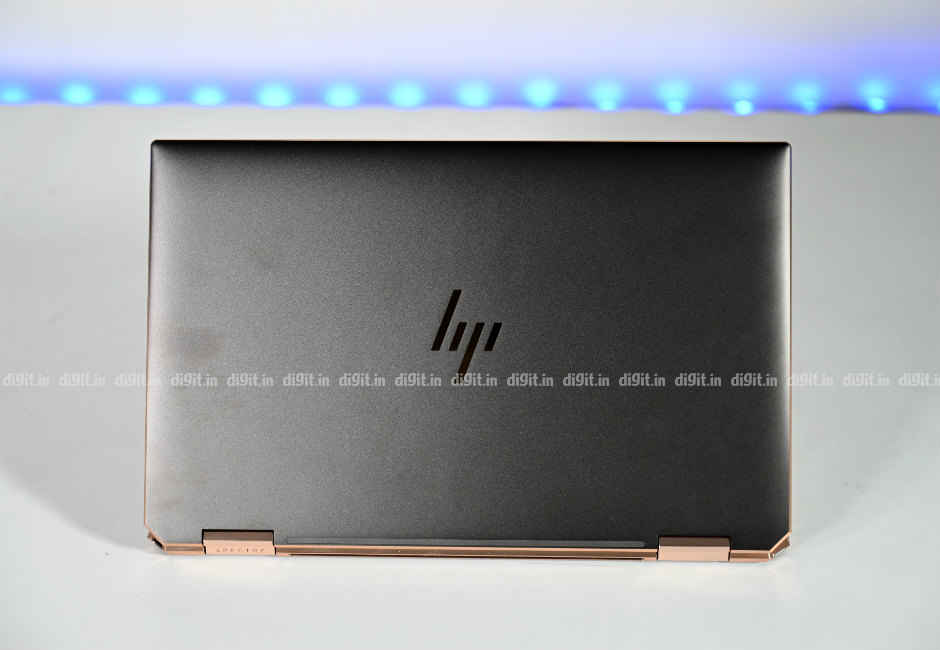 Classy top cover needs frequent wiping to prevent smudges
Opening the lid, which is unfortunately a two-hand job, reveals a glossy 13.3-inch touchscreen panel with extremely slim black bezels. With this model, HP has brought the height of the top bezel from 17.35mm to an astonishing 5.85mm. This engineering feat required HP to switch from a 6mm 88-degree IR camera to a much smaller but narrower 2.2mm 76-degree IR camera. The bottom bezel too is considerably smaller. In fact, the two tiny palm rests are probably the biggest piece of visible body space when the laptop is left open. In my opinion, the HP Spectre x360 13 is a fine piece of machinery that looks as good as it operates.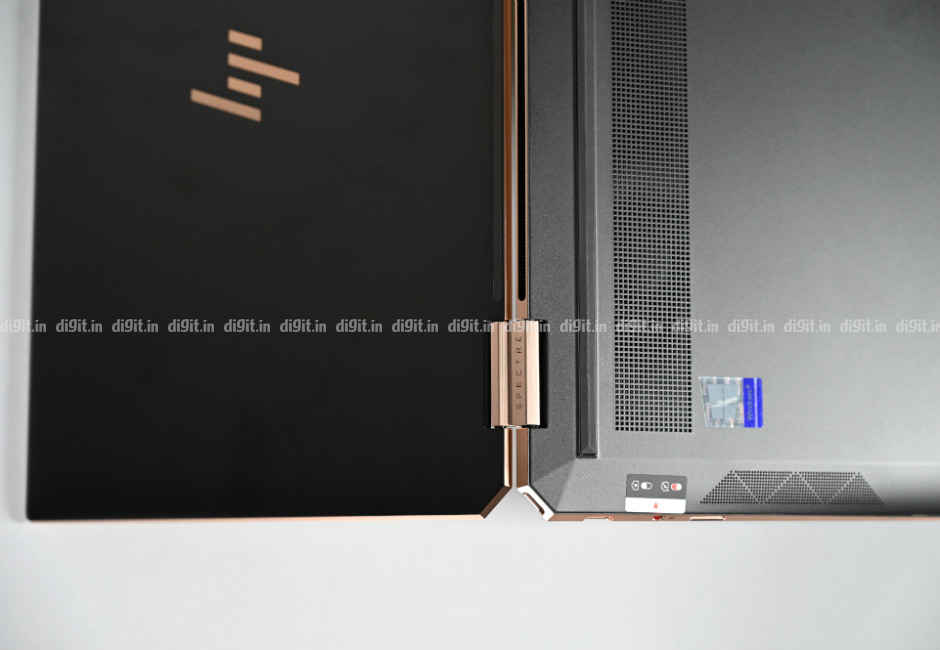 Premium materials on all sides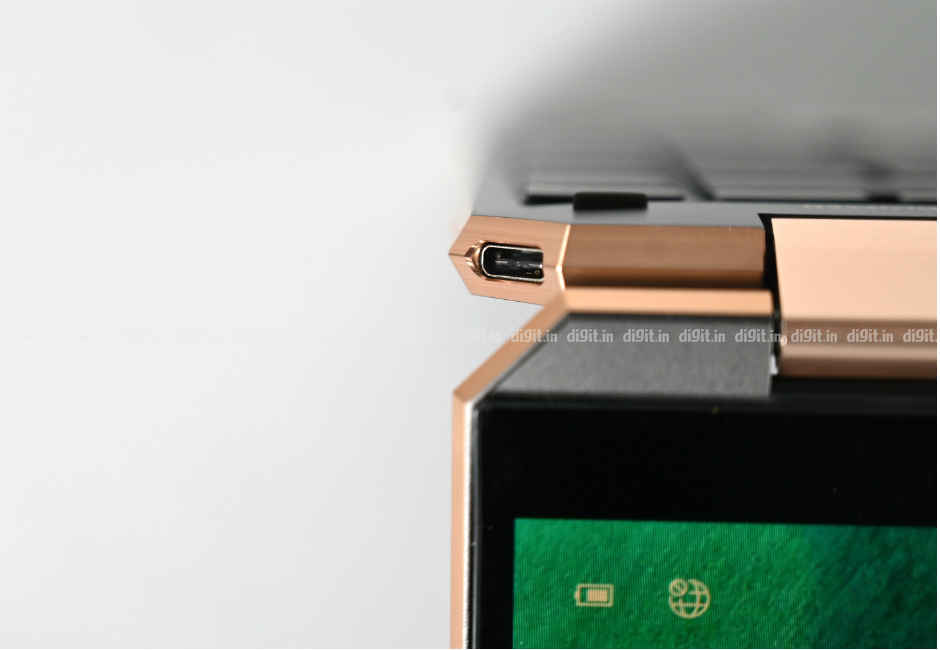 Edges sharp enough to cut
Bottom Line
The redesigned HP Spectre x360 from earlier in the year was a very capable device to begin with. It bore many physical remnants from the original Spectre design and its biggest flaw was perhaps the lack of a precision touchpad. But the recently launched HP Spectre x360 13 not only addresses many of those shortcomings but also comes in a smaller, more convenient form factor.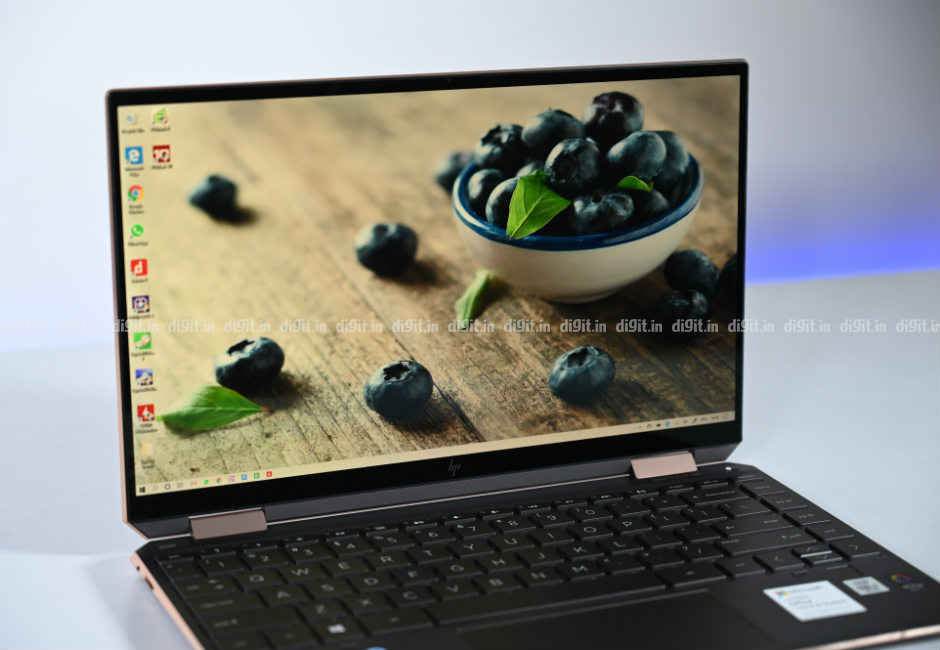 The HP Spectre x360 13 is much more compact now with almost no compromise to the device's ergonomics. Crunching power too is right up there with other high-end business machines. Save for a few minor flaws, like the lack of a parking garage for the bundled stylus, flat audio, and high fan noise, the HP Spectre x360 13 comes up as the best Spectre ever made. It's one heck of a premium convertible laptop if you're willing to spend close to Rs 2 lakh.