VERDICT:
If you are looking for a budget laptop for basic use and light gaming, then the HP G6 will address all your needs. It is a good looking, better-than-average 15-inch laptop sold at a very competitive and affordable price.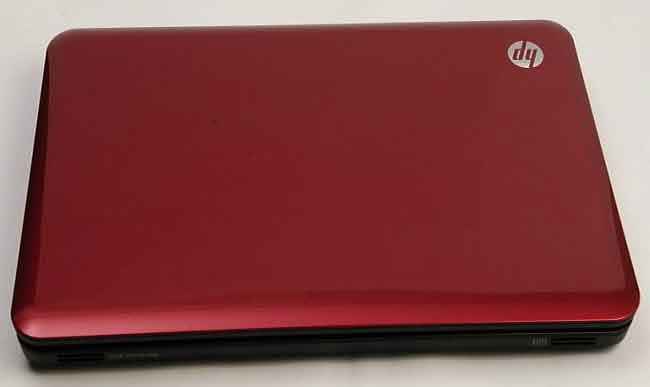 Features
The HP Pavilion G6- 1202TX features the latest Sandy Bridge Intel Core i3 2330M 2.2GHz processor, 4GB of DDR3 1333MHz RAM, 1GB of dedicated graphics – AMD Radeon HD 6470M with switchable graphics option, a 15.6-inch screen and 500 GB HDD; for a budget laptop the internal hardware definitely packs a punch.
As for the connectivity options the G6 is safely average – three USB ports, HDMI, VGA, ethernet, card reader, DVD writer, microphone and headphone jack. We were utterly disappointed at the omission of USB 3.0. The device further lacks an eSATA port and Display port. The laptop's wireless connectivity is taken care of by Wi-Fi 802.11b/g/n and Bluetooth. Not a bad set of features for the HP Pavilion G6, to be honest.
Click to enlarge

| | |
| --- | --- |
| | |
The G6 has a 15.6-inch glossy screen display with a native resolution of 1366 x 768. The brightness is pretty decent and the image reproduction is respectable. While the viewing angle is very poor; the glossy screen also suffers from reflection in bright light. The Altec Lansing speakers pump out good sound but you soon realise that it lacks at delivering the highs.
The G6 also sees the inclusion of a built-in webcam with a microphone, which can be used for video conferencing.
Design and Build
The laptop that we received for review was predominantly covered in red and black. Excluding the bottom and screen bezel, the entire device was made of glossy plastic, which much to our dislike was a magnet for smudges — it's the case with most laptops these days, so we won't penalize the G6 overmuch. The screen lid isn't the best built, but the two metal hinges it rests on are quite strong, though. Overall the laptop has a plasticky feel to it.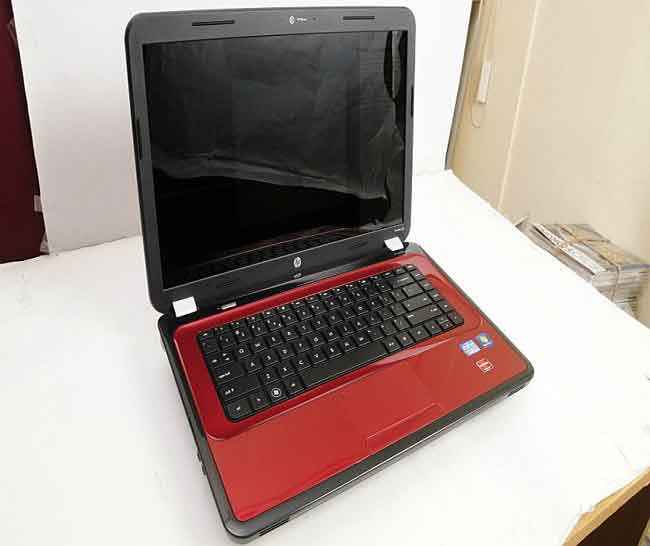 The G6 features a textured trackpad, which is extremely responsive; among budget laptops, the Pavilion G6's trackpad is arguably among the best we have used so far. The trackpad also features multi-gesture support. The mouse buttons are discrete and easy to press. The full-size keyboard sports square flat-topped keys with wider bottoms, the HP G6 keys lack spacing between each other making typing a bit difficult. However, the keys offer good tactile feedback.
The matte finish bottom houses a 6-cell removable battery. Further, it will be an easy affair for those interested in upgrading the laptop's RAM or HDD in the future as everything is under a single, easily accessible panel.
Click next to read more about the HP Pavilion G6-1202TX's performance, and our verdict…
Performance:
The performance of HP Pavilion G6-1202TX is good for an entry level laptop. The PC Mark Vantage test saw the laptop score a decent 5684, whilst in the 3D Mark it gave an overall score of 4305. Multitasking with few programs shouldn't be a problem on this device. We ran Doom and Far Cry 2 to test out the dedicated 1 GB graphics card. While Doom played at 35.6 frames per second, Far Cry 2 at played at 25.24 fps, which isn't all that good but passable. The lack of USB 3.0 was greatly acknowledged when transferring of data took a lot of time. It took 121 secs for copying a 4GB single file, while copying of 4GB folder files took 160secs.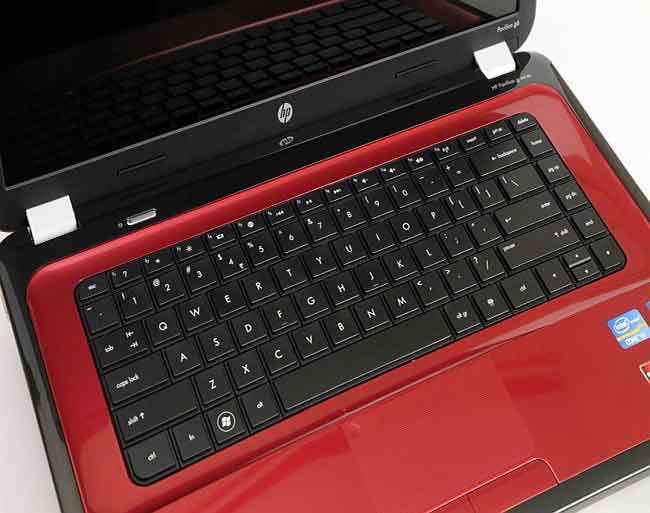 For a sub-40k 15-inch laptop, the HP Pavilion G6 offers a good home entertainment experience, its screen neat for HD viewing, the laptop's onboard speakers decent for personal entertainment. If you're considering a 15-inch laptop for home entertainment under Rs. 40k, the HP Pavilion G6 fits right into the bill.
The HP Pavilion G6-1202TX In terms of battery performance, the HP Pavilion G6-1202TX is really good. At high-performance preset and max brightness level, our video looped for 2 hours and 13 minutes. On a conservative power plan and with the switchable graphics function of the laptop, the laptop should deliver more that 3.5 hours of usage off a single charge; it is very decent if you ask us.
Verdict:
The HP Pavilion G6-1202TX is available for a price of Rs. 37,000, and for this price tag the G6 is a really good choice for those who require a 15-inch home laptop under Rs. 40k. The G6 will take care of all your basic use, deliver decent performance, let you run light games and while doing so will pump out decent battery life. Being a budget laptop, the HP Pavilion G6 doesn't have exceptional build quality, but overall we were quite satisfied with the G6's offerings. It's definitely better than a bargain.
Overall Rating: 3.5 out of 5
Price: Rs. 37,000
Features, Specs, Test Scores

| | |
| --- | --- |
| Brand | HP |
| Model name | Pavilion G6-1202TX |
| Processor Model No | Intel Core i3-2330M |
| Number of cores | 2 |
| Processor Speed (MHz) | 2200 |
| Memory (GB) | 4096 |
| RAM Type | DDR3 |
| Memory Speed (MHz) | 1333 |
| Chipset | Intel Cougar Point HM65, Intel Sandy Bridge |
| Graphics Solution | AMD Radeon HD 6470M |
| Dedicated Video Memory (Y / N) | 1 |
| Dedicated Video Memory Size (in MB) | 1024 |
| Audio chipset | Intel Cougar Point HDA |
| SSD/HDD Size (GB) | 500 |
| Blu-ray? | N |
| Bundled OS | Microsoft Windows 7 Home Basic 64-bit |
| Characteristics | |
| Screen Size (Inches) | 15.6 |
| Type of Panel | LED Backlit |
| Screen Resolution (Pixels) | 1366×768 |
| Weight (kg) | 2.3 |
| No of Ports (USB/Firewire) | 3 |
| No of USB 3.0 (Y/N) | N |
| Connectivity (LAN / Bluetooth / Wi-Fi) | Y/Y/Y |
| E-Sata / Thunderbolt (Y/Y) | N/N |
| Display output (VGA/DVI/HDMI/Display Port) | Y/N/Y/N |
| Built-in TV Tuner? | N |
| Headphone/Mic (1/1) | Y/Y |
| Wireless Keyboard & Mouse? | N |
| Memory Card Reader (Y/N) | Y |
| Optical Drive (Y/N) | Y |
| Inbuilt Webcam (Y/N) | Y |
| Webcamera resolution (in megapixels) | 1.3 |
| | |
| Price | 37000 |
| Warranty | 1 year |
| Test Scores | |
| PC Mark Vantage | |
| PCMark Score | 5684 |
| Memory Score | 3455 |
| TV and Movies Score | 3796 |
| Gaming Score | 3824 |
| Music Score | 5380 |
| Communications Score | 5210 |
| Productivity Score | 5047 |
| HDD Score | 3274 |
| 3D Mark Overall Score | 4305 |
| SM 2.0 | 1502 |
| HDR/SM 3.0 | 1744 |
| Maxxon Cinebench R11.5 (CPU Score) | 2.09 |
| Battery Meter (in mins) | 133 |
| Real world Tests | |
| Speaker volume (at 50%) | 6 |
| Speaker clarity (at 100%) | 6.5 |
| HD video playback test (So 10) | 6 |
| WinRAR 3.9 (Compression / Decompression) | 2140 |
| 4GB single file copy (secs) | 184.5 |
| 4GB folder files copy (sec) | 274.6 |
| 100 MB File Conversion (VOB-to-DivX) (secs) | 42.7 |