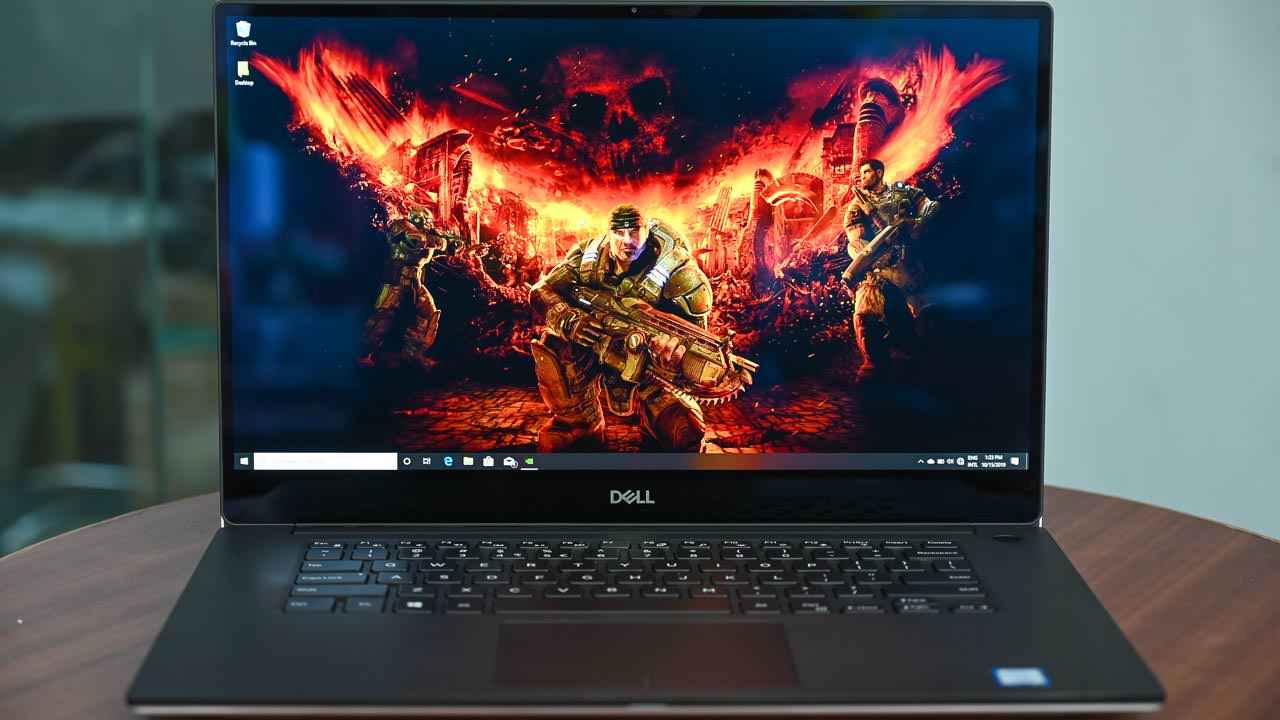 VERDICT:
The Dell XPS 15 (7590) is the third iteration of the gaming-turned-business-centric laptop and from our tests, it did not disappoint. The 4K OLED display is brilliant whichever way you look at it and the Intel Core i9-9980HK paired with an Nvidia GTX 1650 provides enough power for all sorts of tasks, be it gaming or video editing.
Earlier this year at Computex, Dell unveiled the new XPS 15 with Intel's 9th generation processors, but more importantly, it offered a 4K OLED display option. The webcam too was now in its proper place but other than this, there's very little that lets you tell the difference between this year's XPS 15 and last year's. "If it ain't broke, don't fix it," they say, so Dell left the outsides just as is, but did change a few things on the inside. We have the Intel Core i9-9980HK powered XPS 15 in for review and we put it through the works to see if it's worth all that money.
Display: Welcome to an OLED world
Every year that Dell refreshes the XPS 15, there's one hero feature to the machine. Last year, it was the introduction of the Intel Core i9 and this year, it's the inclusion of the OLED panel. Last year's XPS 15 that we reviewed also had an HDR-enabled display with 4K resolution and when we measured its performance using our in-house colourimeter, it did not disappoint.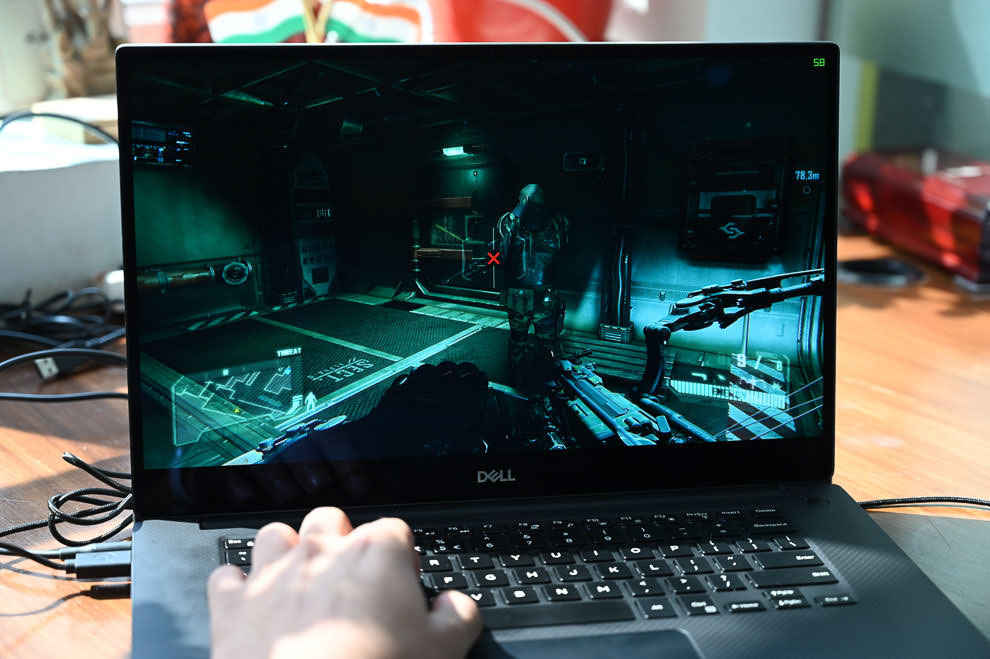 Gaming on a 4K OLED display is definitely a treat!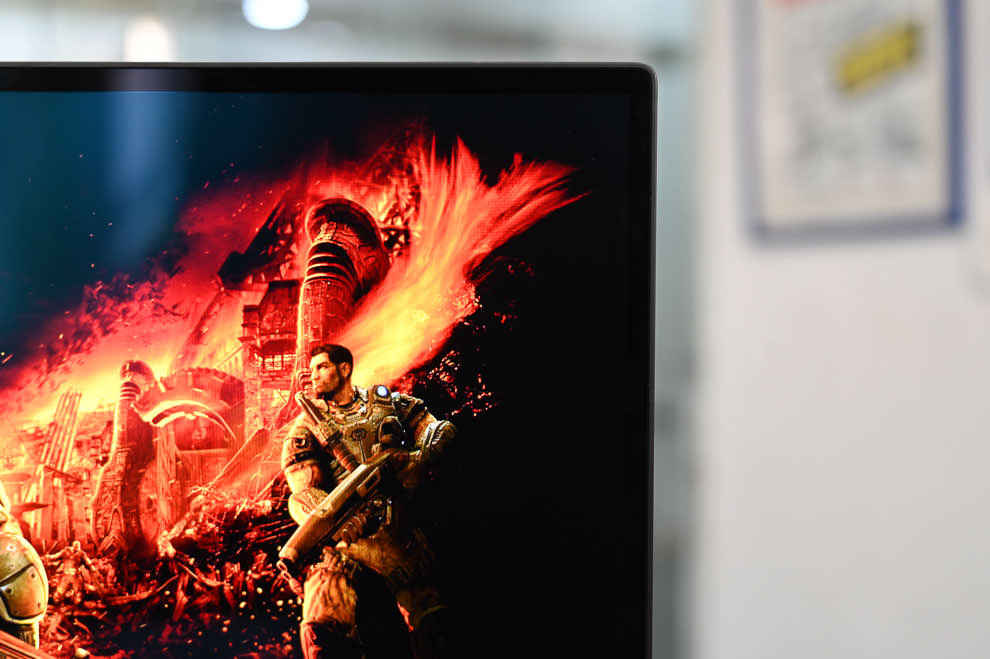 The perfect blacks on the Dell XPS 15's OLED display blend perfectly with the bezels
This year's OLED panel has an even higher peak brightness than last year's, clocking 610 nits of brightness in the centre of the screen, and anywhere between 660-680 nits of brightness in the corners. Using the Netflix app to watch content did kick the panel into HDR mode and it is quite a sight to behold. In normal usage though, the display seems to have a red-bias. What this means is that whenever the colour red is on the screen, it is oversaturated.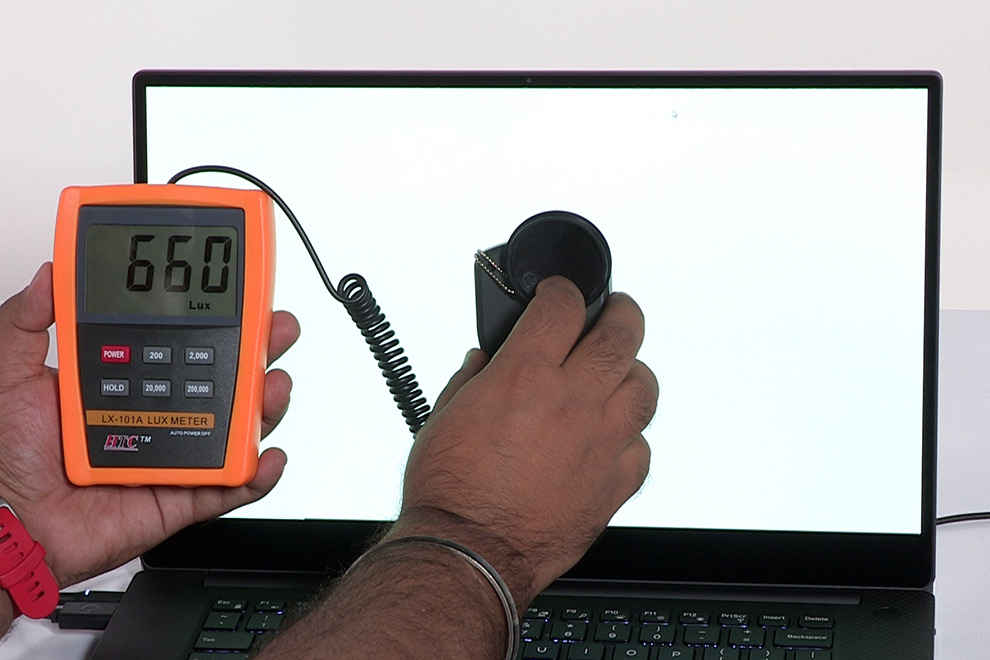 The Dell XPS 15 has an incredibly bright display, crossing the 600-nit mark
0-nits, a hallmark of OLED panels
Last year we dealt with this problem by using Dell's own PremiereColour app to set the display to sRGB (during normal use) and then calibrating it using our colourimeter. Sadly, this time around the XPS15 lacks a tool that lets you choose the right colour-space. This is bound to be problematic for content creators, not knowing what colour space the display is currently set at. Hopefully, in a future update, Dell might bring back the ability to set the display's colour space manually.
Performance: Top-notch
The Dell XPS 15 we reviewed this year is powered by a 9th generation Intel Core i9-9980HK processor. Our unit also came with 32GB of DDR4 memory, a 1TB NVMe drive and an Nvidia GTX 1650 with 4GB of video memory. In terms of specifications, this is as high as the XPS 15 goes, but powerful hardware was never the XPS's problem. This stands true in our benchmark testing as well, the numbers for which are down below.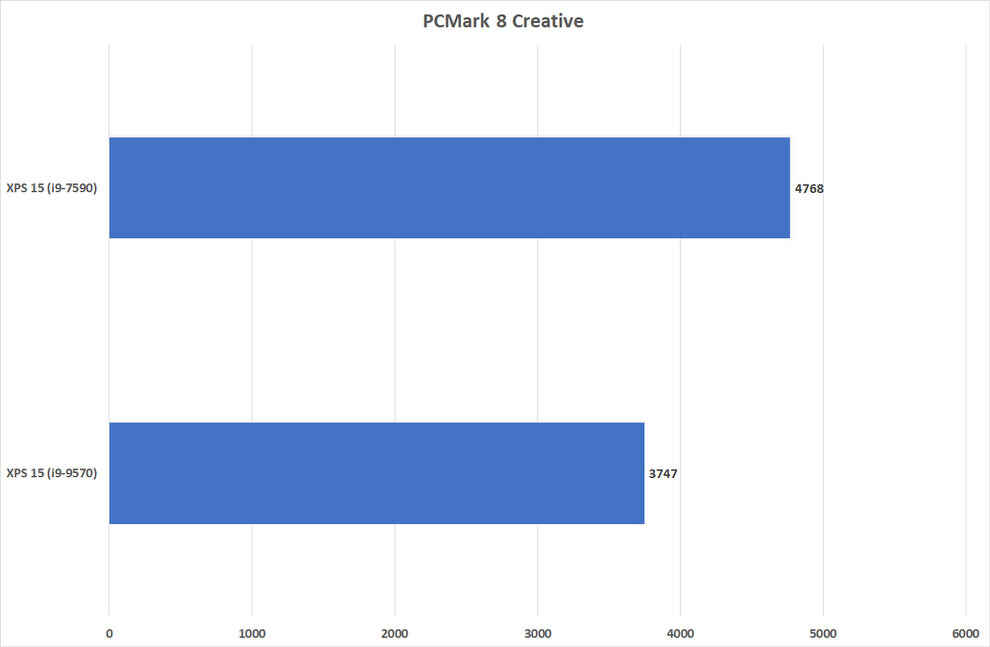 Dell XPS 15 (2018 – i9 7590) vs. Dell XPS 15 (2019 – i9 9570)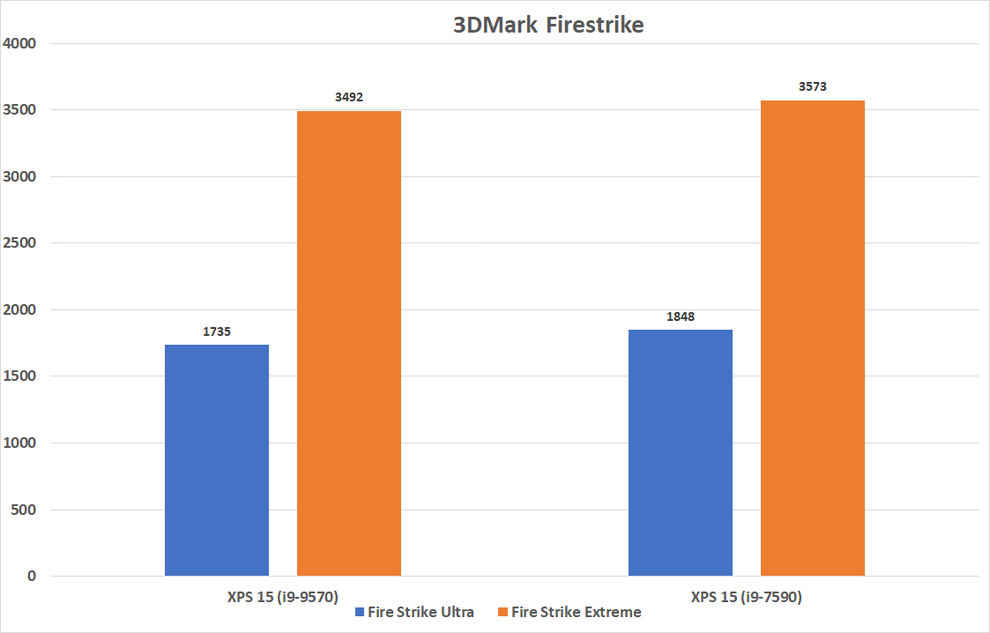 3DMark Firestrike result for Dell XPS 15 2019 vs. XPS 15 2018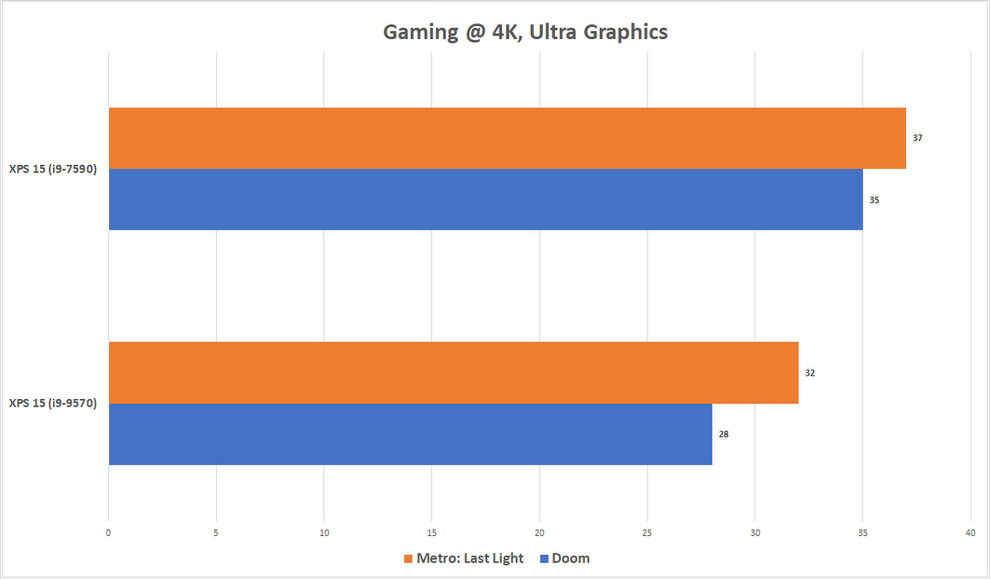 Gaming on the new XPS 15
Unsurprisingly, the benchmark numbers for this year's XPS 15 are higher than that its predecessor. The new i9-9980HK and the GTX 1650 do lend better performance for both CPU and GPU metrics, as we see from the benchmark numbers above. But the real area where the new XPS 15 shines is in real-world performance.
We put the Dell XPS through our Lightroom Render test where we saw last year's Core i9-8950 throttle a little too much, a little too quickly. We saw the chip at times even drop below its stock clock, which was rather concerning. This year, Dell told us that one of the biggest changes to the new XPS 15 was its thermal design which had to incorporate the new Core i9 chip and the GTX 1650 GPU. While exporting 500 RAW files into JPG using Adobe Lightroom, we note that the new Core i9-9980HK manages to hit its boost clock of 5GHz for a few seconds, but then starts to throttle down. However, at no point does it go below 2.8GHz. We also undervolted the CPU by -125mV and re-tested with Lightroom and found that this led to lower thermals, leading to better sustained higher clock speeds. We do not recommend tweaking with voltages being pushed to your CPU, not unless you're extremely sure of what you're doing.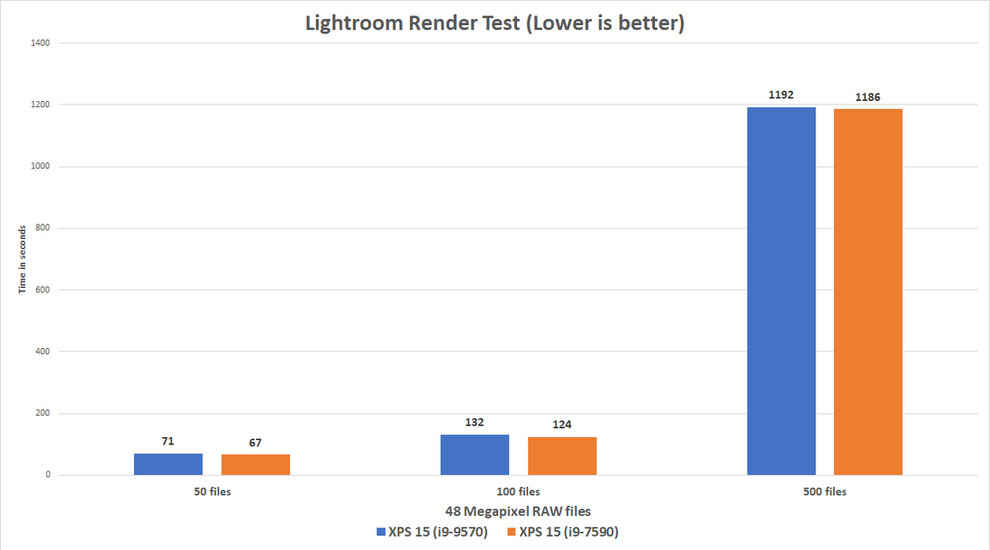 Lightroom render times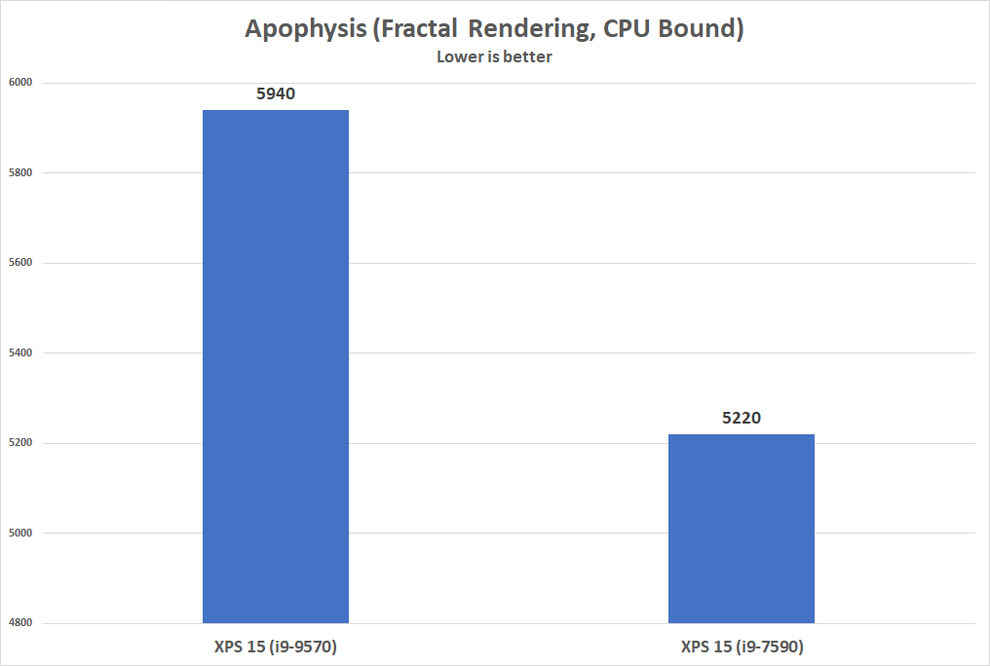 Render times for fractals using Apophysis
If you're thinking about gaming, the Dell XPS 15 won't give you a display with the highest refresh rates or the most powerful mobile GPU available in the market. The Nvidia GTX 1650 is a decent GPU, but it isn't exactly the kind that will push for stellar frame rates. In fact, the 4K OLED and the GPU feel a little mismatched (when considering gaming) because the GTX 1650 just cannot push most modern gaming titles to playable frame rates at 4K. Set the resolution to 1080p and you'd be able to run Doom at 60fps and Metro: Exodus at 31fps, when both the games are set at their highest graphics settings.
Lastly, let's talk about editing video. Last year, we saw the XPS 15 take on the task with ease, and this year, things only get better. We loaded up our test project comprising of 4K footage shot from a RED camera. When loaded into a proper timeline, scrubbing through the project is smooth as long as the quality is set to 1/2. Exporting the project takes varying amounts of time depending on whether you use the CPU or GPU acceleration, but either way, after undervolting the CPU, there is again a notable improvement in sustained performance.
Keyboard, Trackpad and I/O
Surprisingly, Dell has left the keyboard, trackpad and the I/O near-identical to last year's model, but we aren't complaining, at least not about anything new. The keyboard still offers 2-stage white backlighting which, when set to its brightest, offers a very comfortable view of the keys. The typing experience is top-notch, given the decent size of the key-caps and the spacing. Dell continues to use a precision touchpad on the XPS 15 which is pretty generously sized, feels great to the touch and is extremely responsive. When it comes to the I/O, the XPS 15 offers an HDMI 2.0 port on the left side, along with a Thunderbolt 3.0 port and a standard USB 3.0 port. On the other side, there's another USB 3.0 port along with an SD Card reader. The 4-LED battery indicator is still present, to our relief. Having a visual indication of remaining battery is great for those who are on the move a lot.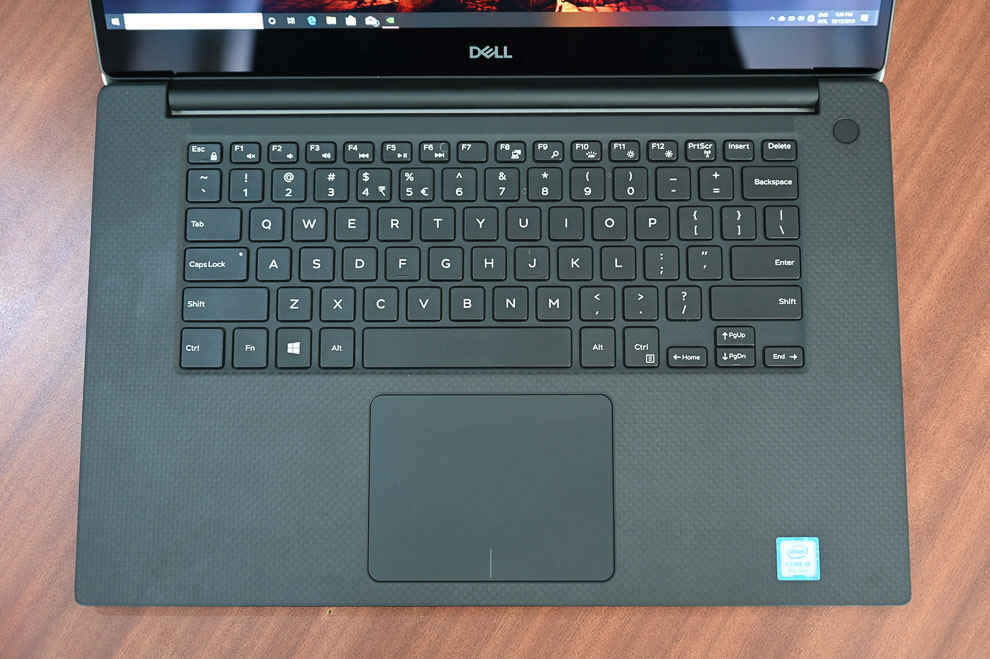 The carbon-fiber weave keyboard island remains the same as previous years, as does the reliable typing experience
What we still feel unhappy about is Dell using a regular pin-type charger for the XPS 15, instead of switching over to a Type-C or Thunderbolt 3 based charging system. This would have meant an additional usable port and a more universal charging method, which would have come in handy especially for travellers.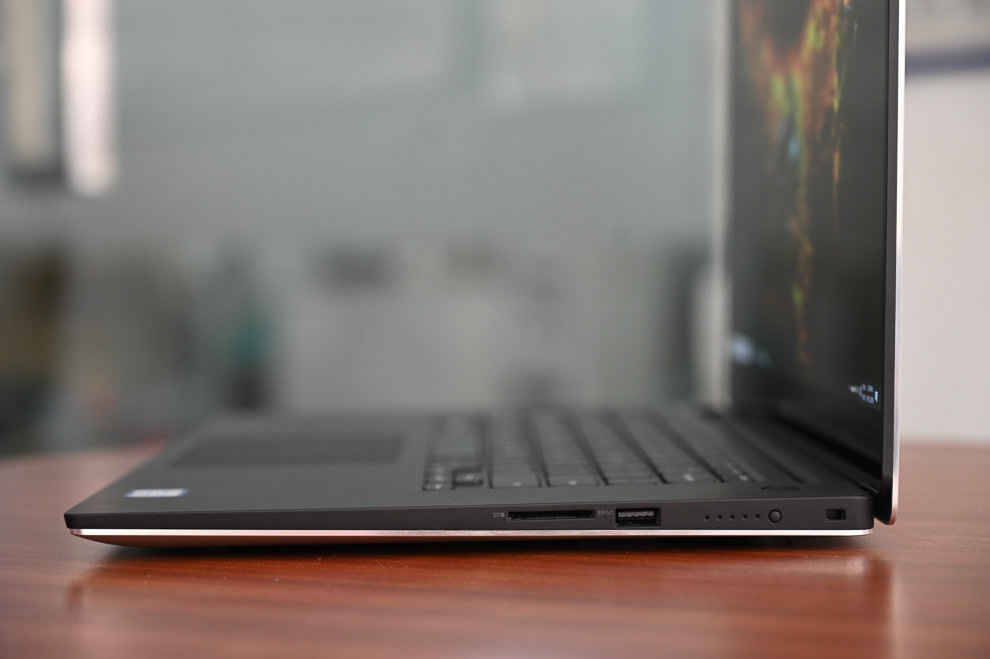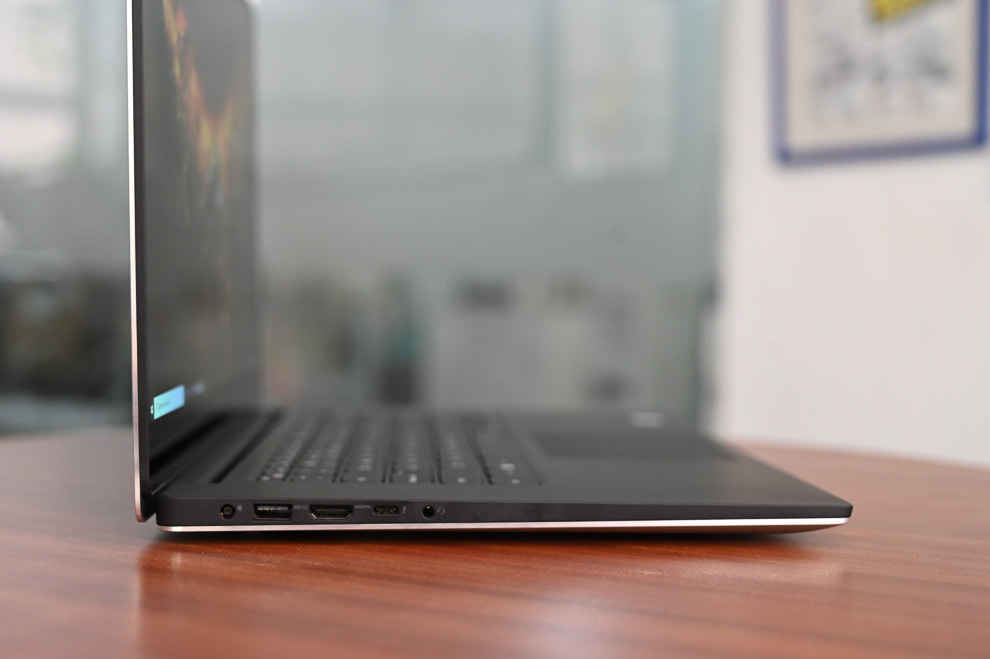 The Dell XPS 15 offers a very generous I/O selection, including a Thunderbolt 3.0 port
Battery Life
The Dell XPS 15 is a very powerful laptop, packing components that are definitely power-hungry. We still have a 96Whr battery, which is close to the 100Whr limit for carrying on airlines. We used the XPS 15 on battery life for a few days and walked away impressed. With the OLED panel set to 4K resolution and usually between 50-75 percent battery, the laptop lasted just a little shy of 5 hours. The usage involved over 25 tabs open in Firefox, typing multiple stories, including this review, and light photo editing in both Adobe Lightroom and Photoshop.
With light to moderate usage, one should be able to squeeze out closer to 6, maybe 6.5 hours worth of juice from this machine, but it's unlikely to last longer. Regardless, for a laptop with a 4K OLED display and a dedicated GPU, the battery life is still commendable.
Bottomline
The Dell XPS 15 (7590) physically remains unchanged from the XPS 15 of 2018. Literally, the only thing that's changed is the webcam's placement, but other than that, the physical dimensions and even port placement remain identical. We don't mind that. What's significantly improved is the thermal performance which lets the Intel Core i9 powered machine flex a little more muscle before hitting thermal throttling. Undervolt the CPU and you get even more sustained performance, albeit at the cost of the turbo speeds, but that's okay. The new XPS 15 manages to be a computer that's great for travellers thanks to its slim form-factor, for business people thanks to its good looks and even for content creators thanks to the powerful hardware on the inside.