Dell Vostro 3350 detailed review
The Dell Vostro 3350 is the latest Dell laptop for business users. The Vostro 3350 borrows its elegant design from the Vostro 3300. Apart from this, the business laptop now packs the new Sandy Bridge Core i7 processor, 4 GB of RAM and 500 GB HDD. Those not looking for so much steam can opt for units with mellowed down Core i3s and Core i5s; they are very well priced, too.
Design and Build:
The Dell Vostro 3350 has similar design to the Vostro 3300, featuring a sturdy and good looking aluminium outer-shell -- everything's almost the same. The Vostro 3350's exterior metal finish gives the business laptop a very sturdy build like the Lenovo ThinkPad Edge E420s. The metal hinges the screen rests on are extremely well built ensuring the screen is firmly rooted to the rest of the chassis. The laptop's surface is matte, and therefore resistant to smudges and dust. The Vostro 3350's 13.3-inch screen has decent viewing angles, more than what we had hoped for.
The full-sized chiclet styled, isolated keyboard now features better spaced out keys, making typing much easier; the keys deliver good tactile feedback. The keyboard deck doesn't suffer from any flex and the palm rest is accommodative enough to ensure comfortable typing. Keys featuring secondary functions are clearly stamped with orange labels making them easier to recognise and use. The trackpad is wide, supports multi-touch gestures and is pretty accurate -- it has a fine texture which feels nice on touch. The mouse keys are discrete and easy to press but a touch too noisy.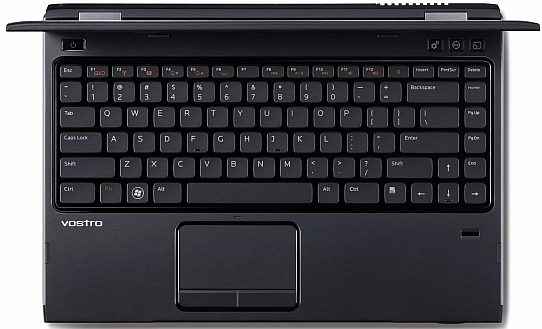 Three distinct shortcut buttons find their place on the Dell Vostro 3350 business laptop's chassis, above the keyboard. The first button opens up various usable options in Window's Mobility Center. The second connects you to the Dell Support Center and the last button is somewhat our favourite - a customisable application -launch button. This will, no doubt, keep business users happy.

Features:
Following the latest trend of the industry, the Dell Vostro 3350 business laptop features Intel's new Sandy Bridge processor. The unit that was sent to us features the Core i7- 2620 clocked at 2.9GHz with 4 GB of RAM and dedicated graphics AMD Radeon HD 6490M option and a 500GB hard drive. The Dell 3350 has a screen size of 13.3-inch packing in 1333x768 pixels. Unlike the Lenovo ThinkPad E420s this device has a matte display; though the device doesn't output the same vivid display like the ThinkPad E420s, the matte finish ensures absolutely zero reflection. Matte screens are also slightly better for reading text for longer durations, cutting out the gloss on most modern laptops.
Click to enlarge

| | |
| --- | --- |
| | |

As for the connectivity options, the Dell Vostro 3350 is miles ahead of its competition. Its left side has 2 USB 3.0 ports, an ethernet port and a tray loading DVD slot. The right edge features a VGA, HDMI port, a USB 2.0/eSATA hybrid port and a headphone and microphone jack. On the front you get an 8-in-1 card reader. We are really glad the Vostro 3350 features two USB 3.0 ports, this ensures for much faster data transfer speeds compared to the older USB 2.0 port. Wireless communication protocols like Wi-Fi 802.11n and Bluetooth 3.0 are also supported on the Dell Vostro 3350. Taking a cue from the ThinkPads, the Dell Vostro 3350 also sports a spill-resistant keyboard. For added security the unit also features a fingerprint reader for biometric protection. The Dell Vostro 3350 also features a 2MP in-built HD webcam and the laptop comes with pre-installed Skype software -- video conferencing is a treat.
Read more about the Dell Vostro 3350's performance, and our verdict, on Page 2...

Performance:
With a Core i7 and 4 GB RAM under the hood, the Dell Vostro 3350 really eased through our tests. The Dell Vostro 3350 scored an excellent 8174 in our PC Mark Vantage test, a powerful performance indicator if you ask us. This laptop will handle hardcore multi-tasking without breaking a sweat. In our 3D Mark 06 test, the Vostro 3350 achieved a respectable score of 5423, decent enough to run casual games from the recent past on medium settings -- don't have high hopes, though. Copying files was fairly fast, it took around 2 mins for copying a 4GB single file, while it took about 2 mins and 40 secs to copy a 4GB folder file.
The HD viewing experience on the laptop was fairly okay. The laptop's matte display wasn't as vibrant as some of the glossy displays we've seen on most laptop screens but otherwise our test videos played just fine. The laptop's onboard speakers aren't among the best we heard but it's good enough for personal entertainment; connect a headphone and you are good to go.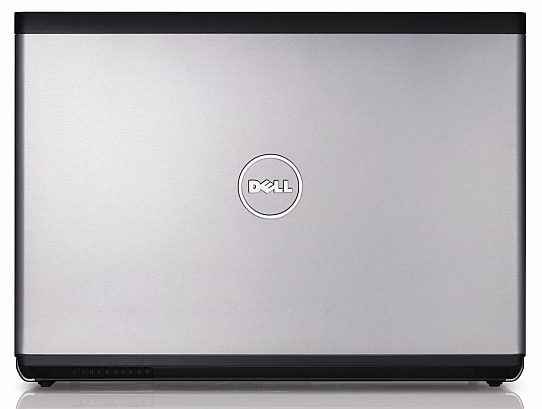 As for the laptop's battery life, the Dell Vostro 3350 at high-performance preset and max brightness level let our video loop for 2 hour and 23 mins. The battery at a more conservative usage should last over 4 hours; it is excellent for a laptop with a heavy spec sheet like the Vostro 3350's.
Verdict:
The Dell Vostro 3350 is a good follow up to the Vostro 3300. Our review unit sells at Rs. 65,000, the range starts at around Rs. 37,000, though. With its loaded spec sheet and better-than-average battery performance, the 13.3-inch Vostro 3350 laptop is worth your consideration. Those who are looking for performance in a 13-inch form factor at a premium price, this is the laptop you should turn to -- it will definitely make heads turn in a boardroom conference. Those who want a more rugged, portable device, you should consider the Lenovo ThinkPad X1.
Price: Rs. 65,912
Overall Rating: 4.5 out of 5



| | |
| --- | --- |
| Brand | Dell |
| Model name | Vostro 3350 |
| Processor Model No | i7 2620 |
| Number of cores | 2 |
| Processor Speed (MHz) | 2900 MHz |
| Memory (GB) | 4096 MB |
| RAM Type | DDR3 |
| Memory Speed (MHz) | 1333 |
| Chipset | Intel Cougar Point HM67 Express Chipset |
| Graphics Solution | AMD Radeon HD 6490M & Intel HD Graphics 3000 |
| Dedicated Video Memory (Y / N) | Y |
| Dedicated Video Memory Size (in MB) | 512 MB |
| Audio chipset | IDT High Definition |
| SSD/HDD Size (GB) | 500GB |
| Blu-ray? | No |
| Bundled OS | Windows 7 Professional 64-bit |
| Characteristics | |
| Screen Size (Inches) | 13.3 |
| Type of Panel | WLED Anti Glare |
| Screen Resolution (Pixels) | 1366 x 768 |
| Weight (kg) | 2.2 |
| No of Ports (USB/Firewire) | 3 |
| No of USB 3.0 (Y/N) | 2 |
| Connectivity (LAN / Bluetooth / Wi-Fi) | Y / Y/ Y |
| E-Sata / Thunderbolt (Y/Y) | Y/N |
| Display output (VGA/DVI/HDMI/Display Port) | Y / N/ Y/ N |
| Built-in TV Tuner? | N |
| Headphone/Mic (1/1) | Y |
| Wireless Keyboard & Mouse? | N |
| Memory Card Reader (Y/N) | Y |
| Optical Drive (Y/N) | Y |
| Inbuilt Webcam (Y/N) | Y |
| Webcamera resolution (in megapixels) | 2 |
| | |
| Price | Rs. 65,912 |
| Warranty | 1 year |
"Don't miss the Zero1 Awards in the December 2011 Collector's Edition of Digit. Book your copy now!"