VERDICT:
The Asus ZenBook Flip S is a competent and stylish convertible laptop. It's mostly ready for a life on the go but sadly, it just hasn't brought enough battery along. Also, it's asking price of Rs 1,30,990 seems rather high.
– Power Cord
It's without doubt been a busy year for Asus. The Taiwanese electronics manufacturer has launched a multitude of laptops in India within a short span of time and continues to do so with steady vigour. In fact, I'm writing this review right after attending the launch of the AMD Ryzen-powered VivoBook X505 and F570, in which Asus was pleased to announce that it has seen a 92-percent growth between quarter one and quarter three of this year.
The ZenBook Flip S is, in short, Asus' response to the likes of the Lenovo YOGA 730 and the HP Spectre x360. Inside its slim base, it's got an eighth-gen Intel Core i7 CPU, 16GB of RAM, and a 512GB PCIe solid-state drive. The 13.3-inch Full HD display folds all the way back to become a tablet and accepts touch input. What's the rest of the device like then? Let's find out.
Build and Design
The build and design of the ZenBook Flip S is akin to that of the non-folding, non-touchscreen ZenBook S, which is definitely a good thing. According to Asus, the convertible's body is "crafted from solid aluminum" and the chassis is "forged from a single block of metal" and "carefully honed" till it's 11.2mm thin. All of this shows when you pick the device up in your hands. The surface of the ZenBook Flip S is classy and understated to look at and grippy to hold all around. Nothing pokes or juts out. The ZenBook Flip S certainly won't look out of place in a five-star hotel or in the members-only lounge of an international airport.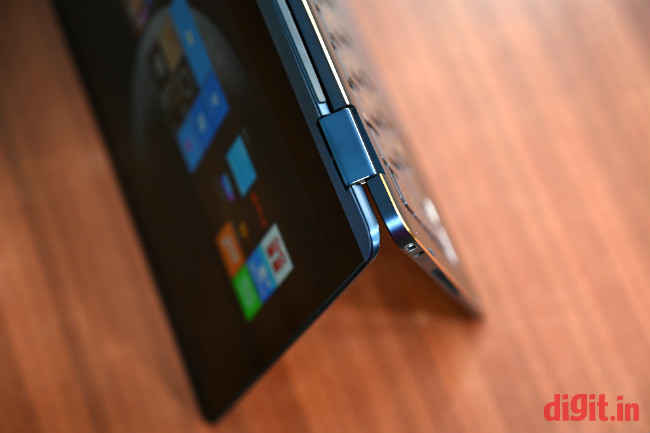 Reliable hinge design
Opening the lid of the ZenBook Flip S with a single finger when it's placed atop a table is fairly easy. There are times when the base tends to stick to the display but it's nothing some elbow action can't fix. As the lid opens out, the rear of the laptop's base rises in height to present the keyboard in a better typing angle. That's Asus' ErgoLift hinge at work right there. The keyboard tilt on the ZenBook Flip S isn't as much as on the ZenBook S but feels just as comfortable for typing and touchpad use. Craftsmanship, on the whole, is first class on the ZenBook Flip S.
Display, Audio, and IO
The display on the Asus ZenBook Flip S is a 13.3-inch touchscreen unit with a Full HD resolution. It sits close to the borders, giving it slim bezels of 6.11mm a decent 80-percent screen-to-body ratio. Pixel density sits comfortably at 331 pixels per inch. Asus claims the display has a viewing angle of 178 degrees, which seemed accurate in our viewing test. Colours on the ZenBook Flip S' display appear rich and accurate without appearing saturated. They lined up with our display test results, which showed that it covers 96 percent of the sRGB colour scale and 75 percent of the Adobe RGB colour scale. Brightness is enough for most indoor and outdoor places like airports and sunny balconies.
The ZenBook Flip S is fairly easy to use as a tablet. To switch from desktop mode to tablet mode, you need only push the display all the way to the back of the base. The power button and volume rocker are on the side of the body, making it easy to watch videos while holding it. There's also fingerprint scanner on the side of the body, which works swiftly once you find it with your finger. If anything, the ZenBook Flip S feels a bit heavy in the hands for a tablet. I didn't get a chance to try a stylus with the review unit but touch response and palm rejection seemed spot on anyway.
Audio on all ZenBook laptops is controlled and pleasant even when the volume is turned up to max, and the ZenBook Flip S is no different. Highs, mids, and surprisingly even lows are balanced and easily heard from the laptop's four Harman Kardon-tuned down-firing speakers. Volume is enough for dialogue-heavy movies and TV shows at half volume in a quiet bedroom. In a noisy office space, playing trance music at full volume is enough to draw the attention of colleagues sitting nearby. All in all, the ZenBook Flip S is gifted with impressive audio.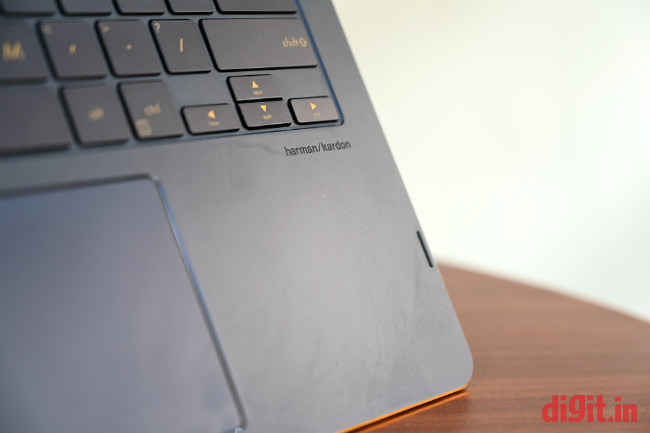 Harman Kardon-tuned speakers are awesome
When it comes to IO ports, the Asus ZenBook Flip S is so futuristic that it seems a bit handicapped in 2018. Around its sides, it has two USB 3.1 Type-C ports (of which, neither is Thunderbolt 3) and a 3.5mm audio jack for headsets. One USB-C port gets eaten up when you connect the charger, leaving you with only one good USB-C port. You must then rely on dongles to connect to something so common as a USB mouse through it. What can you do though? The laptop's base is too slim to fit a USB-A port.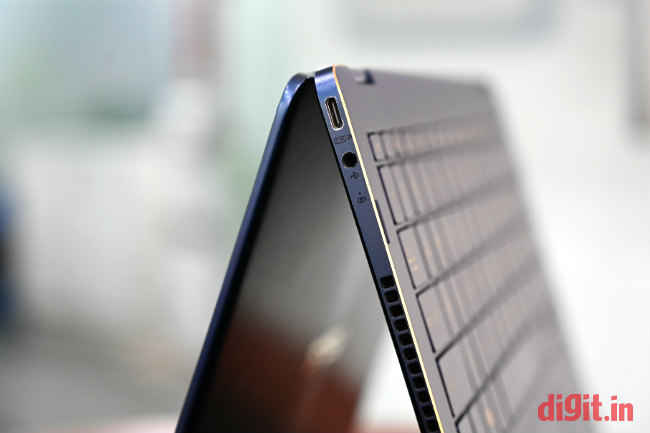 Just one USB-C and an audio jack on the left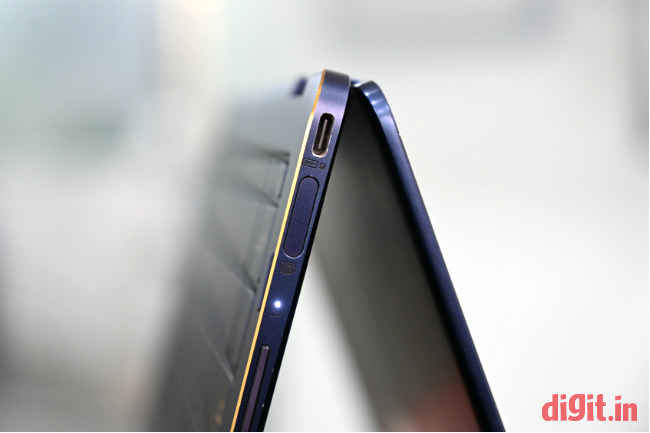 Only one USB-C on the right; notice the fingerprint scanner
While its ports and display are from the future, the ZenBook Flip S' web camera is from the 2000s. The VGA shooter is simply no good for video calls or photos. Photos taken through Windows 10's default camera app look blurry and grainy. The poor camera is a point to remember if you see yourself making a lot of video calls.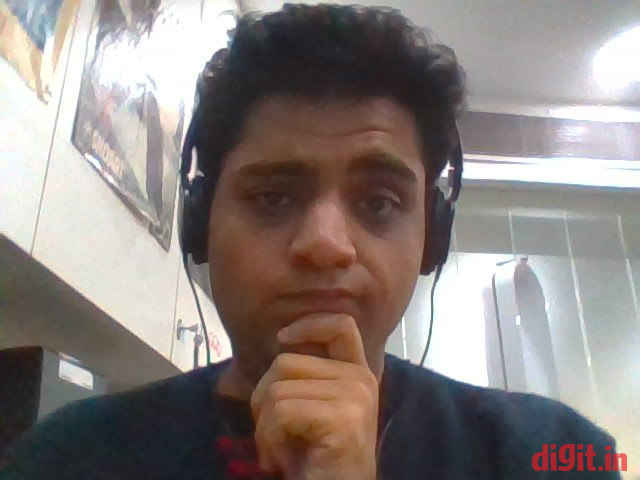 Full HD display but VGA web cam? What's up with that, Asus?
Keyboard and Touchpad
Before everything else, let me tell you about the one smart thing Asus has done on the ZenBook Flip S: it's moved that power button to the side of the laptop—and more importantly—away from the top row of the keyboard. The placement of the power button next to the Delete key on the ZenBook S infuriated me because I'd often end up putting the computer to sleep accidentally while deleting text.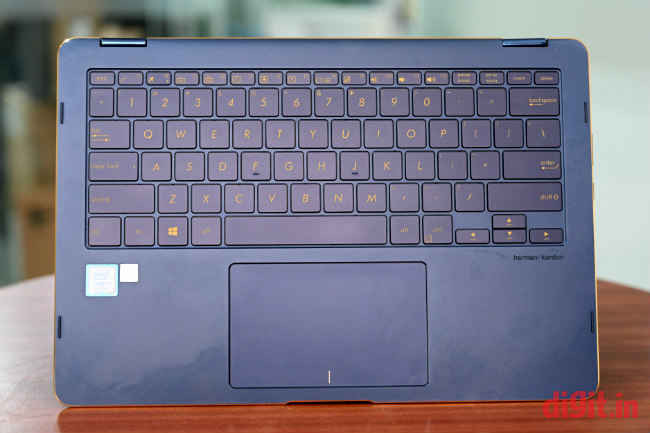 Keys are not bad but could use more travel
The keys on the ZenBook Flip S' keyboard have sufficient travel (although not as much as the ones on the ZenBook S). The key pitch (or the spacing between keycaps) is just right for typing out email and chat messages. That said, I would've definitely appreciated a longer key travel. There's ample backlighting when the ambient light is turned out; the backlighting for the keyboard has three levels. In summary, there's nothing to complain about with the ZenBook's keyboard but there's nothing to write home about either.
The touchpad on the ZenBook Flip S is a precision unit, which means multi-finger taps and swipes happen without any third-party apps or drivers. On the review unit, pressing the 'disable touchpad' button on the top-most row of the keyboard by accident impaired the touchpad for good. I was able to recover control of the touchpad only after reinstalling the touchpad driver manually. The touchpad was otherwise easy to use; clicks, swipes, and taps happened easily without any fuss.
Performance
The Asus ZenBook Flip S is available in India in only one variant. It features an eighth-generation Intel Core i7-8550U CPU and 16GB of RAM. Storage is taken care of by a 512GB PCIe-based SanDisk solid-state drive. Graphics is taken care of by an integrated Intel UHD Graphics 620 GPU. On our standard benchmark tests like PCMark 8's Accelerated Creative Test, the ZenBook Flip S scored about 100 points below the HP Spectre x360 and the Lenovo YOGA 730. The difference was similar in graphics benchmark tests like 3DMark's Cloud Gate and Sky Diver.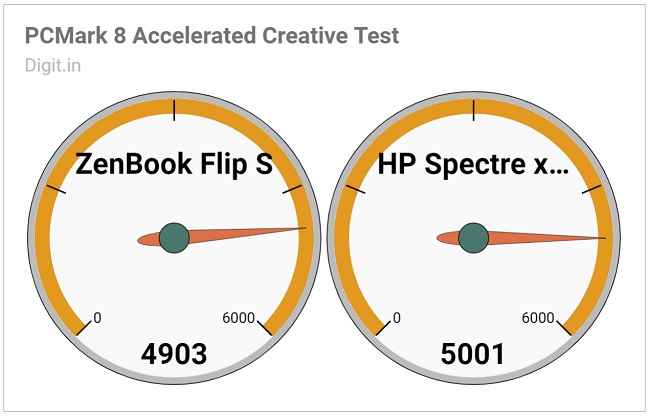 Outpaced by the HP Spectre x360
In real-world usage scenarios, the review unit of the ZenBook Flip S performed brilliantly. With over a dozen applications open, the laptop showed no signs of slowing down or stutter. I performed tasks like web browsing, writing, reading, video-watching, and app installs with ease. Booting up and signing in happened in no more than thirty seconds. Switching between applications across multiple virtual desktops happened seamlessly with no lag or stammer in animation. In summary, performance is right up there on the Asus ZenBook Flip S. Its 16GB of RAM keeps it ready for the future. If only it had a dedicated graphics card for rendering light video.
The ZenBook Flip S' base is warm almost all the time when it's turned on. During app installs, the CPU package reaches temperatures as high as 80 degrees Celsius. The unfortunate part about this is that the heat is felt sharply on the keyboard surface. This makes both typing and resting fingers quite uncomfortable. The fan noise too is on the higher side. In my experience, Asus' inbuilt tool to control fan speed made little difference to the noise.
Battery
The Asus ZenBook Flip S scored a rather low 3 hours, 20 minutes on our standard battery benchmark test. With every day use, the review unit lasted somewhere between 4 and 5 hours when I used it for writing reviews and other articles. During this time there were several Chrome tabs open for reference and music was constantly blaring in the background on a YouTube window. One thing's for sure: you aren't buying the ZenBook Flip S for its battery life. The HP Spectre x360's battery, in comparison, lasts 42 minutes longer on a single charge.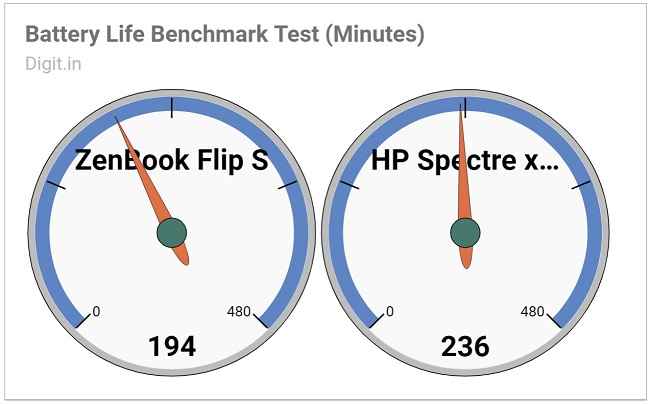 Low battery life
Bottom Line
The Asus ZenBook Flip S is a sturdily built convertible laptop meant for a life on the go. It offers ample performance and decent ergonomics. Display and audio quality are top notch on this model, making it ideal for photo- and video-viewing in any mode. It also looks positively sexy. Where it falls short is in port availability and battery life.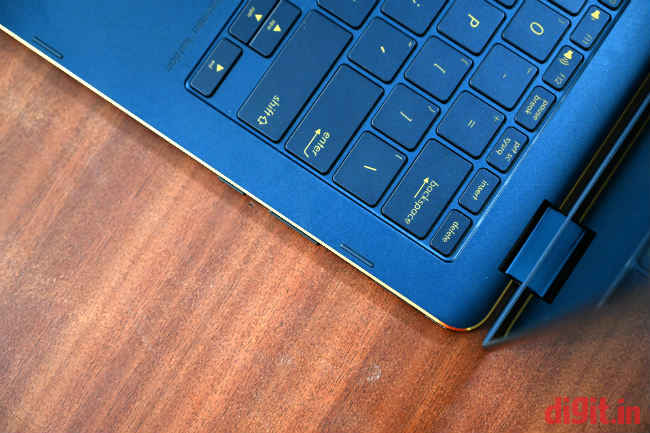 Great finish and overall ergonomics on the ZenBook Flip S
Considering that the ZenBook Flip S is priced very close to its non-folding, non-tablet brother, the ZenBook S, you have a choice to make. If you crave more oomph, Thunderbolt 3, and can live without a folding touchscreen, the ZenBook S makes more sense for you. However, if a folding tablet/laptop hybrid is what you're looking at for your Rs 1,30,990, stick with the ZenBook Flip S; you can't go wrong with it.