Asus ROG Zephyrus S (GX531) detailed review
The Asus ROG Zephyrus S (GX531) is a 15" gaming laptop, which Asus claims is the thinnest 15-inch gaming machine right now. It sits less than an inch thick and measures 2.1 kilograms, which really isn't a lot when you think about it. It packs that signature "Aero Active" hinge, where the bottom opens up by a few millimeters when the laptop is open, all to aid in better air flow. Seeing how the GX531 packs an Nvidia RTX 2070 with the Max-Q design, this machine will definitely need the extra cooling. We've had the laptop in our labs for some days now and after having put it through a bunch of tests, we finally know whether to recommend the laptop or not. Short answer, it's not simple. For the long answer, read on.
Specifications
ASUS ROG Zephyrus S (GX531) Specifications
Processor
Intel Core i7-8750H 2.2 GHz
Platform
300-series
RAM FSB
2666 MHz
RAM Capacity
16 GB
Screen Size
15.6–inches
Screen Resolution
1920x1080
Refresh Rate
144Hz
GPU
Nvidia GeForce RTX 2070 Max-Q
SSD
512GB NVMe
Ethernet
None
Wi-Fi
Intel 802.11ac (2x2) Gigabit Wi-Fi
Battery
4210 mAh 66 Whr @15.4v
AC Adapter
230W
Weight
2.1 Kg
Build and Design
The Asus ROG Zephyrus S is all kinds of slick and sleek. With the lid closed, it measures less than an inch thick, which is quite a feat for a gaming machine. It was the primary reason for me to actually consider buying this laptop for personal use. When it's closed, it feels like an invincible tank.
Once the lid is open, another lid lifts up from the bottom, creating an opening just a few millimeters wide for the fans to pull in more air. The hinges, of both display and the metal plate that lifts from the bottom, are extremely solid and well built. They will not be the parts that left you down, but instead, it will be the metal plate itself. Holding the laptop while its open reveals just how thin and hence "spongy" this plate is. It'll be very easy in prolonged use to cause some bends to appear on this plate. Similarly, the display panel itself is very "flexible", exhibiting prominent wobbling when moved only from one edge. Having used metal in the lid, it was extremely disappointing to find the display panel be so flimsy.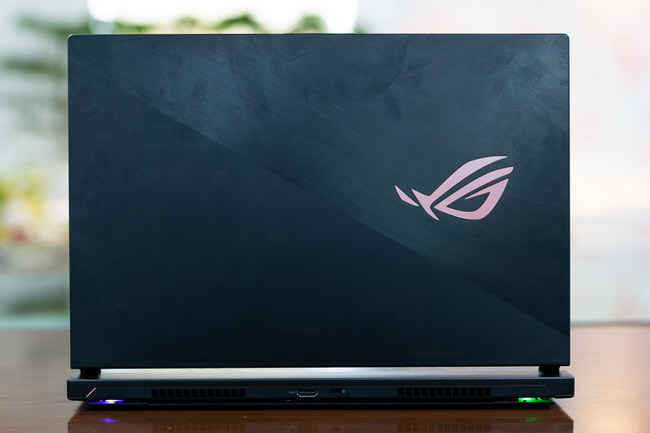 The display lid is extremely flexible
The sturdiness of the GX531 comes from its base, which is milled out of a single piece of aluminium and is incredibly solid and leaves no room for complaint. The all-black paint job with copper trim is also quite an eye-catcher, besides all the RGB lighting on the keyboard and underneath the air vents.
At first glance, the Asus ROG Zephyrus is absolutely gorgeous to look at. Its sleek, all black and menacing. But once its open, and start to witness all the weak points. The bottom panel is incredibly thin and we feel that it will be easy to damage. The display too exhibits extreme "flexibility," something we're not too fond of. All in all, we're led to believe that this power horse, if purchased, will require a little bit of careful handling.
Display
The display panel on the Asus Zephyrus S (GX531) has a number of features worth boasting about. The fullHD panel has a refresh rate of 144Hz with a 3ms response time. Additionally, the display is Pantone certified, meaning it should be colour calibrated right out of the box. We used our Spyder colourimeter designed specifically for LCD displays and found Asus's claims of "calibrated out of the box" to stand valid.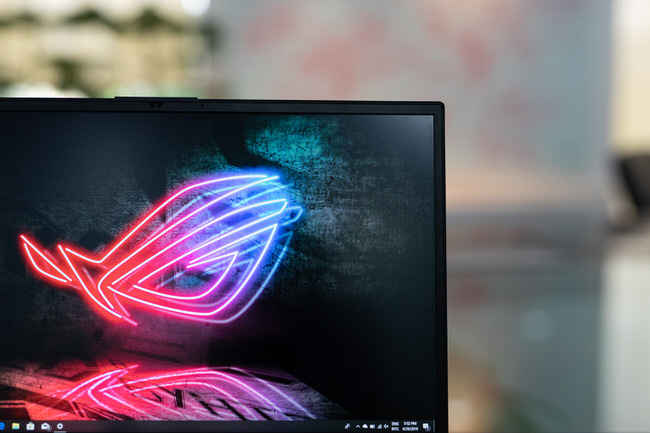 Pantone Validates FH IPS display with 144Hz refresh rate
With a peak brightness of 340 lux, the display is bright enough to game even outdoors. The matte coating definitely helps with the suppression of reflections and we're glad that Asus has put a display of this calibre on the GX531. The extremely narrow bezels make it even more enjoyable to game on.
The display on the GX531 is definitely very impressive. If there was one thing missing, we'd say it would be Nvidia's G-sync, but honestly, after hours of gaming on this machine, we didn't really miss the feature.
Keyboard, Trackpad and I/O
The Asus ROG Zephyrus S (GX531) features a regular keyboard with 1.2mm of key travel. Unlike the slightly curved keys, we found on the company's Scar II (Review) laptop, the ones on the GX531 are totally flat. Oh, and you might just notice that the keyboard is placed towards the front edge of the body's frame, a design choice that the Zephyrus line is rather famous for. This placement does take a lot of getting used to, and some would say, you never truly get used to it.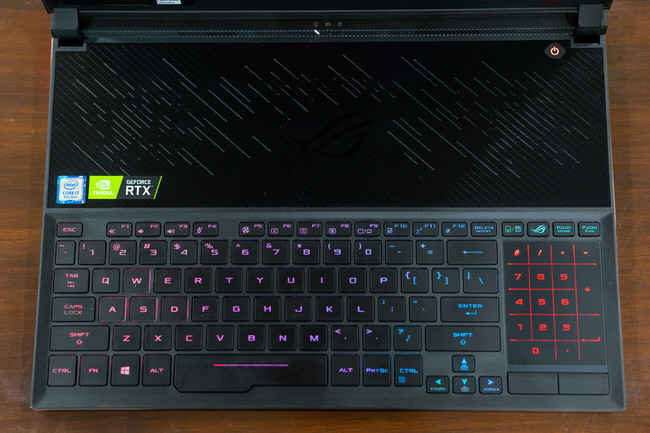 The Asus Zephyrus S continues the 'unique' ergonomics for the keyboard and trackpad
Typing on them is a decent experience, as they keys offer shallow travel with somewhat sharp. The keyboard island offers no flex, which is a good thing for sure, as it only lends to our earlier conclusion about the build quality. The keys unfortunately do not offer per-key RGB setting, but instead offers 4-zone RGB control.
The trackpad is placed to the right of the keyboard in portrait orientation. This is another Zephyrus signature design choice. I feel that this placement actually makes the trackpad usable while gaming or using the lasso tool in Photoshop. The individual and plush left & right click keys only further add to its usability. Don't get me wrong, this is a good placement for the trackpad, making it very usable, but its not sensitive enough for fps gaming. Additionally, the trackpad also doubles up as the num-pad by the press of a key. Once engaged, red numbers appear on the trackpad, turning it into a num-pad. Its usable, but given the lack of any feedback, can be a little disconcerting to use at times. I found myself double checking my number entries after using the trackpad due to the lack of feedback.
Probably my biggest point of contention with the GX531 is its I/O selection. You get a Type-C USB 3.1 Gen 2 port with display port and power delivery. This is placed on the right side of the machine, along with a USB3.1 Gen2 Type A port. On the left side, you get a Type-C USB 3.1 Gen 1 port, along with 2 USB 2.0 ports. With only 3 Type A ports, there is absolutely no business for two of them to be USB2.0, especially seeing how Asus is marketing this to creative professionals as well. For a laptop that costs as much as the GX531, USB 2.0 ports are just unacceptable.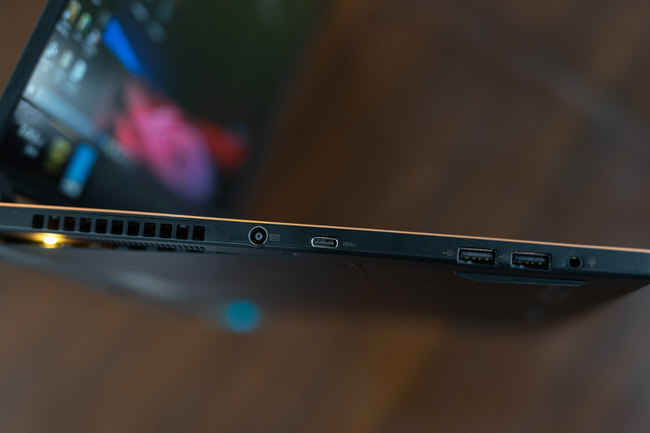 USB 2.0 in 2019? On a machine this expensive?
Performance
Finally, onto the good stuff. Packed into this 16mm thin machine is an Intel Core i7-8750H paired with an Nvidia RTX 2070 Max-Q. There's a 512GB NVMe drive that uses x4 PCIe lanes that's pretty much the only upgradeable thing in this laptop. The board supports a maximum of 16GB of RAM, which the machines comes pre-installed with, so there's no point of opening this up. Sadly, for those who get this machine, there's no possibility of a performance boost in the future.
Now in terms of price and specifications, the GX531's closest competitor that we have reviewed is the Alienware m15. So for all performance metrics, that's our comparison.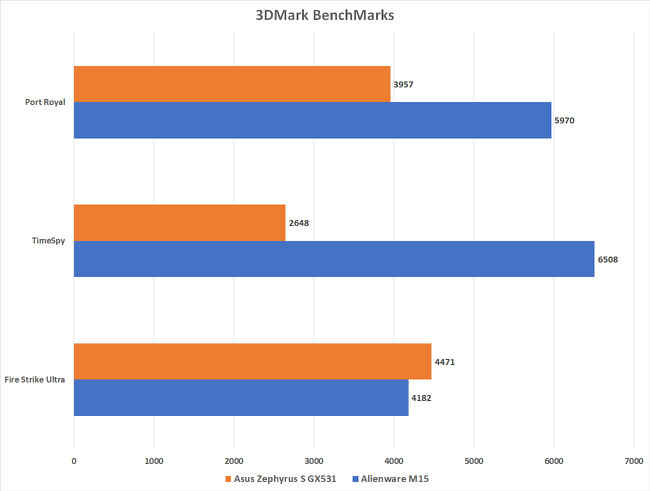 Alienware m15 comes out ahead in most synthetic benchmarks
While gaming, we had the machine set to Turbo mode from with the Armoury Crate software. We ran our usual favourites and clocked the below numbers.
What was sorely disappointing was the issue of frame-drops every few minutes of the game play. We'd go from 70+fps in Shadow of the Tomb Raider to barely 11fps for a few seconds, and then back up to 70+fps. We noticed this behavior in all our games and concluded that there was some kind of throttling going on. You can see the frame rates for some of the games in the charts below.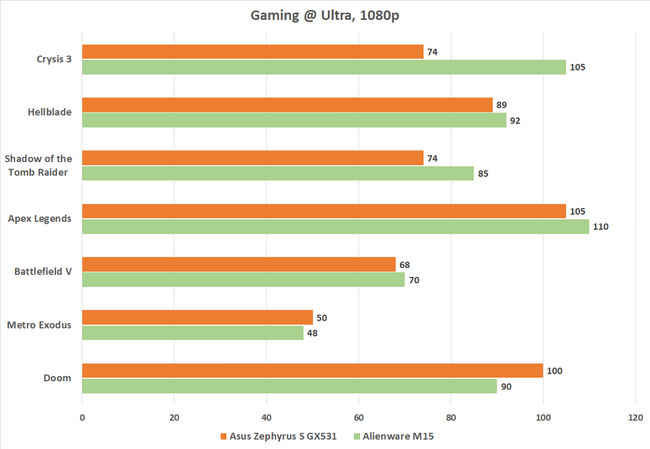 Gaming on the Asus Zephyrus S at 1080p, Ultra graphics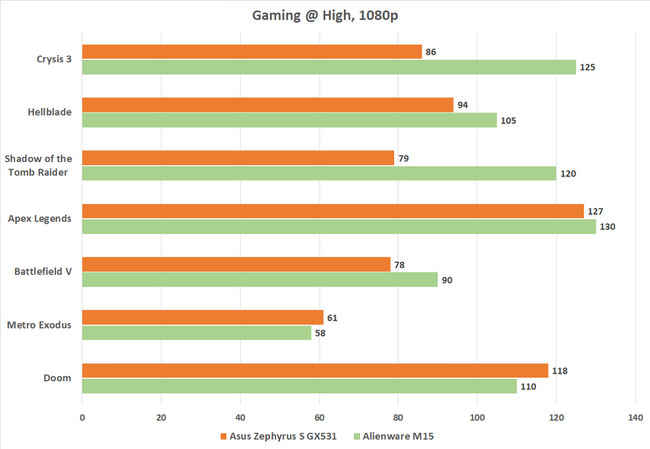 Gaming on the Asus Zephyrus S at 1080p, High graphics
Given the powerful components in the GX531, we expected the machine to be a hiccup-free performer. Sadly, for some reason, it stutters in every game that was played on it. We've reached out to Asus to verify if there was some issue with the review unit we received and will update this review with new information as it comes to light.
Another interesting aspect of benchmarking the GX531 was its internal drive. The laptop comes with an Intel 512GB NVMe drive utilising x4 PCIe lanes, but the read/write performance happened to be on the lower side. Read speeds peaked at 1709MB per second with write speeds maxing out at roughly 984MB per second.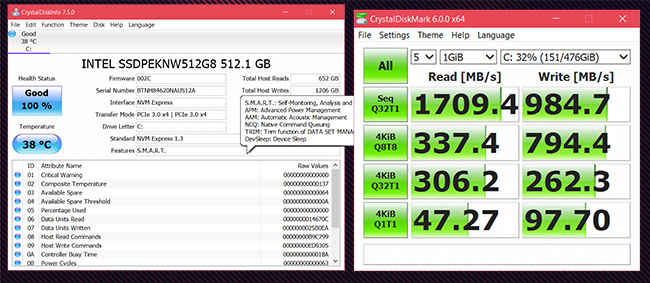 Thermals
Perhaps the most perplexing part of reviewing the Asus Zephyrus S (GX531) was its thermal performance, and how it would relate to the CPU-GPU throughput. Under full load, the heat being blown out the side was just 56 degrees. At idle, the system clocked a temperature of just 32 degrees. Notably, the system isn't very loud when in idle, or even under a moderate load, but set it to turbo mode where the dual 12V fans spin at full speed, and we clocked almost 70 decibels of loudness. Either which way, the system is not getting hot enough for the heat to be the reason for throttling.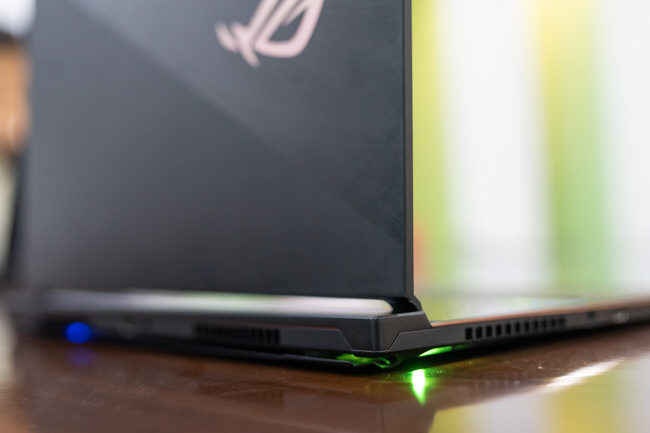 The bottom lifts when the laptop is opened, allowing for more air to be pulled in
The underside of the laptop also gets uncomfortably hot, meaning you won't be placing this machine on your lap for extended use for sure.
Bottomline
The Asus Zephyrus S (GX531) manages to get a few things very right. It packs a very powerful set of components into a slim chassis, ideal for those who like to carry their gaming or editing machines around. The Pantone validated 144Hz display is great right out of the box. the keyboard will take plenty of getting used to, but the trackpad is definitely a strong point. What's definitely disappointing are the two USB 2.0 ports (should have been USB 3.0) and the flex present on the display panel. The metal plate that comprises the Aero Active cooler could have also been better. If you do get the Zephyrus S, you wont find any complaints in performance, but we do recommend some care in handling this machine.