VERDICT:
The Apple MacBook Air 2018 refresh improves on what was already considered the best ultrabook, but at the same time, also brings in a significant price bump. The earlier MacBook Air was one of the most affordable and powerful ultrabooks one could buy and while the 2018 MacBook Air continues to be powerful, it is no longer the best value for money device. It is still a great device for work which is guaranteed to last you a few years. It is perfect for watching movies as well, but if you're looking for a photo or video editing machine, this is definitely not it. For everything else, its great.
What's in the Box
MacBook Air
USB-C to USB-C cable
30W Power Adapter
Warranty paperwork
Apple Stickers
Specifications
Processor: Intel Core i5 – 8210Y
Core Count: 2
Clock Speed: 1.6GHz
RAM: 8GB
Storage: 128GB PCIe based
Display Resolution: 2560×1600
Display Size: 13-inch
Thunderbolt Ports: 2
Build and Design
The 2018 MacBook Air has received a design refresh, but it isn't as radical as one. Would expect it. To be. The chassis is now slightly slimmer, the overall body size is smaller, all thanks to the display coming with a slimmer bezel. Its not just the bezels around the display that have slimmed down, but also the space around the keyboard has been cut down in thickness. There is no TouchBar on the 2018 MacBook Air, which allowed Apple to accommodate a bigger touchpad on the MacBook Air. The pair of Thunderbolt 3 ports on the MacBook Air can be found on the left side of the machine, leaving the headphone jack all alone on the right side.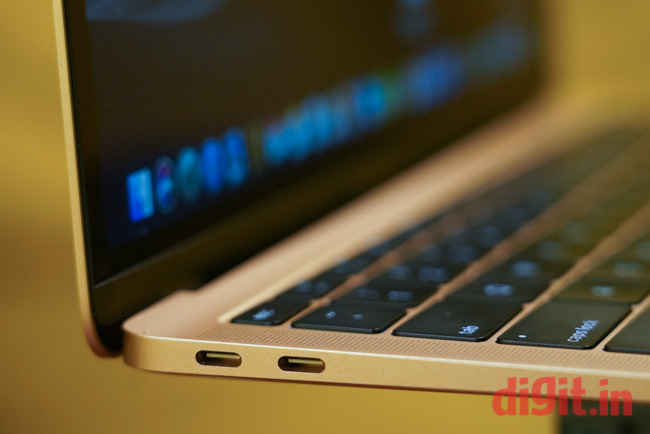 When you take out the MacBook Air out of its box, the first thing you are likely to notice is how light it really is. Apple says the MacBook Air has become lighter, and we verified their statement by weighing the old and the new. Sure enough, the MacBook Air is a whole 100 grams lighter and it only took the laptop three years to shed the weight. This is now how slow you want to lose weight. Apple has also incorporated TouchID into the MacBook Air as a square button and not the round one we've seen on the iPhone for so many years. The TouchID also doubles up as the power button.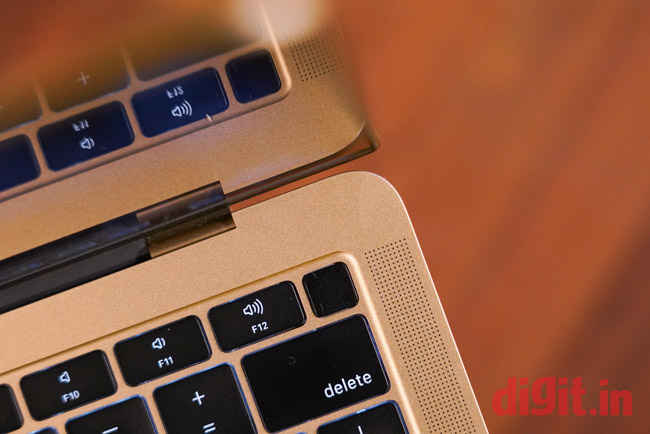 When we look at the new MacBook Air, it's hard not to see the Macbook influence here. The slimmed down sides, the thinner bezels on the display and not to mention the same gold finish. The other two colours are Space Grey and Silver, both of which look equally stunning. When Steve Jobs pulled the original MacBook Air out of an A4 envelope, no one would have thought it would be possible to refine the design further, but here we are, typing this review on a thinner, lighter and more visually appealing MacBook Air.
Keyboard and Trackpad
The new 2018 MacBook Air features the second-generation butterfly mechanism for the keyboard. The original design was highly criticized for its being completely crippled by a single grain of dust. Apple worked on that vulnerability by introducing a membrane under the keycaps that prevents dust from getting in there. Additionally, it raises the keycaps a little higher than the original Butterfly mechanism. The result is slightly higher travel in the keys, which feels pleasant to type on. We also have a late 2016 MacBook Pro with the older Butterfly mechanism and those keys are practically one with the keyboard island, offering little to no feedback. On the new MacBook Air, typing is a far more enjoyable experience, especially given how eerily quiet the keys can be, unless you're the kind who likes to take out their frustration on the keyboard as a means of cathartic release. For those with gentle fingers, this is for sure a pleasant keyboard to type on.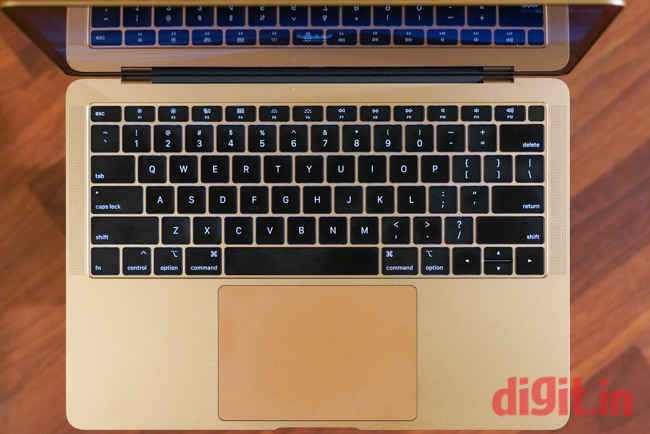 Moving onto the trackpad, there is a generous slab of capacitive glass lying on top of Apple's Taptic Engine. On either side lie force sensors which translate to the feedback you receive when you click on the trackpad. There's no actual physical movement here, but it definitely feels like it. We had someone who had not used a Mac in the last 5 years have a go at the MacBook Air, they genuinely thought the trackpad was moving up and down. The feedback is that real. If you're a seasoned Mac user, you'd be familiar with all the gestures one can use to get more out of the MacBook Air and for years, Apple has implemented this flawlessly. Every single gesture register with incredible ease. Spend some time with the MacBook Air and even if you're a first-time user, you'll get used to the gesture-based navigation very quickly, mostly because they're intuitive and because the trackpad does not fail even a single time in registering them right.
Display
One of the biggest upgrades to the MacBook Air is the display. It was somewhat disappointing to see Apple carry its MacBook Air into 2018 with a 1440×900 resolution display. Well, the company is sure closing the year with a bang of pixels and colours. The new MacBook Air brings you a retina display with the resolution of 2560×1600 and a higher than sRGB colour gamut coverage. Apple continues to use IPS panels on their MacBook Air for its incredible colour accuracy. The MacBook Air is factory colour calibrated for sRGB and right out of the box, has colour reproduction accurate enough to be used as a professional photo-editing display. The display also gets really bright, hitting almost 800 nits on the top-side and going as low as 2 nits on the lowest visible setting.
Specs aside, the IPS LCD panel Apple has used continues to be an industry-leading display, with colours that have true-to-life representation and a level of crispness that is often missing on Windows-based machines. Pair that with MacOS Mojave's dark theme and it is nothing short of a visual treat. Watching movies on his display whether from own source material of from various streaming services like Netflix is absolutely brilliant. Unfortunately, unlike its bigger and more expensive MacBook Pro brethren, the MacBook Air is not capable of reproducing colours from the DCI-P3 wide-gamut colour, meaning it does not support HDR content playback. This is probably the only downside of the MacBook Air's display, but honestly, its not something you could tell when looking at this display. What Samsung's OLED is to smartphones, Apple's IPS LCD is to the laptop world and the MacBook Air comes equipped with one amazing panel.
Ports and I/O
There's only two Thunderbolt 3 ports here, one of which is taken up by the charger. On the other side, there's a 3.5mm headphone jack. That's it. That's all you get.
Performance
The 2018 MacBook Air is powered by Intel's 8th generation Core i5 processor, but this is a Y-series chip. The Intel Core i5-8210 is a low power dual core CPU with a base clock speed of 1.6 GHz and a boost clock of 3.6GHz. Accompanying the processor is 8GB of LPDDR3 RAM clocked at 2133MHz and 128GB of PCIe based storage. IF you're having an eerie sense of déjà vu, you're so not alone. There are a few things that feel very underwhelming in regards to the specification set. First, Apple used a low-power CPU for this machine. Second, for some reason, the company continues to use DDR3 RAM instead of DDR4. Lastly, 128GB of PCIe storage just feels too little, especially when you consider the number of smartphones available today with this much storage. If you do end up buying your MacBook Air from abroad, you may get lucky with more RAM, but you're still stuck with 128/256GB storage and the low-power CPU. Interestingly, when we measured the read/write diskspeed on the MacBook Air in comparison to our 2016 MacBook Pro, the Air's storage came out notieably slower.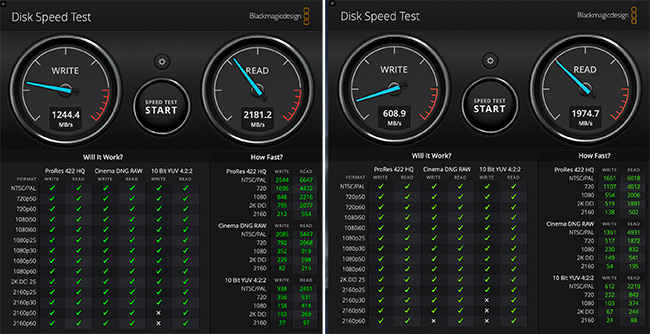 Read Write Speeds: MacBook Pro (left) vs. MacBook Air (Right)
Let's now move to how the MacBook air performs in real life. One of the reasons the original MacBook Air became so popular was its battery life. Since PCMark doesn't have a MacOS benchmark for the battery, our best way to figure out the capabilities of the MacBook Air's battery was to use the machine without the charger for as long as possible. It started with a fully charged MacBook air and a whole day of editorial work ahead of it. Turns out, the MacBook Air managed to last a solid 8 hours of use with the brightness set to half and Wi-Fi turned on. The day involved writing roughly 3000 words in MS Word for various stories and some photo editing in Adobe Lightroom and Adobe Photoshop. Typically, most ultrabooks will give 5-7 hours of battery life provided the activities are limited to basic use. But with the MacBook Air, 8 hours was a given even with a multitude of browser windows open in both Chrome and Safari, some photo editing and a little bit of YouTube. That's Apple for you!
While my usual work machine is a 2016 MacBook Pro with an Intel Core i7 chip and 16GB of RAM, I figured it would be a good idea to switch to the MacBook Air for a few weeks and see how it holds up to my needs. A significant part of my work involves extensive photo editing, large RAW files with 45-megapixel resolution are commonplace. Running a Lightroom Catalog with close to 13,000 photos was no problem, but editing individual high-resolution RAW files did see the machine stutter a little bit. For example, when switching from the library to the develop module, the image not only took a good 6 seconds to load, but the preview itself loaded in parts. Additionally, moving the adjustment sliders around wasn't a smooth experience. This isn't a photo-editing machine, so it is unfair to ask of it to be capable of editing 45MP RAW files.
The MacBook Air isn't a sprinter, but instead, it's the slow-and-steady marathon runner. It's great for office goers and even the college student who lives an affluent lifestyle as the MacBook Air can easily handle the day-to-day tasks of keeping you entertained and also being your trusty work companion, as long as your work doesn't involve photo or video editing.
Battery Life
The Apple MacBook Air comes with a 50.3Whr Lithium Polymer battery that Apple says should last you about 12-13 hours, depending on the use case. While we continually clocked a solid 8 hours, we also know that had we eliminated photo editing from our day, the machine would have easily clocked 10 hours of use. The topping up of this battery takes closer to two and a half hours with the provided charger, which is a 30Watt Power Delivery charger that charges the machine over USB-C. what this means is that while you're charging the MacBook Air, you lose one of the two charging ports, which is a bummer for sure.
Bottomline
Every Apple loyalist is going to love the MacBook Air. Everyone who has loved using their older MacBook Air is going to love the new MacBook Air. However, if you're not an Apple loyalist, you're not going to be very impressed with the MacBook Air's offerings, in comparison to what the Windows counterparts have to offer. For example, The Asus Zenbook S which costs Rs 15,000 more, comes with an 8th generation Intel Core i7 processor, 16GB of RAM, far more storage, one additional USB-C port and not to mention, a dongle in the box.