Acer Aspire V5-471P Core i3 detailed review
We'd tested the Acer Aspire S7 not too long ago and came away impressed with the touch and type experience on the 11.6-inch screen. The Aspire V5-471P is another touchscreen-based laptop from Acer although coming with a 14-inch screen. So, how does it fare? Let's have a look.
Features
Acer Aspire V5 houses a comparatively older Intel Core i3-2365M processor which belongs to the Sandy Bridge line up, clocked at 1.4 GHz without any Turbo Boost. It has HD 3000 integrated graphics and no discrete graphics component. It bundles this with 4 GB of RAM, around 500 GB of HDD and the monitor is touch-sensitive. So in essence, Acer have tried oto present a budget laptop with a Windows 8 OS onboard and a touchscreen monitor. What's more, it also offers an optical drive for those of you who still have a stack of DVDs. Acer have adopted a smart way to hide the actual thickness, by having a tapering design approach. The V5 does feel heavy at 2.1kg.

The Aspire V5 has a limited number of ports and all of them are present on the left hand edge of the laptop. Starting from the top edge, you have the power port, followed by an HDMI port, a single USB 3.0 port and two USB 2.0 ports and finally the audio jack. On the left hand side of the front edge, you have an SD card slot.
It comes bundled with Windows 8 Home operating system and also some bloatware in the form of Acer specific apps. In spite of reinstalling Windows 8 on the Aspire V5, we still got most of the Acer apps. So you will have to uninstall them individually to get rid of them.
Build and Design
The Acer Aspire V5 has a silver-coloured plastic body all around and lacks the premium feel that one sees in the Aspire S7. Which is fine considering this laptop is not addressed at the high-end users. The front edge tends to taper whereas the edges on the sides are perpendicular to the plane of the palm rest. Although the hinge is quite sturdy, the screen does tend to shake on mild tapping. The screen can rotate all the way to over 160 degrees, although we doubt anyone would want to use it like that.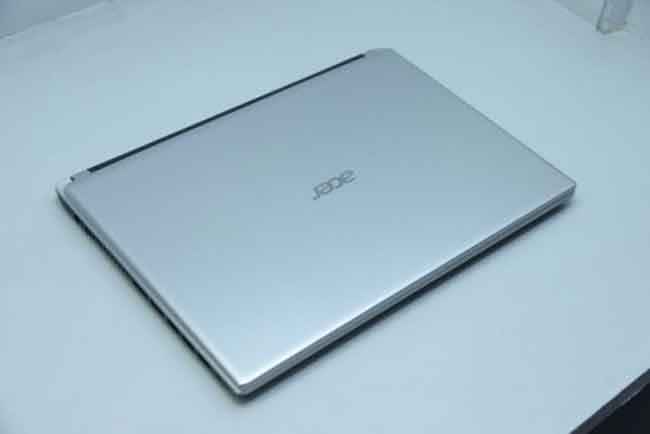 On opening the flap, you have a backlit chiclet keyboard which is quite pleasing. You cannot adjust the brightness, but can turn the backlight on or off. The keys are well-spaced and have ample travel. It lacks a dedicated number pad.
There is sufficient space for the palm rest and you will find a spacious single-slab trackpad. Although we aren't great fans of single slab trackpads as it gets tricky when it comes to actual clicking, the Aspire V5's trackpad supports soft touch which is quite a relief, so you don't need to press hard on the track pad to register a response except maybe when you right-click.
The 14-inch touchscreen is a finger-print / smudge magnet and that becomes very evident while your screen is dark. It has edge-to-edge screen, but the bezel around the base and top is much thicker than those on the sides. The response is quite fluid but at times when you apply a little pressure while playing games or while swiping, you will notice that some ripples around the edges which are caused due to the different layers of the panel touching each other.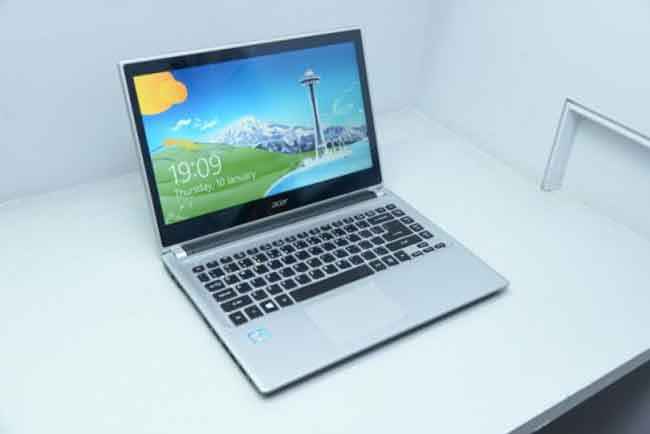 Performance
Let us first begin with the Aspire V5's display which was one of our biggest gripes. While the touch response is great, we noticed issues such as ripples appearing around the edges when mild pressure was applied; the screen being a finger-print magnet. While watching movies in a well-lit room, it was quite distracting to keep avoiding reflections from the panel in dark scenes.
The audio output of the Aspire V5 was quite impressive. We never felt the need to plug in our earphones as it was able to provide ample volume even while you sit a good 4-5 feet way from the laptop. Clarity and sound separation was decent for a laptop of this class and we did not notice any distortion at 100 per cent volume level. The Dolby Virtual surround sound does add value to the overall audio experience.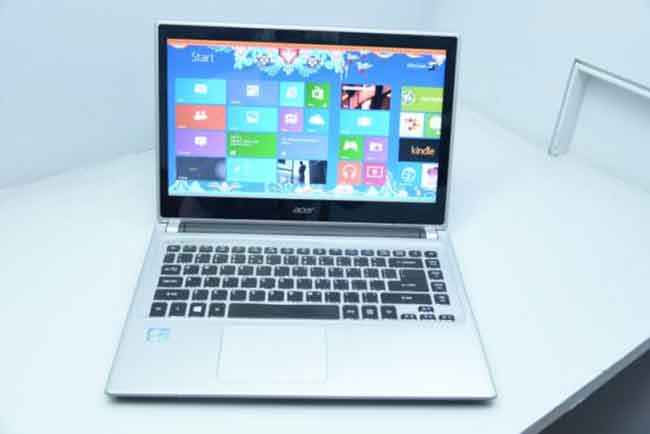 We had noticed the touch and type experience to almost intuitive on the Aspire S7 and found it quite effortless on the 11.6-inch display. But on the 14-inch screen things require some effort thanks to the size. Sure the touch experience, especially in the modern UI mode, is great, but when we were in the Desktop mode, we found ourselves using the touchscreen less than we would on the Aspire S7. For a new user, that may not really be an issue and it is just a purely subjective thing.
One surprising thing was the presence of a Sandy Bridge processor under the hood of the Aspire V5, when Ivy Bridge chips have become standard as far as laptops go. The scores were quite moderate as is expected from a Core i3-based system. We got a score of 1901 on PC Mark 7, which is much lower than competing Core i5 and Core i7 Ivy Bridge processor sporting laptops and ultrabooks. PC Mark Vantage failed in certain tests but gave a measly HDD score of 3530 marks.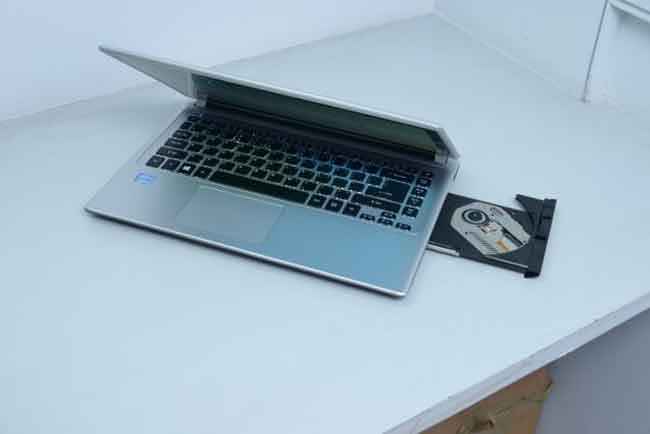 Considering The Aspire V5 has HD 3000 integrated graphics, DX 11 benchmarks such as 3D Mark 11 and Unigine Heaven 2.5 couldn't run. In the graphics department, 3D Mark 06 gave an overall score of 3230 marks. As far as real life games go, we got around 23 fps on Resident Evil 5 at 1280x720 pixel resolution. So unless you are planning to play Doom 3, Quake III level games, don't bother with gaming on this machine.
The Aspire V5's battery life is not really the strong point of this machine. While doing our video-on-loop stress testing, the Aspire V5 just lasted for 140 minutes, which will mean that it will give around 4 - 4.5 hours on standard usage scenario. For students who will always have a power source around - it's decent enough backup, but it is not recommended for professionals who are on the move, as it won't last on long-haul flights or train journeys.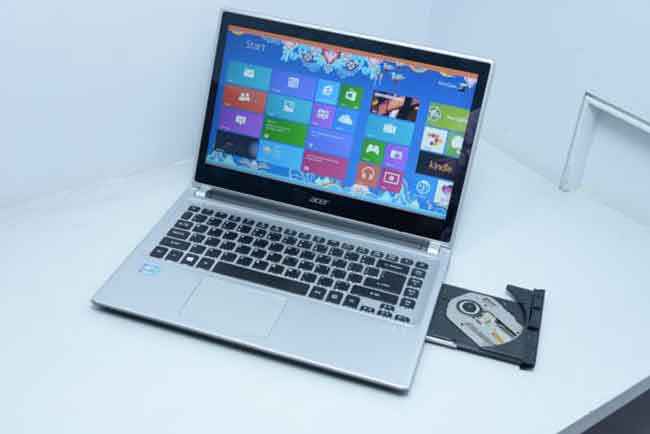 Verdict
The Acer Aspire V5-471P is an ideal machine for those who are looking at an entry-level Windows 8 machine with a touchscreen. Students are the first candidates that come to mind. At Rs. 39,139 we think it is a tad bit expensive especially considering an older processor and issues with the display. Its battery life does not make it a worthy enough for users who travel a lot.
Under Rs. 35,000 this would make for a good purchase if you can overlook its issues. We would really like it if they bundled an Ivy Bridge generation chip. If you want to run heavier applications then you should probably look at Core i5 version of this laptop. In this price bracket, the competition it has is from the touch and type Dell Inspiron 15z which has a 3rd generation Core i3 processor and which comes for around Rs. 40,000. So we would advise prospective buyers to wait till we review the Dell Inspiron 15z as well as it looks quite good on paper.