VERDICT:
It's hard not to fall in love with the Acer Aspire S7's looks and fall in love we did. This Ultrabook isn't only about looks however. Intelligent design and hardware choices means that this device performs just as good as it looks. If only the battery life was better and the keyboard more ergonomic, this could have been the best Ultrabook yet.
Design and Build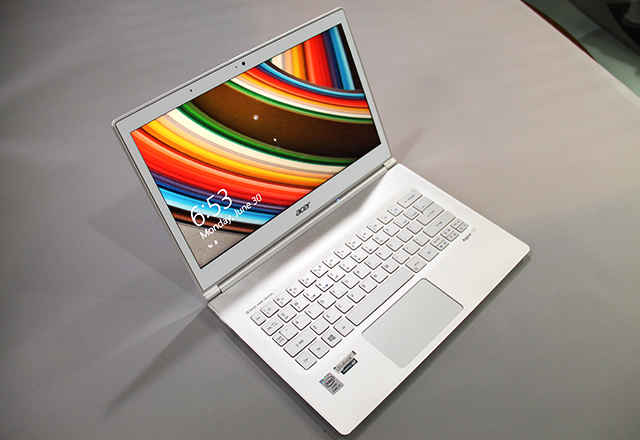 If ever there was a laptop that was built just for showing off, this has to be it. It's a very slim laptop at just barely 1.2cm tall. In fact, the entire device is slimmer than the just the screens of most laptops. As a consequence of the device being so slim, it's also very light and thus, very portable. We carried this device on our trip to COMPUTEX 2014 and all we can say is that our backs were very thankful to the low weight and slim form-factor.
You may not notice it at first, but the lid of the S7 is actually coated in Gorilla Glass. Yep, the same stuff that adorns your smartphone. We were a little apprehensive of the idea of a glass lid, but all apprehensions were laid to rest when we spent some time with the device. The glass lid gives the laptop a very premium air and it's made of good glass, so we didn't notice even one scratch over the month or so that we spent with the device.
As you would have understood by now, the device is very well-built. There is obvious attention to detail and everything about the design feels very polished and refined. If anything, the only slight issue we have with the design is with the power adapter, which feels like something that would belong a cheap netbook than an expensive Ultrabook (especially one that costs over Rs.1,00,000). But this is such a tiny little issue and we've only mentioned it because it's the one discordant note in an otherwise exquisitely designed laptop.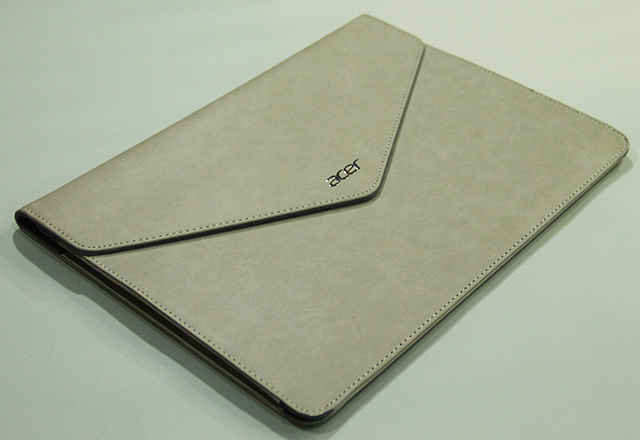 Also, the device comes with a very nice laptop sleeve that's just as well designed as the S7 itself and is the perfect companion to such a device.
Features and Ergonomics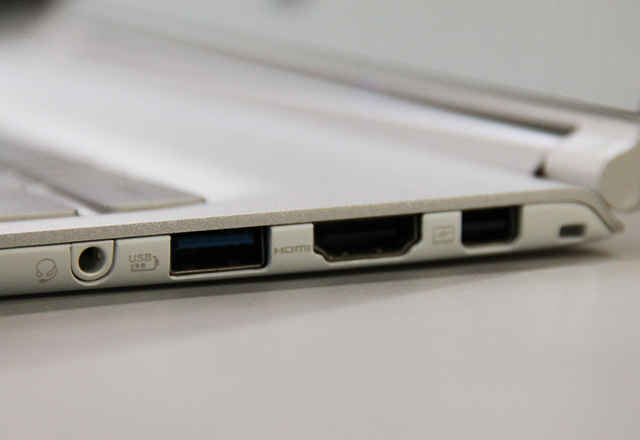 Despite being so slim, Acer didn't scrimp out on features. The hinge can swivel to 105° and 180°, you get two USB 3.0 ports, one on either side, and you get an SD card reader along with the usual Wi-Fi and Bluetooth connectivity and HDMI support. But that's not all, Acer also provides an "Acer Companion Port" with adapter; a combination that gives you an extra USB 2.0 port, an Ethernet port and a VGA port. There is no optical drive, but who really needs one these days?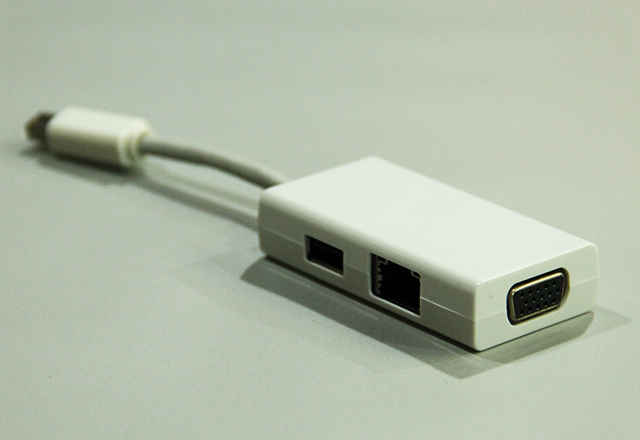 In terms of ergonomics, the laptop is actually quite comfortable and that's primarily because it's so slim that you don't notice the weight. That said, the keyboard could definitely have been better designed. It's adequate, but after getting used to the truly sublime keys of a device like the Toshiba Portege Z30t or Lenovo Yoga 2, these seem a little frustrating. Ditto the touchpad, which, again, while adequate, could have been much better.
The touch-screen on the other hand, is the exact opposite of the touchpad and keyboard because it's very responsive and a pleasure to use.
Performance
For a device that's this slim, the S7 doesn't compromise on performance in the least. It's powered by the Intel i5 4200U CPU which seems to be a very popular option nowadays. What's interesting is that the CPU doesn't seem to be throttled back, something that we've seen on other devices in this category. The load temperatures are quite high at 79°C, but the "TwinAir" cooling design (as Acer calls it) is surprisingly effective and we didn't feel the heat in the least. This is a very good example of intelligent design because it allows the CPU to run at full blast while keeping your lap safe from the heat.
Keeping that in mind, it wasn't a surprise to see that the performance was at par with just about every other i5 4200U powered device in the market. Now the 4200U is, by itself, quite enough for most laptops, but it's the overall package of the S7, with the bundled SSD, that makes the PC feel so zippy.
| | |
| --- | --- |
| PCMark 8 | 2145 |
| 3DMark | 41535 |
| Peacekeeper | 4451 |
| Cinebench R15 | 230 |
| Sniper Elite V2 | 13.1 |
| Battery Life | 200 |
| Screen Brightness | 226.08 |
| Contrast Ratio | 550:1 |
| Max. Temperature | 79 |
The screen is also quite excellent and features a brightness of over 200cd/m2 and a contrast ratio of around 550:1, which is exceptional. The measured battery life was a bit low at just under 3.5hours, we did expect more from the device, but that can be attributed to the fact that the device is so slim that it couldn't possibly hold a higher capacity battery. Our battery tests do stress the system considerably so you should expect between 4-5 hours usage from this device at the very most.
User Experience
The Acer Aspire S7 is very capable as a portable laptop. We found it to be comfortable to carry and use and we never really had any complaint with regards to the performance. Everything was fast and zippy and very responsive. The one major complaint we had was with the keyboard. While it's adequate for typing something short, such as a URL, a short e-mail, etc., it's definitely uncomfortable when you have to type long articles. Also, the volume of the speakers is also a little less than we would like, but at the same time, the screen is so nice and the colours so punchy that while watching movies, it really felt like we were noticing some details for the first time.
Verdict
The Acer Aspire S7-392 could have been the very best Ultrabook in the market, but minor issues with the keyboard and battery life prevent it from achieving greatness. That said, this is still a great Ultrabook and is better than most. While it's not perfect, it's definitely a device worthy of consideration. The asking price is very high, but maybe that's a price you're willing to pay for gorgeous looks. This is a device to lust for, not something you need.