Zebronics ZEB-Station: Affordable docking detailed review
iPod docks are a dime a dozen these days, and given the popularity of MP3 players, it's no wonder that every computer peripherals manufacturer is flocking to make one. We've tested docks from the likes of Bose, Logitech and Creative, and Zebronics has decided to join the game with the ZEB-Station. The emphasis on branding via capitalisation not withstanding, the ZEB-Station is a rather simple looking dock, pretty typical for something headed straight of the manufacturers docks in China.
Look and feel
Mock wooden grain finishes are in, if the success of furniture shops palming off plywood for teak in metro cities is any indication. The ZEB-Station takes the tried and tested route with a mock wooden finish the colour of dark mahogany and the surface finish is reminiscent of Formica (Sun-mica). Although rectangular shaped the sides are curving – something much needed what is a glorified stereo speaker system with a couple of extra input options. It seems well built and the cabinet is obviously made of MDF but is quite solid, and the unit is reassuringly heavy without being a backbreaker like some high-end speaker systems.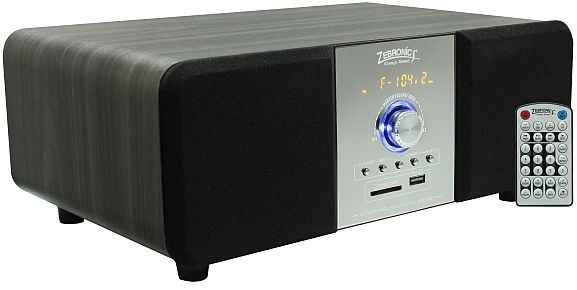 [RELATED_ARTICLE] The power switch is located on the rear, just beneath RCA inputs for connecting to a stereo source. To the side of this is a thin protruding sheathed wire about 2 feet long that serves as the FM Radio antenna. The front of the unit has a mirror finish front panel with all connectivity options and controls. On either side are the speakers, and the cloth mesh covering each unit is removable. The control system consists of a large fancily designed volume knob that has a backlit blue ring around it, and the controls for standby, input source select and the usual playback controls that consist of three buttons – play/pause, previous and next. Beneath these buttons are the USB and SD/MMC ports. The same volume knob can be pressed and this doubles as an adjustment for bass and treble as well. When in FM mode, you can use it to modify the volume level as well as cycle through radio frequencies although it is not very intuitive to use in this way.
While this glossy front panel is a bit loud, the overall effect with the orange single line text that displays which input source is in use and the number is pretty nice. We like the effect of the blue LEDs with the orange display, although we would like the control buttons to be larger and thereby more comfortable on our fingerpads. We'd also like the buttons to be softer – they're far too hard. The volume dial might look cool, but it has play, and the attenuation is not evenly stepped. While moving the volume from 15 to 13 there is hardly any change in dB levels, while from 11 to 9, there is a huge difference. This aside, it is easy to get the music at a comfortable listening level with a little bit of fiddling of the volume button. Zebronics does provide a remote unit, and while it's a small and basic looking one, it does have a good number of controls on it, and works fairly well from a distance of 5-6 feet away.
Continue reading about ZEB-Station, its features, and our verdict, on the next page...
Also read,
Features
Zebronics chose to show their disdain for Apple by dropping the proprietary iPod dock. Therefore, there is no way to connect an iPod or even a PMP to the ZEB-Station, as it will not detect any MP3 player on the USB port. It will however, work with both external hard drives and flash drives. A memory card slot is a plus, but there is no facility to show the track name even when the files are on an SD/MMC card, which would not have been too difficult to implement. FM Radio is a definite plus, especially with a lot of people tuning in. However, changing FM frequency is a pain, because it has to be done with the same hard and tacky-feeling buttons.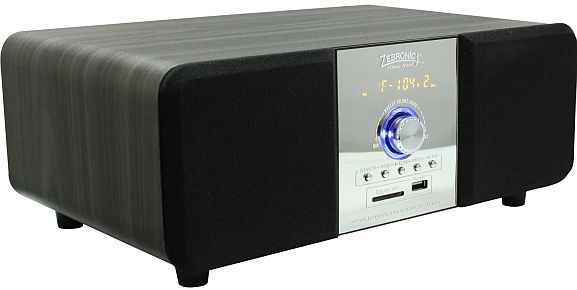 [RELATED_ARTICLE] With support for stereo input, USB and SD/MMC cards, the ZEB-Station has quite a lot of input options and the remote makes switching between sources easier. If you're playing music via an external drive or SD/MMC card, the ZEB-Station will allow you select a track based on its track number. Sadly, you will not get a track name, so you'll have to remember the track number. If playing music from a memory card or USB drive and you power the unit off, it will remember which track has been played, although you will need to reselect the source. After powering on, USB is the default port the player tries to access. There is no auto-detect feature that will switch from USB to memory card, if you insert an SD card (for example).
Performance

There are two ways to look at music performance. In terms of sheer performance, considering nothing else, the ZEB-Station doesn't deliver at all. Its performance is extremely mediocre. There is no bass, though we expected none from the small drivers. The mid-range is warm and lush but this masks details, and while The Rolling Stones sound pleasant, the sound is not neutral in the least. The highs are muted as well as rolled off. Additionally, the mid-range while being a bit warm lacks any sort of emotiveness at times. Alison Krauss' voice sounds less romantic than we know it to be. Additionally, complex tracks aren't handled well, and some of the finer nuances are missed. Of course, all this criticism is assuming you're a purist looking at something audiophile-grade. And if you were, you'd probably not look at a mere dock with speakers.
The fact is that while this isn't a machine designed to provide pristine tunes, it'll do for casual music listeners who want something playing while they work, or relax. Some tracks especially from genres like slow rock, blues and some instrumentals sound a lot better than tracks with powerful vocals or complex passages. Just remember the volume level isn't very loud and ideally you should be sitting no more than 6-7 feet away, unless you like listening at lower volumes. One good thing is lower volumes do not seem to cause a noticeable change in tonal reproduction as it does with some cheaper speaker sets. Turning the volume level up to its maximum level makes the ZEB-Station sound a bit tinny, as the lack of bass and a strong mid-range becomes more evident.
Our take
So the ZEB-Station is a decent product in terms of features but not a good performer. At its price, an uber affordable Rs. 1,650, we're willing to forgive most of its shortcomings, simply because it would be nigh to madness . Sure – an affordable tag doesn't improve quality any, but to be honest casual listeners will not find a lot to complain about. In fact it's quite a deal, given that it's a full-featured FM Radio player with speakers too. At this price, if you're looking for a decent set of speakers with a few extra bits like extra connects and FM Radio, the ZEB-Station is excellent value for money.
Specifications: Speakers: 2, no subwoofer; Power output 10 x 2 watts RMS;


Price: Rs. 1,650
Contact:- Top Notch Infotronix India Pvt Ltd (Zebronics). 6C Valliammal Road, Vepery Chennai, India
Phone no:- 044-4000-0007
Website:- www.zebronics.net
email:- enquiry@zebronics.info
Also read,