Sony MDR-XB650BT detailed review
Sony's Extra Bass lineup has been aimed at catering to the bass-loving population. There have been times when we have been to overawed with the amount of bass heaved upon tracks. But, in all fairness, that is what the Extra Bass lineup of headphones are supposed to do. In light of this, the Sony MDR-XB650BT aims at bringing a better balance of audio - while the accentuated bass remains, it would be less overbearing on tracks, thereby appealing to a wider section of the audience. It also aims to completely do away with wires, connecting via Bluetooth and NFC. How much of its aim does it achieve? We look at all of these, and more, in our detailed review of the Sony MDR-XB650BT Extra Bass wireless headphones.
Build and Design: Packs the basics, haphazardly
Kicking things off with its build, design statement and comfort, the Sony MDR-XB650BT does look good, but neither does it stand out in a crowd. Sony has fit the entire outside casing with smooth, thin metal. The inside of the headphone's adjusters are made of plastic, while the inner headband and the earcups use foam. While foam works as headband material, the small earcups coupled with the use of foam can prove to very jarring, particularly in the summer heat of New Delhi.
People with smaller ear sizes will find this more comfortable, but comfortable enough for extended usage. For me, and I have large ears, it gets uncomfortable to the point where after about 15 to 20 minutes, I keep taking it off to let my ears breathe. Additionally, the foam material makes ears sweaty, which is quite messy an affair. The retractable headband is long enough, and you should not have any problem in placing the headphones perfectly on your ears, but long term wear is the main problem here. While Sony does not provide a statistic, the calculated contact pressure (taken on mean, with scope for aberrations) is around 7 N, while the ideal contact pressure for supra-aural headphones is within 4 N. Statistically, this would mean that the Sony MDR-XB650BT headphones are applying nearly 75% more pressure that what you would ideally wear, and that does show in real life. The soft cushioning of the foam earcups does soak in some of the pressure, but it still remains fairly uncomfortable. This could have easily been dealt with by using larger earcups, and I really hope Sony would do so in future Extra Bass headphones, that are otherwise quite decently built and good to look at.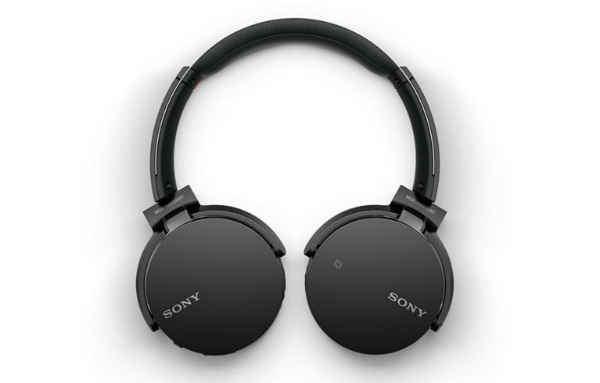 There is nothing much to complain about the build quality, as it looks and feels quite decent. I personally prefer the barebone look of the Plantronics Backbeat Sense, but many would find the XB650BT quite appealing. Sony has three colour options for you to choose from - Black, Blue and Red, and while I find the black version classier, many might find the flashy looks of the red and blue ones suitable to their sense of fashion. The earcups are swivelling, so that you can flatten them on a surface and carry it with relative ease. We wish Sony gave an option to collapse them, too, which would have made it much easier to carry around. The XB650BT weighs 190 grams, about 50 grams more than the BackBeat Sense. Even the wireless buttons are not ideally placed. All the buttons are placed around the bottom strip of the right earcup. Going anti-clockwise around the right ear, the XB650BT has an LED indicator, power button, microphone, USB charging port, volume down/up and a jockey that works as a call receive/end button and play/pause button on push, while pushing it either side allows you to rewind/fast forward songs. The Sony XB650BT does give you all the controls that you can think of, and it is not particularly difficult to use either, but the entire arrangement of controls makes it a tad uneasy to reach out and hit the right button. Even after more than two weeks, I end up getting confused between the power and play buttons, which is somewhat of a compromise.
In overall terms, while the Sony MDR-XB650BT does look decent and packs in most of the essentials, it lacks in well-thought-out refinement and ergonomics. The controls could have been placed much better, the comfort of wearing could have been much improved, and even the body could have been smaller and lighter. It is really a mixed bag here, seeing that it looks quite decent and the headband is well-made and comfortable.
Performance: Sony's Extra Bass gets a lot right here
The Sony MDR-XB650BT promises to deliver copious amounts of bass, and it really does. Not one track goes without you noticing the bass, and by noticing I mean being very aware of it. Bass lovers will appreciate the accentuated bass lines, and on a lot of tracks (particularly Hip Hop), it even sounds quite nice. However, the bass sounds rather hollow, and is too loose, sounding as if it is loosely layered over the rest of the tracks. At peak bass amplitude, low frequencies sound booming, and sound at the verge of disrupting the mids and highs.
Having said this, it has to be noted that the XB650BT has more toned down and sober bass response in comparison to previous Extra Bass headphones. Sony has balanced the audio much, much better here, and as a result, when you listen to various forms of 'clean' tracks, the audio sounds pleasantly good. The bass is amply powerful, forming a strong backbone to the tracks, while the highs are compact and decently pronounced. The mids are slightly sacrificed, and tracks do lose out on more intricate details, but for everyday listening, the performance is quite splendid. Even when you play metal tracks, the strong bass line becomes quite enjoyable, and this is where the XB650BT flourishes.
"With a few missing gaps, the Sony MDR-XB650BT delivers reasonably powerful audio performance"
The bass details that the XB650BT relays are prominent, and if you love bass-heavy audio, you will enjoy it quite a fair bit. Had Sony tuned the Bass Booster to produce equal loud but tighter, more compact low frequencies, the XB650BT would have been a significant winner in terms of producing slightly bass-heavy audio with ample emphasis on the mids and highs, despite the focus on bass. The mid frequencies are delightfully pronounced, and relays the clarity of audio that is persistent across the entirety of the XB650BT's audio performance. The mids and the lows fuse together very well to deliver thoroughly enjoyable Hip Hop performance, to a point where I was delightfully rapping along to Eminem's The Real Slim Shady. Playing music by the likes of Mr. Big, Tool, Opeth, Pink Floyd and Carlos Santana gives an equally enjoyable experience, and the only qualm that I have here is the loose nature of Billy Sheehan and Roger Waters' bass that the XB650BT makes you hear.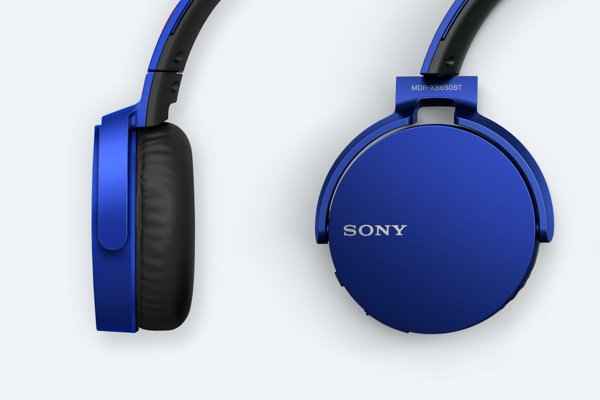 Listening to dubstep/dirty bass somewhat becomes jarring, as the bass becomes really booming here. The looseness also steps in, and it almost sounds as if the audio distorts, while in actuality the audio delivery is very, very clean. There are slight areas where the bass is too overpowering, and for those who love more balanced audio, this will be a deterrent. In an attempt to balance tracks better, trebles sound too sharp, and as a result, the warmth is negated from tracks like Voodoo Child. Overall, the audio timbre is much better in the likes of Plantronics' BackBeat Sense, the tightness and warmth of which makes songs sound clearer.
Soundstaging on the XB650BT is decent, but the lack of warmth and tightness in audio delivery somewhat destroys the flourish that Sony attempts here with it. The experience is significantly dented when you listen to lower bitrate audio, and the drop in quality is only too noticeable. To sum it all up, the Sony MDR-XB650BT impresses with its audio delivery. While it satisfies bass lovers and keeps up with the extra bass that it is expected to deliver, it also churns out reasonably clean and well-balanced audio when it comes to overall listening. It has ample power, and the only point where it needs to improve upon is the audio timbre and tightness. With better knitting of audio, the Sony MDR-XB650BT can easily give the Plantronics BackBeat Sense a run for its money.
Connectivity and Battery Life: Good, with a missing tile
The Sony XB650BT misses out on an alternate option for wired connectivity, which would have been a good addition in case your headphone runs out of battery on your long commute home. Nevertheless, it comes with Bluetooth 4.0 and NFC as connectivity options, and the Bluetooth connection is flawless. As for battery life, the MDR-XB650BT lasts easily for 12 hours, and goes up to even 15 hours. It takes about four hours to charge up from 0 to 100%, and if you use it mostly to listen to music on your daily journey to and from your workplace/college, it should see you through almost an entire week. This is another area where the Sony MDR-XB650BT excels, barring the missing wired connectivity.
Bottomline: A mixed bag
The Sony MDR-XB650BT is a decent pair of headphones, and delivers decently-balanced yet powerful audio delivery. The bass bias does sound jarring in certain areas, but for the most part, it succeeds in pleasing you with the audio. Having said this, the audio does sound rather hollow and loose, taking some of its shine away from the powerful audio delivery. Additionally, it loses out on comfort of wear and ergonomics, which play crucial roles in making a pair of headphones worth Rs. 7,999 a decent buy. It gets really uncomfortable after a maximum period of 20 minutes unless you are inside an air-conditioned environment, which may not be always. It is quite a mixed bag, and with the Plantronics BackBeat Sense delivering slightly better audio quality along with not having the flaws that this one does in terms of ergonomics, comfort and design as a supra-aural headphone, its hard to recommend this one over the BackBeat Sense.