VERDICT:
The Sony MDR-100ABN is a pleasant, well-built pair of headphones that sound really good. The presence of digital noise cancellation gives it superior prowess, and the overall clarity is very alluring. It is expensive, but as they say, fine audio equipment is always worth investing in.
The entire packaging, right from the retail box, to the hard case placed placed within it and the packaging of the cables inside, have an air of careful detailing and thought put into it. The MDR-100ABN, a.k.a h.ear ON Wireless NC, is presented the way a pair of flagship (read: expensive) headphones would be, and it does wonders in creating initial impressions of you having bought a very premier piece of technology that deserves to be noticed on the road.
But, like we keep stating, looks and finesse is only about half the job done, and actually increases the expectations in terms of performance. Almost two weeks after prolonged listening, here's what the Sony MDR-100ABN stood for.
Build and Design
Neat lines and flowing understated designs are, safe to say, Sony's forte. The company has always focused on making products look simple and classy, rather than loud and consequential. The Sony MDR-100ABN follows on the same note, and the neat, smooth lines coupled with matte colours are a good fusion to lend you an emotion of having bought an expensive, flagship pair of headphones.
The MDR-100ABN, to put into perspective, is the Eric Johnson to the John Petrucci that Sennheiser's Momentum 2.0 is. Neither are flashy in any way, and both exude class in their own, trademark styles. But, the MDR-100ABN's neat, flowing design, coupled with a flowing sense of symmetry across its button layout, headband and earcups are a touch more suave than the ivory, Alcantara fabric and steel girders that comprise in the Momentum 2.0. The Eric Johnson-John Petrucci parallel here is particularly crucial – both look good, both are good performers, but Sony's MDR-100ABN is only a tad quieter in terms of looks. Personally, I do prefer it. Whether you would feel the same or not, is entirely down to your preference of style.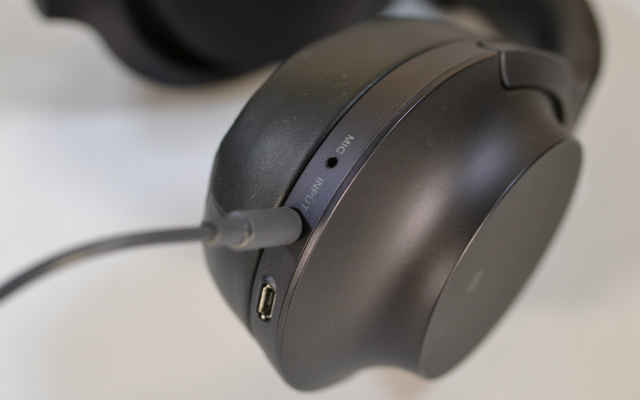 The build is a pleasant merger of metal and very good quality of plastic. The plastic overhead band and adjusters eclipse the underlying metal rails, and the plastic pivots lead to the smooth plastic body of the earcups. There is enough rexine to not impose much weight on your head, and the over-ear padding absorbs plenty of the stress that is imposed because of the weight. At 290 grams, the MDR-100ABN is noticeably heavy, and upon the initial few hours of listening with these, you would most certainly notice the weight. It is, however, comfortable for up to around 40 minutes of usage, after which a five-minute breather is almost certainly recommended. You will end up feeling sweaty around your ears, which is not the best situation to be in, particularly considering the heat wave outside.
Sony has essentially kept the button arrangement similar to the MDR-XB650BT, but improved in terms of spacing, quality and arrangement of buttons. To the left earcup are (in order from right to left) the noise cancellation button that is slightly raised, the power button, microUSB port, analogue audio jack and a microphone. On the right earcup, you get a toggle for play/pause, rewind and fast forward fused with call receive/reject, volume rocker and the second microphone. A few good things here: the raised noise cancellation button helps distinguish between it, and the power button. Both the microphones also facilitate noise cancellation. The quality of the buttons are much superior, and also offer more intuitive response over its less expensive variants.
To sum up, the Sony MDR-100ABN looks and feels its part of being a flagship headphone. It is built well, looks subtly appealing, and has all the necessary makings of a pair of headphones that are priced at Rs. 21,990.
Audio Performance
And with that, we move on to its audio delivery. The Sony h.ear ON Wireless NC comes branded with Hi-Res Audio, digital noise cancellation with AI learning to adapt to your surroundings and LDAC codec support for lossless playback. In real life usage, the pair of headphones are incredibly wide in terms of frequency range, detailed, pristine and amply loud. There is a characteristic difference in the audio delivery between its wireless and wired audio delivery, in the sense that over wireless, the audio sounds more compact, intense and entirely free of any distortion. Over wired, it sounds a tad more bright and more wholesome, although there is marginal distortion that you may encounter, particularly if you are blasting Children of Bodom at peak volume.
It is safe to say that you would not use the bundled analogue connector unless you have no other option. For one, while noise cancellation will work with power on and connected to source via a wire, the rest of the controls will not be operational. Additionally, there are no in-line controls with the bundled wire, which is a con, albeit minor. The headphone works at an impedance of 32 ohm with power on, and 16 ohm without power. This is to facilitate seamless playback, especially over mobile devices, when you crave Deep Purple's Highway Star, but your headphones have run out of power.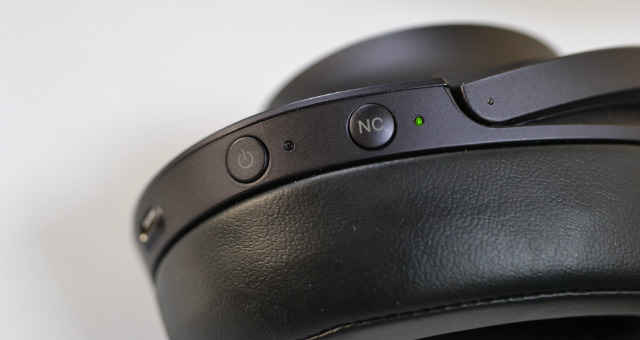 The MDR-100ABN delivers very good depth in audio, alongside making it sound tight and loud. It is not the loudest pair of headphones around, but is loud enough to arouse the outrage in you when you listen to Killing in the Name of by Rage Against the Machine. The dome-shaped 40mm dynamic drivers deliver very clear highs that remain absolutely free of shrillness and distortion. The highs are pronounced, while remaining smooth at the same time. This is accompanied by deep and wholesome bass delivery, which is a tad more overpowering than the pitch-perfect balanced delivery that I have come to like. It is not absolutely overpowering, but is enough to please a lot of bass heads. Your ears may be tuned for a more balanced response, and in such case, you may find the MDR-100ABN slightly favoured towards bass.
The mid frequencies are incredibly clear, too, and have a characteristic sweetness that is very pleasant to hear. The loud bass delivery does slightly overpower the mids, but the overall audio is still very detailed and warm. The warmth is retained thanks to the dynamic drivers, and the overall timbre is aided by the bright soundstage. The over-ear design allow the headphones to sound bright and distributed, while maintaining clarity in overall terms.
The digital noise cancellation adds to the overall experience. While listening, you are entirely submerged into the music, and even on mute, much of the ambience is blocked out as if you were submerged under water. Much of the compactness of the audio can be attributed to this aspect, although initially, you may find it slightly disturbing to be absolutely cut off from the usually noisy surroundings. Sony has also stated that the digital noise cancellation has an artificially intelligent algorithm that allows the headphone to "learn" your usual surroundings and perform better. In reality, you may find it hard to spot the difference, or tell if it really works. However, AI or not, the digital noise cancellation is quite effective, and works really well. You may be playing music at around the 40 percent volume level, but unless there are bulldozers pulling down massive brick walls around you, you'll most certainly be unperturbed by the ambience.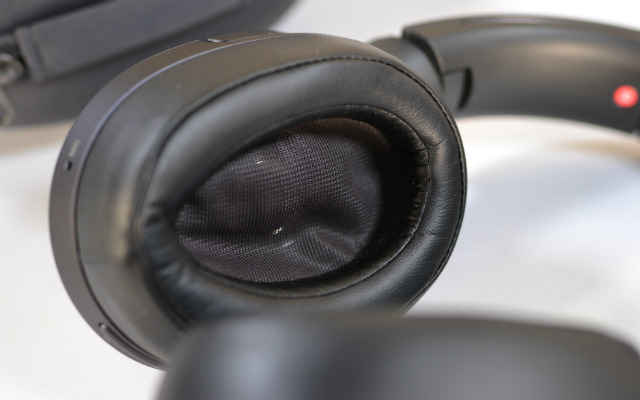 To sum up, while the Sony MDR-100ABN may not be revolutionary, it provides all the necessities of a good pair of headphones. The overall clarity is very pleasing, and the entire audio delivery is smooth, loud and pleasant. In comparison to the Sennheiser Momentum 2.0, the Sony MDR-100ABN sounds brighter and more wholesome, while being marginally more biased towards bass frequencies. It is slightly less louder, although it is loud enough to satiate all the metal and grunge that you may wish to play.
In-call audio is amply loud and clear. The inbuilt mics on the MDR-100ABN are strong, and picks up your voice very well. I could speak on call in the middle of a reasonably loud birthday party (you know how that goes), and my slightly hard-of-hearing friend on the other side could hear clearly. The digital noise cancellation helps more here, as you would not be required to plug your other ear in order to figure out what is being said. Major positive here. Long-pressing the call button on the toggle rejects calls, while tapping it receives calls, making things majorly convenient here. I wish Sony had included an in-line microphone and volume controls here, for non-power handsfree operation.
Connectivity and Battery Life
You can connect via Bluetooth and NFC, with the analogue cable being the other option. Bluetooth playback is absolutely stable, and not once has the connection dropped. The bundled audio cable also has an angled jack to fit your smartphone, covering the ergonomic bit of connectivity, too. The Sony MDR-100ABN also has a very robust battery life, and I could muster 18 hours and 35 minutes without carefully switching off power every time I took it off. You can possibly get nearly 20 hours or slightly more, but on an average scale of listening for two hours, the Sony MDR-100ABN easily lasts you for over one week. Tapping the power button relays the battery percentage. Charging it fully from zero required a little over 4 hours and 30 minutes, via microUSB.
Bottomline
The Sony MDR-100ABN is quite what a flagship headphone should ideally be. It is built well, has an air of smoothness about it, delivers clear, loud, bright and warm audio, and has a few additional bells and whistles up its sleeve, too. It is, in short, a complete package that you may hope for in headphones. At Rs. 21,990, you may not be particularly encouraged to buy it, unless you really love your audio. The Sennheiser Momentum 2.0 is a worthy alternative, but its constricted audio delivery would mean that the Sony MDR-100ABN is one of the better pair of headphones that you can buy at this price. There is no question to its excellence, but you may argue that you'd rather buy a cheaper pair of headphones with fewer features, than spend so much.
In all fairness, it's worth the spend, but it still remains expensive.