Meelectronics M6 Pro detailed review
The M6 Pro brings with it a certain amount of nostalgia. It takes me back to 2011 (or was it 2010?) when its predecessor the Meelectronics M6 was sent to us for review. Back then the company was only gingerly testing waters in these markets, operating mainly through evangelists with limited number of units and no straightforward means of ordering available to the masses. When that fateful M6 arrived in the test center, Meelectronics was almost a no name brand. Of course that didn't take away from the fact that the M6 became our de facto budget recommendation. The only problem with the M6 was its build quality – even its sound quality deteriorated over time, presumably due to wear and tear.
So now when the M6 Pro has fallen into our lap, there's naturally a whole lot of anticipation and obviously consequent questions follow... Is the build quality better? Has the sonic performance been enhanced? Let's find out.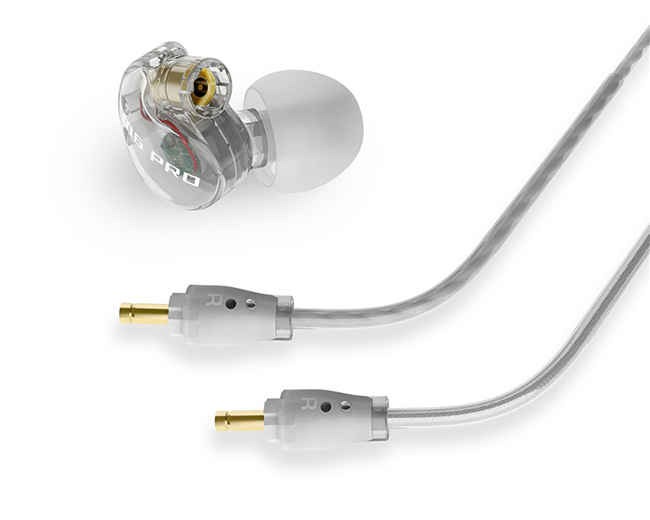 The M6 Pro is positioned as a "musician's in-ear monitor" which would possibly lead you to believe they're neutral i.e. they produce true to source sound. After all, musicians want their equipment to be as accurate as possible so that any changes they desire in the sound can be affected through source manipulation such as via a mixing console. But this is not the case with M6 Pro. They're definitely coloured. Is that a bad thing? Ordinarily yes but in this particular case no.
Let me explain.
These days there is this growing movement against analytical sound signatures. "Oh take your puritanical flat response elitism elsewhere and let us pleebs enjoy our bass," seems to be the growing sentiment. If this sentiment strikes a chord, or in other words, you like big bass and you cannot lie, these in ear monitors won't disappoint at all. The bass is absolutely brilliant. I found it better than the Audio Technica ATH-CKS550iS which is supposed to be an IEM specially designed for bass performance. The sound signature on the EM1 is a mix of a finely accentuated high end with enhanced bass. So you get clarity without any depriving you of any of the "fun" bits.
There is a bit of a caveat for the above to be true though. I cannot emphasise how important fit is for the M6 Pro. While this statement may be true for most in-ear headphones, it's unbelievable how utterly useless the M6 Pro sounds without getting the perfect fit. I suspect the oddly shaped housing has a lot to do with why getting a good seal is so much of a process with the M6 Pro. Incidentally this is only the second IEM ever that's compelled me to look at the manual for guidance on proper wearing instructions. The other headphones that had me running around for searching for instruction manuals were the Yurbuds Venture Talk with their "twist and lock" mechanism.

With the M6 Pro I tried every tip provided (and believe me there are a ton) and eventually got the goldilocks fit I was looking for. The double flange mid sized tip was perfect but until then every other one made them sound absolutely terrible – overly harsh and almost lacking in all bass. But once I found the right tip and adjusted the memory wire around my ear for additional stability, the seal made for absolutely tight, thumpy, bass delivery. The size and shape of the housing made me a little suspicious about how the M6 would handle different ears. On handing them to a couple of other reviewers in the test center I confirmed my hypothesis: getting a perfect fit was quite a task.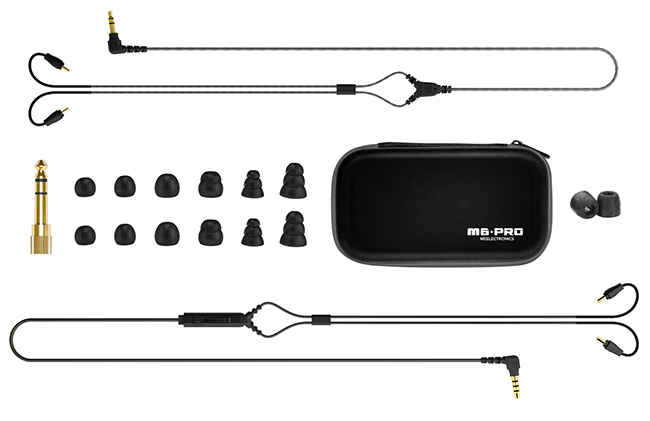 There is an upside to the oddly shaped housing. The isolation it offers is one of the best I've ever experienced on a passive IEM. And while one of the other reviewers here found them uncomfortable I had no issues with prolonged use.
In terms of features, there is a lot on offer. The highlight feature is detachable cables. Being detachable they are also replaceable. The Meelectronics website even has replacement earpieces. This means if say the right or left driver stops working you don't need to chuck out the entire thing, simply replace the non-functioning part. You get two cables in the box one with a mic, remote, and volume control for use with smartphones and one without. The cable with the simple stereo wiring is a very good idea considering some sound cards I've encountered don't play well with 3.5 mm jacks wired differently. Both channels on such headphones only open up when the button remote is pressed. The box also has a carrying case that's large enough to hold the additional cable as well as the six sets of silicone eartips. Oh and you also get Comply foam eartips. The absolute cherry on the cake is the IPX5 water resistance rating making the M6 Pro comfortably sweat proof.
Overall the Meelectronics M6 Pro offers great clarity with superb low frequency response. The extreme highs do tend to plateau fairly quick but now we're just nitpicking. The bundled accessories round off the offering nicely. If you're looking for an upgrade over the SoundMagic E10M or E10S look no further. In fact at the Rs.3000 price point I haven't come across any IEM that's better. The Meelectronics M6 Pro is worthy enough to just be an additional collectible to complete your collection.

Specifications:
Driver size: 10 mm
Frequency response: 20 Hz to 20 kHz
Impedance: 16 Ohms at 1K
Sensitivity: 100±3 dB (1mW at 1KHZ)
Cable length:1.3m detachable
Weight: 164g
Contact:
Headphone Zone
Email: direct@headphonezone.in
Website: www.headphonezone.in
Call: +917506646988