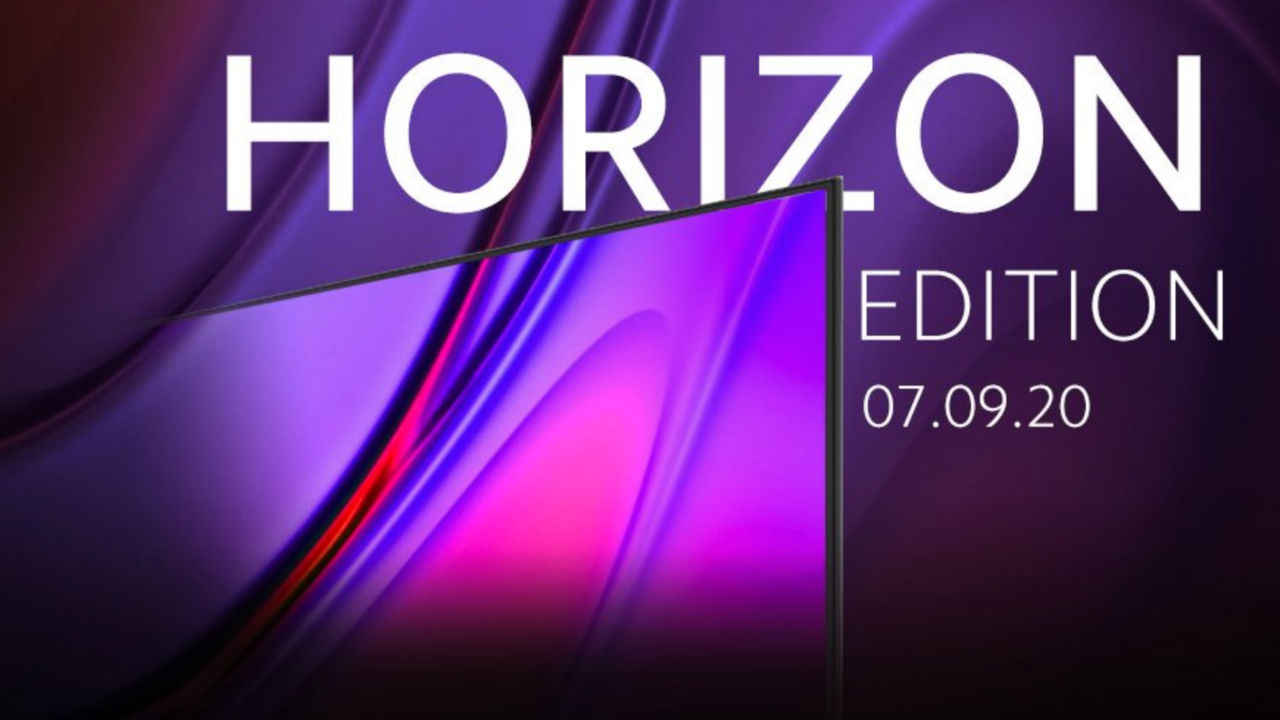 HIGHLIGHTS
Xiaomi has taken to Twitter to tease the upcoming TV.

There is also a dedicated teaser page hinting at some of the features of the TV.

From the image teased, it looks like the TV could have extremely thin bezels.
Update: 7 September 2020, 11:30 AM: The Mi TV Horizon Edition is launching today. You can watch the launch of the TV in the video below. You can also check out the leaked specifications of the TV here.
Xiaomi has put out a teaser on Twitter that reads, "Love an immersive experience? We are bringing you an Immersive. Work of Art. #HorizonEdition coming on 07.09.2020" The tweet is accompanied by an image and it highlights slim bezels hinting that the TV could have a near bezel-less design. The teaser page has a "notify me" button and also teases some of the features one can expect from the Horizon TV.
Love an immersive experience?

We are bringing you an Immersive. Work Of Art. .#HorizonEdition coming on 07.09.2020.
Know more – https://t.co/MOUirtu75w pic.twitter.com/hOJs2bOUL9

— Mi TV India (@MiTVIndia) August 24, 2020
Xiaomi Mi Horizon TV expected features and specifications
The first thing you will catch onto is the "Quintessential Display Tech". This could hint at the TV sporting a QLED or even an OLED panel. Which two technologies the Xiaomi TV goes with is yet to be seen. While we have seen TCL and iFFALCON bring QLED TVs to India, the only brands selling OLED TVs in India are Sony, LG, Panasonic and Metz. It will be interesting to see Xiaomi bring an OLED to India especially considering how the brand aggressively prices its products.
Patchwall is of course highlighted on the teaser page and we expect the TV to run on Android TV with the option of the PatchWall UI as well. Over the years, PatchWall has seen the addition of a number of features and we hope with the new TV the UI also sees some changes.
Quick Wake is another feature that is highlighted. The Xiaomi TVs shut down when turned off and hence take quite some time to turn on. With "Quick Wake" it looks like the TVs will go into standby mode rather than shutting down giving customers access to quickly switch on the TV.
While Xiaomi has been leading the space when it comes to budget TVs, the competition has caught up and even overtaken Xiaomi's offerings in terms of features in the budget space. Even though you can get a Xiaomi TV with 4K and HDR support, competing budget brands like Thomson, Kodak and more are offering Dolby Vision as well as a higher peak brightness for the panel.
If you are in the market for a 43-inch TV, we recently reviewed the 43-inch Nokia TV and you can read our review here.